Xiaomi has recently released its first desktop computer host – Xiaomi Mini Host, only the size of a palm, with a suggested price of 3999 yuan (about RM2538).
Many netizens said that this host is very similar to Intel's mini-host NUC, but smaller. In fact, Xiaomi officials also mentioned that this product was built in deep cooperation with Intel and took 5 months to adjust.
Last night, Intel's China official Weibo congratulated the successful release of Xiaomi's mini host, saying: "For several months, the teams of both parties have carried out more in-depth co-creation of the product based on the Intel nuc solution. The product's antenna communication capabilities, performance adjustments, and noise performance and heat generation, etc., and finally achieved a good balance between performance and power consumption. We look forward to the cooperation between the two parties to bring more diversified choices to consumers, so that more consumers can contact and love mini desktop host products. "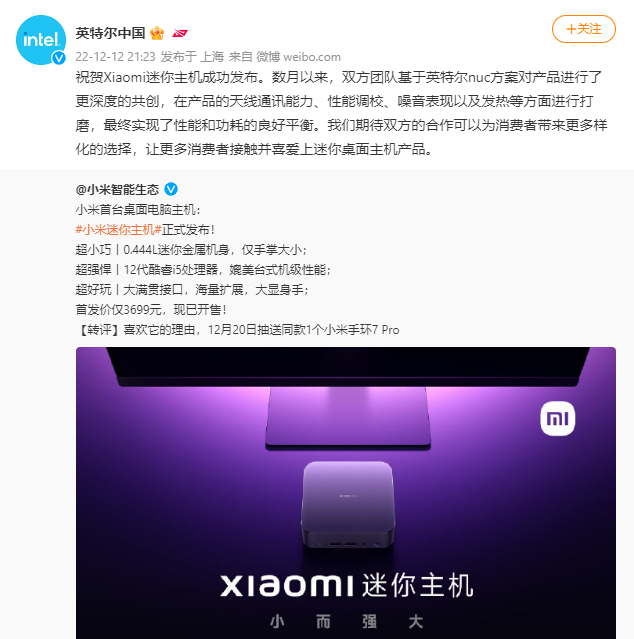 In terms of configuration, the Xiaomi mini host uses the 12th generation Intel Core i5-1240P processor, 4+8 12 cores and 16 threads, a maximum turbo frequency of 4.4GHz, an integrated Xe core graphics card with 80 units, and a standard basic power consumption of 28W. The performance can meet 99% of the usage needs of home scenarios."
The performance release of the whole machine can be stabilized at 40W, and it supports 7×24 hours of uninterrupted and stable operation. Storage comes standard with 16GB DDR4-3200 dual-channel memory, M.2 512GB PCIe 4.0 SSD, up to 32GB memory, 4TB SSD, and a second SSD can be installed.
For more technology information, please continue to watch the Chinese version of TechNave!
【source】