"The Halloween event has already begun, read the guide, don't step on the pit!" In the short video, the amusement park is already full of jack-o-lanterns, and walks into a haunted house in the shape of a skull. Raiders, and finally do not forget to guide you to click on the link in the lower left corner to buy tickets for group purchases.
The effect is very good. Even for a celebrity with only a thousand followers, five or six thousand users quickly gathered in the video comment area.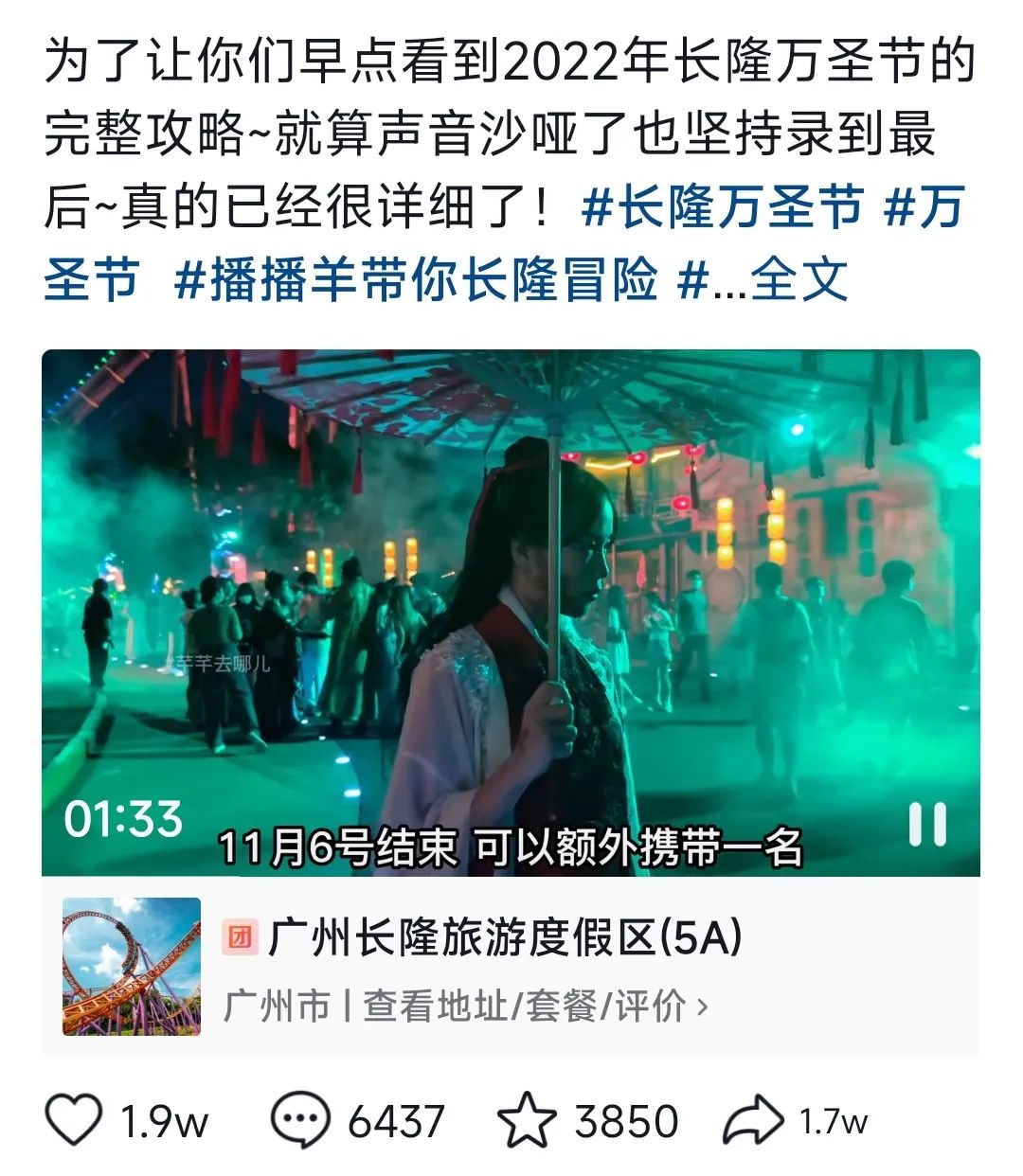 Guangzhou Chimelong launches video on Douyin
"Douyin is our fastest growing channel this year." Liu Xinyu, head of Guangzhou Chimelong related business, told Geek Park that due to the impact of the epidemic, the sales of the cultural tourism industry once fell, and it is true that Douyin can achieve rapid growth this year. Unexpected joy.
Short videos have a strong visual impact. Douyin's 600 million daily activities and accurate matching algorithms allow businesses from all walks of life to reach potential consumers in a more efficient way. Since the epidemic, more and more merchants have settled in short video platforms to carry out digital and video operations. By adding small program entrances on account homepages, short videos of planting grass, and live broadcasts, users can directly place orders on the platform for group purchase coupons or Product package.
Video quickly grows grass, clicks on the link to jump to the direct order, Douyin tries to shorten the time it takes from product announcement to commercial transformation, and to achieve this, it is inseparable from a group of behind-the-scenes operators who are the first to test the water – service providers.If the platform is an incubator for new business opportunities and new scenarios, then the service provider is an adapter connecting the platform and merchants to help merchants complete digital transformation and do business well in the Douyin life service scenario.
Douyin is a new opportunity for service providers, and it also brings new challenges to the latter.
01
Service Providers in "Capillaries"
"Now there are more than 1,000 service providers on the entire platform. To exaggerate, we have covered the capillaries of all walks of life." Chen Jianwu, the founder of Letao Mutual Entertainment, introduced to us that since May 2021, the A group of service providers have officially entered Douyin Life Service, which has brought over 10 billion yuan in revenue to the merchants. Now, one out of every four that has settled in the merchant's home is operating online through a service provider.
According to Douyin's official data, Douyin's life service has covered 377 cities across the country, with more than 1 million cooperative stores, involving more than 80 sub-categories such as catering, accommodation, beauty and personal care.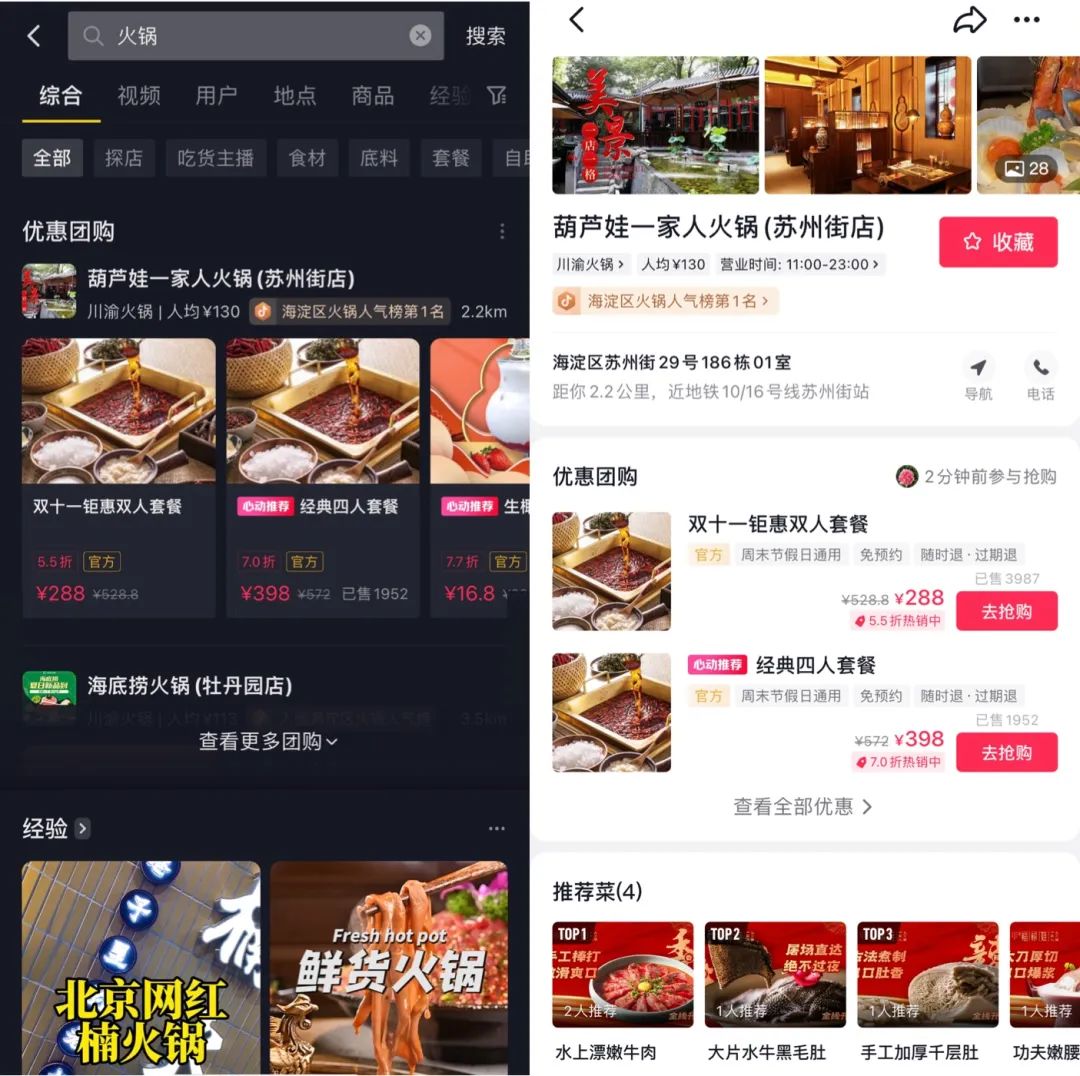 Search "Hot Pot" page on Douyin
When Letao Mutual Entertainment first entered the game, it chose the catering industry. After more than a year of accumulation, it has now accumulated many showcases, with brands such as Squirrel Tribe, Shuyi Burning Fairy Grass, Wallace, Zunbao Pizza, Helens and so on. There has been cooperation.A typical case is the live broadcast event designed by Helens, and the virtual human IP customized by Letao Interactive Entertainment for the latter has aroused discussions among many users. GMV up to 2 million yuan.
The service provider Lianlian Surrounding Tour has inherited the explosive advantages in the local life service market in the past five years, and boldly developed in the wine travel industry.With the dual-scenario operation of short video delivery + live delivery delivery, it brought more than 2 million yuan to Ruisili Hot Spring Hotel in Yuanjia Village, Xi'an GMV; Through an efficient product group strategy and local talent drainage, more than 50,000 copies of the "Shanghai Oriental Quandu Tea Restaurant Buffet + Bath Ticket Package" have been sold, with a GMV of up to 5 million yuan.
As the growth of traditional channels peaks, more and more merchants are targeting Douyin, and the service provider business will also grow after the surge in demand for online operations. Once the closed loop runs through, it will be a win-win situation.
"We helped CoCo sell a raw coconut pearl latte before. This product has been selling poorly in other channels, but it sold hundreds of thousands of cups on Douyin at once." Service provider Jinmai Zhonghe said CEO Hua Lei told us, "At that time, CoCo's inventory was only a few hundred thousand. We asked if the supply could keep up, and whether they would sell it? They said they would continue to sell."
In addition to chain brands like CoCo, according to Chen Jianwu, founder of Letao Mutual Entertainment, Douyin is also very friendly to many small and medium-sized businesses.
"We have many such cases. For example, a store selling kebabs would set up a mobile phone to live stream the kebab process every day. Everyone watched the meat grilled with oil and smoke, and the speed of ordering was slow."
From large customers to small self-employed businesses, service providers of Doulife Services are rapidly infiltrating various types of businesses, actively seizing the opportunities in the early stages of the development of the new platform.It is understood that from the launch of Douyin's life service business to August this year, the cumulative number of new merchants opened by service providers related to life services has exceeded 100,000, helping the total output of merchants. GMV It has exceeded 10 billion yuan.
02
From experimentation to evolution
No one is born a service provider of Douyin Life Services.
Looking back at the background of many service providers, we will find that, except for a small number of newly established entrepreneurial teams, most of the service providers used to be traditional e-commerce, payment services, and service providers in the past. MCN of. As the "road builder" between short video platforms and merchants, service providers still have a lot of capabilities to make up.
The production capacity of video content is the first hurdle encountered by many service providers.
Lianlian Surrounding Tour entered the local life service market as early as 2017. It originally focused on private domain operations. After joining the Douyin platform in June last year, it began to try to operate Douyin's public domain traffic.
"In the past, we operated private domains mainly through the content form of "graphics and text", but on Douyin, we needed more content such as "short video + live broadcast". "Lianlian around the tourvice presidentRen Linyan told us that in order to improve the team's video capabilities, the company has specially added material shooting and editing positions on the business side.
From March to September last year, Le Tao Huyu, which just entered Douyin, has also been busy with live broadcast tests. "We tried going directly to the store to broadcast live, and we tried usingmetaverseIn the first half of the year, the test was basically run, and it was finally determined which way of live broadcast would be better for different products. "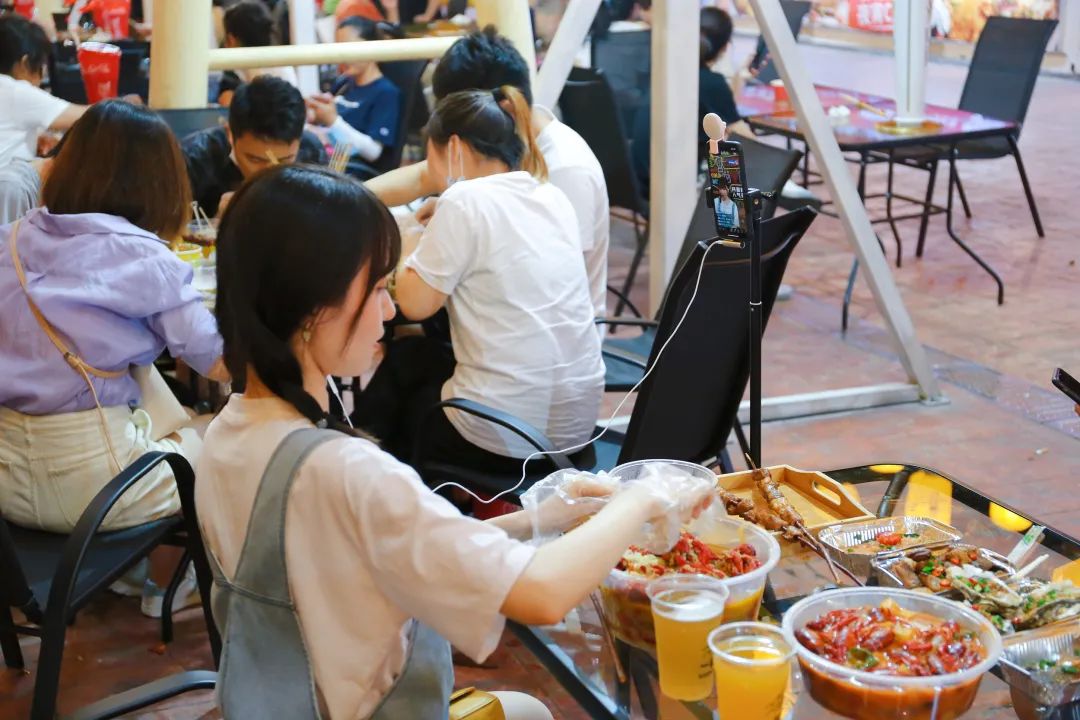 Daren broadcasts live in the store
When the basic content capabilities of the first batch of service providers were built, new changes appeared in the Douyin service market as more players entered the game. Ren Linyan believes that "a hundred schools of thought contend with service providers,Merchants pay more and more attention to long-term benefits, users pay more attention to high-quality experience, and platforms are eager for a healthier ecological cycle.All these are prompting service providers to further enhance their professional capabilities. "
The commercialization scenarios involved in the global operation are more diverse, which means that the links that require service providers to help businesses operate are also more diverse. Unlike when operating on other platforms, you only need to do one or two links. In Douyin, if service providers want to go further and higher, they need to continuously expand their service coverage and evolve from "special service providers" to "full case agency operations." service provider".
Jinmai Zhonghe originally originated from Yibao Payment. Its main business is to provide integrated solutions for payment, finance and marketing for the B-side of vertical industries. After switching to Douyin, they gradually realized this: "Originally on other platforms, we All you need to do is to help customers make small programs, provide some payment data and tools such as operation consoles, we are not very likely to intervene in the business operation of merchants. But in Douyin, it involves short videos, live broadcasts or search. However, simply providing tools to merchants cannot solve their operational problems.Our service provider must be the brain and hand of the business, and serve all links well.」
After the development direction is determined, Jinmai has explored and deployed in the aspects of enterprise account live broadcast, Daren live broadcast, Daren visit store, short content video, etc., and gradually enhances its full-case service capabilities, and is no longer limited to only providing Douyin small. Programs and other technical tools.
In addition to Jinmai, in the development plans of the two service providers mentioned above, Le Tao Mutual Entertainment and Lianlian Surrounding Tour, the whole case service has also been placed in a particularly important position. It is foreseeable that the next stage may usher in differentiated and personalized competition. Service providers will need to choose special or full-case services according to the needs of merchants. The evolution of service providers on the Douyin life service platform The road never ends here.
03
Innovated traffic, opened up business
Short video is an innovation in traffic, and the underlying logic of Douyin as a life service is fundamentally different from that of traditional local life platforms.
Douyin does not need to find traffic for the scene. The challenge is: the huge traffic in the early days can indeed attract many merchants to enter, but if you want to maintain the healthy development of the ecology, traffic alone is far from enough.Douyin needs to work with partners to build a more powerful service system to comprehensively improve the user's consumption experience.
In the view of some service providers, Douyin's service system for the whole domain is not perfect at present, and it needs to carry out more refined service upgrades around the core needs of merchants and service providers to further help both parties form a more scaled and stable business cooperation model.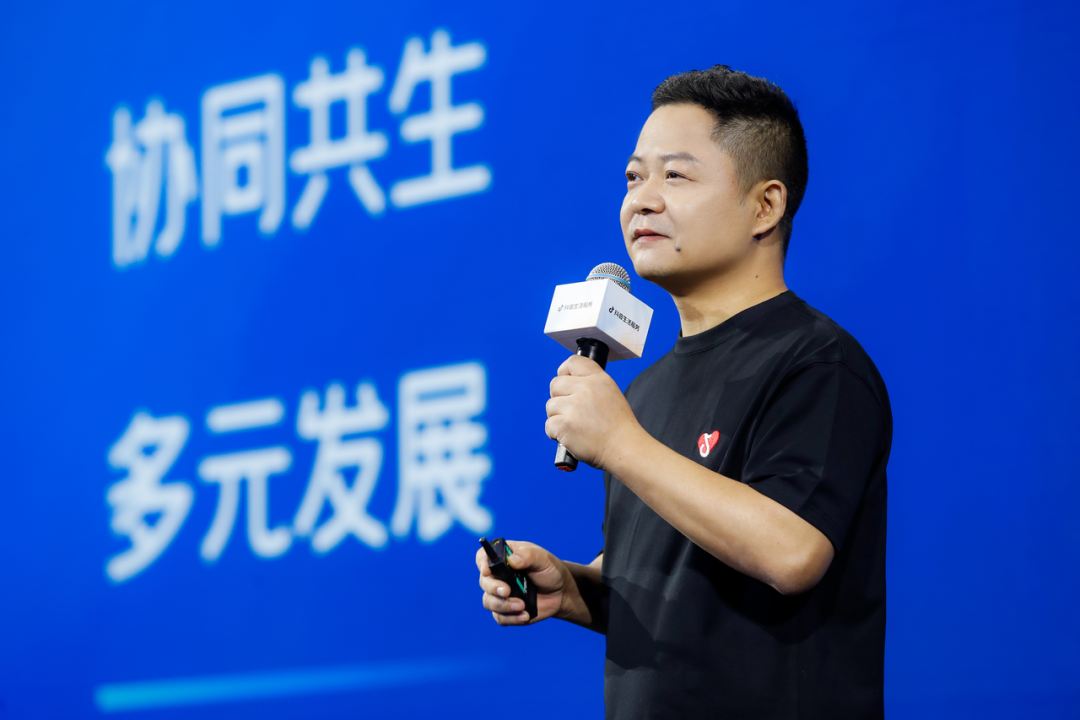 Douyin Life Servicevice president Li Wei
In this regard, Douyin Life Service is gradually taking action. At the service provider conference held on the 25th, the business launched a new platform called "Douyin Linker". Before that, the service providers of Douyin Life Service did not have a dedicated backend, and could only use the Douyin open platform or a huge engine and other tools. The new platform will provide one-stop operation services for relevant service providers.
According to the relevant person in charge of Douyin, the Linker platform redefines different service contents, clarifies the business scope and service standards of service providers, and designs a variety of cooperative service models, hoping to maximize the field expertise of service providers , while helping service providers to cooperate with merchants and settle settlements more conveniently. In the future, the Linker platform will also launch a "matching broker", which will initiate a matching plan according to the products the merchants want to promote, so as to speed up the matching of suitable talents and facilitate cooperation between the two parties.
In the early stage of ecological construction, it is difficult to take into account all the details, but fortunately in the past two years of overweight life services, Douyin has been moving forward in small steps. According to Douyin's official data, the number of contracted service providers for Douyin's life service has increased by 23 times compared with the beginning of the year, and the number of merchants that have established cooperation with service providers and stabilized sales has increased by 77 times.
Behind the rapid growth of data is a closed business loop that has been opened up: the platform has insight into the business demands of merchants, serves merchants with high-quality content and transaction information, and merchants optimize user consumption experience. People, goods, and markets have gathered, and the next step is to see if the service providers can continue to cultivate and start their new journey in the Douyin ecosystem.