In conjunction with the 15th National General Election, Lazada announces the launch of LazadaSapotUndi coupon gift packs with a total value of more than RM350! Coupons can be claimed via the Lazada app from 19th November 2022 and can be redeemed from 19th to 21st November 2022.
Users just need to click on the "Sapot Lokal" icon on the homepage of the Lazada app, then click on the "LazadaSapotUndi" icon, fill out the form and upload a photo of their finger with voting ink to claim the voucher pack. Coupons will appear on the user's Gift Certificates page.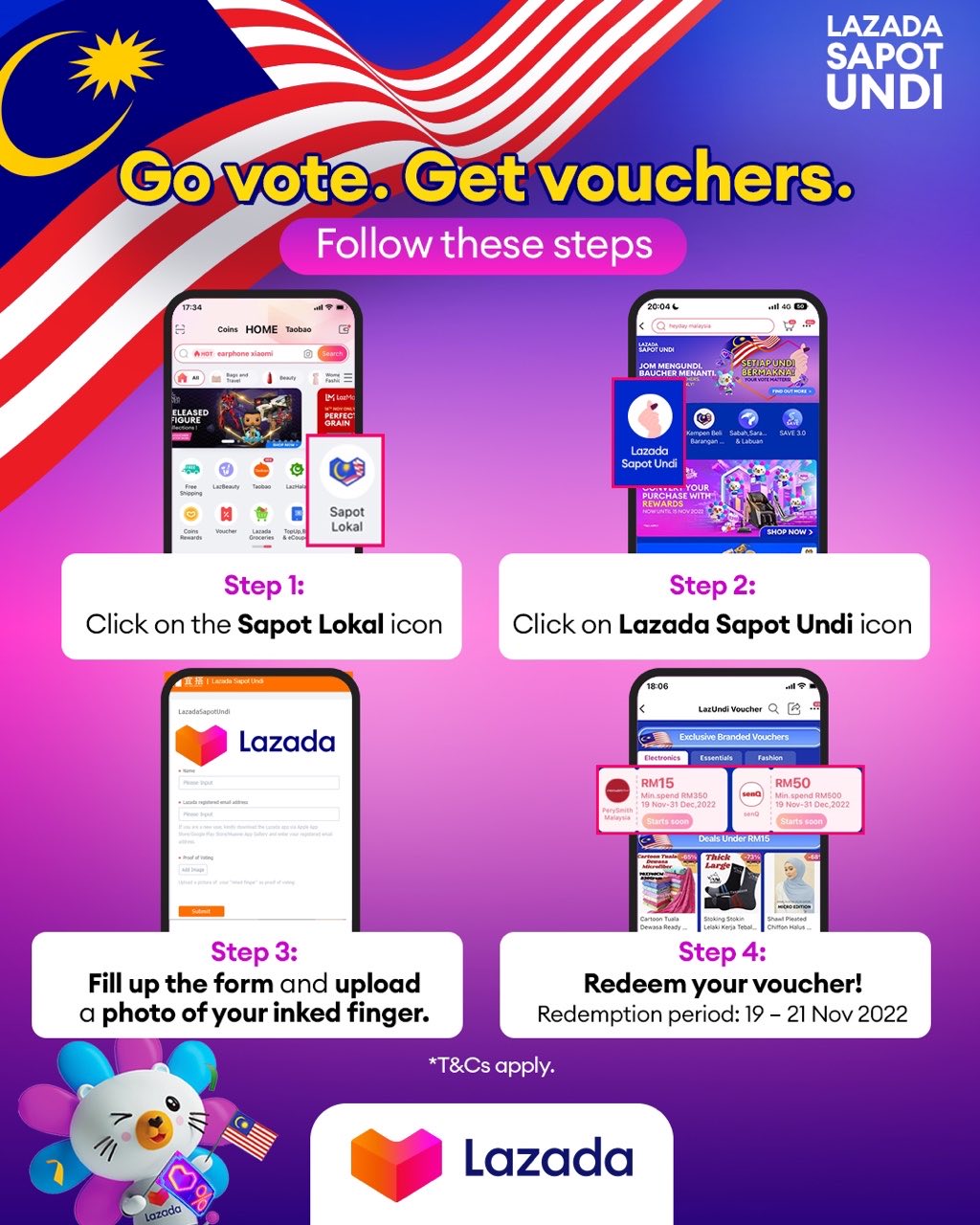 LazadaSapotUndi Voucher Pack contains vouchers for participating LazMall brands including L'Oreal, Maybelline, Kose, Shu Uemura, Biotherm, Kate Tokyo, Nivea, Garnier, Watsons, Guardian, Eucerin, Johnson & Johnson, GSK, FreePlus, Skintific, Heyup, Blackmores, Appeton, Himalaya, Bayer, Le Pro medic, eGreen, Lotus's, Illy, JDE World of Coffee, Carraro Coffee, Oldtown White Coffee, Nutrigold Malaysia, RiceUP!, Guess Watches, Furla Watches, Asus, ViewSonic, Senheng, SenQ, Russel Taylors, Triumph, PerrySmith, Clarks, Bata, Camel Active, Polo Hill, XES Shoes, Kundal, Oxwhite and Big Care Mart.
In addition, Lazada will also give away RM1.50 cash coupons. The condition for enjoying the discount is a minimum purchase of RM15. Note that the number of gift coupons is limited, first come first served, and must comply with the terms and conditions.
For more technology information, please continue to watch the Chinese version of TechNave!