New energy pickups are becoming the next "outlet".
In the government's 2022 policy to promote automobile consumption, in addition to the 60 billion yuan "rescue" policy of reducing the purchase tax of passenger cars, pickup trucks are also the focus of attention. Beginning in April 2022, the State Council has mentioned lifting the ban on pickup trucks three times, and the wording has changed from "research on further relaxation of restrictions on pickup trucks entering cities" to "promoting the removal of restrictions on pickup trucks entering cities."
According to data from the China Association of Automobile Manufacturers, as of the end of October, 286 cities (337 cities above the prefecture level) have been lifted nationwide, accounting for 85.12% of the total. Among them, the Pearl River Delta region and the Yangtze River Delta region have liberalized the restrictions on pickup trucks entering the city on a large scale, and Chongqing, Tianjin, Shanghai and other municipalities and nearly 20 provincial capital cities have joined the camp of lifting the ban.
Thanks to the support of multiple favorable policies, as well as consumers' pursuit of the safety of private vehicles in the post-epidemic era, the pickup truck market, especially new energy pickup trucks, is becoming a new blue ocean market. The purchase of pickup trucks by users is no longer limited to production tools. will be more diverse.
So how can we stand on the "outlet" of new energy pickups? The author observed that the pure electric pickup radar RD6, which was launched on November 9 this year, is priced from 178,800 yuan to 268,800 yuan, which may give some answers.
01 Do not follow the old path of traditional pickup trucks, but create differentiated positioning
The transformation of the automotive industry is not just switching from fuel to new energy, but also from traditional cars to smart cars. Smart electric vehicles will become the basic carrier of a new generation of technological revolution in the development of human society. The carrier of today's information industry is the mobile phone. A large number of chips, equipment, software, etc. are designed and optimized for mobile phones. In the future, innovations will first be applied in the automotive field and then extended to other industries.
With the development of electrification and intelligence, related technologies are spilling over to the pickup truck industry at an accelerated rate. From a global perspective, the trend of new energy pickup trucks is rapidly taking shape. At present, in terms of new energy pickup trucks, Tesla and Ford have shown strong strength. In 2019, Tesla launched the Cybertruck electric pickup truck. The current order has exceeded 1.6 million, and delivery will begin as early as 2024; in May 2021, Ford released the pure electric F-150 Lightning, which is the core of Ford's electrification transformation One of the products. Orders for the F-150 Lightning exceeded 200,000 units, and orders were previously suspended due to exceeding planned production capacity.
At the same time, some electric vehicle start-ups, such as Rivian, Nikola, Bollinger, Atlis, etc. are also launching electric pickup products. Although other global automakers have not yet launched similar products, they are also planning and planning.
In contrast, the current transformation of domestic pickup trucks has only just started. Although a few companies have launched pure electric pickups, they are still taking the "oil to electricity" route. These products are more for industry customers and have not yet become mainstream in the market.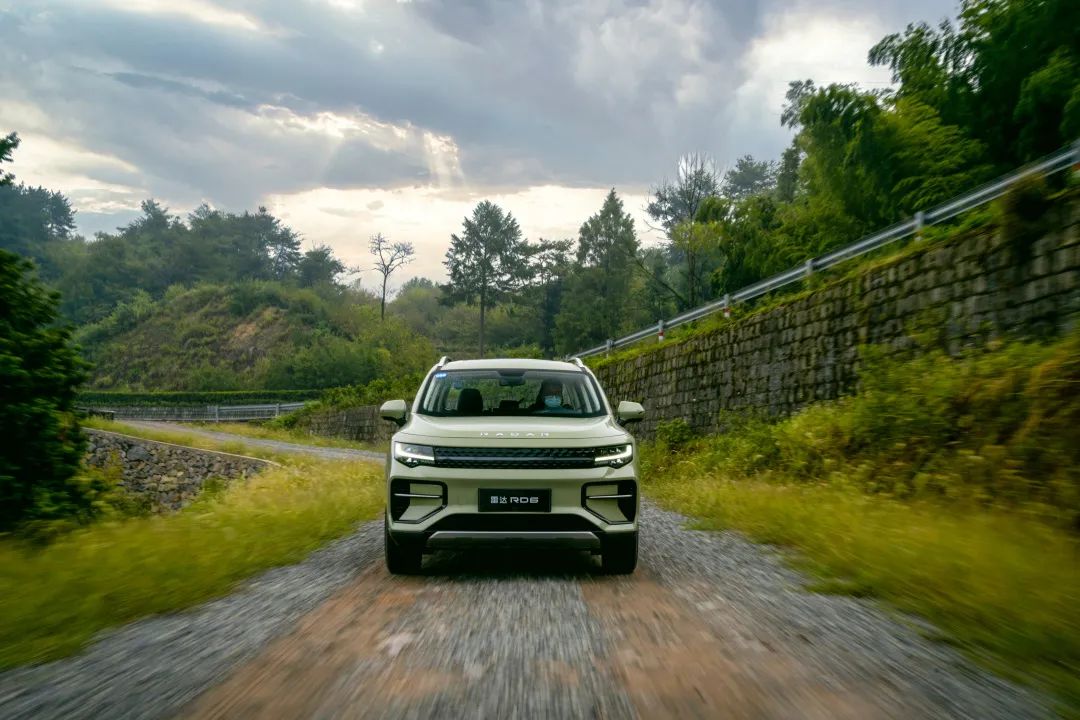 Radar RD6 | Image source: Radar Auto Weibo
As a "newcomer" in the market, Radar Auto did not repeat the old path of traditional pickups, but directly entered the new energy segment with pure electric pickups as the entry point. Many people may be a little unfamiliar with Rado Motors. It is a pure electric pickup brand funded by Geely Holding Group and developed in parallel with Geely, Lynk & Co, and Geometry brands under Geely Group.
From the radar RD6 "consumer-grade pure electric pickup" and "mobile multi-element charged space", we can see that there are two keywords, pure electric and multi-element, which are based on their understanding of economic trends, user needs, products and technologies. derived from deep insight.
At present, Rado Auto does not just want to add an electric pickup truck step by step, but wants to create a pickup truck product that is comparable to mainstream pure electric passenger cars. In terms of the three-electric system, the radar RD6 is equipped with a 200kW high-power three-in-one electric drive, and the acceleration from 100 kilometers can reach 6 seconds, which is the fastest acceleration pickup in China; Core, which makes the cruising range up to 632 kilometers under CLTC conditions, which solves the mileage anxiety in outdoor travel and engineering operations; at the same time, the radar RD6 uses a new generation of high-performance permanent magnet synchronous motors, with an efficiency of 97.1%. The power consumption per kilometer is as low as 16.9kWh.
In addition, the radar RD6 also has the characteristics of ultra-fast energy replenishment and electric energy safety. Official data shows that in the fast charging mode, the radar RD6 can achieve a range of 100 kilometers in 10 minutes of charging, and the battery pack can be charged from 30% to 80% in 30 minutes; at the same time, the RD6 can also be matched with an 11kW high-power AC home charger, and the charging efficiency It is 50% higher than ordinary home charging piles, and it only takes 7 hours to fully charge from 20% to full charge; battery safety is also a pain point for electric vehicles. The battery pack of RD6 uses the technology of no heat spread and no fire, with IP68 protection and multi-layer heat insulation Six major security measures, including barrier-free heat dissipation, protect travel safety in all aspects.
Behind this is the empowerment of Geely's new energy system. As early as 2005, Geely started to get involved in new energy vehicles. After 17 years of development, it has achieved a comprehensive layout of the new energy vehicle market. In November 2022, Geely's new energy vehicles achieved a total sales of 34,600 units, ranking fourth among auto companies, with a month-on-month increase of over 11%. In the first 11 months, Geely Group's cumulative sales of new energy vehicles reached 284,200 vehicles, a year-on-year increase of more than 300%, leading the industry in growth rate.
Especially in the core three-electric technology, Geely has the ability to self-develop and manufacture in the whole field, and also maintains advantages in modules, PACK technology, battery intelligent management and safety.
02 From production tools to multi-quality life
In the impression of Chinese people, the main customers in the pickup truck market are traditional business users such as industrial and mining enterprises, and these users mainly use pickup trucks as tool carts. Individual users only account for a small part and have not yet formed a scale.
However, judging from the global trend, pickup trucks are developing from pure tool attributes to passenger vehicles, and the use scenarios are becoming more and more detailed and diverse. For example, Rivian R1T and Tesla Cybertruck, which are currently the most concerned, have begun to put driving comfort in the first place, abandoning the traditional American pickup truck's muscular and hardcore characteristics. Among them, in terms of suspension, Rivian R1T adopts the layout of front double-wishbone independent suspension + rear multi-link independent suspension, and is equipped with adjustable soft and hard air shock absorbers. been greatly improved.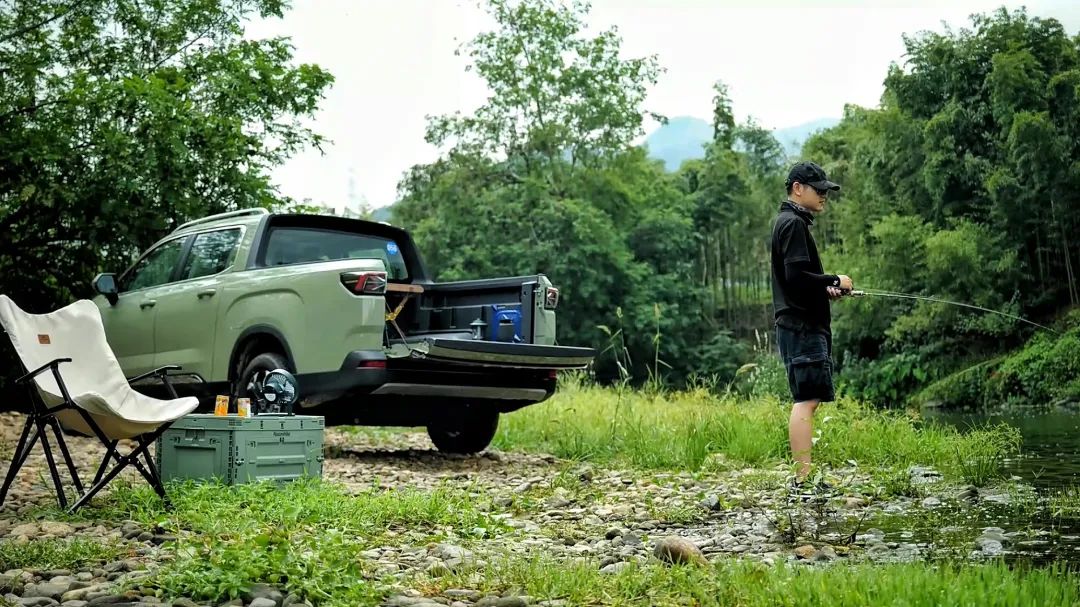 Radar users are experiencing outdoor life | Image source: Radar Auto Weibo
In China, with the substantial improvement of the policy environment, in addition to basic car demand, people's demand for diversified scenarios such as off-road, camping, and self-driving travel is also growing.Rado Motors did not stick to traditional thinking, and anchored the outdoor lifestyle from the very beginning, becoming the first domestic brand to introduce the concept of electric pickups to individual users. Just as Ling Shiquan, CEO of Rado New Energy Vehicles, said, "Pickup trucks are multi-functional and multi-scenario products outdoors. The pickup trucks in the market currently have a single function. First of all, we need to achieve multi-function and multi-scenario. This is a platform concept, and Not a single attribute."
In order to meet the diverse needs of users, the radar car has also been specially designed and optimized. Radar RD6's load-bearing body and battery pack greatly lower the vehicle's center of gravity. At the same time, the 50:50 counterweight front and rear and the characteristics brought about by electric four-wheel drive also make Radar RD6 have good comfort and control sex. This makes Radar RD6 have the comfort of a car, the off-road performance of an SUV, the leisure performance of a station wagon, and the loadability of a light truck, completely covering home, off-road, travel, trailer, camping, fishing, outdoor adventure, etc. All-round car scene.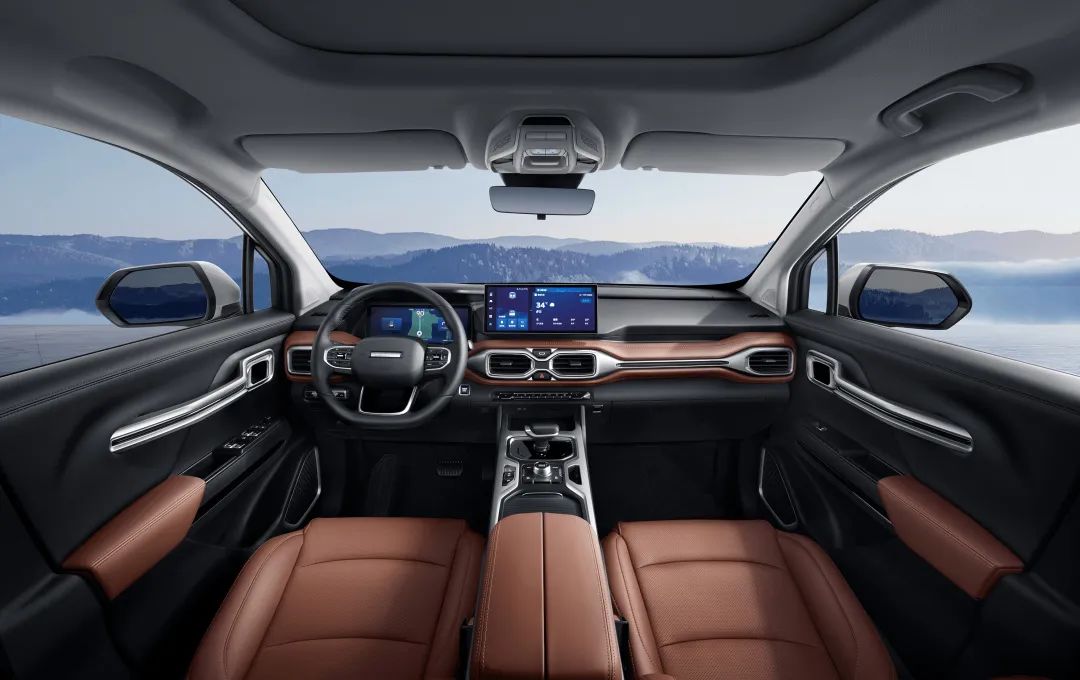 Radar RD6 interior | Image source: Radar Auto Weibo
In terms of interior, Radar RD6 also changed the rough impression of traditional pickups, focusing on luxury and refinement. The whole vehicle uses leather-wrapped seats, embellished with chrome-plated decorative parts, equipped with 72-color streamer and dynamic ambient lights, and the overall design is both simple and high-end.
In addition to the consideration of passenger comfort, radar cars have also spent a lot of thought on energy. Radar RD6 pioneered the domestic unique 6kW ultra-high-power driving discharge, so that it can meet the individual needs of more users. For example, if the user wants to take a quick trip, then Radar RD6 can become a mobile kitchen. Unlike many new energy SUVs that can only be discharged outside when they are stationary, Radar RD6 can also be discharged during driving, so users do not have to worry about deterioration of the chilled ingredients in the refrigerator; if you want to have a passionate surfing, Narador RD61200L travel space can easily accommodate all surfing equipment.
At the same time, on the basis of the radar RD6, it can also be converted into a lightly modified camper, towed RV, fishing cart and coffee cart, etc., to create a new experience of outdoor life beyond the past.
03 The world's martial arts, only fast can not break
Looking back at the outbreak of market segments in the automotive industry, there is a relatively fixed logic: first, social development promotes new needs from users, and then phenomenal products promote the outbreak of market segments.
The transformation from traditional cars to smart electric vehicles has provided independent brands with the possibility of "changing lanes and overtaking". From 2020 to the present, in less than three years, the development of China's new energy vehicles has broken through the "critical point" ahead of schedule, drawing a beautiful upward curve. According to the data from the Passenger Federation, in the first 11 months of 2022, the domestic retail sales of new energy passenger vehicles reached 5.03 million, a year-on-year increase of 100%, maintaining an upward trend. Among them, in November, the retail penetration rate of new energy passenger vehicles was 36.3%, an increase of 15 percentage points compared with the same period. This compares to a penetration rate of 5.8% in 2020 and 13.4% in 2021.
During this period, Wei Xiaoli, as the first batch of new car-making forces, enjoyed the industry dividends of electric vehicles, and entered the global auto industry as a "dark horse".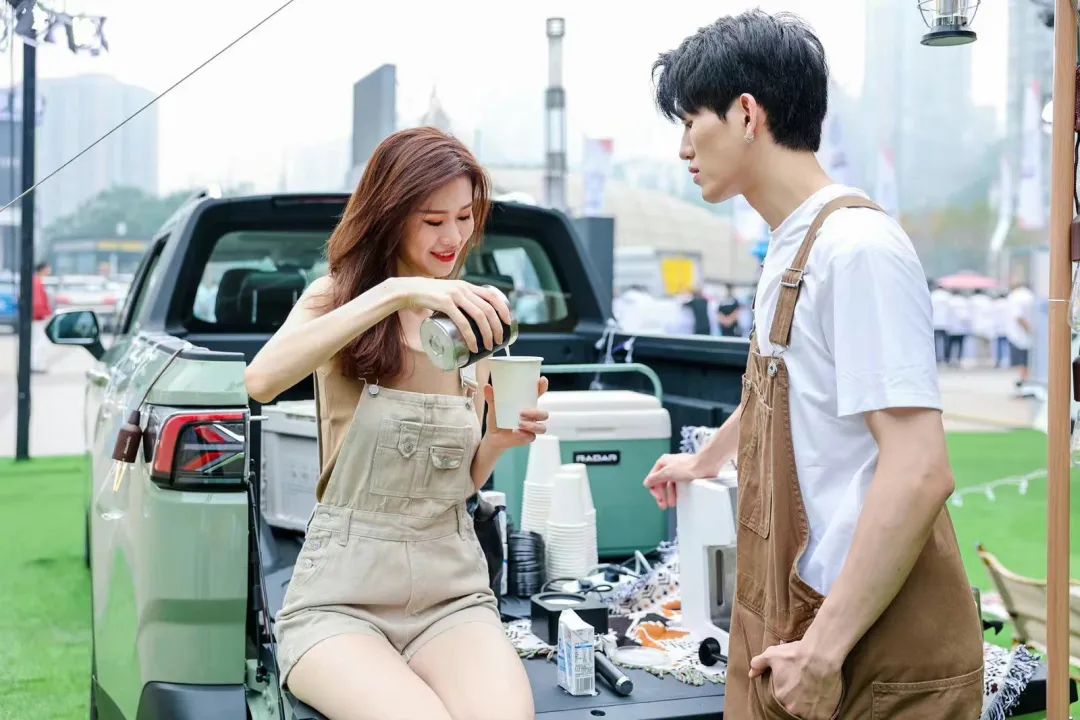 Radar users are experiencing outdoor life | Image source: Radar Auto Weibo
The same opportunity exists in the pickup truck market. In recent years, diverse outdoor life such as camping, outdoor cycling, and light off-roading is gradually becoming a new trend. Changes in lifestyle under new consumption have aroused everyone's demand for diversified vehicle functions. The combination of new energy and household use of pickup trucks can better satisfy the user experience, which may bring new demand growth points for pickup trucks.
Today, Rado Auto is walking on the road that Wei Xiaoli once walked, keenly grasping the changes in consumer demand, cutting into the blue ocean market of electric pickup trucks, and launching the RD6, the first pure electric pickup truck in China.
In the future new energy pickup truck market, the process of electrification will continue to accelerate.In the market competition pattern, it will not be the big fish eating the small fish, but the fast fish eating the slow fish. Only in the fast process can we "overtake".As the fastest-moving brand in the field of new energy pickups, Radar has succeeded more than half.