New typesetting of WeChat official account: Swipe horizontally to browse pictures
On February 16, WeChat Pai, the official account of WeChat, released a picture message, showing the brand-new picture layout mode of the WeChat official account. Different from the previous picture news that used various third-party typesetting tools to realize the horizontal arrangement of pictures, this picture news natively supports the horizontal arrangement of pictures.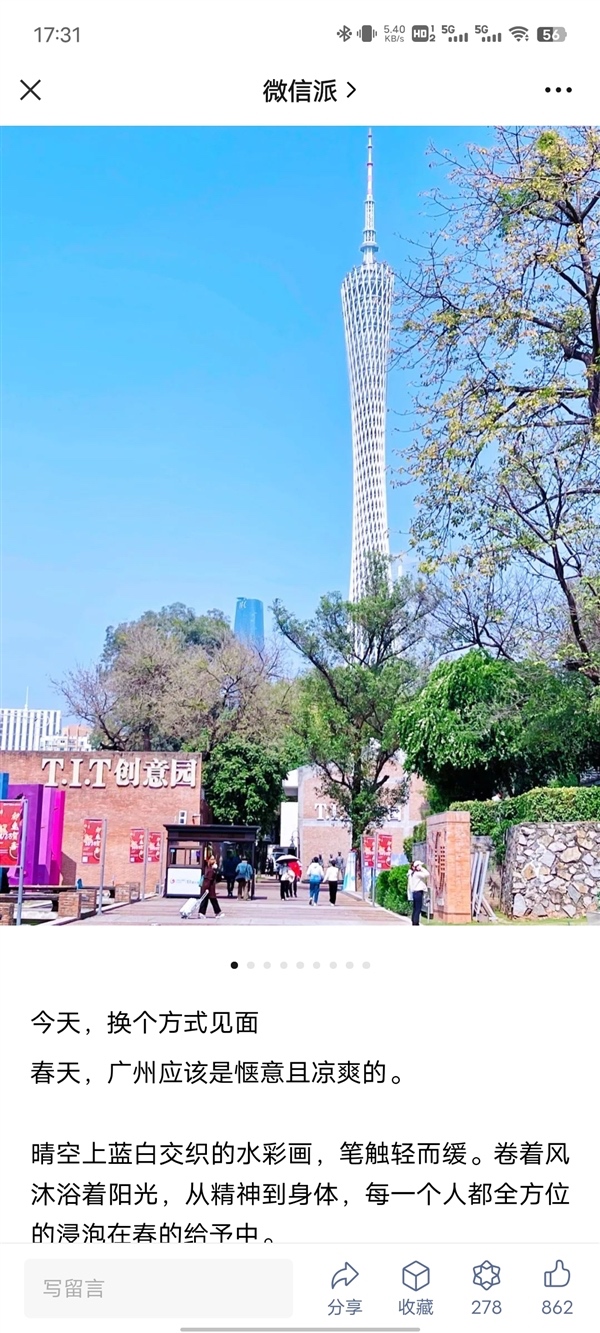 The specific upgrade content includes: creators can fill in the title; the description is expanded from 140 characters to 300 characters; users can scroll horizontally to browse all pictures on their mobile phones, and the display ratio is 3:4. (Source: Fast Technology)

Tencent responds to the "dissolution of the XR team": change the business development path, and adjust the relevant teams
On February 16, it was reported that different departments of Tencent's XR business line received notices from the GM (general manager) and HR who were temporarily managed in batches. The company announced that all XR positions would be cancelled. During the buffer period, look for internal living water or external opportunities. In this regard, Tencent stated that Tencent's game XR business will change the hardware development path, and the relevant business teams will make adjustments.
It is understood that Tencent will provide a 2-month transition period for affected employees, and give priority to job transfer interviews and external recommendation opportunities. People close to Tencent revealed that Tencent has not given up exploring XR. Tencent established the XR department with a high profile in June 2022, and its internal structure is set up under the IEG (Interactive Entertainment Group). (Source: Tech Planet)
Douyin releases store-exploring specifications: cracking down on phenomena such as "Bawang Meal" and "Yuntandian"
According to news on February 16, according to Douyin Life Service's public account, the industry's first "Store Exploration Standards" were released to combat false propaganda, and clarified the code of conduct, rights and responsibilities that merchants and Internet experts should abide by in the process of cooperation in store exploration . The specification and products have been piloted in 8 cities including Chengdu and Nanjing, and will be gradually extended to the whole country after testing and optimization.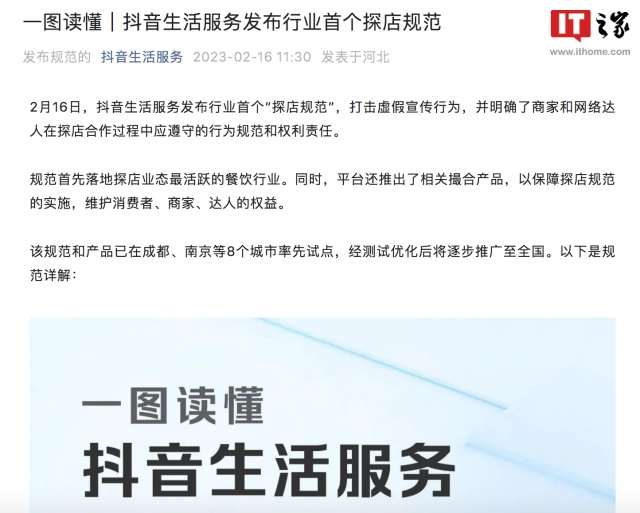 In response to violations such as false grass planting and exaggerated publicity, the "Regulations on Restaurant Exploration" clearly stipulates that merchants and experts are prohibited from falsely exaggerating descriptions of products, out-of-scope publicity, and fictitious product source backgrounds; You must actually go to the store to shoot, and it is forbidden to move, process, edit and edit network materials, and third-party materials to pretend to be store visits, and publish false store visit content.
Once false promotional content is discovered, punishment actions such as warnings, removal of videos, account downgrades, and bans for submissions will be imposed in accordance with the "Life Service Creators Violation Management Rules", and will be included in the rating and evaluation system for merchants and talents. Feedback to the platform can be reported through video. (Source: IT House)
Microsoft announced the preliminary test results of Bing's integration of ChatGPT: 71% of testers approved the search results
After Microsoft conducted a week-long test of the new artificial intelligence features of the Bing search engine on users from 169 countries, on February 16, Microsoft announced the preliminary test results, and 71% of the testers recognized the artificial intelligence-optimized Bing search result. Microsoft also found that the AI ​​chat feature in the search engine didn't perform well in longer conversations with more than 15 questions.
Recently, researchers and other users have posted some unusual interactions with Bing chatbots online, including artificial intelligence chatbots that can even show a threatening or argumentative tone, or give content that clearly disputes basic facts. Microsoft acknowledged that some people are testing the boundaries of AI chat, and said that these actions help improve the product. (Source: Netease Technology)

ChatGPT developer OpenAI buys AI.com
On February 16, the domain name economy giant Saw.com announced on social media that it participated in the sale of the top-level domain name "AI.com". Judging from the forwarded article, the buyer of this domain name is the developer of the recently popular generative artificial intelligence ChatGPT: OpenAI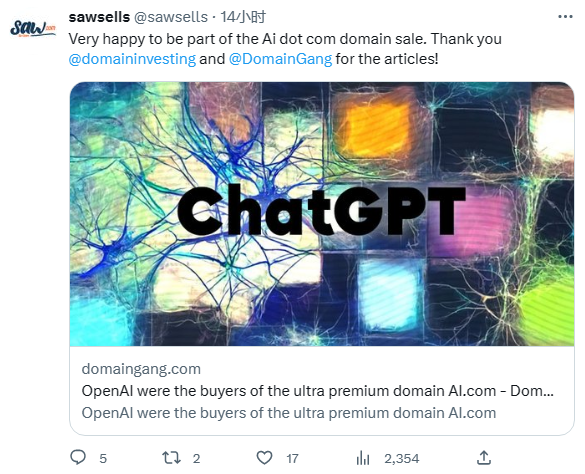 At present, neither OpenAI nor Saw.com has disclosed the price of AI.com, which can be called the ultimate domain name, but according to the listing price of the domain name when it is sold in 2021, it is worth at least 11 million U.S. dollars (about 75.35 million yuan). Yuan).
Currently, visiting the AI.com domain name will directly redirect you to ChatGPT's official website homepage "chat.openai.com". (Source: cnBeta)
Luo Yonghao responded to make a friend's salary arrears: it has been coordinated and properly resolved
On February 16, the topic of "Luo Yonghao makes a friend's company owes wages" aroused heated discussions among netizens. An employee broke the news that he was maliciously laid off by Luo Yonghao's company. According to the employee, he joined Luo Yonghao in June 2021 as a friend. On February 1, 2023, he submitted a complaint of 14 unpaid wages to the Human Resources and Social Security Bureau. Illegal layoffs for unwarranted "illegal" reasons.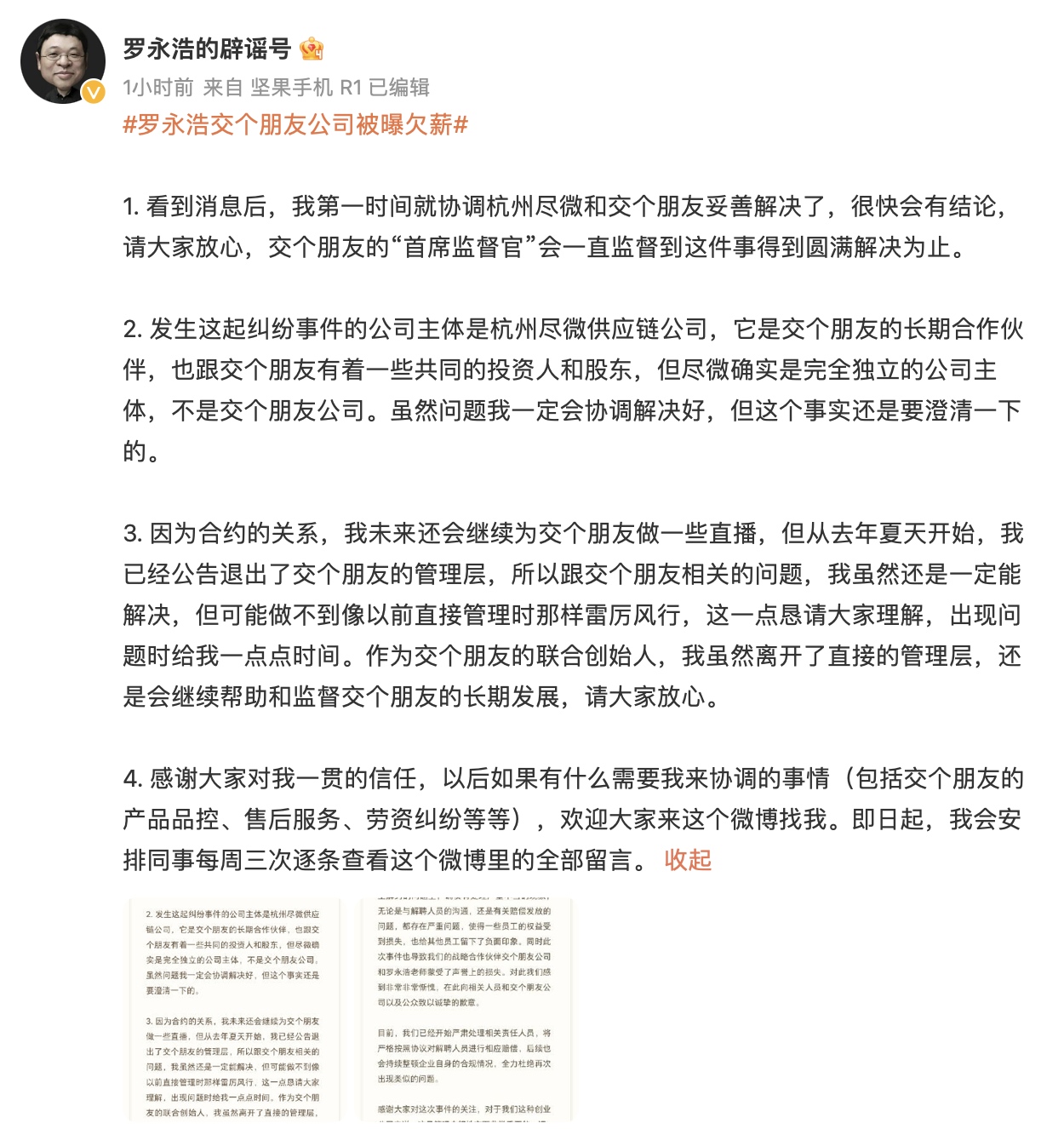 In this regard, Luo Yonghao's Weibo account @罗永浩的调话号 responded in the evening, "I have announced my withdrawal from the management of making a friend… I have coordinated with Hangzhou Jinwei and making a friend to properly resolve it, and there will be a conclusion soon , the "chief supervisor" who made a friend will continue to supervise until this matter is satisfactorily resolved. "(Source: Weibo)
Foxconn to assemble Apple's 2023 Mac Pro and MacBook models in Vietnam
On February 16, according to the South China Morning Post, in order to diversify Apple's supply chain, Foxconn, Apple's largest supplier, has acquired a new site in Vietnam. Foxconn has signed a lease with Saigon Bac Giang Industrial Park Company, occupying It acquired a 45-hectare land to meet "operational needs and expand production capacity". The lease will run until February 2057, the company said.
While the report didn't say what products Foxconn would make at the factory, several reports from last year suggested that the 2023 Mac Pro and new MacBook models were the latest products the Taiwanese company would manufacture in Vietnam. (Source: cnBeta)

Geely will launch a series of mid-to-high-end new energy vehicles, named "Galaxy"
On February 16, Geely Automobile announced that the brand's mid-to-high-end new energy series was officially named "Geely Galaxy". Geely will officially release the "Geely Brand New Energy Strategy" at the main venue of the Hangzhou Asian Games on February 23, and launch Geely Galaxy's first smart electric product. The first product will adopt a new design, three electric and intelligent technologies.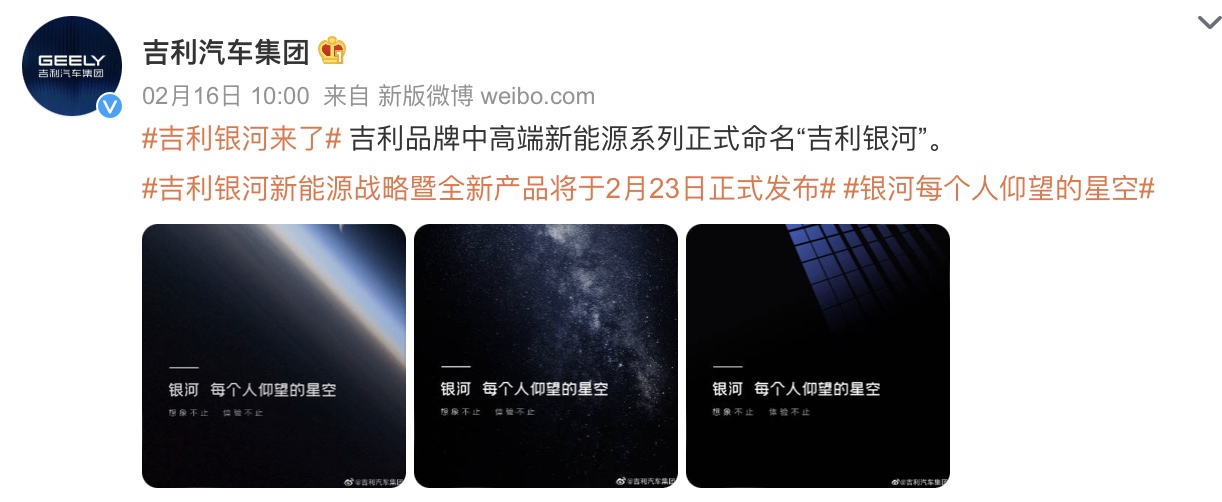 It is understood that the positioning of the new brand "Galaxy" is expected to be between the Geometry brand and the Extreme Krypton brand, focusing on the 200,000-300,000-level market. (Source: China Business News)
Nubia releases its first tablet product nubia Pad 3D: it can realize naked-eye 3D effect
On February 16th, Nubia announced that it will participate in the MWC 2023 exhibition held in Barcelona, ​​​​France, and bring its first tablet nubia Pad 3D. According to reports, nubia Pad 3D is the world's first tablet with AI technology blessing, intelligent recognition of human eyes, to achieve a true naked-eye 3D effect, the tablet is jointly designed with Leia Inc.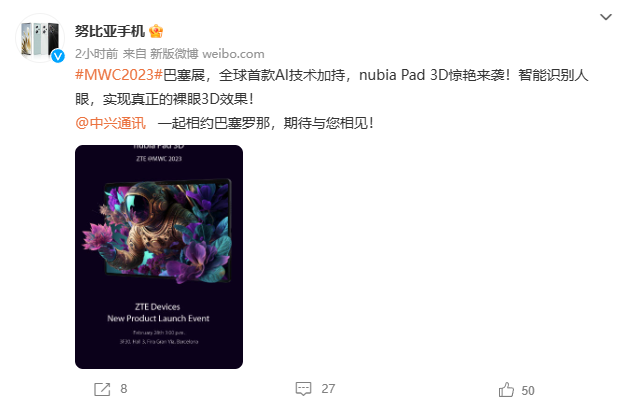 Judging from the official poster, the new tablet uses a horizontal camera design, with two cameras on the top, which are expected to be used for human eye recognition to form 3D images. It is also equipped with a right-angle middle frame, which is simple and beautiful. The official has not disclosed the Nubia Pad 3D hardware specifications, but from the perspective of naked-eye 3D technology, the tablet should be equipped with a flagship chip. (Source: cnBeta)

Bank of China Switch announced to change the Chinese names of some Nintendo characters
On February 16, the Nintendo Switch official website issued an announcement announcing the change of the Chinese names of some Nintendo characters. The official stated that this move is intended to make the character names closer to the original pronunciation.
For example, Mori Xigang → Dong Qigang, Peach Blossom → Brigitte, Chrysanthemum → Daisy. In addition to the above-mentioned characters, the names of other characters may also be changed in the future, but there is currently no plan to change the name of the game characters that have been released. (Source: 3DMGame)
Source: Visual China