HUAWEI's new desktop is coming, but it's more precisely an upgraded version of the all-in-one MateStation X, this time with a bigger display.
A few days ago, the whistleblower "Uncle Kanshan" recently broke the news that the biggest feature of HUAWEI's new all-in-one MateStation X 2022 is that it should beThe blessing of HUAWEI's strongest display。
According to the news, this new PC will use the i9-12900H processor. Intel's 12th-generation Core has appeared on MateBooK many times before, and there is no need to worry about performance. It is reported that this new phone will have two versions: 16+512 and 16+1T. According to the whistleblower,It can get 75 points when it is an all-in-one machine, and 95 points when it is sold as a mirror display.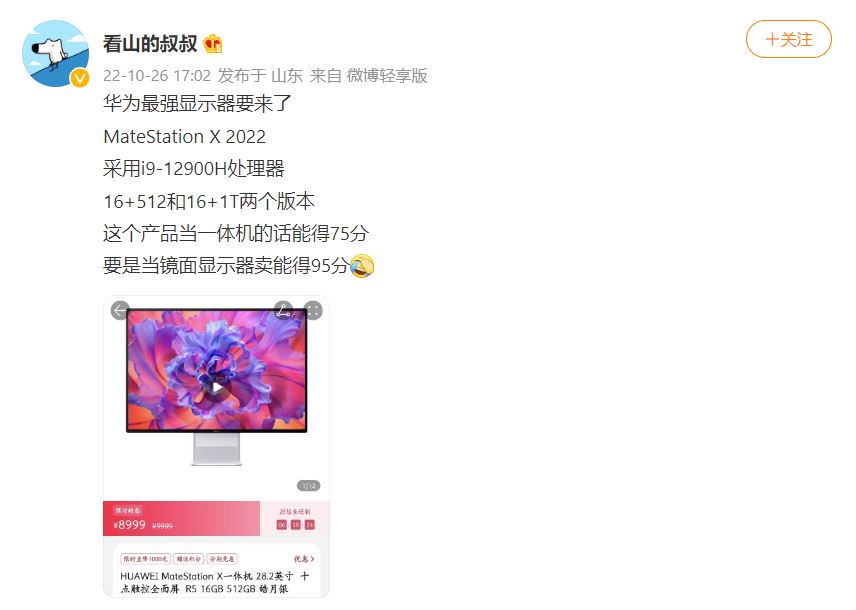 As a comparison, the previously released HUAWEI MateStation X all-in-one machine uses a 28.2-inch 4K+ resolution (3840×2560) screen, a 3:2 productivity screen ratio, 98% P3 wide color gamut, 500nits brightness, and has passed DisplayHDRTM 400 certification.
However, the previous generation was equipped with AMD Ryzen 7 5800H standard pressure processor, standard 16GB RAM, 512GB solid state drive, and the price was 11,799 yuan (about RM), so according to this price, it is inevitable that the new product will be at least 10,000 yuan in the Chinese market , how to start at 11,799 yuan.
HUAWEI officially announced today that the HUAWEI MateStation X 2022 all-in-one machine will be released at the HUAWEI Pocket S and full-scene new product launch conference on November 2.
Judging from the official poster, the new HUAWEI MateStation X has a very narrow display with four borders, and is also equipped with a HUAWEI wireless keyboard and Bluetooth mouse. At present, the official has not announced other information about the new product.
For more technical information, please continue to hold the Urban Tech Story version!
【source】