Fudan MOSS team responds to server traffic overload and explains that the name comes from "The Wandering Earth"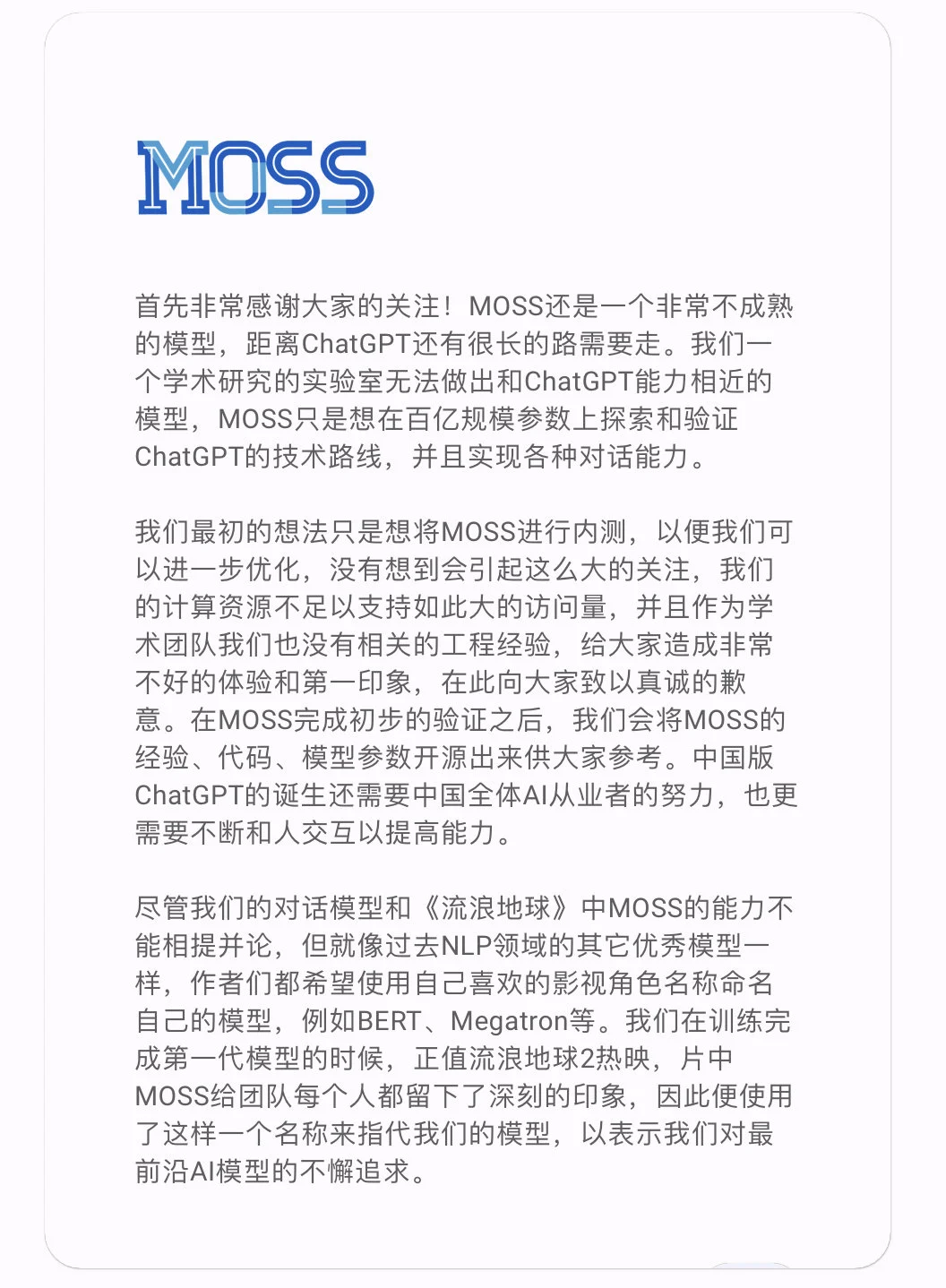 China's first conversational large-scale language model MOSS has been released to the public platform (https://moss.fastnlp.top/) by the team of Professor Qiu Xipeng of Fudan University, and the public is invited to participate in the internal test. That night, screenshots appeared on social media, showing that the platform was "overloaded with server traffic, please try again tomorrow morning."
Subsequently, the official website of the platform released a statement explaining that "computing resources are not enough to support such a large number of visits", "causing a very bad experience and first impression to everyone", and expressing sincere apologies.
Qiu Xipeng's Zhihu account shows that he paid attention to the question "The Fudan team released the first ChatGPT-like model MOSS in China, what impact will it bring to the exploration and application of large language models in China?" in the early morning of February 21, but did not reply. .
The MOSS R&D project is supported by the Shanghai Artificial Intelligence Laboratory. Later, this work will be shared with the industry community through open source. (Source: The Paper)

Musk says Twitter will open source its algorithm next week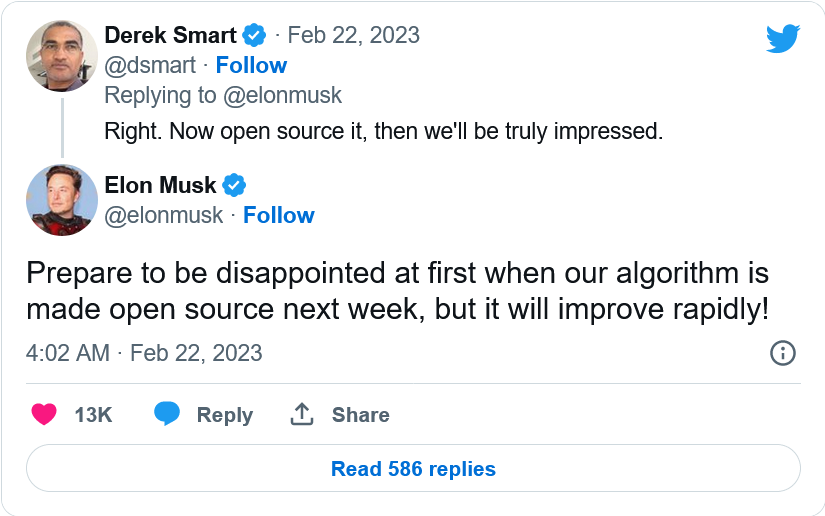 A new tweet from Musk suggests the company is preparing to open source its algorithm as soon as next week. Musk has long advocated that Twitter's recommendation algorithms should be open-sourced, expressing this belief many times even before he took the helm of the social network, and again in April 2022 when he announced his intention to acquire Twitter.
Today, in response to a tweet urging him to open-source Twitter, Musk said, "Be prepared to be disappointed at first when our algorithm is open-sourced next week," before noting, "It will improve rapidly."
Twitter has been facing additional pressure from the broader open source community. Twitter's replacement, Mastodon, saw a surge in usage after Musk took over Twitter in October.
Twitter co-founder and former CEO Jack Dorsey expressed regret last year that Twitter was turned into a company in the first place, saying that instead Twitter should be developed as an open and verifiable protocol. (Source: cnBeta)
Is it bound to win Activision Blizzard?Microsoft chief to testify before EU regulators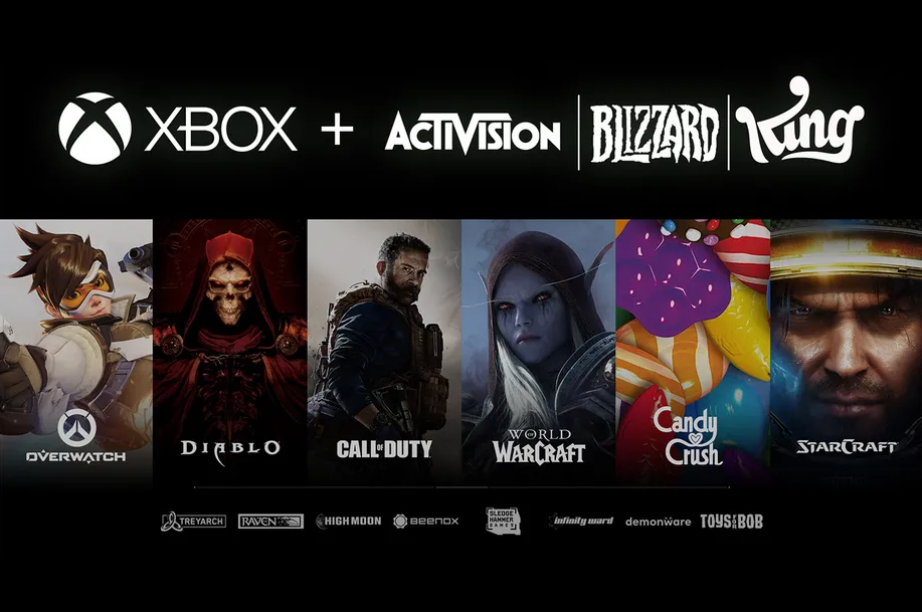 On the afternoon of February 21, it was reported that Microsoft President Brad Smith (Brad Smith) will seek to persuade EU antitrust regulators in a closed-door hearing on Tuesday local time that the US software giant will pay US$69 billion. The deal to buy Call of Duty maker Activision Blizzard would boost competition without creating a monopoly.
Microsoft announced the acquisition last January to take on gaming market leaders Tencent and Sony, but the deal has run into regulatory headwinds in Europe, Britain and the United States.
The European Game Developers Federation (EGDF), which will also be among the participants in the hearing, said the deal would allow Microsoft to challenge the likes of Apple, Google and Tencent. (Source: Sina Technology)
Amazon teams up with an AI startup to compete with OpenAI's ChatGPT tech
Amazon's cloud unit has expanded its partnership with artificial intelligence (AI) startup HuggingFace Inc., which is developing a competitor to ChatGPT. Amazon's latest move shows that tech giants are joining forces to enter the fiery generative artificial intelligence system (generative AI).
Amazon Web Services will offer HuggingFace's products, which include a language generation tool that rivals OpenAI's ChatGPT technology, to cloud customers who want to use the tools as building blocks for their own applications.
HuggingFace will build the next version of the language model, called BLOOM, on AWS, said Swami Sivasubramanian, vice president of databases, analytics and machine learning at Amazon's cloud computing division. (Source: Financial Associated Press)

Tesla will be equipped with 4D millimeter-wave radar U.S. stock Arbe surged 70% last night
Tesla submitted a vehicle change application to European regulators, confirming that the latest autopilot hardware HW4.0 will be mass-produced. According to reports, the performance of HW4.0 is estimated to be about 2-4 times that of HW3.0.
In the upcoming HW4.0 hardware system, Tesla not only configures a high-resolution millimeter-wave radar (brokers believe that it may be a high-precision 4D millimeter-wave radar), but also adds heating for the radar. to prevent the radar signal from being affected by ice and snow. (Source: Financial Associated Press)
Royole Technology owes millions of debts, and the dishonest persons subject to enforcement have been executed for more than 100 million
In 2018, Royole Technology released the world's first folding screen mobile phone – FlexPai, which uses the 7.8-inch flap flexible screen 2nd generation AMOLED screen independently developed by Royole Technology. This unicorn, once valued at more than 50 billion, The originator of the folding screen mobile phone has now become an old Lai due to arrears.
It is learned from Tianyancha that recently, Shenzhen Rouyu Technology Co., Ltd. was listed as a dishonest executor by the Shenzhen Intermediate People's Court due to other evasion of execution, and was restricted from high consumption.
Shenzhen Royole Technology Co., Ltd. was established in May 2012 with a registered capital of RMB 360 million. At present, the company has been executed for more than 100 million yuan. In March last year, Royole Technology was revealed to be unable to pay wages for 6 months, and in May it was revealed that it had started a new round of layoffs. (Source: Fast Technology)
There is no hope of refunding the deposit: the ofo small yellow car has been completely unable to log in, and the user cannot receive the SMS verification code
According to news from IT House on February 22, the client of ofo, a bike-sharing company, has been unable to receive SMS verification codes, resulting in users being unable to log in.
The test found that currently ofo Apple and Android clients cannot receive verification code SMS. When using the ofo applet to test, it prompts that the network is abnormal. In addition, ofo's official 400 customer phone number cannot be connected. When calling the office phone number published on the company's official website, it indicates that the phone has been shut down.
Since its establishment in 2014, ofo has once become a star enterprise that is optimistic about capital. However, after the problem of the capital chain in 2018, ofo fell into a crisis of consumers demanding deposits, and ofo, a small yellow car, is hardly seen on the streets today.
According to media reports, in October 2020, the application for refund on the "ofo bike-sharing" app ranked more than 16.59 million. Two months later, the ranking has only improved by less than 3000 places. According to this refund rate calculation, more than 16.5 million ofo users have not received the due refund so far. (Source: IT House)

Apple iPhone 15 Pro models are expected to be equipped with 8GB of memory, according to news
According to news on February 22, market research agency TrendForce recently released a report saying that Apple will "increase the memory capacity and specifications of the iPhone 15 series models." It's just that the specific memory details are not mentioned in the report.
Since Apple launched the iPhone 12 series, Pro models have been configured with 6GB. TrendForce previously stated that the iPhone 15 Pro model may be equipped with 8GB of memory, and the memory capacity will be expanded on the basis of the existing iPhone 14 Pro (6GB).
The iPhone 15 standard model will still use 6GB of memory, but these two models will be upgraded to faster LPDDR5 memory. Increased memory allows more applications to be open in the background at the same time, which facilitates multitasking on the iPhone.
With the upcoming iOS 17 system, the increase in memory capacity can further improve the overall performance. (Source: IT House)
The open source Hongmeng has been successfully adapted to the PC desktop, and can be turned on and off normally, and the OpenHarmony App can be run, etc.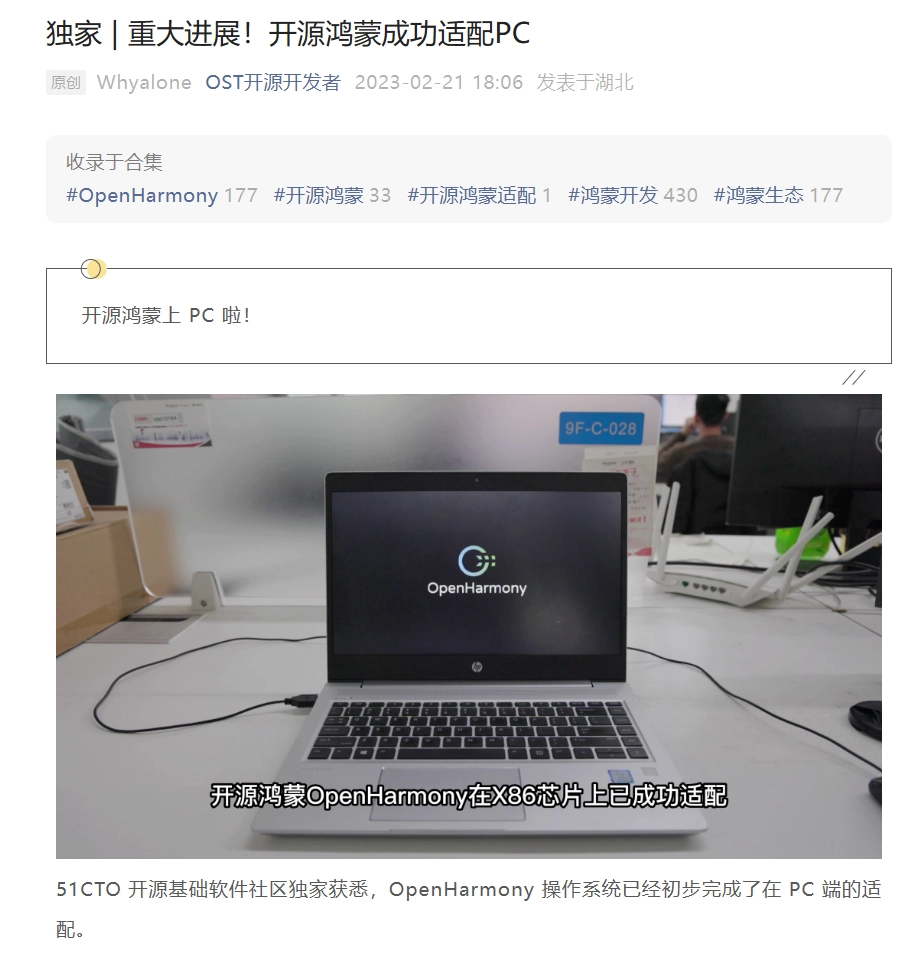 News on February 21, the latest news, the open source Hongmeng OpenHarmony has successfully adapted to PC. According to the WeChat public account "OST Open Source Developer", the engineers of Hongmeng Ecological Enterprise – Honghu Wanlian, a subsidiary of iSoftStone, have completed the initial adaptation of OpenHarmony to PCs, based on the OpenHarmony 3.2 Beta3 version and a certain model of HP office notebook. .
According to reports, this adaptation supports the basic functions of the device such as switching on and off, screen rendering, peripheral access, and running apps, including drivers for hardware interfaces such as USB, network ports, SATA ports, and PCIE, and the performance is basically satisfied. Production and living needs, but the UI interface and other adaptations have not been completed, and there is still a lot of work to be done in the future.
The report also said that the engineers of Honghu Wanlian will release some desensitized technical content after the OpenAtom Open Source Foundation OpenHarmony Technology Summit, and the initial early adopter version of the computer terminal is expected to flow out this year. (Source: IT House)

The fifth AIDS cured person in the world appeared, and the German man stopped taking medicine for 4 years without relapse after undergoing stem cell transplantation
February 21 news, researchers recently announced that a 53-year-old German infected with AIDS (HIV) male patients have been cured. Known by researchers as the "Dusseldorf patient" to protect his privacy, he is the fifth confirmed HIV cure worldwide and the third to be cleared of HIV by an experimental treatment.
Details of his successful treatment were first announced at a conference in 2019, though researchers could not confirm at the time whether he was fully cured. Four years after the man stopped taking HIV drugs, HIV remained undetectable in his system.
In this case, the use of stem cell transplantation technology in extreme cases can effectively replace the body's immune system. In most cases, once HIV is infected, it cannot be completely eradicated for life. Thanks to modern drug treatment, people living with HIV can live long and healthy lives. (Source: cnbeta)

Google is suspected of using AI to lay off workers
Days after Google laid off 12,000 people on a massive scale, hundreds of former employees flooded an online chat room to exchange views on how management decided to lay off workers. Someone posted and asked: Is there a well-designed "brainless algorithm" that does not violate any laws and chooses who should be fired?
In response, Google stated that their layoff decision "did not involve any algorithm". But in the daunting task of mass layoffs, these AI tools could help decide who gets laid off, according to human resources analysts and workforce experts.
In January of this year, a survey of 300 human resources executives in US companies showed that 98% believed that software and algorithms would help them make layoff decisions this year.
Labor experts say the reliance on software has fueled a debate over what role algorithms should play in layoffs and the extent to which employers should disclose the reasons behind layoffs. (Source: Netease Technology)