The story of New Oriental's entrepreneurship was made into a "Chinapartner", the story of New Oriental's self-help, is also enough to be made into a movie.
The popularity of Dongfang Selection in the past six months has supported New Oriental, which is struggling to transform after the double reduction.According to the latest semi-annual report, in the six months from June to November 2022, the six live broadcast rooms of Dongfang Selection achieved a total of 4.8 billion yuan. GMV.New Oriental Online CEO Sun Dongxu said that live broadcast e-commerce revenue exceeded 500 million yuan, contributing 85% of New Oriental Online's revenue in the past six months.
Since Dongfang was selected out of the circle in June 2022, New Oriental's share price has risen from US$13 to US$45, an increase of nearly 2.5 times; compared with the low period of less than US$1 in February 2022, it has risen nearly 50 times in one year. Koolearn, which is listed on the Hong Kong stock market, has increased 16 times in seven months, from 3.5 Hong Kong dollars to 73.3 Hong Kong dollars.
After the explosion of Dongfang Selection, the capital market once worried that it was just a flash in the pan. But judging from the results handed over, Dongfang Selection has basically digested the soaring attention and completed the established business plan. In addition, New Oriental's education business has been adjusted for more than a year, and the double reduction brought turmoil to the company and basically ended. Saying goodbye to K12 and K9, New Oriental is looking for a new starting point for the education business.
4.8 billion yuan in half a year, and nearly 10 billion yuan in a year. Although there is still a gap with Li Jiaqi and Wei Ya, who were rumored to bring in 20 to 30 billion a year at their peak, Dongfang Selection has undoubtedly entered the super anchor with goods. The ranks of the team, and this kind of team model that is not too dependent on the personal aura of super Internet celebrities, is less risky than Wei Li.
But how to continue to grow after becoming popular in 2022, especially without relying on the support of platform traffic, is a question that Dongfang Selection, which has become a super head, needs to think about. It seems today thatRefined operation of vertical category delivery, strengthening the supply chain of self-operated products, and the internationalization of supply and sales,It is the development path that Dongfang Selection has found for itself.
01
Douyin traffic depends on,
Digesting traffic is the skill
4.8 billion across all channels from June 1, 2022 to the end of November 2022 GMV Among them, most of them come from Douyin. After Dong Yuhui left the circle in June, a large number of viewers flooded into the live broadcast room. Whether a newly formed team can undertake and transform huge traffic has become an unprecedented challenge.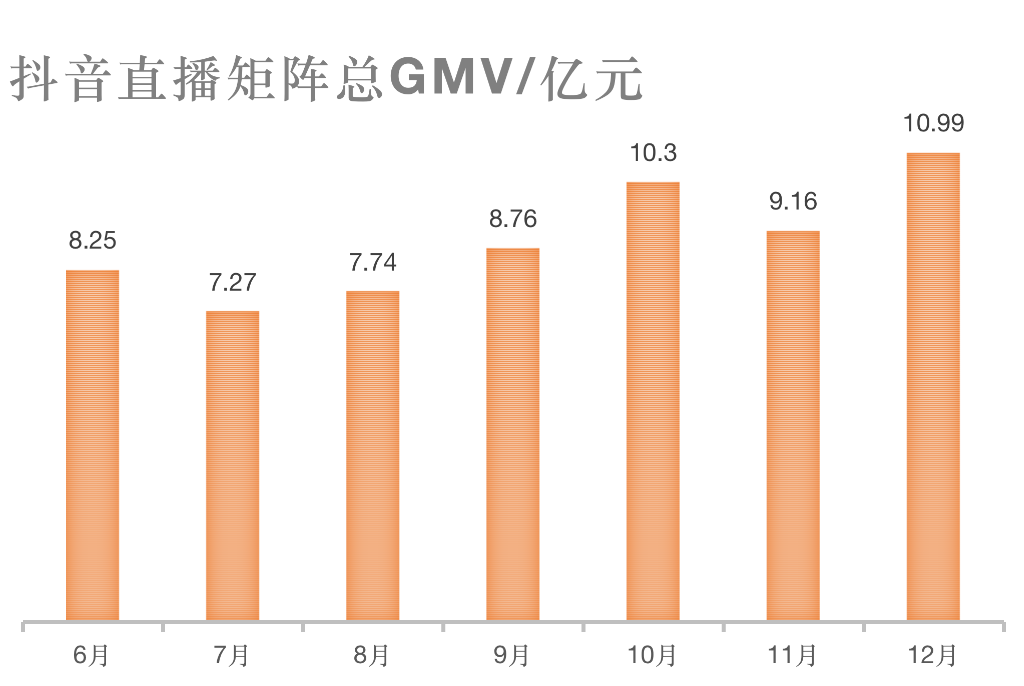 per month GMV|Data source: Internet collection
Judging from the current performance, except for July and November GMV There has been a slight decline, and the trend of month-on-month growth has basically been maintained. In the just-concluded December, Dongfang Selection normally opened live broadcast rooms in the two vertical fields of wine and tourism in the Douyin live broadcast room, "Will Enter the Wine" and "Watch the World". The total GMV of the full matrix platform rose to 1.099 billion, a month-on-month increase of 20 %, once again became No. 1 on the entire Douyin platform.
The popularity of Dong Yuhui was a turning point for Dongfang Selection, but Dong Yuhui was not the only one who supported Dongfang Selection in the past six months. The strategy of establishing a live broadcast matrix played a key role.At present, in addition to the live broadcast room of the main account, Dongfang Selection also has five vertical live broadcast rooms on Douyin, including books, beautiful life, self-operated, will enter wine, and watch the world. The anchor team has also expanded from six or seven people in June up to 30 people.
Regarding the opening of accounts in vertical fields, Sun Dongxu said, "On the whole, Dongfang Selection's layout in all fields is basically following the needs of customers." The expansion of vertical accounts such as wine, travel, life and beauty makeup meets the precise needs of different users. The launch of APPs and small programs takes into account the needs of some users who do not need to watch live broadcasts, but want to shop conveniently. "We do what customers need, and in the end it really becomes a customer-driven, membership-based company."
with common MCN In comparison, its difference lies in the relationship with anchors and platforms. The anchors selected by Dongfang have no GMV Commission, sales profit, comprehensive performance appraisal and stock and option incentives; the second point is not to buy traffic. Both of these save costs for the company.
The monetization efficiency and gross margin of Dongfang Selection are excellent.According to the financial report disclosure, the revenue of self-operated products and live broadcast e-commerce in the past two fiscal quarters was 1.7 billion yuan, with a gross profit margin of 42.5%. Among them, the revenue of self-operated products exceeds 1 billion yuan. According to the calculation of Zheshang Securities, the gross profit margin of self-operated products is about 25%.
However, Sun Dongxu said that the current scale is the priority, and he is not in a hurry to increase profit margins. "Now we should build more complete our entire revenue scale and the entire supply chain system."
Self-operated products have been the focus of Dongfang Selection's efforts in the past six months. Previously, Dongfang Selection stated that it will launch self-operated products at a pace of 6-10 models per month.In the past six months, self-operated products SKU The number has reached 65.
Sun Dongxu said that in the pricing of self-operated products, "Basically achieve the same quality, if the price is the best, then the same price must be the best quality." For example, Dongfangxuan's grilled sausage and Fengwei pie are from the same supplier. Dongfangxuan's grilled sausage is 9.3 yuan per 100g, while Fengwei pie is 100g/10.8 yuan. The form of e-commerce live broadcast saves sales costs and advertising costs, allowing Dongfang Selection to have a certain profit margin. In order to ensure stable quality and enhance the right to speak in self-operated products, Dongfang Selection will also invest in its approved suppliers.
High standards and strict control have allowed self-operated products to obtain positive market feedback. Steak, nuts, eggs and other self-operated products selected by Dongfang ranked first in the Douyin sub-category list, with a comprehensive score of 4.99. "This score is actually a very cherished achievement, and we need to continue to maintain it." Sun Dongxu concluded.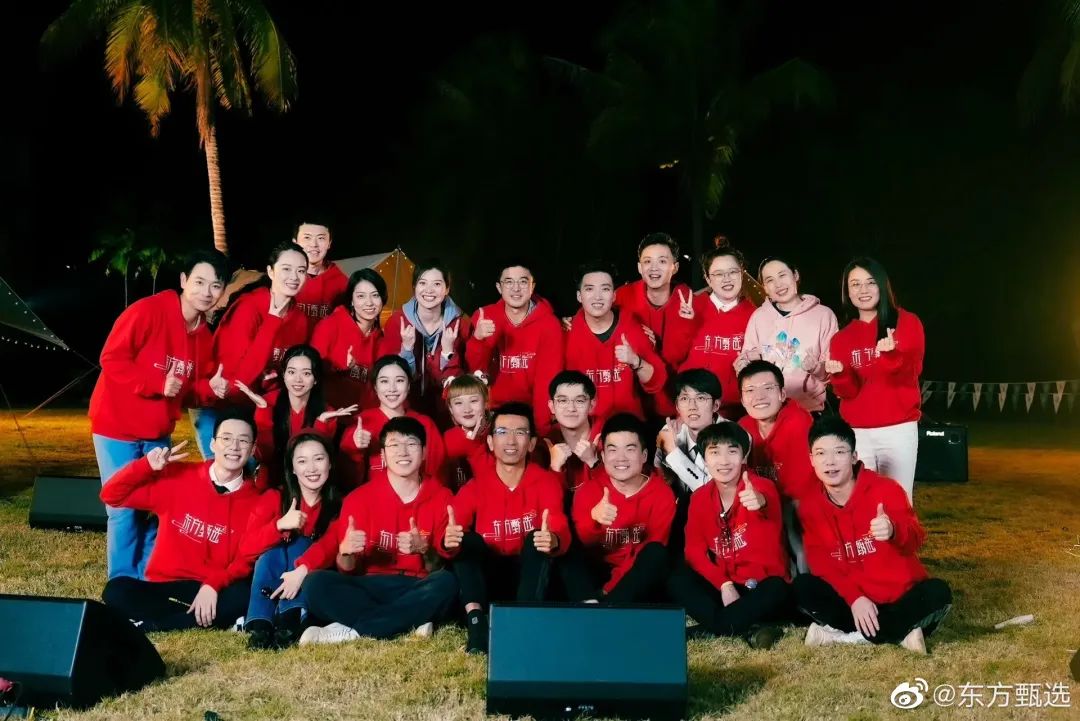 Oriental Selection Hainan Tour Team|Source: Oriental Selection Official Weibo
02
After a hard landing,
Where does New Oriental Education go from here?
From the data point of view, the turbulence brought by the double reduction to the education business has basically passed.
For the three months ending November 30, 2022, New Oriental's net revenue for the second fiscal quarter was US$638.2 million. Operating loss was $2.5 million. Non-GAAP operating profit and net profit attributable to the parent both turned positive, which were US$16.3 million and US$700,000 respectively. For comparison, the same period in fiscal year 2022 will be a loss of US$737 million and a loss of US$937 million, respectively. The second quarter is a traditional off-season, and Yu Minhong, executive chairman of the board of directors of New Oriental, said that the performance in the second quarter "marks a new starting point after the streamlining of the previous fiscal year."
At present, the key businesses that New Oriental is still conducting include overseas test preparation and overseas study consulting business, domestic test preparation business for adults and college students, non-subject tutoring, and intelligent learning systems and equipment. The business of going abroad exam preparation and going abroad consultation has continued to grow for two consecutive quarters. This quarter increased by 17% and 14% respectively.
Similar to the offline trend, online education, postgraduate exam preparation and overseas exam preparation courses also saw a 14.5% increase in the number of students. This part of the business belongs to the university education of the subsidiary New Oriental Online.
After the double reduction, offline teaching centers continued to be closed. During the year from November 2021 to November 2022, the number of schools and school centers continued to decrease by one-third, from 1,293 to 708. In the recent three months from September to November, the closure of offline centers has temporarily come to an end. The total number has even increased by 2, and now there are 95 schools and 613 learning centres.
In order to find new growth points, New Oriental will promote non-subject tutoring business and intelligent learning system as a key strategy, and is currently deployed in 60 cities across the country.Judging from the data disclosure of this fiscal quarter and the previous fiscal quarter, the advancement of the former is more obvious. The number of registrations for non-subject tutoring services in this fiscal quarter was 480,000, compared with 290,000 in the previous quarter; the number of active paying users of the intelligent learning system decreased slightly to 108,000, compared with 290,000 in the previous quarter. The figure was 131,000.
New Oriental expects that in the next fiscal quarter, net revenue denominated in RMB will increase by 24%-27%, which is New Oriental's most optimistic performance outlook since the double reduction. However, at present, it seems that the growth trend is relatively clear in the traditional leading areas such as graduate student enrollment, overseas exam preparation, and overseas consulting, and this growth is more of a slight rebound from the bottom of the double-cut cliff. I want to return to the pre-double-cut Business conditions are highly unlikely.
After the double reduction, New Oriental's expansion in vocational education and quality education has not yet seen clear results.
03
What's next for Dongfang Selection
From the initial "dead horse as a living horse doctor", to the "unexpected joy" in June 2022, and now it has become the "new pillar" in charge of its own. Dongfang Selection helped the desperate New Oriental complete its new life in just one year, and its next development is also the focus of attention from the outside world.
First of all, what needs to be understood is that Dongfang Selection is fundamentally different from general online celebrities with goods.From the model point of view, moreanalystI am used to comparing Dongfang Selection with Sam and Costco—its live broadcast room is like a super large store covering the whole country, selling different categories of goods; at the same time, operating its own brand requires deeper cooperation with the upstream industry and supply chain.
Sun Dongxu also agreed to this statement to a certain extent, "They (Sam and Costco) are the objects that Dongfang Selection needs to study and refer to carefully… In addition to having a good overseas supply chain, they also mobilized our domestic reform and opening up. Many excellent suppliers of the various infrastructures developed are our domestic suppliers."
He described "Oriental Selection" as a new species: it is not only a company that can deliver goods, but also a company with self-operated products. It also pursues cultural tonality, content and connotation, and at the same time has a certain international vision. .
The 5 billion yuan in half a year is far from reaching the upper limit of this super store.GMVGrowth is still the focus of Dongfang Selection's work in the next year.To speed up growth, it does not rely on the platform to deliver traffic, but more needs Dongfang to select "practice internal skills" to improve Sun Dongxu's ability to bring goods, self-operate and internationalize in the three aspects mentioned above.
The core strategy to improve the ability to carry goods is to deeply cultivate sub-categories.After the explosion last year, Dongfang Selection did not choose to spread blindly, but chose several key areas to focus on operations, and combined with hot spots to seize the opportunity to launch. This refined operation method has achieved certain results.
At present, the live broadcast rooms under Dongfang Selection are aimed at the four sub-sectors of beauty and personal care, drinks, travel, and books. The fast-growing Beautiful Life live broadcast room has 2.6 million fans within 6 months of broadcasting.
"Jiangjiu", which was launched during the World Cup, and "Watching the World", which was launched after the epidemic, also got off to a good start through popular marketing.During the two months of the World Cup, the wine made 47.87 million yuan GMVhas caught up with the book number that started broadcasting earlier; the GMV of the two live broadcasts of the world's two live broadcasts of Sanya and Xiamen trips also reached 43.64 million yuan.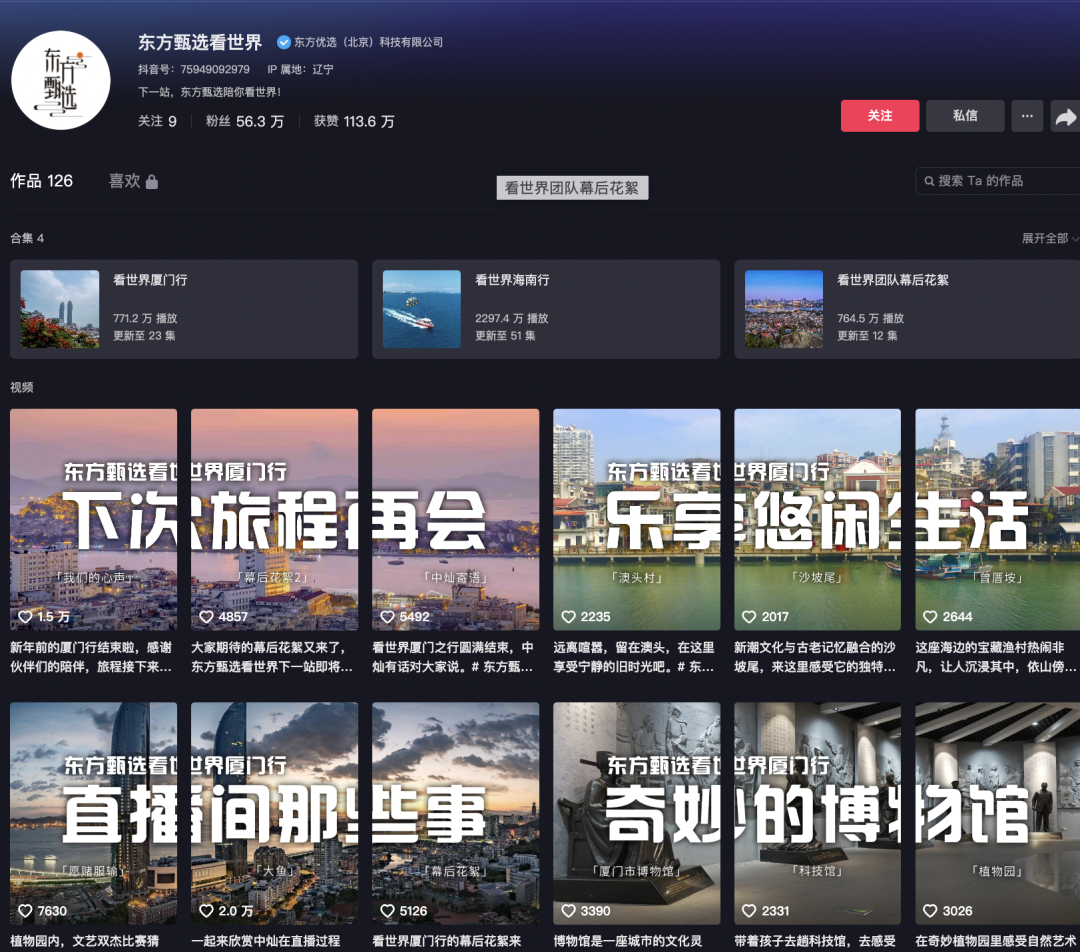 Dongfang Selection Watch World Account|Source: Douyin
The main topic of self-operated products is to improve the supply capacity.Compared with third-party products, self-operated products have a higher repurchase rate, which is also an important component of brand influence, but the supply is often in short supply. Sun Dongxu said in the conference call, "Many products are not moonlight but sunlight", and roast sausages, juices, etc. are often out of stock. For example, Dongfang Selected kiwi fruit juice has a daily output of 10,000 orders and has been sold out many times. Agricultural and sideline products are seasonal and unstable, and their production areas are scattered, which is the difficulty of operating this category.
As a brand that focuses on high-quality agricultural and sideline products, if it wants to increase its shipments, it will face greater challenges in supply chain management, logistics scheduling, and after-sales customer service. Third-party selection and self-operated products are currently operated by a product team directly led by the management. At an investor communication meeting at the end of last year, the management stated that each self-operated product that has been listed still has huge room for growth. While increasing the supply and categories, maintaining the existing stable quality and service level will be a further test for the team.
Going overseas is the logical next step in expansion.Since June, there has been news that Dongfang Selection has recruited TikTok anchors on Boss Direct Employment, but the company stated that "the news is not true." However, according to Sun Dongxu's latest statement, the company has paid attention to the habit of overseas users watching live broadcasts. The renamed "East Buying Company (East Buying)" will use the live broadcast platform to promote Chinese agricultural products overseas. Carry forward it, and at the same time introduce many imported products to it."
At present, the live broadcast room is already selling large white shrimp from Ecuador and durian meat from Thailand. Sun Dongxu revealed that a professional team has been formed in international trade, and Dongfang Selection will become a platform that understands Chinese consumers and selects global good products.