Microsoft Build in 2023 is destined to be recorded in history.
After ChatGPT set off the AI ​​boom, Microsoft has become one of the most important companies in this wave. Not only because it is the major shareholder of OpenAI, or because it launched New Bing with AI blessing.
More importantly: as the world's largest operating system service provider, the world's largest office software developer, and the world's second largest cloud service provider,The trend of Microsoft has become the most important promoter and vane of the landing of large models.
Microsoft CEO Nadella did not disappoint the waiting believers.
At the opening of Build last night, he announced in a speech of less than 30 minutes that Microsoft will bring more than 50 AI-related updates during Build, of which 5 are the most important, involving Windows, Office 365, Copilot, Bing, Azure cloud and other Microsoft's most important products and service systems at present.
There is no need to change the name or hang on to "All in", Microsoft has proved its determination to fully embrace AI with its actions.
Copilot family bucket: a new way of working
"Remember when software wasn't connected to the Internet?" said Kevin Scott, Microsoft's chief technology officer, and the same would be true for software without Copilot's assistant a few years later.
Copilot is simply an AI component embedded in various software services. Based on the reasoning capabilities built by AI and large language models, Copilot can help users complete all required cognitive work-from writing emails, codes, and promotional drafts, to generating images, videos, making work plans, or getting work and life advice.
About two years ago, Microsoft first introduced the Copilot concept at GitHub. GitHub Copilot is a programmer-assisted AI service that helps developers write code.
This year, with the blessing of the large model, Copilot ushered in a comprehensive upgrade, which can solve more and more complex problems. Microsoft has also begun to embed Copilot in more core products and service centers.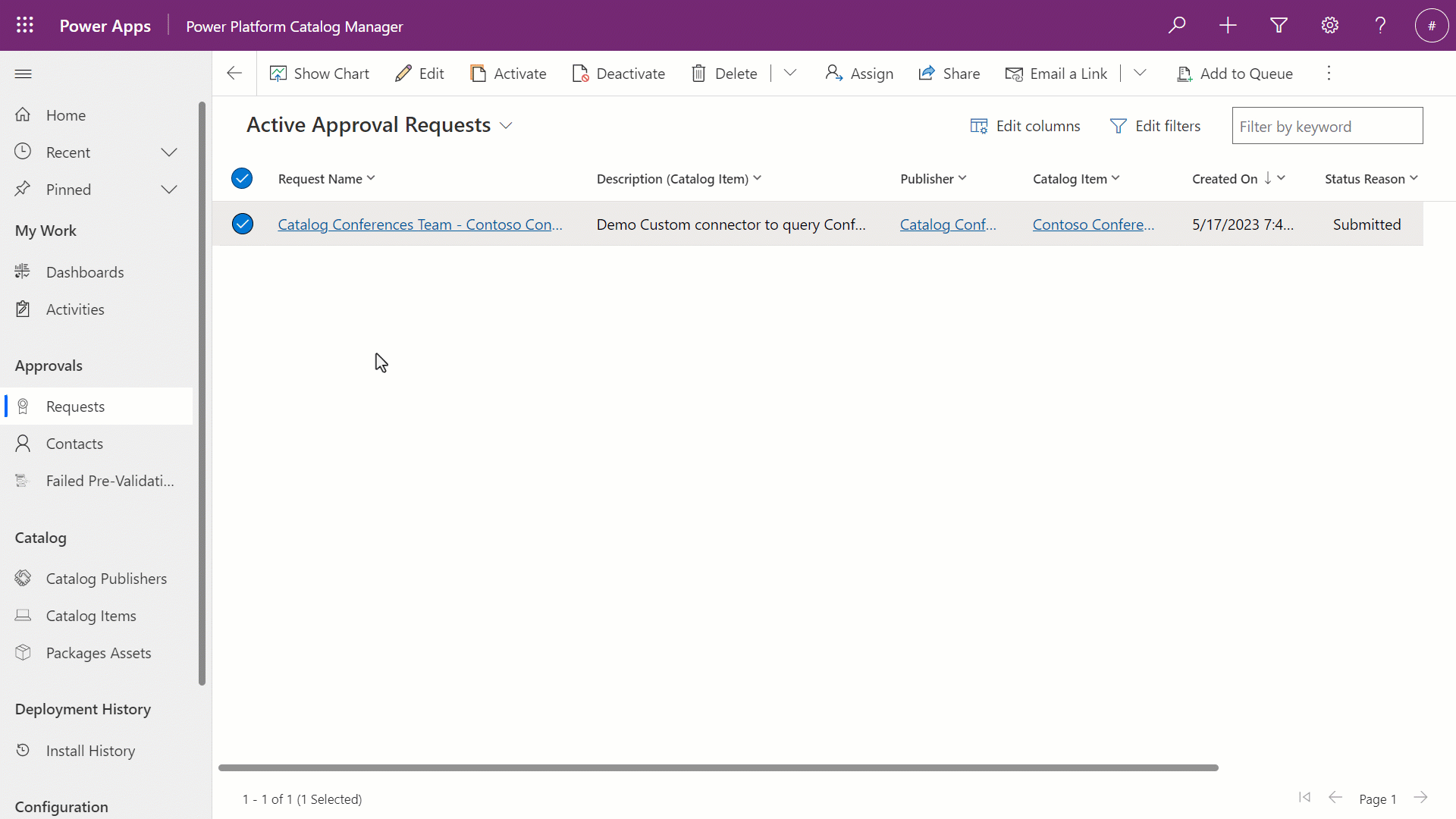 At the Build conference, Microsoft announced plans to further expand the Copilot ecosystem, including the launch of Dynamics 365 Copilot, Microsoft 365 Copilot and Power Platform Copilot.
Among them, Power Pages, an important component of the Power Platform platform, and Copilot in Power BI have opened public previews, allowing users to more freely create web pages and data insights through natural language. In addition, the generative intelligence in Power Virtual Agent will also open an invited preview, further improving the experience of building conversational bots, and adding more customization possibilities to Power Automate.
"Copilot is a whole new way of working." Previously, Jared Spataro, head of Microsoft 365, said, "It works with you, embedded in the programs that millions of people use every day: Word, Excel, PowerPoint, Outlook, Teams, etc. wait"
Windows 11: AI is here
Among the Copilot family buckets announced on Build, the most important one is the arrival of Windows Copilot, which means that the most advanced AI will enter the core system of Windows as a basic software service.
The new Windows Copilot tool will be located in the bottom sidebar of Windows 11 – just like the new Bing's AI chat feature, users can enter questions into Copilot and use it as a question-and-answer search engine.
On the surface, Windows Copilot looks like a conversational AI robot or text generation tool similar to ChatGPT or New Bing.But Windows Copilt, which is deeply integrated with Windows,It can call other Windows components, which means it has the potential to become a stronger personal PC smart assistant than Siri or Microsoft's Xiaoice and Cortana.
Four Windows Copilot usage scenarios were demonstrated live.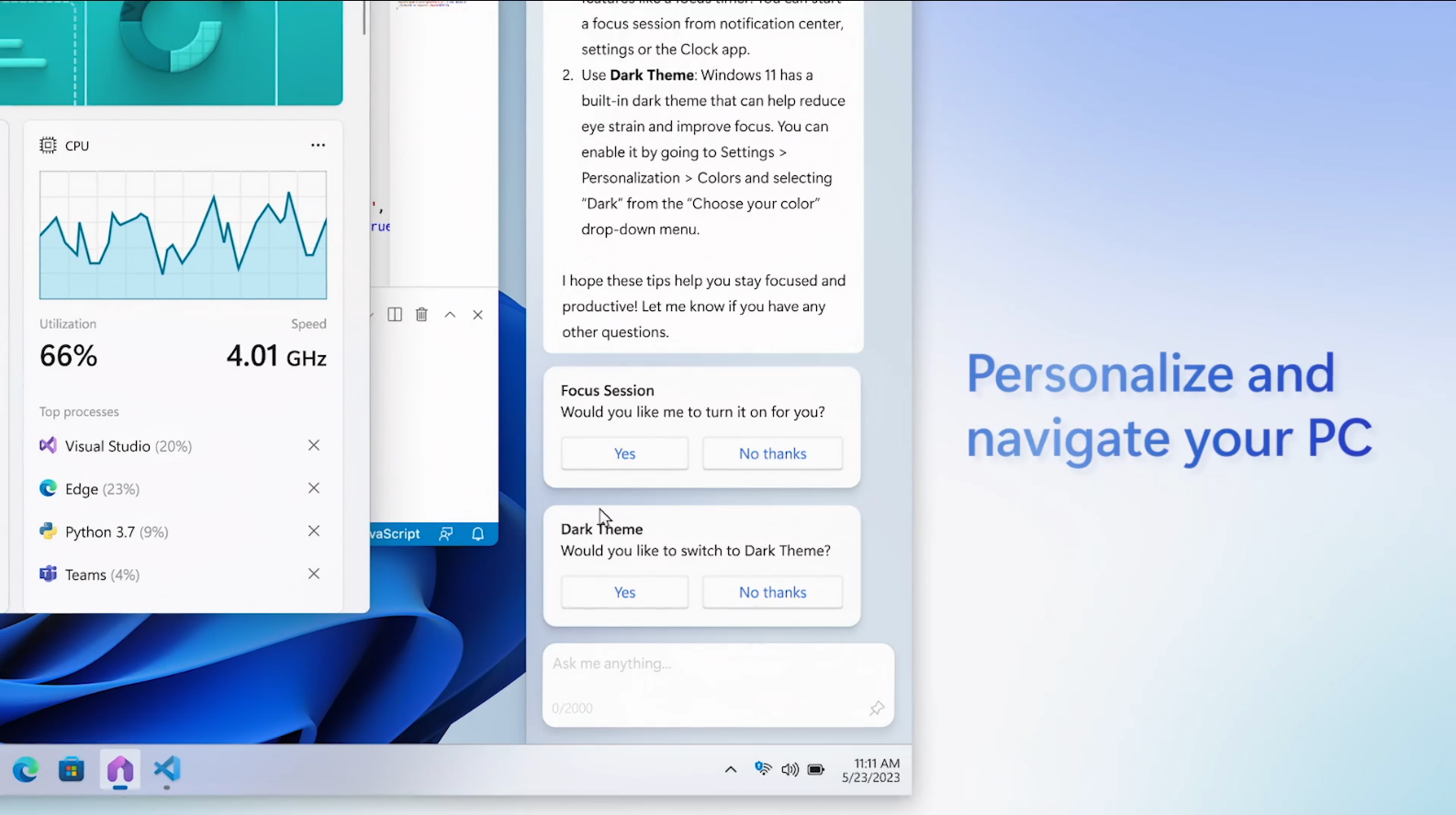 Adjust your PC's personalization settings, such as turning on night mode.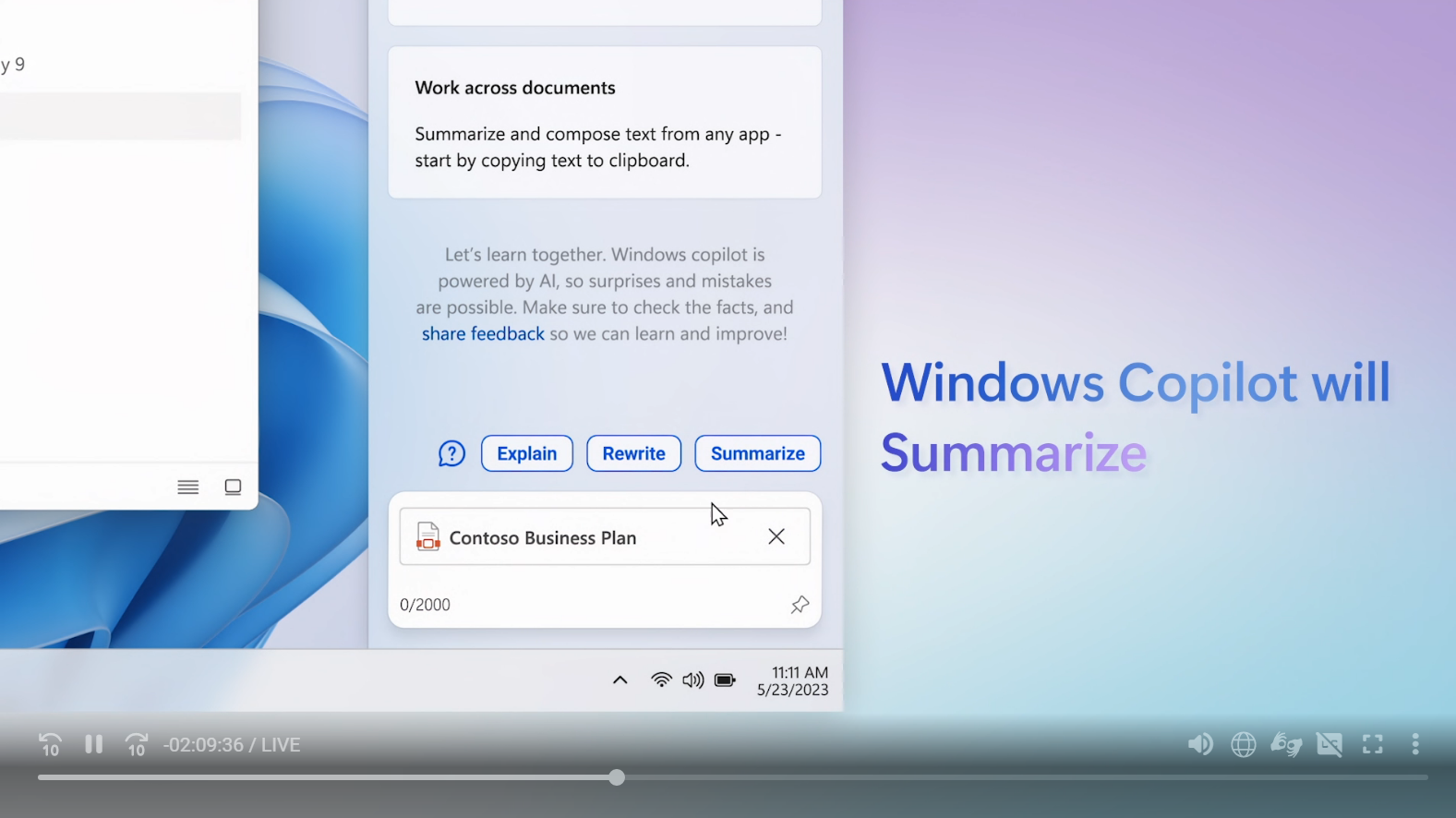 Helps process documents, explain, rewrite or summarize, and improve work efficiency.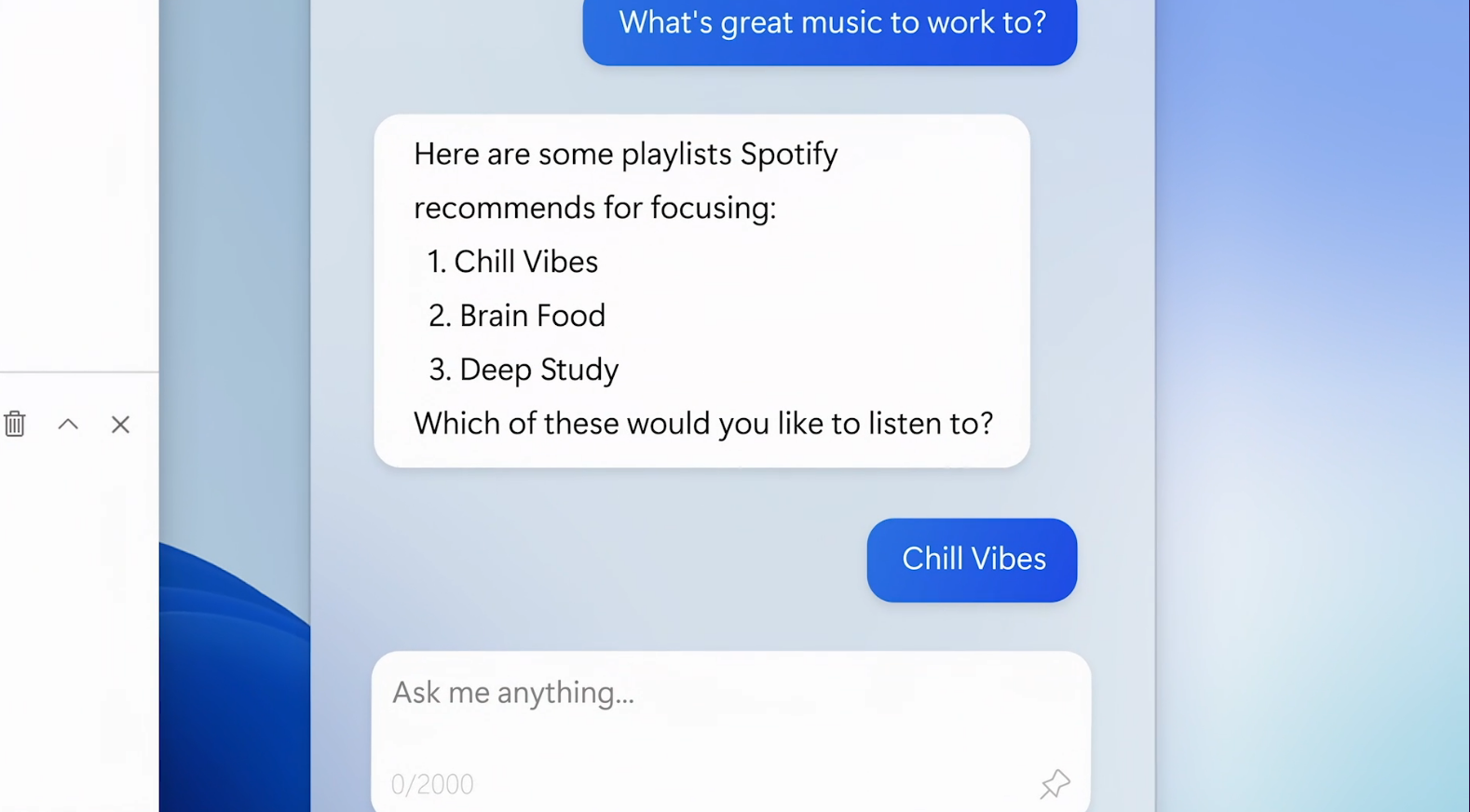 Control the App, such as letting it recommend music, and then open the music software according to the user's choice and play the corresponding playlist.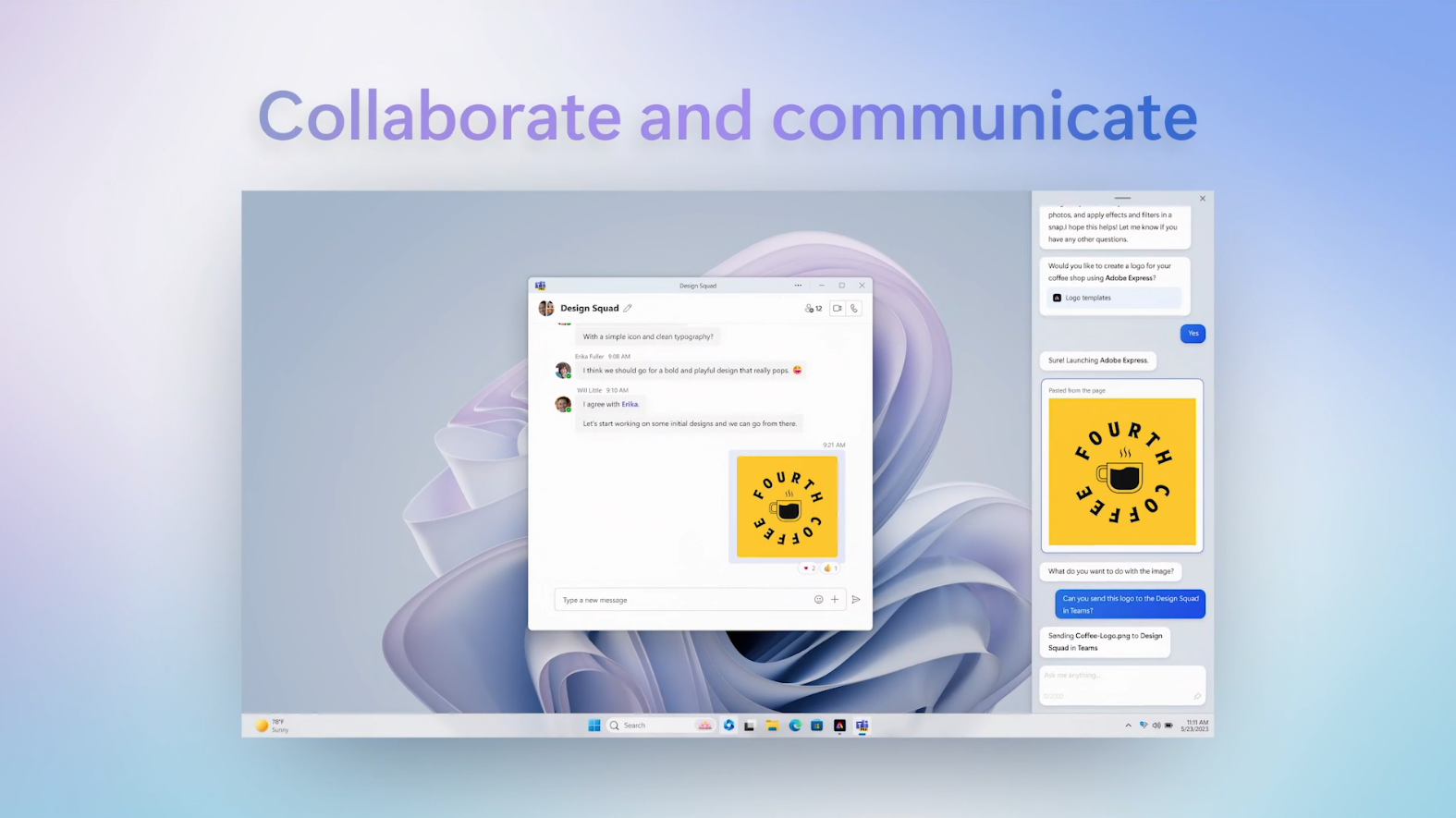 There is also auxiliary creative work, generating a promotional picture according to your requirements, and sending it to the working group in the chat software.
In fact, similar functions of processing voice or text commands have been tried on other smart assistants in the past, including Microsoft's own Cortana, Apple's Siri, and Amazon and Ali's smart speakers, but objectively speaking, the effects are impressive. disappointment.
Microsoft Copilot has not changed the soup in essence, but the powerful reasoning ability of the large language model may be a good medicine to make up for the shortcomings of intelligent assistants. In the past, the ability of intelligent assistants to handle affairs was only at the level of a few-year-old child, but at least judging from the ability demonstrated by ChatGPT, it is not weak or even stronger than ordinary adults in many aspects.
Windows Copilot is expected to start providing a preview version in June, let us wait and see.
Bing – the default search engine for ChatGPT
Nadella revealed in his speech that Bing will also have some new changes.OpenAI will begin using Bing as the default search engine for ChatGPT, providing answers retrieved in real time, including citations.
This feature is rolling out to ChatGPT Plus users today and will soon be available to all free ChatGPT users as well.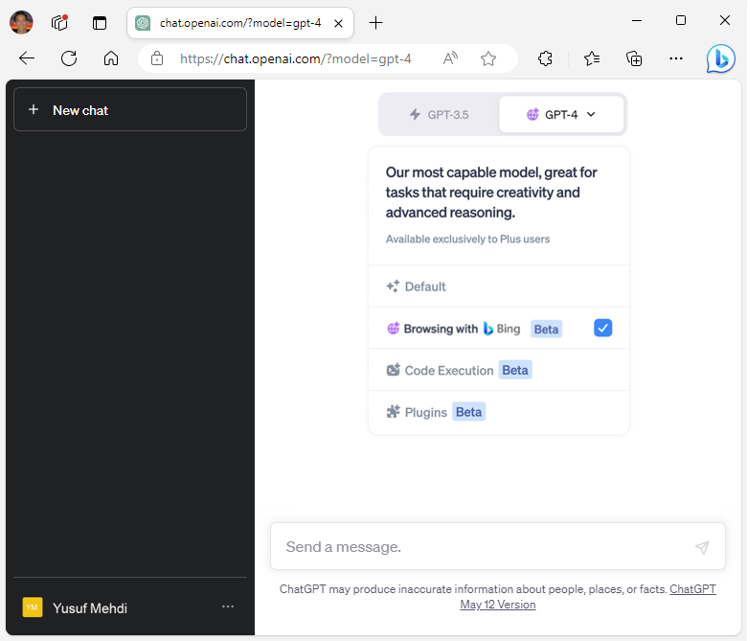 It is worth noting that when ChatGPT calls Bing to answer questions, it will notify users that Bing is used. Bringing Bing with ChatGPT traffic seems to help Bing's brand.
What's more, Bing improves its answers by gaining more usage of ChatGPT, and may also have a better chance at winning the default choice in the built-in browser – becoming the default in Mozilla's Firefox and Apple's Safari browsers search engine.
Azure AI Studio
Not only does it provide a full range of copilot, but now, Microsoft also provides services on how to make copilot. Nadella said: "We have built all these copilots with a common architectural stack. Now, we want to make it available, and everyone can build their own copilots for their applications, from AI infrastructure to basic models. Everything from AI orchestration, all the way to copilot and its scalability."
In this regard, the main product launched by Microsoft is Azure AI Studio. This is a complete tool chain that helps developers more easily integrate external data sources into Azure OpenAI services to build intelligent AI applications and copilot.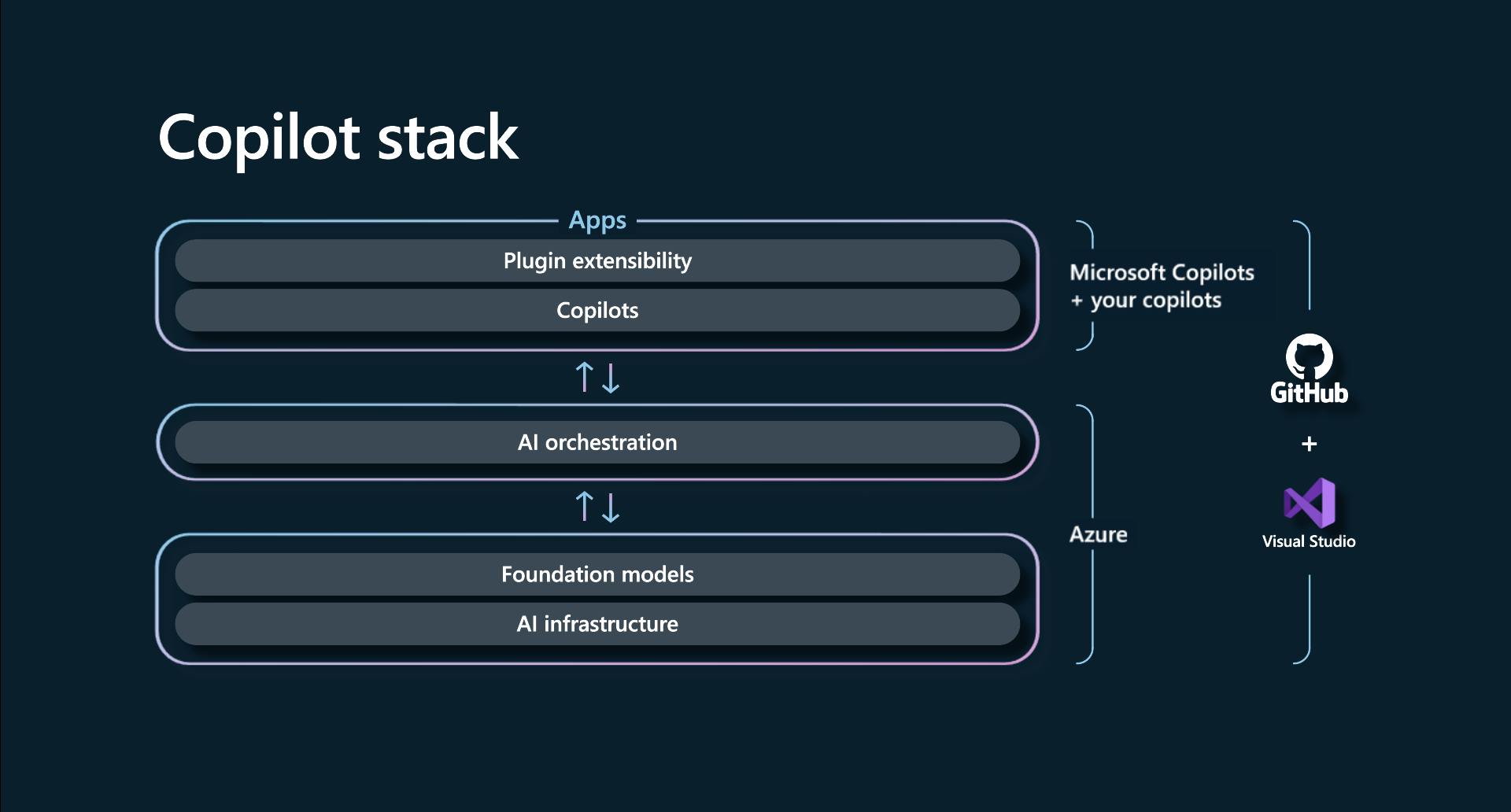 Azure AI Studio simplifies the process of integrating external data sources into the AzureOpenAI service, and also introduces Azure Machine Learning Prompt Stream, making it easier for developers to build prompts while leveraging popular open source prompt orchestration solutions such as Semantic Kernel. In contrast, the traditional construction methods—acquiring data, selecting models, training models, testing models, and deploying models—each link is very complicated.
For the series of releases that Azure AI helps developers lower the threshold, security is a key word repeatedly mentioned by Microsoft. Among them, Azure AI Content Safety can help developers build a safer online environment and community. Its built-in model can detect inappropriate content in text or pictures and notify human supervisors to take action.
In addition, in the Azure Machine Learning tool, there is a function – Responsible AI dashboard support for text and image data. This feature enables developers to evaluate large models built using unstructured data during the model building, training, or evaluation phases. This will help developers find model errors, fairness issues, and model interpretations before they are deployed, enabling fairer, high-performance computer vision and natural language processing (NLP) models.
Targeting the Key to Next-Generation AI Applications—Data
As a completely new product at the Build conference, Microsoft took a fancy to the data layer of the next generation of AI applications and released an end-to-end data analysis product – Microsoft Fabric. Nadella said that this may be the largest data product launched by Microsoft since SQL Server.
The core of Microsoft Fabric is "unification", which brings together all the required data and analysis tools with one product, one experience, one architecture, and one business model, including data engineering, data integration, data warehouse, data science, real-time Analytics, application observability, and business intelligence, all connected to a single data repository called OneLake.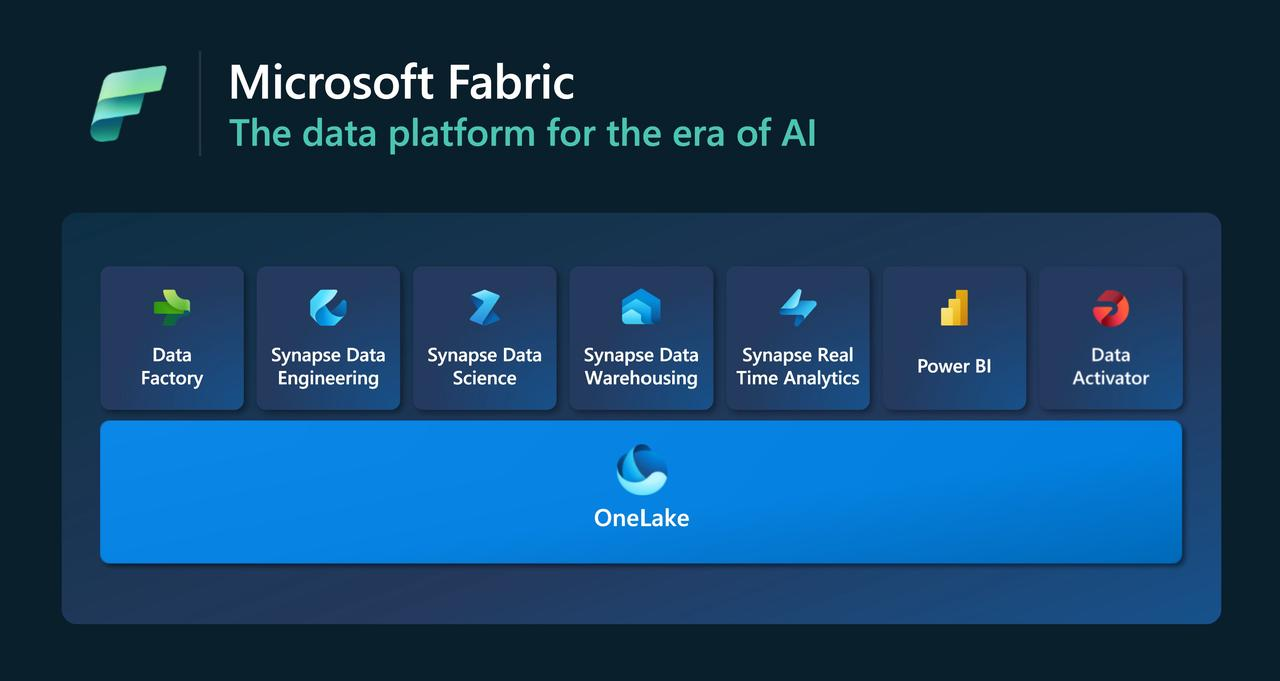 Beyond that, with Copilot in Microsoft Fabric, customers can use a conversational language to create data flows and data pipelines, generate code and entire functions, build machine learning models, or visualize results. Customers can even create their own conversational language experiences that combine AzureOpenAI service models and their data and publish them as plugins.
Arun Ulagaratchagan, vice president of Azure Data, explained: "As we move into a new era defined by AI, data becomes even more important. Powering specific AI experiences requires a constant supply of clean data from well-managed, highly integrated analytics systems. In the past, making different services work together required a high "integration tax". At the same time, Microsoft Fabric enables developers to leverage generative AI to gain insights in their data.
AI
Plugin Ecosystem
If copilot opens up a new way of human-computer interaction in the era of large models, then plug-ins (Plugin) are a necessary part of expanding the capabilities of copilot. In fact, Microsoft announced the Bing plugin earlier this month, following OpenAI's launch of the ChatGPT plugin in March. For example, the plugin allows ChatGPT and Bing Chat to use the OpenTable plugin to find and book restaurants.
At today's Build conference for developers, Microsoft announced the adoption of the same open plug-in standard as OpenAI ChatGPT, thus ensuring the interoperability between ChatGPT and Microsoft's series of copilot products and services in the future.
This means that the plug-ins developed by developers using any platform are applicable to both ChatGPT and Microsoft's Microsoft 365, Dynamics 365 Copilot and other services to meet the business needs of individual customers and commercial customers. AI applications developed by developers on the Azure OpenAI Enterprise service also support the same open plug-in standard by default-meaning that any developer can choose to use human natural language interaction as the way to interact with their software.
And, developers can now use plug-ins to integrate their applications and services into Microsoft 365 Copilot. Microsoft 365 Copilot can also be extended by bringing their data into the Microsoft Graph, using the recently announced Copilot Semantic Index to contextualize relevant and actionable information.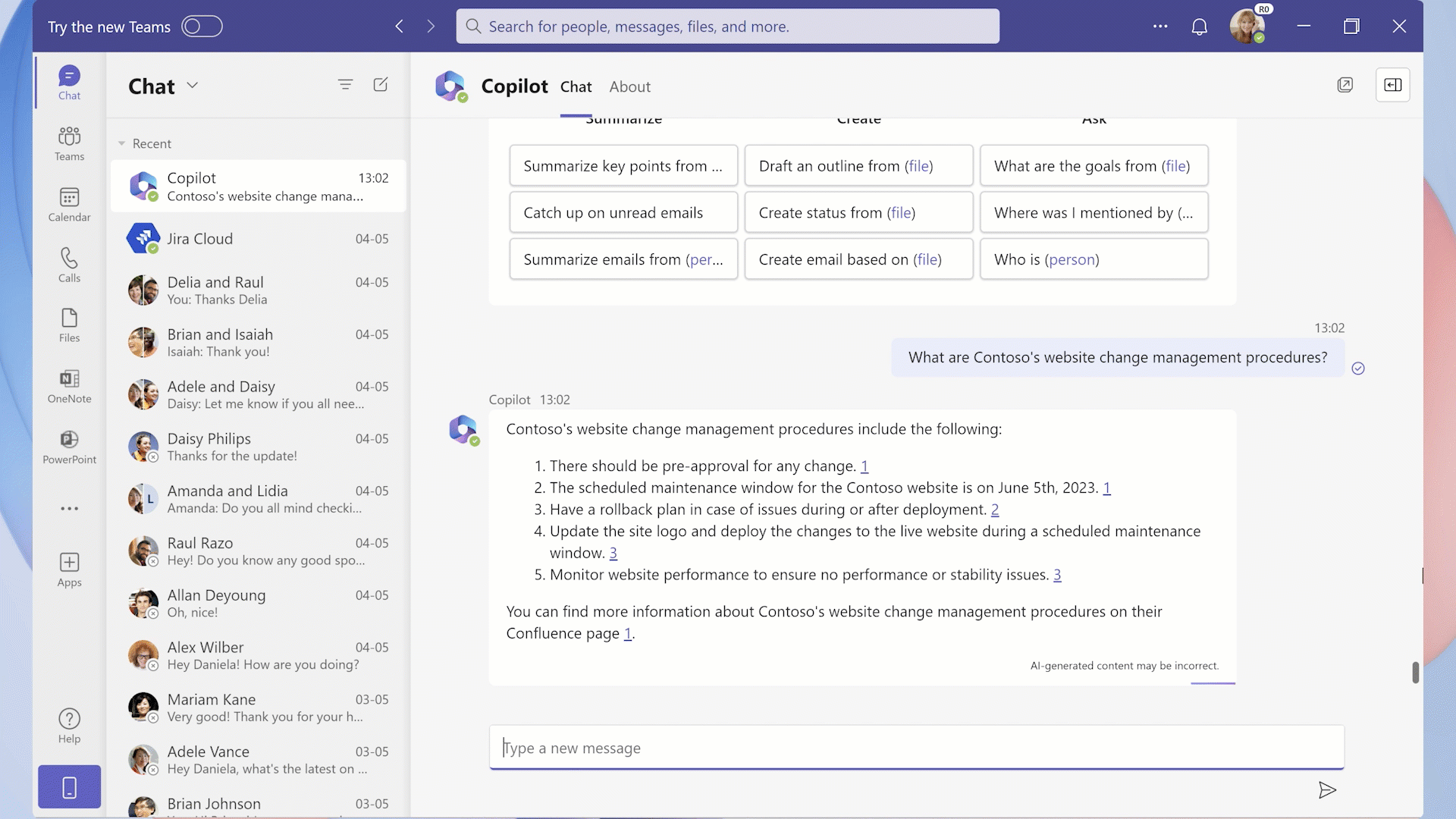 In this demonstration, Copilot in the Teams software can retrieve information and generate key points in various places such as emails, websites, and local databases by calling plug-in software, and can further call other plug-ins to generate work orders and distribute them to corresponding people. Called by plug-ins, copilot implements deep search and steps to generate content.
Additionally, Bing is adding support for plugins. It will also have Expedia, Instacart, Kayak, Klarna, Redfin, TripAdvisor, and Zillow in the ecosystem, in addition to the previously announced OpenTable and Wolfram Alpha.
end
In the past few months, in the wave of "AI is swallowing software", some software entrepreneurs said that it is not OpenAI, but Microsoft is the most feared. Whether it is engineering capabilities or execution capabilities, Build 2023 has allowed Microsoft to "refresh" the 48-year-old Microsoft again.
Standing on the forefront again is the leader's posture – Copilot, plug-in ecology, and exploring AI interaction in PCs. Microsoft is aiming at the interactive entrance in the era of large models.
In the past, whether it was the Windows operating system and Office in the PC era, or the smart cloud and online office software gradually catching up in the mobile Internet era, Microsoft has always been a follower. However, Microsoft, which has entered the era of large-scale models, has made new businesses lead the industry on the one hand, and revitalized old businesses on the other hand. But as Nadella opened it, PC to iPhone to cloud, all of this will be a continuous journey.