The transformation of the automotive industry is not just switching from fuel to new energy, but more from traditional cars to smart cars. Simply put, a car is no longer just a car, but a super smart terminal. Among them, the smart cockpit, as the main entrance of human-computer interaction, has more and more functions, and the sense of experience is constantly enhanced, creating a third living space for users.
This also means a change in the way of thinking about making cars. For a long time, the automotive industry emphasized that hardware controls everything, and software serves as an auxiliary; but in the era of smart electric vehicles, software began to define cars. How to integrate hardware and software thinking well is a very big challenge for car companies.
I remember that Lynk & Co, founded in 2016, was the "brightest boy" on the eve of the outbreak of new cars.
In 2017, Lynk & Co's first car, the Lynk & Co 01, was launched and immediately attracted many users. Later, the launch of Lynk & Co 03 and other series of products brought the label of "performance car" to Lynk & Co. At present, Lynk & Co has 6 models on sale, giving young people an additional domestic choice in front of the BBA.
However, with the rise of new cars, the sales growth rate of Lynk & Co began to slow down, and the most shining things, such as the advantages in chassis, handling, and safety, were "sealed".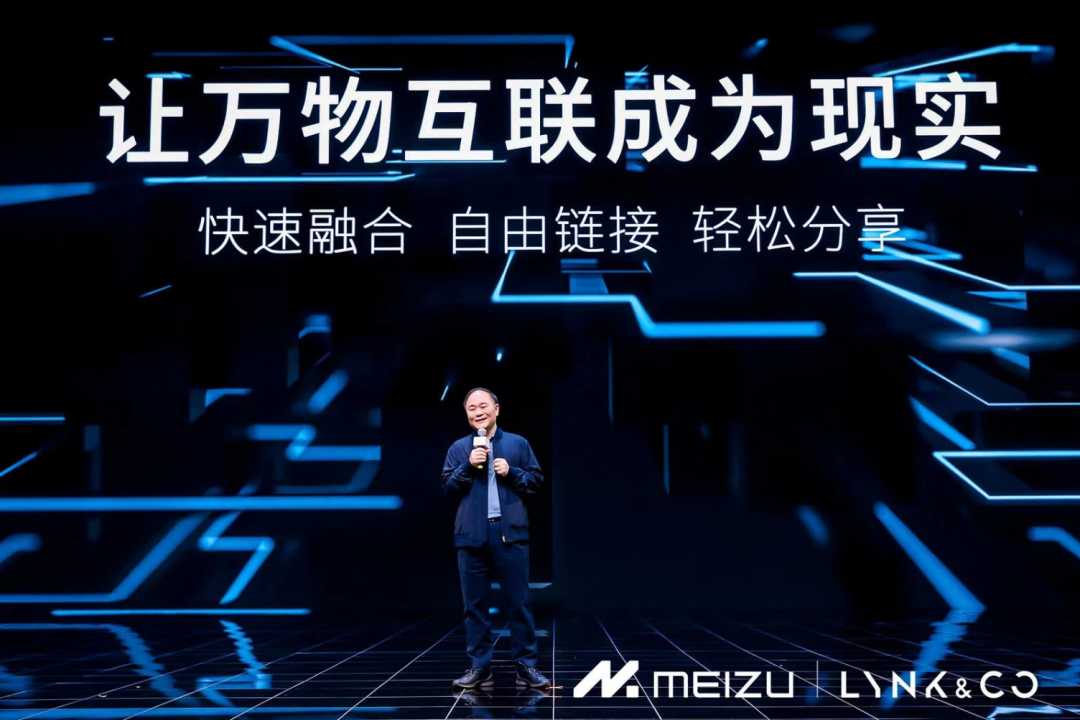 Li Shufu, chairman of Geely Holding Group, at the Lynk & Co ∞ Meizu Unbounded Ecological Launch Conference | Lynk & Co
On the recently released Lynk & Co 08, I found that it is undergoing some deep changes. Recently, the Lynk & Co ∞ Meizu Unbounded Ecological Conference was held in Shanghai. The biggest highlight of the scene was the Flyme Auto car-machine system jointly created by the two parties.
01
Behind the ability change is "gene change"
Smart cockpit human-computer interaction has become an important breakthrough for Chinese auto brands.
In history, every change in the way of interaction has reshaped the industrial structure of smart devices. Natural human-computer interaction opens the door to new industries. The industrial chain will continue to extend, and more players will enter the ecosystem of smart cars.
Although most OEMs are already aware of this general trend, the exact path to the future is still unclear. The current interactive mode of the smart cockpit is mainly an extension of the Android mobile phone ecosystem. Although the screen is much larger, the core function is entertainment and navigation.
So I am very concerned about what kind of sparks Lynk & Co and Meizu will create. Previously, Lynk & Co gave people the impression of being young, individual, and powerful; Meizu has often played the role of the first "crab-eating" in the past 20 years, from MP3 to mobile phones, from deeply customized Flyme to front fingerprint recognition. is the earliest experimenter. What is the ultimate goal of their two fusion?
For now, the Lynk & Co 08 is equipped with smart configurations such as a 92-inch AR-HUD and Harman Kardon 23 speakers. However, its most striking feature is the Flyme Auto car-machine system, which can be defined as "reading the user " and "Have an attitude".
For example, the feature of "understanding customers" may be reflected in the "customization" of the car-machine interface. At present, there are three main solutions for the mainstream car-machine interface: the most commonly used one is to use the navigation interface as the home page, such as Tesla and Wei Xiaoli, etc.; There are also 3D car models as the homepage, such as the latest Jikrypton 001 and so on.
The solution given by Flyme Auto is not entangled, "everything is needed", and can be customized according to personal preferences. Among them, under the theme of 3D car models, Flyme Auto adopts the concept of "time engine". The sky in the background of the vehicle will change with time and weather. For example, rainy days, sunny days, mornings and nights present different sky backgrounds in real time.
At the same time, users can customize almost all settings interfaces of this Lynk & Co 08 car-machine system, such as scene cards, Dock bar, air-conditioning functions, etc. Even after adding the split screens of various applications, floating windows of various proportions can be added.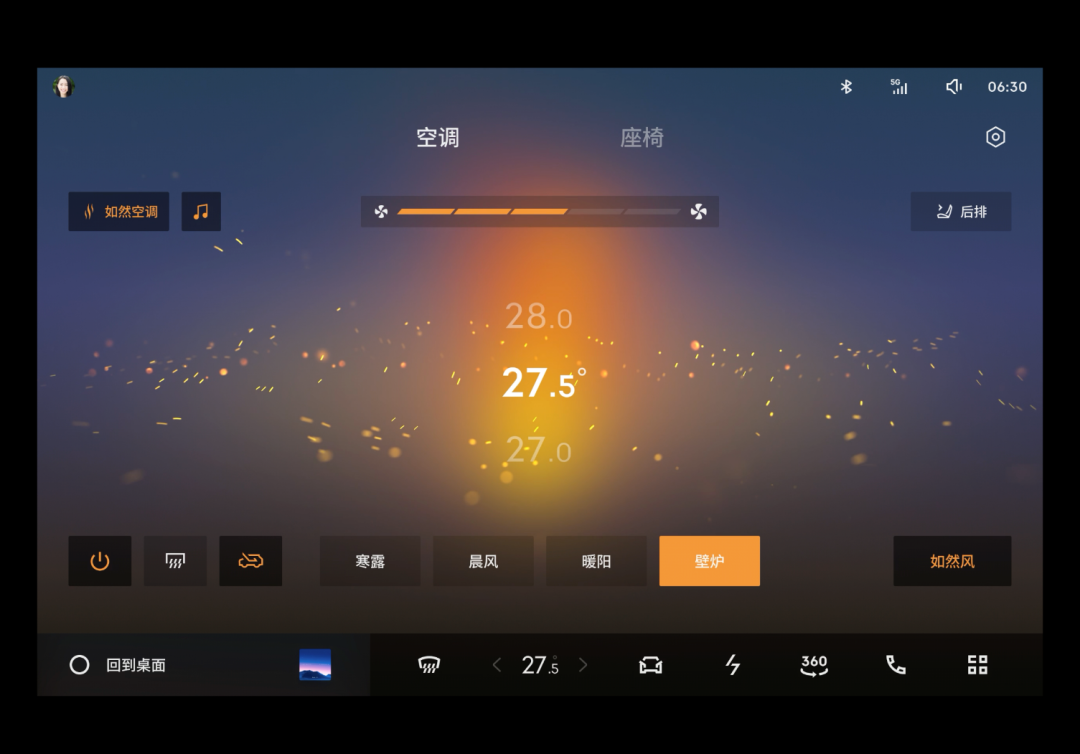 Ruran air conditioning function in Flyme Auto | Lynk & Co
As for the "attitude" point, I understand that it restores the original features of the Flyme system. For example, one of the elements that Meizu has been sought after in the past is the unified icon drawing, the application of low-saturation colors, and the concise The interaction logic and these features continue to the Flyme Auto system on the Lynk & Co 08.
The reason why Meizu was liked by many people back then was essentially because it was the first group in China to devote a lot of energy touser experienceOn top of that, and try to build some unique products. It is also reflected in Flyme Auto this time.
For example, air conditioning should be a more commonly used function and scene. Flyme Auto first gave it a very elegant name – Ruran air conditioner, and then provided four modes of "Cold Dew", "Morning Breeze", "Warm Sun", and "Fireplace" for different temperature scenarios, changing the Traditional habits defined by temperature settings. Although it seems simple to change a poetic name, the key is to match various sound effects and motion effects to simulate the corresponding environment, which is a bit more realistic.
From a utilitarian point of view, this kind of "feature" setting may not be just necessary for many people, but with this kind of detail, it is indeed more intuitive and simpler than setting the temperature in the past, and it does bring a different experience in the interactive experience in the car. "manner".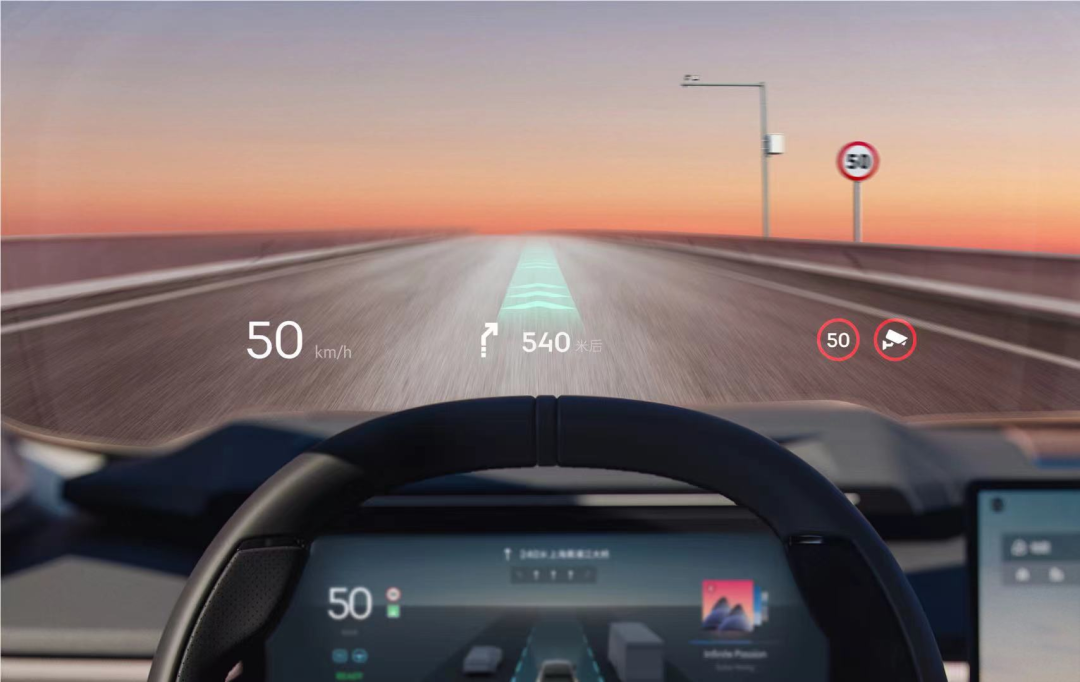 92-inch AR-HUD for Lynk & Co 08 | Lynk & Co
In fact, the cooperation between Lynk & Co and Meizu is not limited to products and technologies. On April 2, the Meizu flagship store in Wuhan was officially opened, displaying Lynk & Co 08 and other products. In addition, Lynk & Co and Meizu will also promote in-depth exchanges between the user communities of the two parties, with the intention of forming a technology product ecosystem of cars, mobile phones and more technology products.
Now you can probably see Geely's complete thinking after acquiring Meizu: First, the Flyme Auto vehicle system provides users with a smart experience close to the level of mobile phones, and liberates the product capabilities that were originally "sealed". On a deeper level, brands and customers are also connecting and merging with each other, which is more like a hybrid of culture and genes, rather than a simple addition of capabilities.
02
Genetically modified must dare to "true hybrid"
Li Shufu's original intention to acquire Meizu was not just to increase the line of mobile phone products, or to acquire a software capability. In recent years, Geely has continued to expand its diversified cross-border layout, not only in the field of chips and mobile phones, but also in other fields such as satellites. This move beyond the boundaries of traditional auto companies is internally seen as an attempt to create a smart travel technology ecosystem that "integrates heaven and earth".
A strategy can be grand, but implementation is a test. For example, the acquisition of Meizu is only the starting point, and how to truly "mix blood" to succeed is the real challenge.
It has only been eight months since Geely officially acquired Meizu in July 2022, and now Flyme Auto is equipped with Lynk & Co 08. In such a short period of time, Lynk & Co and Meizu have come up with a car-machine system. This is a relatively positive signal, and "true mixed blood" is beginning to see signs.
A smart electric car should not be a car + intelligent function, but should be considered from the perspective of a smart terminal. This requires genes with mobility, interaction, and intelligence to redefine it. This redefinition is not simply a matter of listening to someone. It requires both parties to be open enough to be truly "hybrid."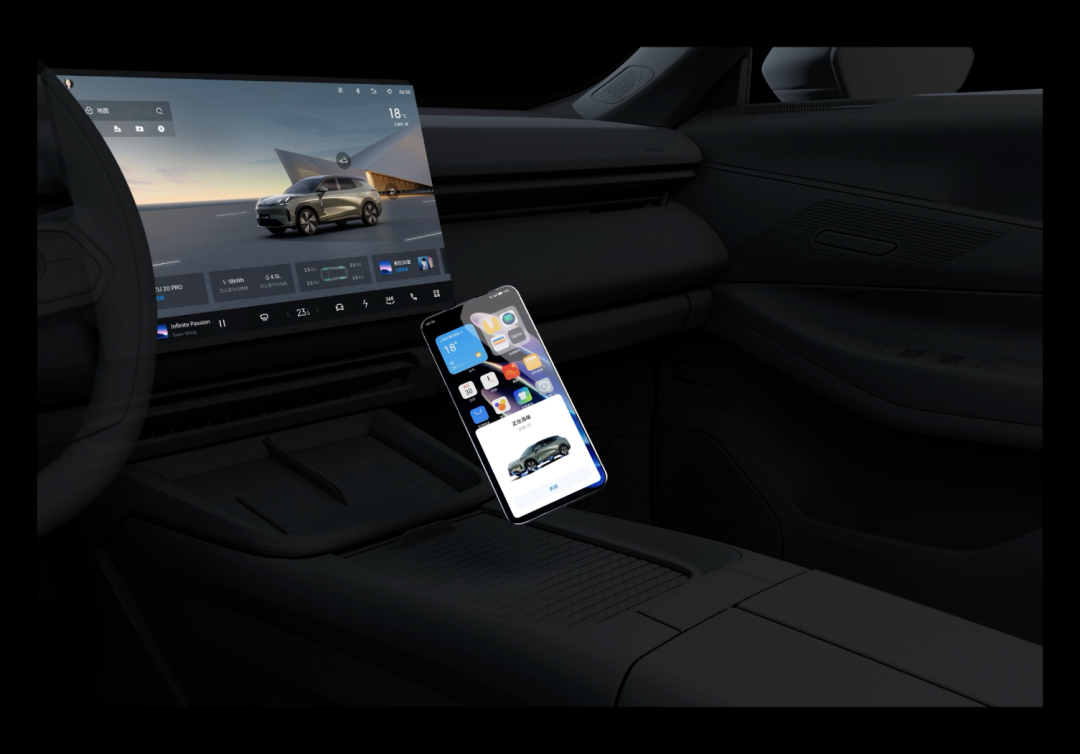 Lynk & Co 08 equipped with Flyme Auto vehicle-machine system |
The initial consensus formed by the two teams is also crucial. For example, from Flyme to Flyme Auto, it is not a simple translation of the operating system from mobile phones to cars, but a reengineering for the car scene. Obviously, Flyme Auto combines the advantages of the Meizu team in terms of mobile phone experience, as well as Lynk & Co's understanding of the user's car scene and the latest electronic and electrical architecture. All of these make Flyme Auto not the carification of mobile phone systems.
For example, Meizu's classic Smart Bar was developed in the early days to solve problems such as large screens and blind spots for one-handed use. On Lynk & Co 08, it is integrated into Flyme Auto to make room on the Dock bar at the lower end of the car. In addition to the back and menu keys, it can also dynamically display the application's small window. The advantage of this design is that it simply integrates the intuitive display and dynamic adaptive interaction of multiple functions without occupying the original display space.
To say that Geely behind Lynk & Co has indeed had a successful experience in cultural integration. Recall that in 2010, Geely received all the physical and intangible assets of Volvo Car Group for US$1.8 billion, including 3 factories and more than 10,000 patents. As we all know, Geely has become the best example of cross-border mergers and acquisitions of Chinese companies.
Back then, I asked Li Shufu the key to the successful integration of the two. His conclusion was, "Rely on communication and mutual trust, strict goal management, effective delegation of power, and tolerance of various constructive opinions with harmony." It is estimated that this time Lynk & Co and The integration of Meizu on the car and machine also continues this idea.
It is worth noting that the path of Meizu and Lynk & Co's deep integration to create new car products is similar to the cooperation between Huawei and Celes: on the one hand, they have built a rich and complete product through the deep integration of car and mobile phone capabilities. smart ecosystem. On the other hand, the construction of experience stores planned by Meizu is also similar to that of Huawei. It is not simply a car brand entering the mobile phone store channel, but a deep integration of the terminal channels of both parties.
But there are also differences between the two. If the Hongmeng OS in-vehicle system is the powerful empowerment of Huawei mobile phones to Cyrus, then Lynk & Co and Meizu are all-round "two-way empowerment" from products, channels to communities.
In the current fierce industry competition, the smart cockpit has become a key strategy for car companies to achieve functional differentiation. From Lynk & Co 08, we can see a corner of the future. Cars are no longer simple vehicles, but have become people's smart partners. More importantly, its smart ecosystem is not closed, but revolves around "ecological collaboration" and "cross-border extension". Only in this way will the seal of the times be lifted, and the advantages accumulated in history will be truly released.