Tencent distributes 155.4 billion Hong Kong dollars in market capitalization of Meituan stocks
On November 16, Tencent disclosed in its financial report for the third quarter of 2022 that it will distribute the 958 million Class B shares of Meituan it holds in the form of distribution in kind, as a special interim dividend distribution, with a distribution ratio of 10:1 (per Hold 10 shares of Tencent and receive 1 share of Meituan).
According to China Fund News, based on the closing price of 162.3 Hong Kong dollars per share on that day, the total market value of Meituan shares to be distributed is about 155.4 billion Hong Kong dollars. Distribution is expected to be completed by March next year.
In addition, the Meituan announcement pointed out that due to the proposed change in Tencent's shareholding in the company, Lau Chiping has resigned as a non-executive director with immediate effect. Chiping Lau has been a member of the board of directors of Meituan since October 2017. (Source: Every Jingwang)

Tencent's revenue in the third quarter was 140.1 billion yuan, and its net profit rose 2% year-on-year
On Wednesday, November 16, Tencent Holdings released its third quarter results for the 2022 fiscal year. According to financial report data, Tencent's revenue in the third quarter was 140.1 billion yuan, a year-on-year decrease of 2%, which was lower than the market's expected 141.4 billion yuan, and a quarter-on-quarter increase of 5%. The first quarter net profit was 39.9 billion yuan, better than the market's expected 25.19 billion yuan. An increase of 1% year-on-year and a quarter-on-quarter increase of 115%; adjusted net profit was 32.25 billion yuan, an increase of 2% year-on-year and a quarter-on-quarter increase of 15%, ending the four consecutive quarters of year-on-year decline.
The financial report shows that Tencent's value-added service business revenue in the third quarter of 2022 fell by 3% year-on-year to RMB 72.7 billion. Due to the reduction of paying users due to the transitional challenges of the industry, Tencent's domestic game revenue in the third quarter of 2022 fell by 7% to RMB 31.2 billion.
It is worth noting that Tencent's other net income in this quarter was about 20.89 billion yuan, of which the company's investment in Sea Limited was transferred to financial assets measured at fair value and whose changes were included in other comprehensive income. RMB 41.299 billion. (Source: Wall Street News)
Nvidia announces it will team up with Microsoft to develop an artificial intelligence supercomputer
Nvidia said on November 17 that it signed a multi-year cooperation agreement with Microsoft to develop an artificial intelligence supercomputer to handle intensive artificial intelligence computing work in the cloud.
The AI ​​computer will run on Microsoft's Azure cloud, using tens of thousands of graphics processing units (GPUs), Nvidia's most powerful H100 and its A100 chip. Nvidia declined to say how much the deal was worth, but industry sources say the A100 chips cost around $10,000 to $12,000 per chip, while the H100s cost much more than that.
In addition to selling chips to Microsoft, Nvidia said it will also work with the software and cloud computing giant on AI models. Nvidia will also become a customer of Microsoft's AI cloud computer and develop AI applications on it to provide services to customers.
In addition, Nvidia's latest financial report shows that revenue in the third quarter was US$5.931 billion, and net profit fell by 72% year-on-year (Source: IT House)
Apple plans to reduce reliance on Asia-made chips
Apple CEO Cook said at an internal company meeting held in Germany last month that Apple will purchase chips from a factory in Arizona in the future, and may also expand the supply of chips from European factories:
According to the media, what Cook is referring to is likely to be TSMC's Arizona factory, which started construction in July this year and is scheduled to be put into use in 2024.
Cook's statement means that Apple will move one step closer to getting rid of its supply dependence on Asia.
For a long time, Apple's self-developed A-series and M-series chips have been designed by Apple and produced by TSMC's Taiwan factory. Driven by about $50 billion in incentives from the U.S. Chip Act, Apple has begun to consider moving some of its chip manufacturing back to the United States. (Source: Sina Finance)

Tesla China adjusts product delivery cycle, shortens delivery time
On November 15, Tesla China's official website showed that Tesla has adjusted the delivery cycle of its main products. The Model Y rear-wheel drive version has been adjusted from 1-4 weeks to 1-5 weeks; version, Model Y high-performance version/long-endurance version and other four models were adjusted from the previous 4-8 weeks to 1-5 weeks.
The increase in delivery volume and the shortening of the cycle have benefited from Tesla's continuous increase in production capacity this year. Especially after experiencing a production slowdown in the second quarter, Tesla's Shanghai Gigafactory has been accelerating its production capacity ramp-up in the third quarter.
Despite the continuous increase in production capacity, some analysts pointed out that Tesla's product inventory has hit a new high. According to a research report by CMB International, the output of Tesla's Shanghai Gigafactory has significantly exceeded sales. Taking October as an example, its output was 87,706 vehicles, about 16,000 vehicles higher than the delivery volume of 71,704 vehicles. It is understood that this is the largest gap between production and sales since Tesla opened its Shanghai factory at the end of 2019. (Source: Aijiwei)
appleCEOFirst comment on Musk's acquisition of Twitter
Apple CEO Cook first expressed his opinion on Musk's acquisition of Twitter in an interview.He expressed the hope that Twitter can continue to shut down good content.
In the interview, Cook talked about Twitter's recent developments after being taken over by Musk. Asked what Twitter's recent changes mean for the relationship between Twitter and Apple and the app's presence on the App Store, Cook said, "They said they're going to continue to review, so I expect They do it because I don't think anyone really wants hate speech on their platform."
Cook also talked about Apple's position on privacy issues, saying that the company does not believe in "passing a lot of user data to the cloud to make decisions based on it." He said that the company only needs to use the least amount of information to provide people with the most information. Excellent service. (Source: Phoenix.com, Techweb)
SpaceX is in talks to raise $1 billion, sources say
Billionaire Elon Musk's SpaceX is in talks to raise nearly $1 billion in a new funding round that would see the rocket-launch and satellite company Valuation reached about 150 billion US dollars.
Negotiations are ongoing to price SpaceX at about $85 a share, pushing up the company's $120.5 billion valuation earlier this year, people familiar with the matter said. The company could receive close to $1 billion in funding for the round, one of the people added.
This suggests that investor interest is high at a time when some other late-stage funding startups have had to face cut valuations.
SpaceX did not immediately respond to a request for comment. (Source: Sina Technology)

Qualcomm announced a new generation of custom PC processor core Oryon, benchmarking Apple's M-series processors
At the 2022 Snapdragon Technology Summit, Qualcomm announced the name of its next-generation custom Arm core: Oryon. Those cores will be used in chips designed to counter Apple's M-series custom Arm processors, but the company didn't provide specifics.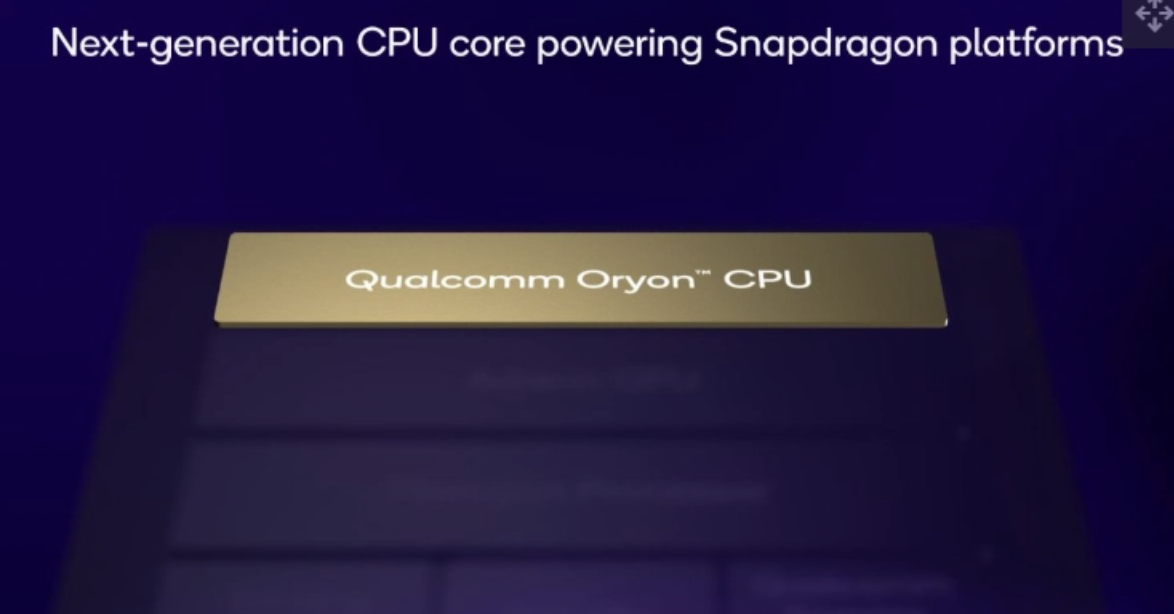 Qualcomm acquired Santa Clara's Nuvia for $1.4 billion back in January 2021. The founder of NUVIA is the former chief architect of Apple, who worked on the CPU design from A7 to A14, Nuvia is working on a custom Arm architecture, and this is what Qualcomm needs to compete with Apple, especially in the field of laptop computing .
The new chip based on Qualcomm Oryon is scheduled to provide samples to OEMs in the second half of this year and will be officially commercialized in 2024. (Source: IT House)

2022 Hurun Charity List released, Liu Qiangdong, Wang Xing, Lei Jun are the top three
The Hurun Research Institute released the "2022 Hurun Charity List" today. The list is based on cash and equity donations and legally binding pledged donations from April 1, 2021 to August 31, 2022.
The entry threshold for this year's list is 100 million yuan. The Hurun Research Institute has found 49 of China's most generous philanthropists from 20 cities who have donated more than 100 million yuan in the past year, with a total donation of 72.8 billion yuan.
Liu Qiangdong has donated a total of 14.9 billion yuan in the past year, becoming "China's first charity" for the first time. Wang Xing donated a total of 14.7 billion yuan in the past year, ranking second. Lei Jun donated a total of 14.5 billion yuan in the past year, ranking third. (Source: Network Synthesis)