Following TikTok CEO Zhou Shouzi's five-hour "absurd" questioning on Capitol Hill, global companies from China were once again confronted by the US Congress.
Recently, the US-China Economic and Security Review Commission (USCC) under the US Congress released an analyst report, arguing that the cross-border e-commerce platforms SHEIN, Temu and other Chinese e-commerce companies have "data security, procurement Violation of regulations, infringement of intellectual property rights" and other issues, it is suggested that the US government should remain vigilant.
In response to this, the Ministry of Commerce responded at a press conference that the analyst's report repeatedly used uncertain expressions such as "maybe", "maybe" and "seems" without investigation and verification, and cited non-authoritative and legal The U.S. companies that acted unilaterally made a statement, accusing the Chinese e-commerce platform. The U.S. approach was "neither professional nor responsible."
To put it bluntly, this kind of accusation is "unwarranted", has no evidence, and is quite biased.
In fact, behind this incident is the growing influence of Chinese-born international companies in the United States. According to Sensor Tower data, in the first three weeks of March this year, four of the top five most downloaded apps in the US app store were from China. They are Temu, CapCut (a video editing app owned by ByteDance), TikTok and SHEIN.
This was originally a matter of commercial scope, which shows that these products really solve user problems and provide user value. This is also something that entrepreneurs who have experienced in the Chinese market in the past 20 years and their entrepreneurial culture are good at.
It's just that these companies that are being rewarded by the global market are being "unnecessarily" suspected by overseas politicians. This seems to be a blow to the hearts of those who do things.
SHEIN and Temu are arguably the most successful cross-border e-commerce companies in China. Their business model can be summarized as C2M (Customer to Manufacturer, customer to factory). They acquire customers overseas through social media and other channels. After overseas customers place orders, they feed back the orders to the supply chain in China, which is responsible for production, Logistics, final delivery, etc.
The reason why they are widely liked by overseas users is that they provide high-quality and low-cost products. If the fast fashion giant Zara is already considered cheap, but the prices of SHEIN and Temu may only be half or even 1/3 of them. On SHEIN and Temu, the average selling price of clothes, shoes, accessories, etc. is only a dozen dollars or even lower.
They also have a lot of product categories, and the speed of updating is very fast. In 2020, SHEIN will release 150,000 new models, and the new releases in one to two months will catch up with Zara's annual releases.
The product categories on Temu are also very rich, including pet products, clothing, jewelry, daily necessities, children's products, etc., and are of high quality and low price. Especially last year, Temu met the household purchase needs of female users very well, and completed a large-scale breaking circle. Because in fact, there are still a large number of people in the United States who "cannot afford" or "have to use" Amazon e-commerce before. If you can better meet the needs, users will send you to the top of the list.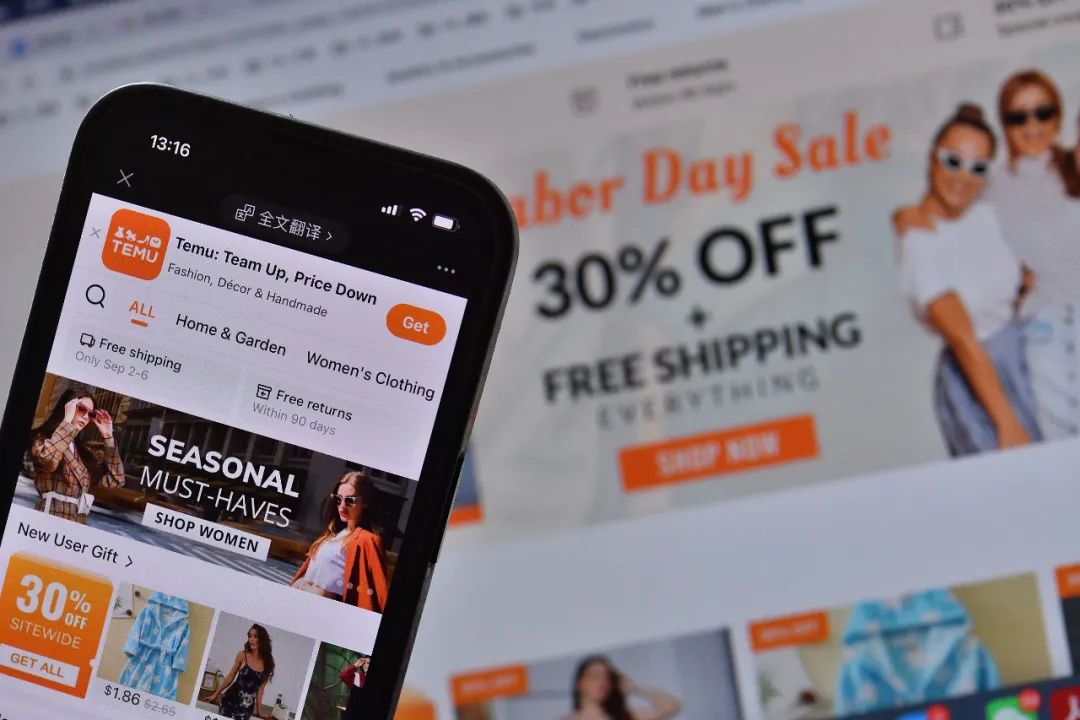 Temu | Source: Visual China
To provide cheap, high-quality, and complete products is in line with the common demands of consumers all over the world. SHEIN and Temu are able to rise because they precisely hit the pain point of overseas users.
The reason why they can provide such user value is that the business efficiency itself has been greatly improved through the "reorganization" of the product production test and circulation side.
Founded in 2008, SHEIN started by selling cross-border wedding dresses. Its founder, Xu Yangtian, started to transform the supply chain in 2014. Through "deadly knocking" in every link of capturing consumer demand, product production, and delivery, he shortened the entire production process of products, improved business efficiency, and finally was able to use more Supply goods in a faster, more comprehensive, cheaper and better way.
Temu, which was launched in September last year, is backed by Pinduoduo, a new generation of e-commerce giants in China. The team members have long-term entrepreneurial experience in the e-commerce field. Temu's supply chain has a deep accumulation, and the team is good at better capturing consumer trends, providing faster, more complete, lower prices, and higher quality products. And when it was launched in the US market, it was very well prepared, especially when it came to the household purchase needs of female users, it achieved "one hit", which is a model case of the cold start of an e-commerce platform in a new market.
Of course, their commonality lies in the powerful Chinese manufacturing supply chain they rely on. This is in addition to the entrepreneurial team's own capabilities, and the background advantages of Chinese-born global companies cannot be ignored. The popularity of SHEIN and Temu is a typical representative of Chinese entrepreneurs relying on the advantages of China's manufacturing industry to release value to the world.
If enterprises can provide users with a better experience through higher service efficiency, and truly solve users' problems, the market will naturally explode with massive growth. Whether it's TikTok or SHEIN or Temu, their "dominance" in the United States is essentially the same.
In fact, whether this kind of popular phenomenon is in China or the United States, it has emerged endlessly in the mobile Internet boom in the past 10 years. Now because of some problems in international politics, "topping the list" has become "the first bird" and then "unnecessarily" targeted. This is really hurting entrepreneurs.
Chinese entrepreneurs create value globally, which is the next inevitable trend. In the past ten years or so, a large number of Chinese technology companies have achieved massive domestic growth by meeting the needs of users in terms of food, clothing, housing and transportation, and greatly improving business efficiency. This incident not only shaped a group of outstanding companies and entrepreneurs, but also shaped some unique things in Chinese entrepreneurial culture.
For example, in China, the world's largest unified market, after fierce competition, Chinese technology entrepreneurs have already learned a mature methodology system to quickly grasp users' pain points and solve problems. It can be said that the "knowledge" of entrepreneurs going out of China in entrepreneurship is the world's leading.
Another example is that the reason why China Mobile's networking ecosystem was even ahead of the United States to a certain extent was because the Chinese market is large enough, and entrepreneurs are still willing to invest in "dirty, tiring, and troublesome work" to do well. In other words, entrepreneurs from China are the most devoted in the world in terms of empathy for user needs and their own diligence.
I remember seeing a conversation between Jack Ma and Musk many years ago. At that time, Musk was talking about human beings moving towards a multi-planetary civilization, but Jack Ma said that there are still many problems on the earth that are worth solving. Musk said that the ability of AI will eventually surpass that of humans and requires vigilance. Ma Yun said that human beings have their own irreplaceable things, and he is more concerned about how AI can help human beings solve problems.
It seems that the two donkey lips are not right, but I think the two entrepreneurs are meaningful forces for the planet. "Silicon Valley Fire" is admirable and leads many innovations, but "Shenzhen Supply Chain" and "Chinese Product Managers" also have meaningful value to the world.
Although these innovation cultures seem to be divided into two ends of innovation, one side looks like a sea of ​​stars, and the other side looks a bit oily and salty, but users want a better life, and they need both ends to work together to solve problems and promote progress. However, many of the human nature and needs of the global market are common, which is why Chinese technology entrepreneurs can continue to create value and achieve success after going global.
I believe that the genes of the new generation of Chinese entrepreneurs have changed in the past 20 years of technology and Internet tide. They will maintain empathy for users and remain extremely diligent, but they will also focus more on the use of technology, and even promote technological progress to better solve problems. Compared with the previous trading era when doing overseas business to earn some money, China's new generation of global entrepreneurs will be more committed to building a new and more efficient system, and then bring value to the larger world.
When you go out into the world, you must face all kinds of uncertainties. For example, changes in the political environment will of course have wind and rain, and sometimes even be full of injustice, but believe in the market and users, and believe in the user value you create. This is the greatest vitality, and it is the confidence that Chinese technology entrepreneurs must rely on.
In fact, every time I saw the injustice and unreasonableness faced by Chinese entrepreneurs in the world, in addition to indignation, I also saw voices thinking about it. Is there anything else entrepreneurs can do better?
But to be honest, indignation is useless, and sometimes what do you reflect on the obvious "attack"? It is actually simple to be pointed out that there is a clear problem and then to solve the problem. What is even more difficult is that every time you encounter a problem, in addition to viewing and solving the problem frankly, you must further clarify your confidence and determination.
To help users solve problems is the most long-term persistence and time-consuming thing. As long as this is unshakable, the value you create for users is your most powerful vitality.