Hangzhou Asian Games cancels "Hearthstone" project setting
News on March 17, according to the official information of the Hangzhou 2022 Asian Games, on March 16, after deliberation at the Fifth Coordination Committee Meeting of the Olympic Council of Asia, it was decided to cancel the "Hearthstone" project setting, and the Hangzhou Asian Games e-sports will set 7 competition items.
The announcement explained that "Hearthstone" is an e-sports project produced by Blizzard Entertainment of the United States and operated by China NetEase in China. Due to the expiration of the business cooperation between the two parties, the operation team and server of the project have been terminated. Meet the prerequisites for inclusion in the e-sports events of the Hangzhou Asian Games.
So far, there will be 7 e-sports events selected for the Hangzhou Asian Games, namely League of Legends, King of Glory (Asian Games Edition), Peace Elite (Asian Games Edition), Dota 2, Dream Three Kingdoms 2, Street Fighter 5 and FIFA Online 4. (Source: TechWeb)

Bytedance Liang Rubo made an internal speech: We should think about how to use ChatGPT to combine scenarios to create value for users
At 9 pm on March 16th, on the occasion of the eleventh anniversary of its establishment, executives such as ByteDance CEO Liang Rubo communicated with employees of the company through live video.
In the two-hour live broadcast meeting, the management shared and communicated on issues such as ByteDance's 2023 goals and current challenges.
Liang Rubo summarized the main goals of ByteDance this year into four points: focus on the two main businesses "information platform" and "e-commerce"; Social trust; basic skills in management, such as improving the globalization level of the organization.
He also specifically mentioned that the release of ChatGPT during this period has brought great shock to the industry, and the release of GPT4 has also been shocking, but we should not stop at the shock. "We should study deeply, understand its principles, and go to Think about how to combine scenarios to create value for users." (Source: 36 Krypton)
Ren Zhengfei's latest statement: Huawei will complete 13,000 device replacement development in 3 years
Recently, Huawei held the "Problem Uncovering" Sparkle Award Ceremony at its headquarters in Bantian, Shenzhen. Ren Zhengfei, founder and president of Huawei, delivered his latest speech at the meeting.
Ren Zhengfei said that Huawei has continued to invest in research and development during the three years since it was sanctioned by the United States. In the past three years, Huawei has also successfully completed the replacement development of 13,000+ devices and the repeated board replacement development of 4,000+ circuit boards. Until now, the circuit boards have stabilized because of the supply of domestic components.
Ren Zhengfei also revealed that in April this year, Huawei's MetaERP will take an oath to use its own operating system, database, compiler and language… to create its own management system MetaERP software.
Regarding the recent hot ChatGPT, Ren Zhengfei said that in the future, there will be turmoil in the large AI model, but the direct contribution of artificial intelligence software platform companies to human society may be less than 2%, and 98% is the promotion of industrial society and agricultural society. 5G connectivity is required for widespread service.
Ren Zhengfei emphasized that Huawei will only be the underlying computing power platform of AI and will not touch the application platform. What are the opportunities of ChatGPT for Huawei? Ren Zhengfei believes that it will increase the calculation and pipeline flow, so that Huawei's products will have market demand. (Source: Fast Technology)
Baidu has risen again, and Hong Kong stocks rose nearly 15% in intraday trading
According to the news on March 17, after Wenxin Yiyan was released, Baidu's stock price plummeted, and the intraday decline once expanded to 9%. Today, Baidu's stock price has risen again.
Opening today, Baidu Hong Kong shares rose 7.91%, reported 135 Hong Kong dollars. Subsequently, the stock price continued to rise, and once rose by nearly 13% in the intraday session. As of press time, Baidu's Hong Kong stock rose 12.15% to HK$140.3, with a market value of HK$387.8 billion.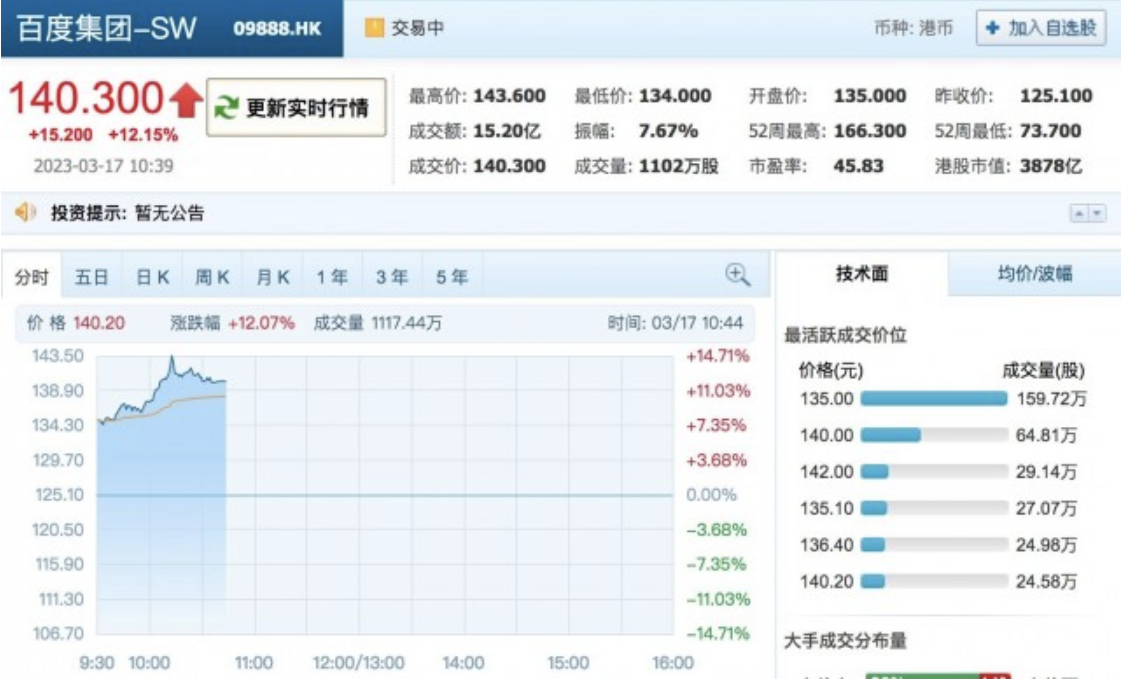 In terms of US stocks, as of the close of trading on March 16, Eastern Time, Baidu US stocks rose 3.8% to US$138.16, with a market value of US$47.7 billion. (Source: Flush Finance)

Xiaopeng Motors' new model G6 will be unveiled, released in the middle of the year and starts delivery
According to news on March 17, Xiaopeng Motors Chairman He Xiaopeng said at the 2022 fourth quarter earnings call that Xiaopeng's second blockbuster model of the year, the G6, will be unveiled at the Shanghai Auto Show and will be officially released and delivered in the middle of the year. , the model is positioned in the price range of 200,000-300,000. After mass production ramps up, it will reach two to three times the sales volume of P7.
In addition, Xiaopeng will launch a new pure electric 7-seater MPV in the second half of this year.
He Xiaopeng also said that artificial intelligence represented by GPT has a huge prospect, and it will have a new interpretation of the realization of autonomous driving, and it will enable L4 autonomous driving to move to L5 faster. More coupling. (Source: IT House)
The United States once again requires ByteDance to sell TikTok shares, otherwise it will be banned
The latest foreign media reports show that the Committee on Foreign Investment in the United States (CFIUS) has asked ByteDance to sell its shares in TikTok, otherwise it may face a US ban.
Judging from foreign media reports, the United States once again asked ByteDance to sell its shares in TikTok, which is still a security risk concern just like its previous requirement to sell its US business.
According to the plan, TikTok CEO Zhou Shouzi will attend a hearing in the US Congress next week to answer questions from lawmakers about TikTok and explain their security measures.
Although foreign media mentioned in the report that the United States asked ByteDance to sell its shares in TikTok, it did not mention whether the United States has a time requirement, so it is not clear the deadline for them to find potential buyers. (Source: TechWeb)
EU delays Microsoft's decision to buy Activision Blizzard until May 22
Microsoft is preparing to buy game publisher Activision Blizzard for about $69 billion. However, one of the regulators believed to be supposed to approve the deal has pushed back their deadline to give the green light.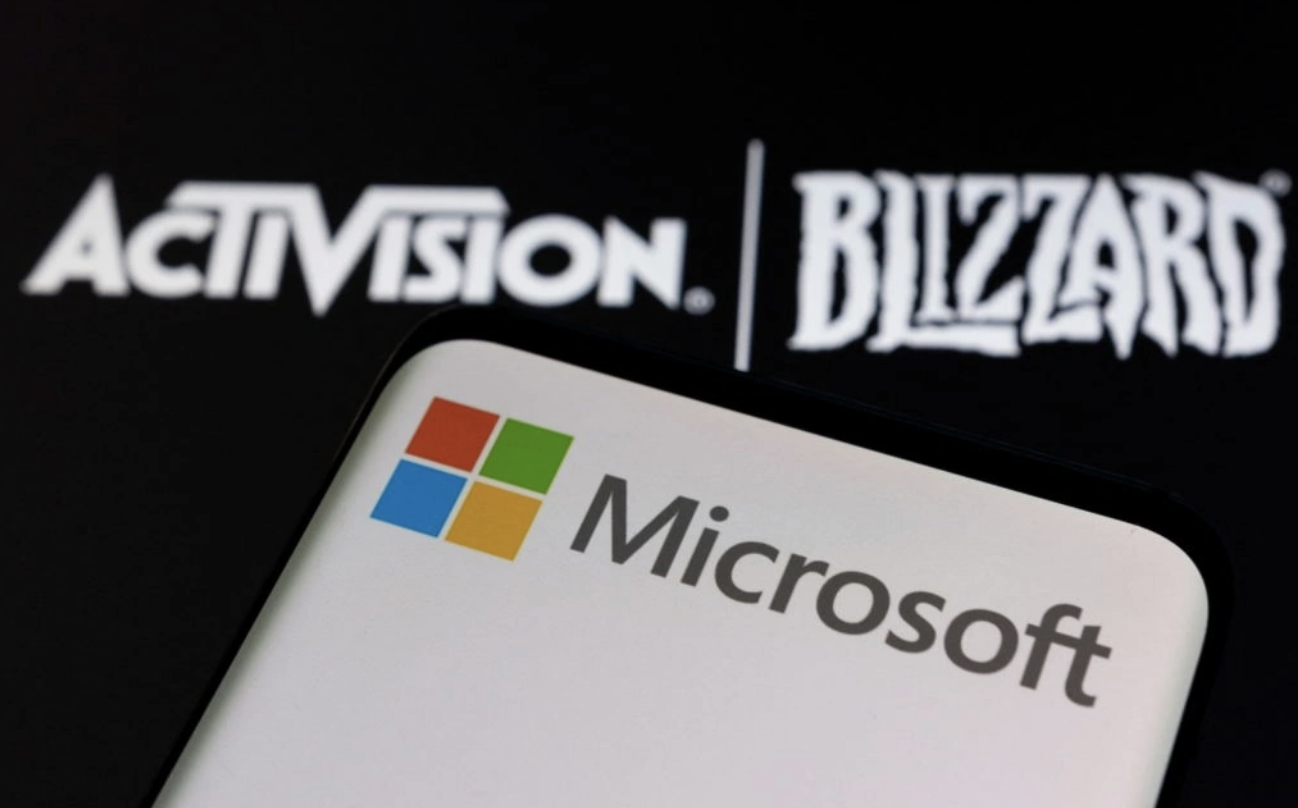 Eurogamer reports that the European Union and its executive arm, the European Commission, will postpone the decision to approve or reject the merger from April 25 to May 22.
The extra time will give Microsoft more opportunities to make some concessions and remedies to the EU and European Commission so that they can confidently approve the acquisition.
Also this week, the FTC accused Microsoft of not giving them all the documents the agency requested to review the company's arguments for starting the deal. (Source: cnBeta)

Qualcomm launches second-generation Snapdragon 7+ platform, Redmi Note 12 to be unveiled soon
March 16, 2023, U.S. time, San Diego-Qualcomm Technologies launched a new second-generation Snapdragon® 7+ mobile platform, bringing a comprehensive and excellent experience to the Snapdragon 7 series.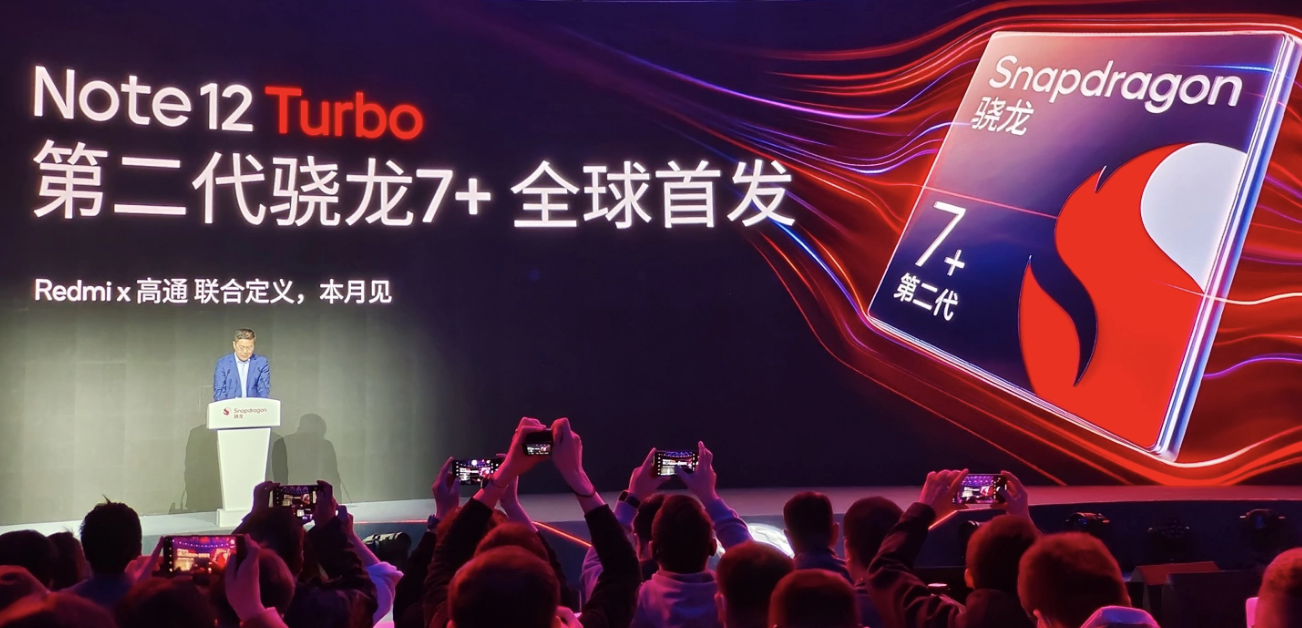 With its outstanding CPU and GPU performance, the second-generation Snapdragon 7+ supports long-lasting and smooth gaming experience, dynamic low-light photo capture and 4K HDR video capture, AI-powered enhanced experience, and high-speed 5G and Wi-Fi connectivity.
As a Snapdragon 7 series platform with innovative performance, the second-generation Snapdragon 7+ will bring many extraordinary experiences. The highest frequency of Qualcomm Kryo™ CPU is as high as 2.91GHz, and the performance has been improved by more than 50%.
At the same time, the performance of Qualcomm Adreno™ GPU is improved by 2 times1. The second-generation Snapdragon 7+ also achieves an overall system energy efficiency improvement of up to 13%, supporting longer-lasting daily use. The entire platform integrates terminal-side AI functions. (Source: Geek Park)
Tesla unveils 'driving in the sun' solar charge management feature
The 4.19 update to the Tesla app adds a new "driving in the sun" feature, allows non-Tesla owners to become charging members, and shows more details about charging speed and capacity.
The biggest update in this app update is the company's new "Driving in the Sun" feature. For Tesla owners with solar systems, the feature will use the excess solar energy they generate to charge their vehicles.
The addition comes weeks after the company began rolling out its Supercharger network to non-Tesla electric vehicles in the U.S. While it has only put a handful of chargers into service so far, it plans to roll out non-Tesla EV charging to most Superchargers in the US. (Source: cnBeta)

Venus is 'alive': Scientists find evidence of volcanic eruptions on the planet
Scientists have found the most direct evidence of volcanic eruptions on Venus, suggesting that the hot, lifeless planet shrouded in sulfuric acid fumes is still geologically "alive."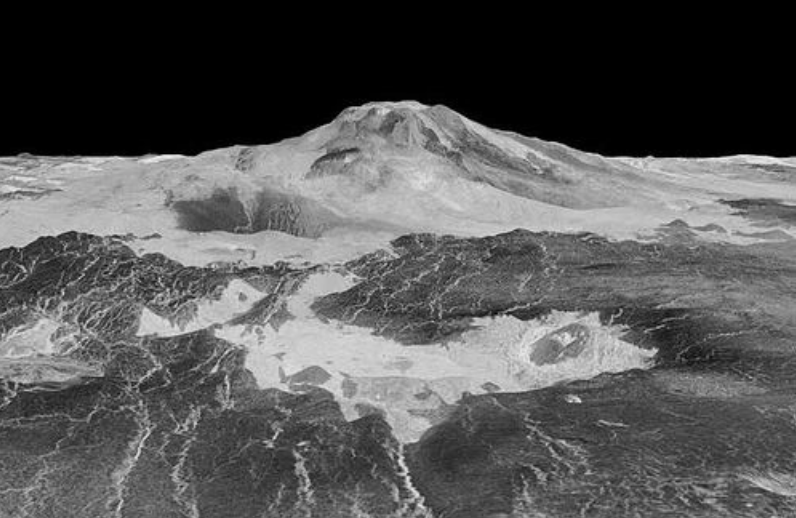 This evidence comes from NASA's Magellan probe to Venus. Scientists compared photos taken by Magellan eight months apart and found that the caldera of a volcano grew dramatically during a sudden collapse. This collapse is usually caused by the eruption of magma. Scientists believe this is the strongest evidence yet of active magma volcanoes on Venus.
The discovery makes Venus the third known planetary body in the solar system to host active magma volcanoes, after Earth and Jupiter's moon Io. (Source: IT House)