At the realme realme flash charging technology communication meeting on January 5, realme officially announced the first mass-produced 240W full-level second charge, realme GT Neo5 will be launched for the first time, and will debut in February.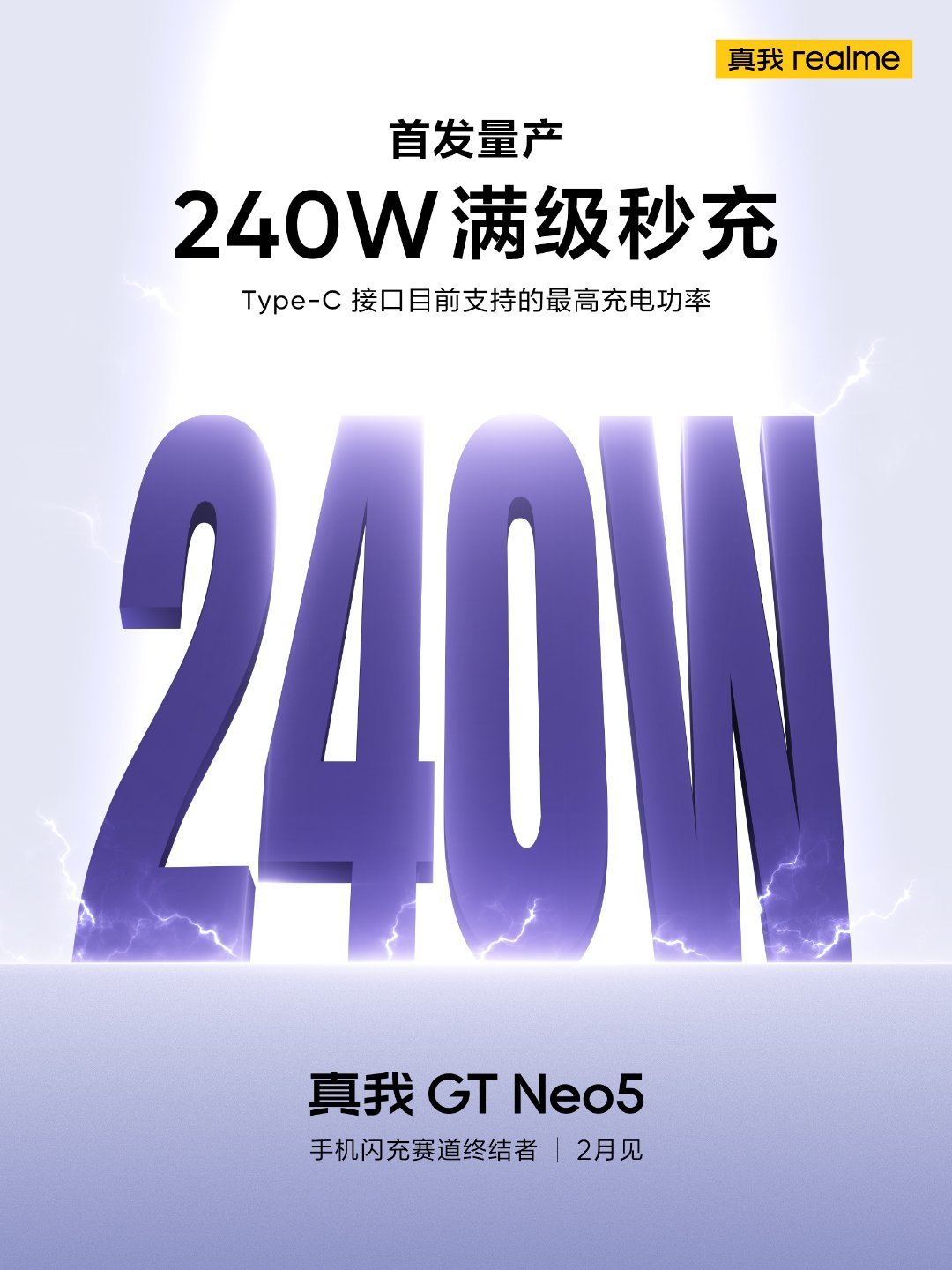 240W is currently the highest charging power supported by the Type-C interface. Realme uses a three-way 100W charge pump parallel design, 20V 12A input, 10V 24A output, and the charging conversion efficiency reaches 98.5%. realme has customized a 12A charging cable with the highest specification in the industry, which has increased the current carrying capacity by 20% compared with the previous generation.
The solution uses a 240W dual GaN mini charging head, which achieves the highest power density of 2.34W / CC in the industry, and uses a single USB-C interface, which is only 5% larger than the previous 150W charging head. The charging head supports the 240W SuperVOOC protocol and is compatible with the 65W PD protocol, QC protocol, and VOOC protocol.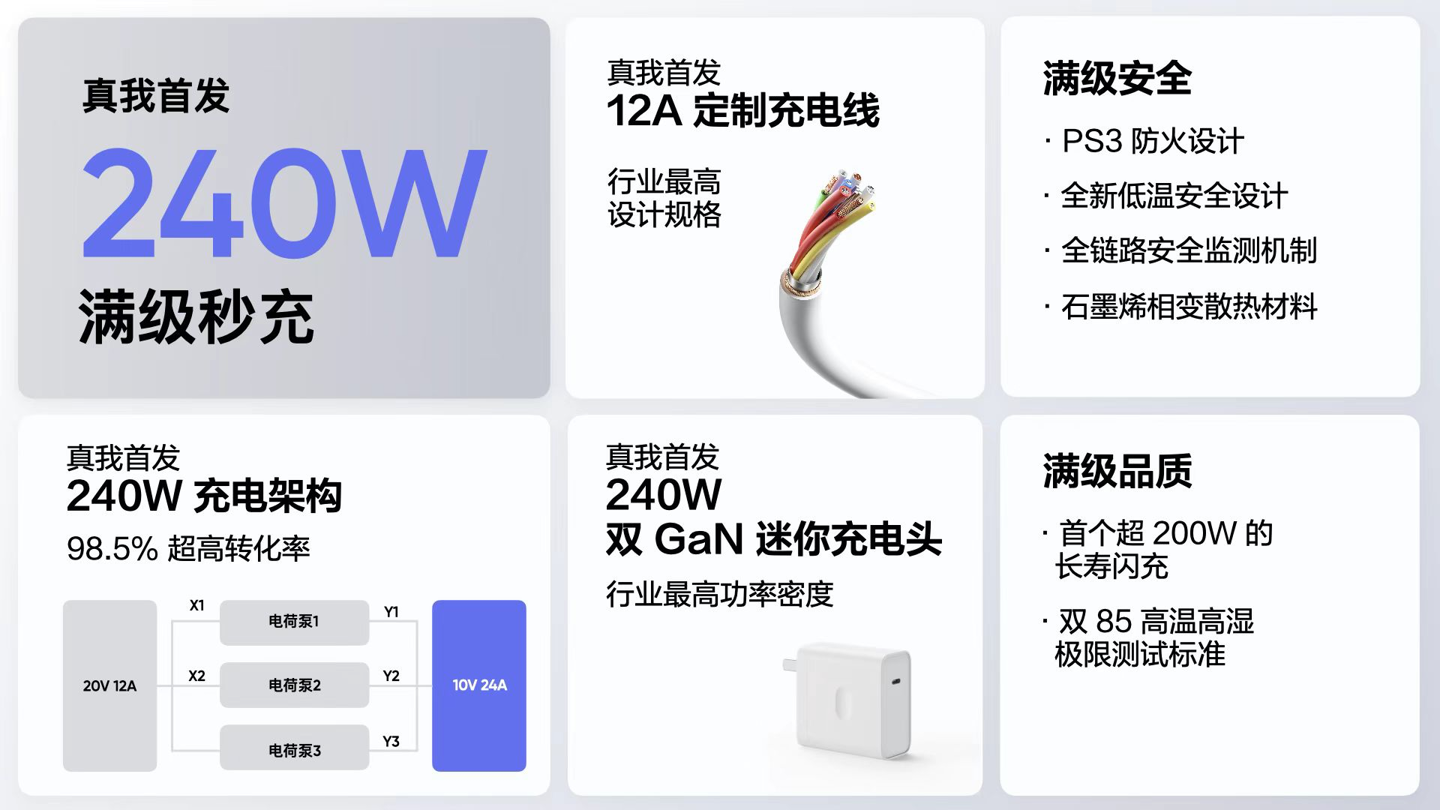 In terms of safety, realme GT Neo5 has 13 built-in temperature sensors, supports PS3 fire protection design + full-link safety monitoring mechanism, and has the industry's largest 6580mm² graphene phase-change heat dissipation material built-in.
In addition, realme 240W fast charging can be done after 1600 0-100% complete charging cycles, and the effective capacity of the battery is not less than 80%; after 3200 simulated shallow charging and shallow discharging real use scene charging cycles, the machine has no abnormalities; at 85 ℃ high temperature, Under 85% high humidity environment, it can charge and discharge for 21 days without safety failure.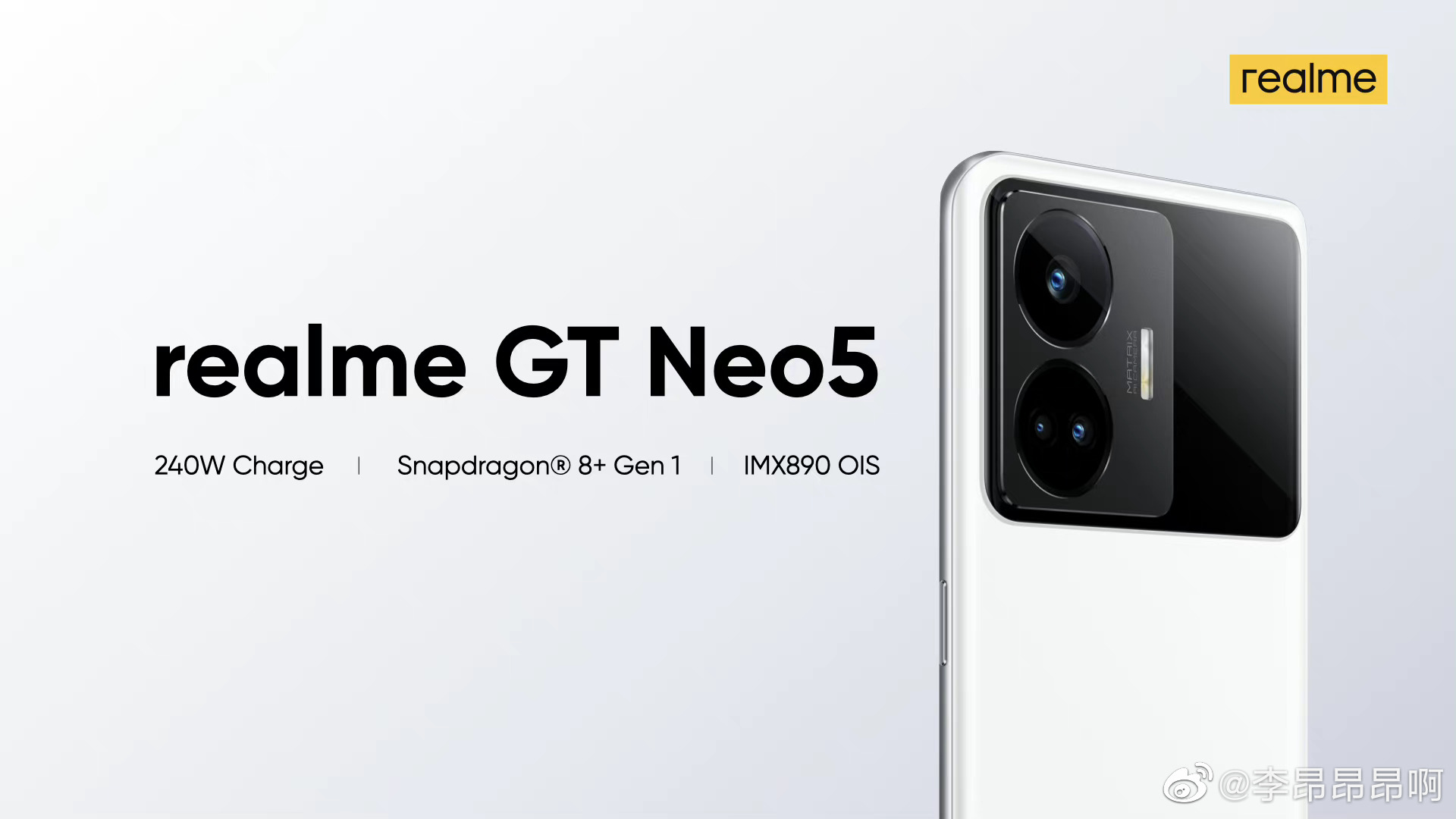 According to previous reports, realme GT Neo5 will use a 6.7-inch 1.5K large screen with a resolution of 2772*1240p, support 144Hz refresh rate and 2160Hz PWM dimming, and be equipped with a 3.2GHz first-generation Snapdragon 8+ processor.
In addition, the rear of the machine uses a 50MP IMX890 main camera (OIS). This model supports 0.6-20 times zoom, adopts an under-screen fingerprint recognition scheme, a plastic body, and is expected to support RGB lighting effects.
For more technology information, please continue to watch the Chinese version of TechNave!
【source】