On April 18, the National Bureau of Statistics released data showing that my country's gross domestic product (GDP) in the first quarter of 2023 will grow by 4.5% year-on-year, exceeding market expectations of 4%. Among them, the sharp rebound in consumption and exports in March is an important factor in promoting the accelerated recovery of the economy. National Development and Reform Commission spokesman Meng Wei said that the consumer market got off to a good start in the first quarter.
Against the background of consumption recovery in the first quarter, the e-commerce industry is ushering in a new round of price wars. Faced with "6.18", the first e-commerce shopping festival after the epidemic, all major e-commerce platforms are gearing up to issue consumption vouchers and consumption subsidies of various sizes in order to seize opportunities and continue to boost consumption.
Pinduoduo, the e-commerce giant that focuses on the "more affordable" strategy, is also further increasing subsidies. At 8:00 p.m. on April 21, Pinduoduo's 10 billion subsidy "Digital Home Appliance Consumption Season" once again issued excessive subsidies to digital home appliances such as mobile phones, TVs, air conditioners, and refrigerators. Among them, the subsidies for Xiaomi and other brand products even exceeded 20%. lowest price online. The company also chanted the shopping slogan "Everyday is 618".
The other two e-commerce giants mainly start from the supply side. On April 20, Taobao announced that it will lower the commission rate with a subsidy of 10 billion to attract more low-priced products. And JD.com also held the "2023 JD.com 618 Merchant Conference" on April 20, launching a "burden reduction and income increase" spree for merchants, hoping to obtain more supply of low-priced products.
In the price war of "snipe and clam" on e-commerce platforms, consumers are undoubtedly the biggest winners.
01
Consumption recovers, competition intensifies, and Pinduoduo once again increases its subsidy by tens of billions
In fact, as early as April 6, Pinduoduo launched the "Digital Home Appliances Consumption Season". In the first quarter, it will invest another 1 billion on top of Pinduoduo's original 10 billion subsidy. The excess subsidy issued on April 21 this time is equivalent to the "supplement" of the "supplement" of tens of billions of subsidies.
Geek Park compared the product prices after Pinduoduo added this time, and it does have certain advantages.
In the field of mobile phones, Pinduoduo's subsidies are around 20%. For example, Xiaomi's Redmi Note 11 only costs 829 yuan after receiving coupons from Pinduoduo, while it is 1,049 yuan on other e-commerce platforms; The commercial platform is 620 yuan and 556 yuan.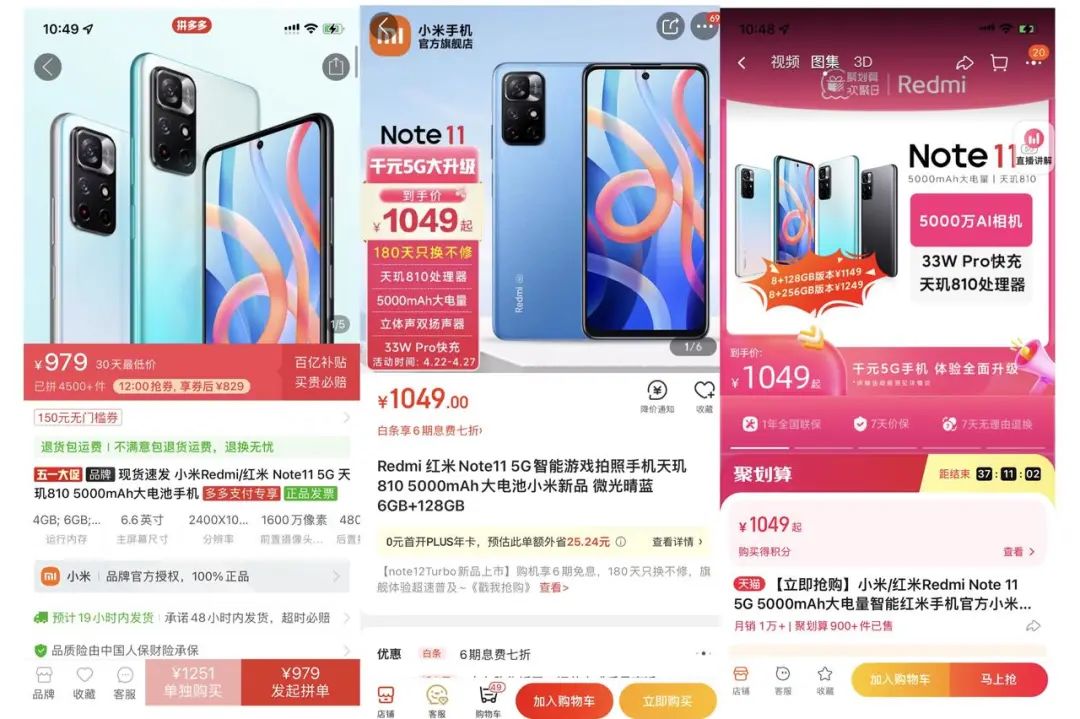 The price of Xiaomi's Redmi Note 11, the left is Pinduoduo, the middle and right are other e-commerce platforms
In the field of home appliances, Pinduoduo's subsidy is also around 20%. For example, Xiaomi TV EA70 is priced at 1,799 yuan after pinduoduo coupons, while it is priced at 2,299 yuan on other e-commerce platforms; for example, Xiaomi air conditioner KFR 72LW/N1A1 is priced at 3,749 yuan after pinduoduo coupons, while it is priced at 2,299 yuan on other e-commerce platforms. The platform price is 4999 yuan and 4699 yuan;
"This event is all official direct subsidies, aiming to provide consumers with the most cost-effective products on the entire network, without fear of price comparison." said the project leader of Pinduoduo's tens of billions subsidy "Digital Home Appliances Consumption Season". Before the peak consumption season on May 1st, this is the largest subsidy launched by Pinduoduo in the near future.
The "Digital Home Appliances Consumption Season" covers a wide range of brands and categories, allowing consumers to shop in one stop. Among them, brands include Apple, Huawei, Honor, Xiaomi, Midea, Haier, Sony, TCL, Nintendo, Dyson, vivo, etc., and categories include mobile phones, computers, tablets, TVs, refrigerators, air conditioners, smart watches,VR Helmets etc.
Subsidies do drive consumer performance. The above-mentioned person in charge said that since the launch of the consumer season activity for half a month, most products have doubled in growth. Among them, the sales volume of the mobile phone category doubled from the previous quarter, especially the high-priced mobile phones above 4,000 yuan, which increased by more than 180% from the previous quarter. The sales of home appliances increased by 300%. Among the top-selling air conditioners, the sales of Midea's 1.5-horsepower first-class energy-efficiency air conditioners increased by more than 1,500%.
As the May Day holiday approaches, outdoor portable small appliances are also selling well. For example, products such as platform car refrigerators, portable gas stoves, outdoor camping lights, small electric cookers, kettles, egg cookers, multi-function cookers, coffee machines, and small hanging neck fans have doubled their growth from the previous month.
This time Pinduoduo once again "increased subsidies" is the general trend. On the one hand, due to the macroeconomic boost and consumption rebound, e-commerce platforms need to use lower prices to stimulate consumption. On the other hand, competition in the e-commerce industry has intensified, and price has once again become the key to competition among e-commerce platforms. The more Pinduoduo continues to compete for the "lowest price on the whole network", the more likely it is to win the market in this general trend.
02
Price power is not the goal, consumers are the goal
During the rise of the Internet in the past decade, price war has gradually changed from a "commercial term" to a "derogatory term". Some people with colored glasses will equate price war with "vicious competition". Indeed, the O2O war and the subsidy war for fresh food e-commerce back then resulted in the phenomenon of throwing a lot of capital at the cost of "one piece of chicken feathers".
However, under the background that the Chinese market urgently needs to recover from the epidemic, healthy price competition among enterprises is good for both economic recovery and consumers. As far as the economy is concerned, small subsidy stimulus for e-commerce platforms may add fuel to economic recovery. For consumers, lower prices really benefit consumers.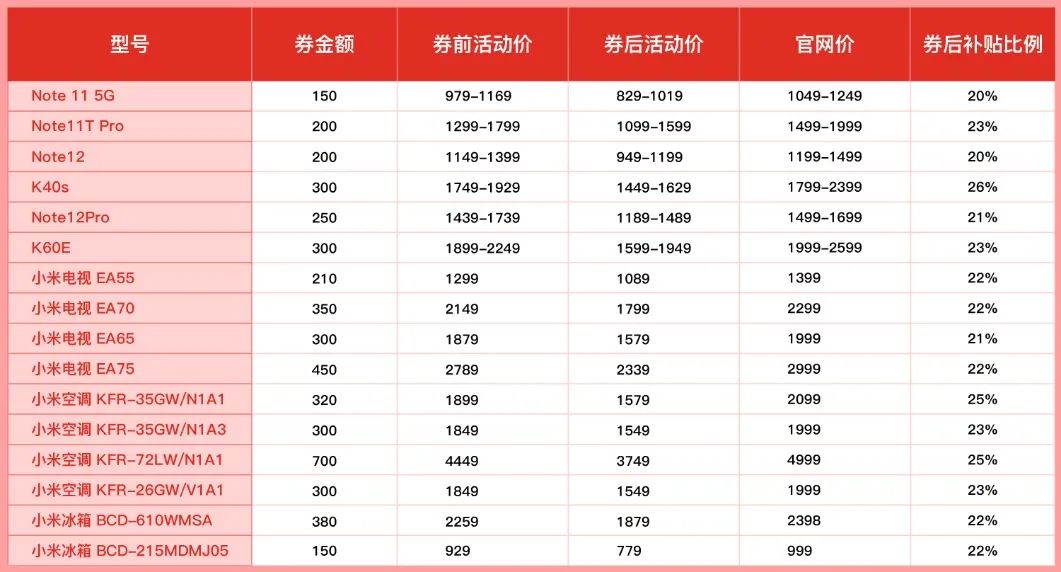 In this supplementary activity, Xiaomi's mobile phones and home appliances are subsidized by more than 20%, with a maximum subsidy of 1,250 yuan
However, whether it is for Pinduoduo or other e-commerce platforms, subsidies are only a means to stimulate consumers in a short period of time, not an end. In the end, winning consumers still depends on improving product and service quality, improving business operation efficiency, and continuously reducing the cost of the entire process of goods from production, to sales, to transportation and logistics.
In addition to price subsidies, Pinduoduo is also doing more. For example, Pinduoduo has upgraded its logistics, after-sales and other service systems, providing consumers with services such as "ten compensation for fake products, compensation for expensive purchases, door-to-door delivery, and door-to-door installation", allowing consumers to "buy with peace of mind and return with peace of mind."
After all, in the end, enterprises cannot win consumers only by price, but also need a complete and high-quality service system. This is the foundation of today's business. And this will also be a common problem that e-commerce platforms need to face and solve in the future.