The segmented track is becoming a warm sun in the winter of the Internet.
Recently, Maven Clinic, an online medical and health platform for women in the United States, announced that it has received a huge financing of US$90 million. This is another new round of financing following its US$110 million financing last year.
As an Internet start-up company established in 2014, Maven Clinic is a veteran start-up company that has emerged in the past two years. At present, the company's investors include well-known investment institutions such as Sequoia and CVC, as well as celebrities such as Hollywood star Natalie Portman and host Oprah.
Maven Clinic's latest valuation is as high as $1.35 billion, making it the first unicorn in the field of women's healthcare in the United States.
Providing a full range of reproductive health services for women and families, how does Maven Clinic understand the medical Internet track and become a rising star in the Femtech field?
01
Online medical platform for women
Maven Clinic mainly provides more than 40 kinds of services for women, including fertility consultation, breast milk delivery, return to work training, adopted surrogacy, egg freezing, etc.
It supports two payment modes: personal subscription and enterprise purchase:
The former is used by individuals on demand after downloading the App, similar to domestic products such as Lilac Doctor and Palliative Medicine
The latter is customized in cooperation with the corporate welfare department, and the company pays for the employees to use it for free. Enterprise employees enjoy more benefits, such as access to specialized "consultants", access to medical services, teaching courses, and formulation of health plans.
Behind the simple experience, Maven is full of extreme Internet thinking in the creation of Clinic products.
Lei Jun once summed up Internet entrepreneurship in seven words: focus, extreme, word of mouth, and speed. There is also such a figure in the Maven clinic.
focus.Since 2014, the product positioning of Maven clinic has been to provide online medical and health consultation and services for women, among which "fertility" is the core keyword of its services.
On the platform, there are not only relatively rigidly needed services such as breast milk delivery, fertility consultation, and prescription prescriptions, but also relatively niche services such as midwives, sleep coaches, and lactation consultants.
Each service provided by Maven clinic is used infrequently, but when these services are connected to each other, users use the product relatively frequently.This not only meets the needs of customers in an all-round way, but also prolongs the product life cycle.
extreme. In the expansion of product capabilities, achieving the ultimate is another major feature of Maven Clinic. Up to now, the company's services have been able to meet more than 350 services in more than 40 links from pregnancy to childbirth and postpartum care.
At present, Maven is also ambitiously extending to the fields of surrogate adoption, childbearing financial management, etc., to help deal with complex reproductive and health needs of women and same-sex families.
quick. Maven Clinic has fewer than 400 full-time employees,Its services rely on more than 30 cooperative suppliers to provide services to users, which allows platform function updates to be fast and efficient.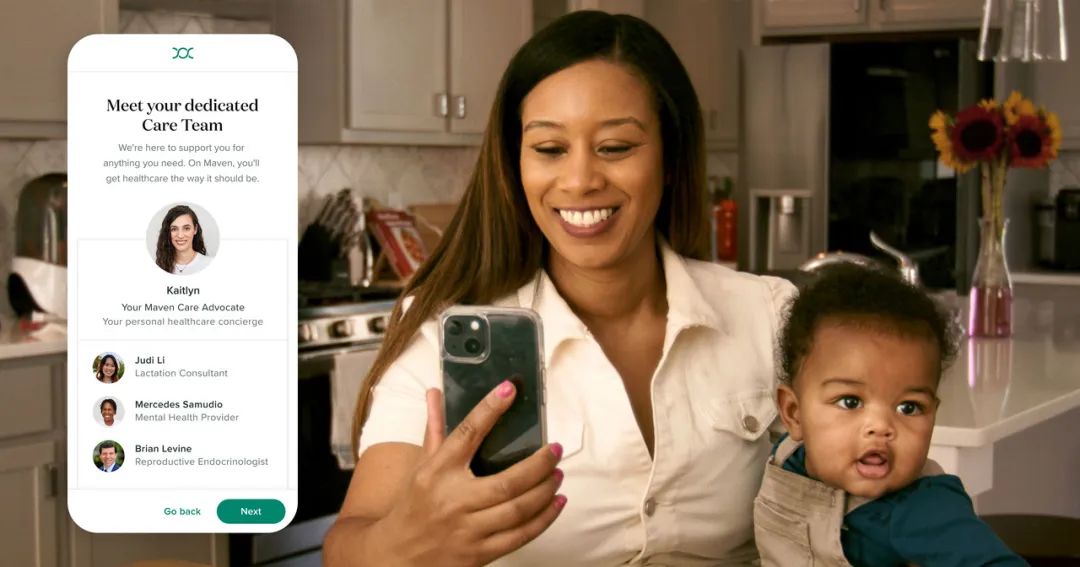 Maven Clinic provides user-specific care team|Maven Clinic
In 2017, after the then US President Trump announced that he would abolish the "Affordable Care Act" (Affordable Care Act), Maven Clinic immediately announced that it would provide free fertility management consulting services until the end of the year to meet the needs of users who do not understand the policy. The platform The number of users and activity increased rapidly.
word of mouth. Maven clinic has developed so far, mainly relying on word of mouth from users, and has gained many celebrity users. For example, movie star Portman is not only its user, but also its investor.
In addition, Maven's data shows that more than 30% of its users say that the product has helped them manage depression and anxiety. In addition, women who received Maven's fertility guidance had a 27% reduction in cesarean deliveries and more than 31% reduction in unnecessary emergency room visits.
The relatively strong fertility demand in the US market, and at the same time, the relatively complete welfare system of large companies provide higher certainty for the market demand of Maven Clinic.
The data show that the total fertility rate (the average number of babies a woman will give birth to in her lifetime) in the United States in 2021 is 1.66, which means that every woman will have at least one child. In American companies, providing maternity welfare support for female employees has also been strongly advocated by public opinion.
In addition, the new crown pandemic and the changes in the domestic "abortion" policy in the United States (the Supreme Court overturned the Roe v. Wade case, also known as the abortion bill) have provided a window for the education market, allowing women to start paying more attention to their own health. Data show that after the Roe v. Wade case, the number of businesses and consumers who went to Maven Clinic for consultation increased by 67% month-on-month.
During the COVID-19 pandemic, the inconvenience of travel has greatly increased the demand for online medical care.
From its establishment in 2014 to 2018, Maven Clinic had only 150,000 users. In the past three years, this number has rapidly broken through to 15 million, an increase of 100 times.
02
Health is Equality
Maven Clinic can turn a small business into a big track in the long-distance entrepreneurial race, which is inseparable from the management of the founder Kate Ryder.
Ryder has rich experience in the workplace and social observation.
Before starting her own business, she worked as a reporter for media such as The Economist and The Wall Street Journal, and was also the author of the memoir "On the Brink" of former US Treasury Secretary Hank Paulson. At the age of 30, she switched tracks again and became the investment manager of index ventures, an investment institution, and began to pay attention to the technology Internet.
But VC wasn't the end of Ryder's career.
In 2014, with the rise of the mobile Internet, her past experience drove her to join the entrepreneurial wave and founded Maven Clinic.
The source of starting a business is the women's reproductive difficulties that she discovered from her friends and herself. "Maternal health is a complicated issue. From childbirth to pregnancy to miscarriage to postpartum depression, all kinds of problems are everywhere."
in her opiniongiving birth to a child is a milestone event, but it will also affect a woman's body, personal life and career, which in turn is related to the health of a family and the retention of employees in a company.
Behind the phenomenon, Ryder further paid attention to the vacancy of the medical market behind women's complaints, "There is no obstetrics and gynecology department in 50% of the counties, and the maternal mortality rate exceeds all other developed countries (referring to the United States), including Roe v. Wade The fact that the bill was overturned is proof that the American healthcare system is rife with inequality," Ryder said.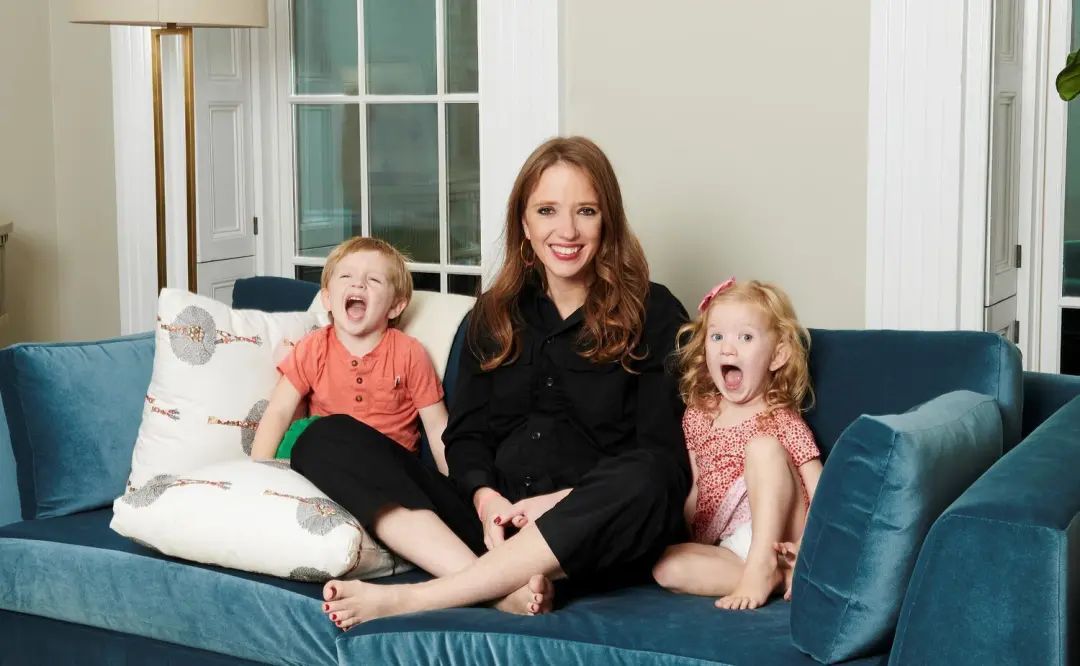 Kate Ryder, Founder, Maven Clinic|greatplacetowork.com
The imbalance and insufficiency of offline resources are difficult to change in a short period of time, but online medical care on the Internet can break through the limitations of time and space and solve the problem of partial resource imbalance.
The target users and the vast market prove that this business is feasible, but how to find the right entry path?
On the issue of to B or to C, Ryder has gone through a detour.
At the beginning of its business, Maven Clinic regarded ordinary consumers as an important source of customers. In an interview with the media in the early years, Ryder emphasized that Maven Clinic's goal is to "help women connect with healthcare professionals ranging from doctors and nutritionists to mental health experts."
Based on this positioning, after some data research, Maven Clinic once set the target customer group as college students. The company once launched Maven Campus, a subscription feature for college students, for $45 a month or $300 a year to get customized doctor services.
Attempts for individual users are clearly not successful.
After 2018, Maven Clinic's main customers have become corporate employees. In that year, Ryder said that in terms of product capabilities, he doubled his investment in Maven Clinic's family welfare plan,These include breast milk delivery and guidance for new mothers returning to work, the latter of which is Maven Clinic's killer feature.Ryder has since moved on to emphasizing Maven Clinic's ability to help businesses meet their expectations of retaining working parents and reducing costs.
With the shift from to C to B, Maven Clinic also ushered in the opportunity for its own scale growth.
According to official data, it has cooperated with more than 450 customers, including L'Oreal, Microsoft, etc., and its users cover more than 175 countries/regions.
03
Femtech is on the rise
Not only Maven Clinic is being favored by investors, but an Internet entrepreneurial track defined as "Femtech" is becoming lively in overseas VC circles.
Femtech, as the name suggests is the abbreviation of Female tech, was proposed by Ida Tin, the founder of Clue, a women's menstrual tracking application, in a media speech in 2016.
According to the definition of Pitchbook, an overseas financial data consulting agency, FemTech has developed into a series of technology-based and consumer-centric products and solutions. At present, the number exceeds 763, and the services it provides are mainly divided into four categories. :
Women's Health and Wellness
female medical
reproductive health
Maternity and Home Care
Data Display,2021 is a breakout year for femtech and venture capital in particular, with global venture capital surpassing $1.9 billion for the first time, and showed a continuous growth trend. The entrepreneurial fields include AI medical identification, Internet online medical treatment, women's health management software, fertility solutions and other types.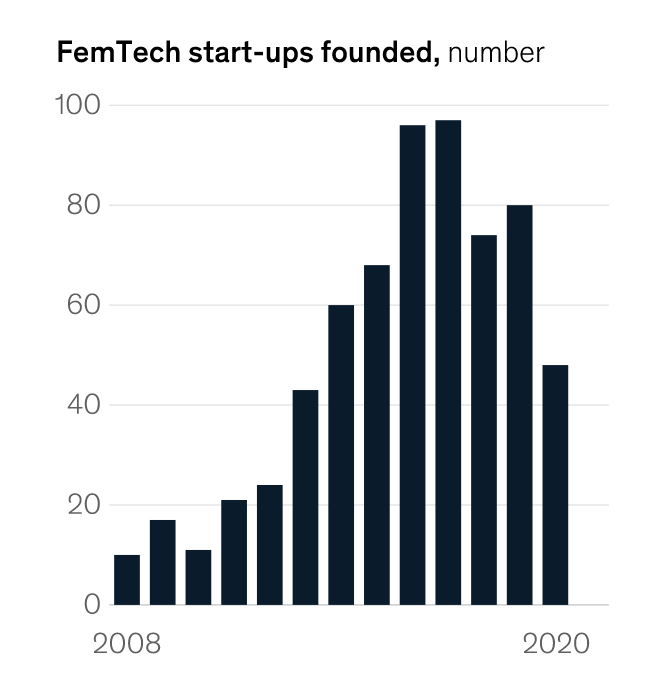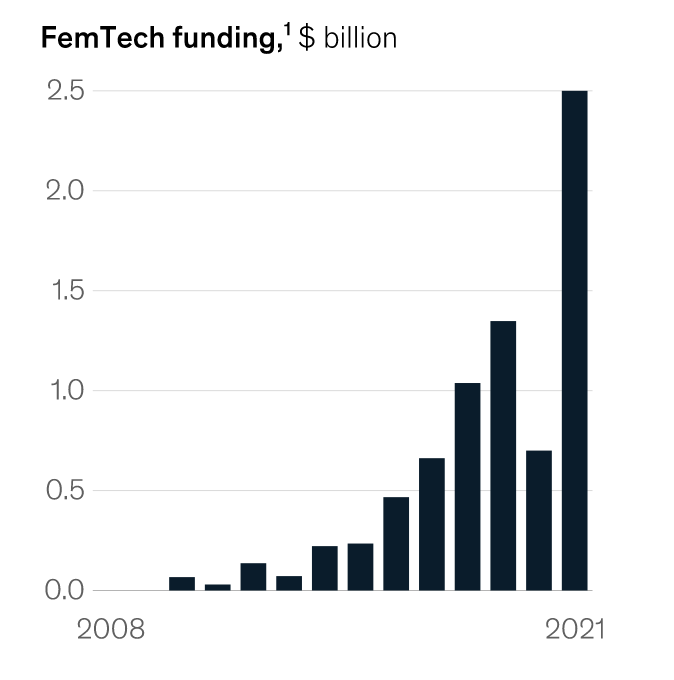 Femtech startups and funding are growing at a high rate | Source: Pitchbook
Pitchbook pointed out in the trend description that in the future, FemTech companies may bring breakthroughs in women's healthcare in multiple ways, including improvement of women's medical services, wearable health management, breakthroughs in women's diagnostic technology, and customization of LGBT subpopulation needs.
The popularity of Female in Europe and the United States in recent years is undoubtedly related to the improvement of women's equal rights movement and equal pay legal system in these regions. The emergence of Femtech can be said to be the result of female users voting with their feet.
The market value of Progyny, an Internet medical company focusing on female fertility, has also exceeded US$3.1 billion, doubling its value since its listing in 2019. Its financial report for the first quarter of this year shows that revenue increased by 41% year-on-year, and corporate customers increased by more than 32% year-on-year.
In China, mainstream Internet e-commerce companies once regarded medical care as a trillion-dollar industry, but they have been suffering from "nowhere to enter". The rapid rise of Maven Clinic and Femtech proves that targeting the pain points of users and targeting precise groups of people may be the next entrepreneurial direction that is more popular with users and investors.