57.5% agree, Musk may step down as Twitter CEO
Since taking over Twitter in October this year, Musk's series of drastic reform measures have sparked many controversies, not only failing to improve Twitter's operations, but also "pushing" the Internet company into trouble.
On the 18th local time, Musk launched a vote on Twitter, asking netizens "Should I resign from the post of CEO of Twitter", and said that he would abide by the voting results. Soon, the vote became the hottest topic in America.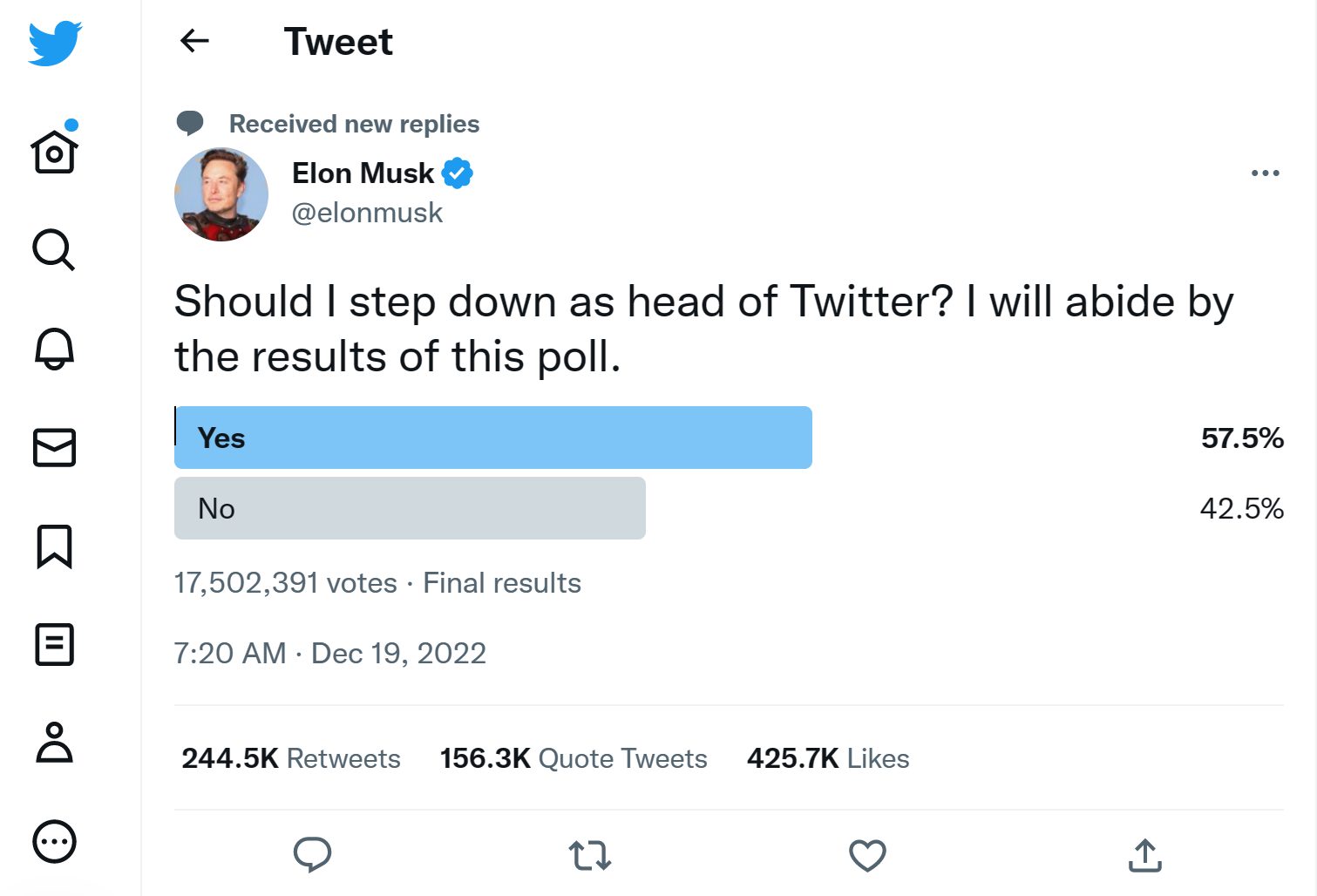 Today, the voting channel is closed, and 57.5% of the votes believe that Musk should resign as CEO of Twitter. (Source: Sina Technology)

Xiaomi insiders respond to layoffs at the end of the year: There are indeed layoffs, but the scale is not that big
On December 19, the news that Xiaomi started layoffs at the end of the year triggered heated discussions.
According to reports, Xiaomi recently started a round of layoffs, and the compensation plan is N+2. A Xiaomi employee revealed that the layoffs are relatively large. As far as he knows, the mobile phone department, the Internet department, the China department and other departments are involved, but the layoffs vary between departments. Among them, the proportion of layoffs in individual departments in China is as high as 75%, and the Internet Department also has a team layoff of 40%. The overall strength of this round of layoffs has not yet been clarified, but it is estimated that it may reach 15%.
Some insiders of Xiaomi responded that there were indeed layoffs at the end of the year, and the process of legal compliance was performed. The compensation policy is N+2, and the unused statutory annual leave will be converted to double the amount. "The current number of layoffs reported by the media is wrong. In fact, it is far from such a large scale. The data and false information come from an anonymous rumor on the Maimai platform. The company has obtained evidence and started legal procedures." The insider said . (Source: The Paper)
Huawei closes its enterprise business unit in Russia
According to the "Kommersant" report on December 19, Chinese telecommunications equipment manufacturer Huawei is closing its enterprise division in Russia, which is responsible for providing information and communication technology solutions to corporate customers in the country.
The newspaper said Huawei would continue to maintain its R&D centers in Moscow, St. Petersburg, Nizhny Novgorod and Novosibirsk, where they are developing 5G technology, speech processing and generation, and computer vision technology, augmented and virtual reality systems and machines. study etc. (Source: Financial Associated Press)

Activision Blizzard COO to become Boring Ape CEO
According to reports, Metaverse startup and Bored Ape (boring ape) NFT developer Yuga Labs revealed on Monday that Daniel Alegre, chief operating officer of "Call of Duty" developer Activision Blizzard, will join the company as its CEO.
Alegre, who has served as the video game publisher's chief operating officer since April 2020, will succeed Nicole Muniz as Yuga's CEO in the first half of 2023. Muniz will continue to serve as Yuga's partner and strategic advisor.
The news comes just days after the Biden administration sued to block tech giant Microsoft's $69 billion acquisition of Activision Blizzard. (Source: Sina Technology)
Alipay opened a "Health and Epidemic Prevention" section to provide convenient services such as online consultation and multi-platform online drug purchase
Recently, Alipay has urgently opened a "Health and Epidemic Prevention" area, which integrates services such as rapid fever consultation, online consultation in tertiary public Internet hospitals, follow-up prescriptions for chronic diseases, and online drug purchase on multiple platforms, providing one-stop consultation and drug purchase Serve.
When users enter the "Online Consultation" page, they can select "Fever Consultation" or "Common Disease Consultation" through the "Quick Consultation" section of AliHealth Internet Hospital. Doctors in public hospitals across the country will be online continuously and receive consultations within 60 seconds at the fastest.
In addition, tertiary public Internet hospitals in Hangzhou, Shanghai, Nanjing and other places have also connected to the special area. Doctors are online 24 hours a day, providing patients with online consultation or follow-up prescriptions, and home delivery services. More public hospitals are still connecting. . (Source: Shanghai Securities News)
Epic Games settles two lawsuits with FTC for $520 million
According to reports, "Fortnite" developer Epic Games reached a $520 million settlement agreement with the US Federal Trade Commission (FTC) on December 19, resolving two civil lawsuits filed by the agency against Epic Games.
One alleges that Epic Games violated the federal Children's Online Privacy Protection Act (COPPA) by collecting personal information from "Fortnite" players under the age of 13 without notifying or obtaining parental consent. In addition, Epic Games is also accused of illegally enabling real-time voice and text chat for children and teens by default, resulting in children being bullied, threatened, harassed, and exposed to dangerous and psychologically traumatic issues such as suicide.
In another, Epic Games has been accused of tricking users into paying for in-game items while putting up barriers to canceling those purchases. Epic Games even locked the accounts of users who disputed with credit card companies, threatening to ban them for life if they disputed multiple times. (Source: Sina Technology)

Tianma debuts 15.46-inch T-shaped vehicle display
According to official news from Tianma, Tianma independently developed the latest 15.46-inch T-shaped touch integrated central control display.
The resolution of Tianma's 15.46-inch T-shaped screen is as high as 2000*2000, and the deformation rate is as high as 50%. It is the world's first LTPS vehicle display that can achieve this deformation value. In addition, this central control screen is more integrated with TED embedded touch technology, which can support 10-point touch, which makes the screen have a more sensitive touch function while becoming thinner and lighter overall.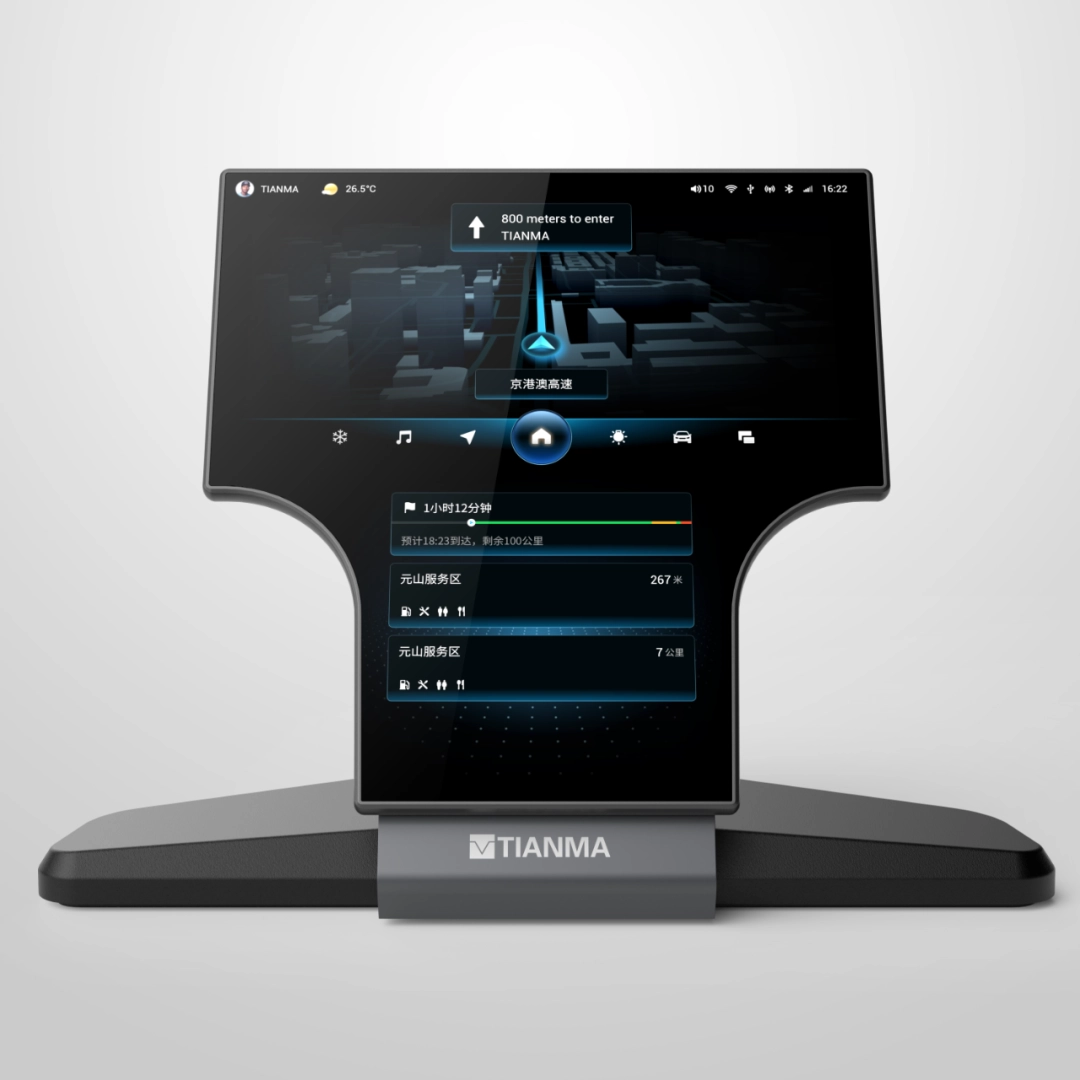 Tianma said that the T-shaped design is to better fit the layout of the vehicle's central control display and button console to meet the needs of practical applications. Future technology sense. (Source: IT House)
Using AI to fight the "Book of Heaven", Google is developing a new model for identifying doctor's prescription manuscripts
At present, domestic hospitals have basically rolled out the paperless process, which means that patients are less likely to see the doctor's "heavenly book" prescription draft. However, there are still many hospitals in India that still have this manuscript form. At the eighth annual Google for India event held recently, Google announced that it is working with a number of pharmacists to use AI to help read the doctor's handwritten prescriptions.
Google hopes to use AI technology to convert doctors' prescriptions into readable text. At present, Google has made great progress in OCR recognition, but it still needs the help of pharmacists, doctors and other experts to recognize prescription drafts. Google is developing corresponding AI models that, after training, will be used to identify drugs mentioned in prescriptions.
A Google executive showed the whole process: Users only need to take a picture of the prescription, and Google Lens will automatically recognize the text on the prescription, process it, and highlight the drugs mentioned and the frequency of taking them. (Source: IT House)

"Avatar 2", which was released for 3 days, has entered the top 10 of the 2022 global box office list
According to Maoyan Professional Edition data, "Avatar: The Way of Water" received US$134 million at the North American box office in its first weekend, topping the North American box office list for three consecutive days. The global box office grossed US$434 million in its opening weekend, entering the 10th place in the global box office list in 2022.
According to previous revelations, the shooting cost of "Avatar 2" reached 460 million U.S. dollars. If marketing expenses are added, it will be even more astronomical.
Ranked ahead of "Avatar 2" in the global list is "Lonely Moon", but the latest forecast for "Avatar 2" has shrunk to about $1 billion, which will just match "Jurassic World 3". The $2 billion that director Cameron had hoped for fell short of double. (Source: Fast Technology)