Musk says Tesla can make a car that costs half as much as Model 3
On the morning of March 8, according to reports, on Tuesday local time, Tesla CEO Musk said that the company is developing the next generation of small cars, and the car will mainly operate in autonomous driving mode. This is similar to the promise he made in 2020.
He said there was a clear path to deliver a car that would cost half as much to produce as the Model 3, but he did not provide details on when or what model would be involved.
In addition, Musk said at the Morgan Stanley investor conference held in San Francisco a few days ago,Thanks to aggressive cost-cutting initiatives, Twitter could break even in the second quarter of this year, and possibly even turn a profit.(Source: Financial Associated Press)

Google I/O 2023 will be held on May 10: expect Android 14, Bard chatbot
On March 8, Google announced that the 2023 annual I/O conference will be held on May 10 in Mountain View, California, USA. The event will be "open to a limited live audience and open to all users online," the company said.
This year, the biggest expectations will revolve around all the artificial intelligence technology Google is developing. You can look forward to progress on the "Bard" chatbot, Google's response to ChatGPT, and other products to generate images, write code for applications, or test product prototypes.
I/O conferences are usually a focused event for getting information about the next big Android release — Google has previewed Android 14 for developers, and Google is expected to unveil a variety of new hardware.
There are rumors that Google will release the Google Pixel 7A and Pixel Fold folding screen phones at this event, and may also launch a new Pixel tablet. (Source: IT House)
Meta plans to start another round of layoffs as soon as this week
Meta's round of layoffs, which could involve thousands of people, is likely to be completed within the next week. People familiar with the matter said that this is because the work must be completed before Zuckerberg takes parental leave, but many Meta employees are worried that if they are laid off this month, will last year's year-end bonus originally scheduled to be issued this month still be paid? can get it.
The pain of the American social media giant Meta is not over yet. According to media reports, the company will continue to lay off more people on the basis of layoffs of 13% or 11,000 in November last year, in order to promote the company to further save costs and improve efficiency.
Last month, Meta gave thousands of employees subpar ratings in a recently concluded round of performance reviews, suggesting more layoffs are likely, the people said. (Source: Wall Street News)
YouTube to stop overlay ads in April to improve user experience
IT House March 7 news, YouTube announced that it will stop displaying overlay ads, those translucent banner ads that appear at the bottom of videos, during video playback in April 2023.
In its official blog, YouTube said the decision was made to "improve user experience and ad effectiveness." An overlay ad is a traditional ad format that only appears on the desktop and is a distraction for the viewer.
YouTube said it will continue to use other forms of advertising, such as pre-roll, post-roll, mid-roll, graphic and responsive ads. Additionally, YouTube will introduce a new interactive ad format called Direct Response, which allows viewers to interact directly with brands by clicking or scanning a QR code. (Source: IT House)

Bing Chat now offers 120 rounds per day as Microsoft continues to loosen its restrictions
Microsoft last raised the daily chat limit for its Bing chat service on February 24, from 60 to 100 chats per day.
Now, Microsoft has quietly increased the daily round limit to 120 and fixed the user's single session count down to 6, Mikhail Palakin, Microsoft's head of advertising and web services, revealed on Twitter on March 7. question, let it go back to 8 times.
Palagin also pointed out that it answered a user's question: Can you describe the length of a file or web page that Bing can handle? Palakin said: Yes, this is the increase in the length of the context I have been talking about. Hope to share more in the coming weeks.
This could indicate that the Bing Chat team may be preparing for another major feature update to the chat tool in the near future. (Source: cnBeta)
Salesforce launches AI tool "Einstein GPT": it can answer customer questions or write marketing emails
On Tuesday, local time, Salesforce announced that the company will integrate artificial intelligence technology in a new version of its software products to help corporate salespeople, customer service specialists and marketing staff complete their jobs efficiently, including answering customer questions and writing marketing emails. wait.
Salesforce said the new product will be called "Einstein GPT" and will use artificial intelligence technology from ChatGPT developer OpenAI. According to reports, in the "service cloud" department, an artificial intelligence function launched by Salesforce includes a chat window. In response to user questions, Salesforce can use its own massive information to write an answer. Software users only need to modify and improve this answer.
Competitors in business software, Microsoft and Salesforce, have both recently introduced the ability to automatically compose marketing emails, and Microsoft calls the artificial intelligence capabilities in Dynamics "Copilot." (Source: Sina Technology)
Weima said it will go all out to resume work and production: more than 100 dealer stores will resume normal services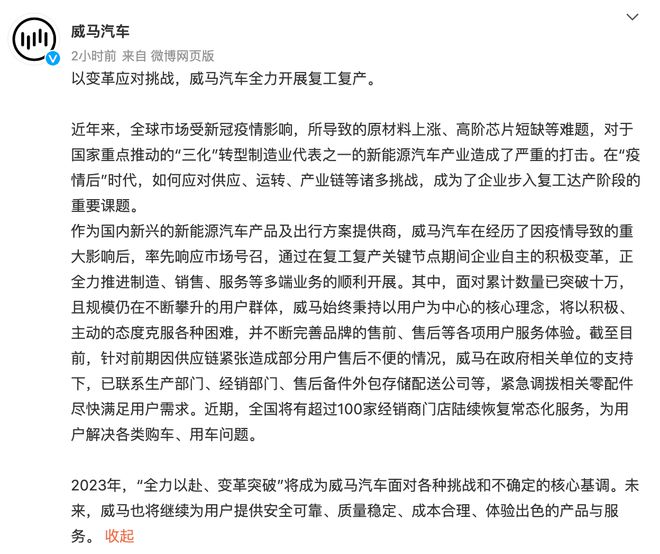 News on March 7th, at noon today, WM Motor's official account posted a statement stating that WM Motor is fully committed to resuming work and production in response to challenges through change. In the near future, more than 100 dealership stores across the country will resume normal services one after another to solve various car purchase and use problems for users.
It is worth mentioning that a few days ago, the Shanghai Consumer Protection Committee warned consumers to be cautious when buying Weimar vehicles. According to reports, starting from October 2022, the Consumer Protection Committee of Qingpu District has received nearly 90 complaints from consumers about Weimar Motors, reflecting that the company has abnormal operations, closed stores, unable to provide auto parts, stagnant after-sales service, and manual customer service. Absence etc.
The Shanghai Qingpu District Consumer Protection Committee believes that WM Motor's abnormal operation and lack of after-sales services have seriously affected consumers' normal use and damaged consumers' legitimate rights and interests. It is a dishonest behavior and issued a consumer risk warning to consumers . (Source: Tech Planet)
Japan's H3 carrier rocket failed to launch, and the chairman of the development agency JAXA apologized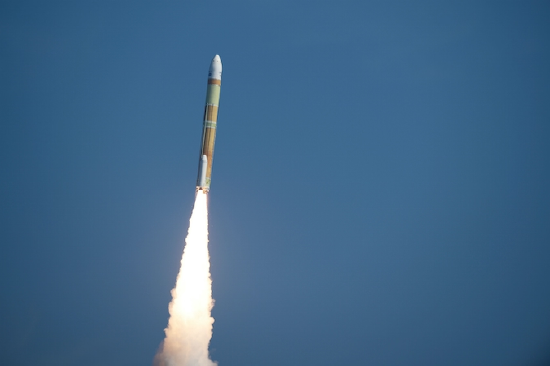 According to news on March 7, at 10:37 a.m. local time, Japan's new main rocket H3 was launched from the Tanegashima Space Center in Kagoshima Prefecture, but because the second stage of the rocket failed to ignite, the rocket received an autonomous explosion. command, resulting in launch failure.
The Aerospace Exploration Agency (JAXA), which is responsible for developing the rocket model, held a press conference at around 2:10 pm local time. At the press conference, JAXA Chairman Hiroshi Yamakawa bowed and apologized to the camera.
Asada Shoichiro, who is familiar with rocket development as the head of the space business of Mitsubishi Heavy Industries, said: "This is not a problem with the engine, but a lack of ignition signal. I have never heard of such failures in the past."
He also mentioned, "Because the first-stage engine has issued instructions such as combustion, I think it is a computer problem that controls the second-stage engine, but the cause cannot be explained yet. We will try our best to find out the cause and take countermeasures. Transparent and open." (Source: World Wide Web)
TikTok launches paid video feature, videos can be up to 20 minutes
TikTok is adding a new way for creators to make money on the platform, the short video platform has announced a new feature called Series, which will allow creators to set up paid viewing for their exclusive content, such as Regular videos can be longer.
There can be up to 80 videos in each series, and individual videos can be as long as 20 minutes, a length that feels closer to a YouTube vlog than a short video.
Creators will be able to set the price of the video, ranging from $1 to $190 (currently about 1319 yuan), and fans can buy it through a link in the video or the creator's profile page.
Currently, paid videos are only available to some creators, and applications will open in the coming months. In the early days of its launch, TikTok will allow creators to keep all the revenue, and it is still unknown how much of the follow-up platform will take. (Source: IT House)

The iPhone 14 series released a new yellow color scheme, and pre-orders will start on March 10
According to news on March 7, Apple released the new spring color yellow of the iPhone 14 series on its official website this evening, and pre-orders will start this Friday (March 10).
The iPhone 14 series comes in two sizes, 6.1-inch and 6.7-inch, and the screen supports HDR display up to 1200 nits. According to the usual practice in previous years, Apple will release a new color scheme every spring, and this year it is yellow. Currently, the iPhone 14 is available in six colors: blue, black, starlight, red, purple and yellow.
In terms of imaging, the iPhone 14 series has a dual-camera configuration. The main camera is a 12-megapixel main camera with a 1.9um sensor; the front is also 12 million pixels. In low-light environment, the effect of the front camera and super wide-angle camera is enhanced by 2 times, and that of the main camera is enhanced by 2.5 times.
The video has also been upgraded, adding a new sports mode, and further upgrading the video anti-shake.
The iPhone 14 starts at 5,999 yuan, and the iPhone 14 Plus starts at 6,999 yuan. The new yellow color scheme will be available for pre-order on March 10 (this Friday), and it will officially go on sale on March 14. (Source: Phoenix.com Technology)
New MacBook Air and 13-inch MacBook Pro to feature M3 chip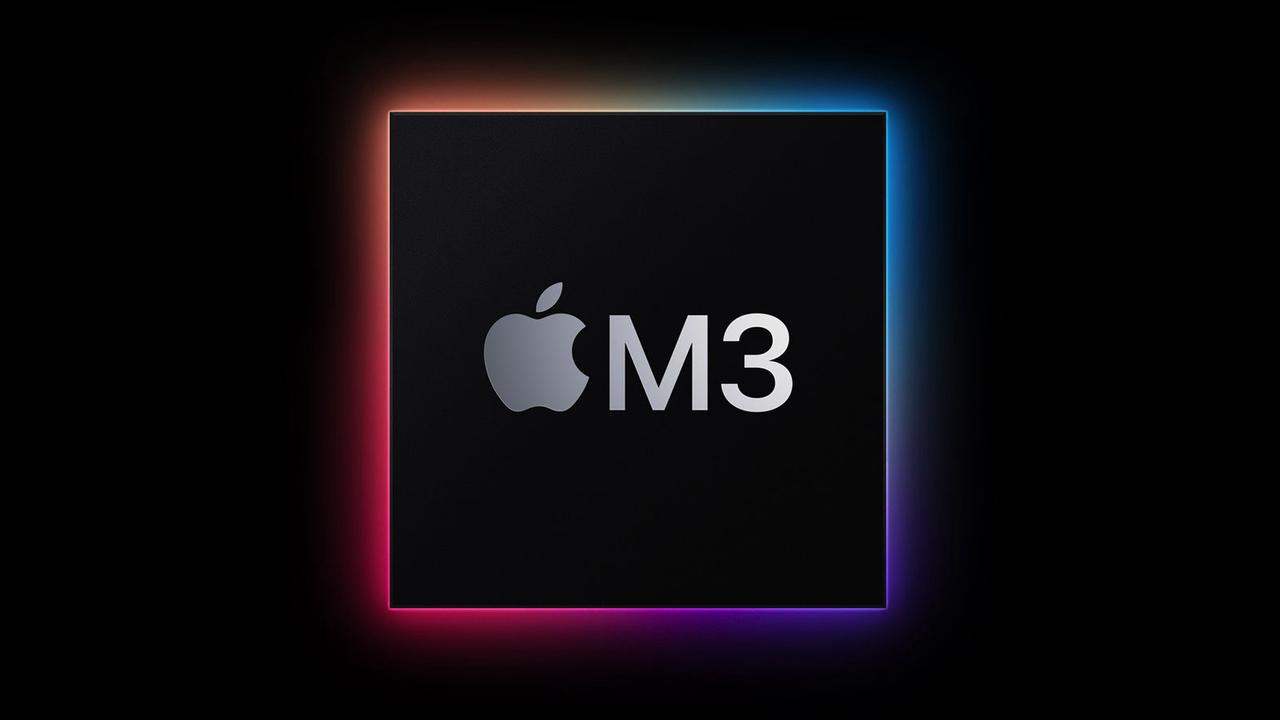 According to 9to5Mac, Apple's next-generation 13-inch and 15-inch MacBook Air models will both be equipped with the M3 chip, and Apple also plans to release an updated version of the 13-inch MacBook Pro with the M3 chip.
The unannounced M3 chip will pack an 8-core CPU like the M2 chip, but the chip is expected to be fabricated on TSMC's latest 3nm process to further improve performance and power efficiency, the report said.
The report does not indicate when the three MacBooks will be released, but speculates that WWDC in June 2023 would be an ideal time for Apple to announce the M3 chip and the first Macs with it.
Apple introduced the existing MacBook Air and 13-inch MacBook Pro with the M2 chip at last year's WWDC 2022 conference. (Source: 9to5Mac)

Diagnosis of Alzheimer's disease will become the next breakthrough of AI, and the detection accuracy rate exceeds 90%
A new study suggests that the next breakthrough in artificial intelligence in medicine could be diagnosing Alzheimer's with up to 90 percent accuracy
Alzheimer's disease causes irreversible cognitive decline and dementia. In the century since the disease was discovered, neither a cure nor a reliable method of early detection has been found.
A research article published last Thursday (March 2) in the internationally renowned scientific journal PLOS ONE shows that deep learning technology is more accurate than untrained AI models in the diagnosis of Alzheimer's disease, and the technology Some factors that interfere with the diagnosis can be ruled out, such as age.
Researchers at Massachusetts General Hospital tested the use of deep learning techniques for Alzheimer's detection. Researchers used tens of thousands of images of human brain scans to train a deep learning model that will be used in clinical diagnosis. (Source: Financial Associated Press)