Xiaomi launches Mijia multifunctional flashlightwith 1000 lumens of bright light, far illumination up to 240 meters, the retail price is 199 yuan (about RM130).
This flashlight supports telescopic infinite zoom, spotlight/floodlight, and multi-stop adjustment. It also has a number of survival functions: flashing, calling for help, warning, breaking windows, cutting seat belts, and emergency in many aspects.
The Mijia multi-function flashlight can turn on the emergency light source of the main light with one key, and respond to emergencies in time.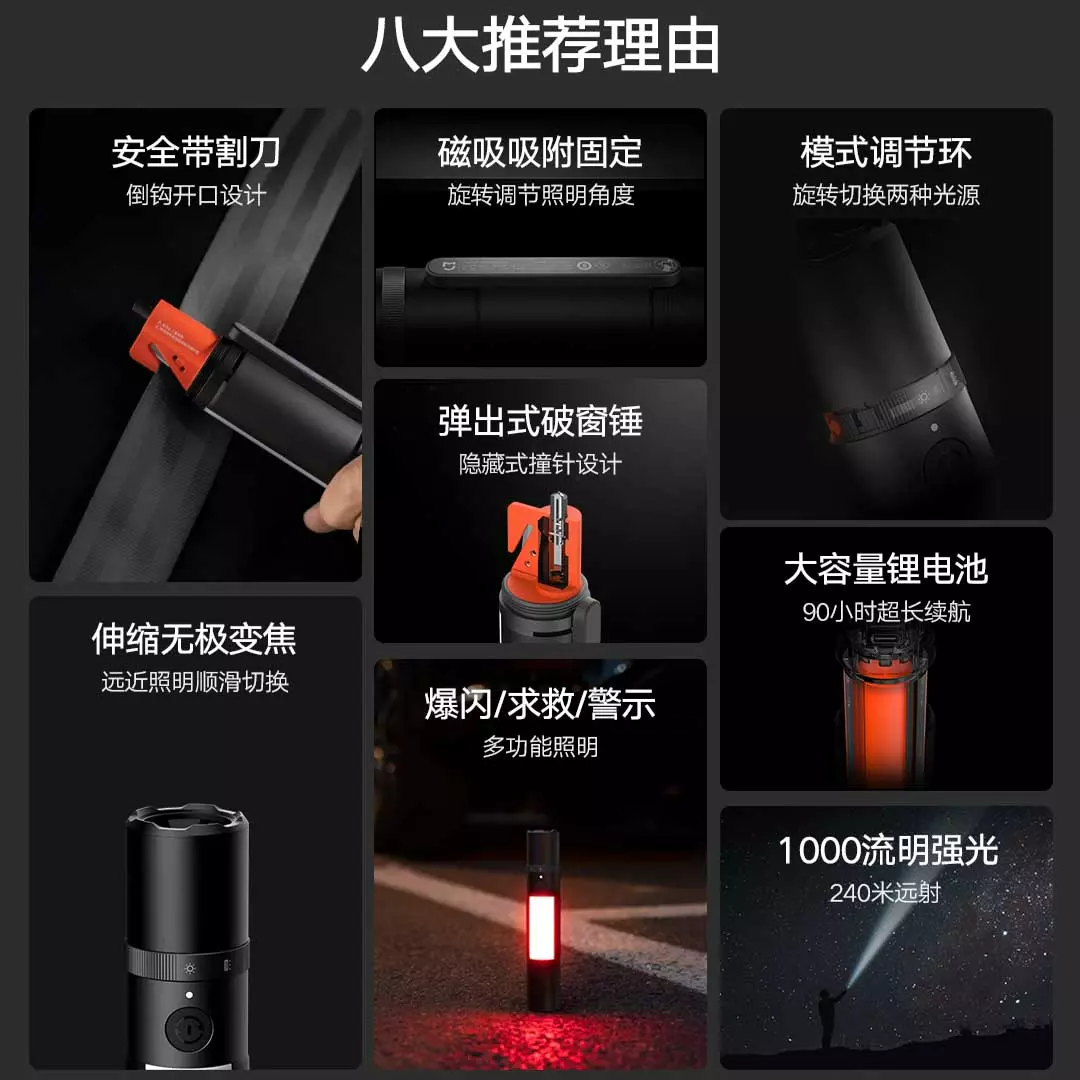 Equipped with a mode adjustment ring, you can switch the two modes of the main light and the side light by rotating, and adjust the gear with a single button, which can easily meet the needs of various scenarios. It has a built-in 3100mAh lithium battery, which can provide up to 90 hours of battery life, a two-color power indicator to clearly indicate the remaining power, and a Type-C charging interface for stronger charging compatibility.
In addition, the safety belt cutter of this flashlight also adopts a barb open buckle design to prevent accidental cuts, and the cutter and the safety belt can be easily cut at a 45-degree angle. The pop-up window breaker adopts a push-type structure, which can be pressed vertically perpendicular to the glass. The design of the striker is hidden, which is safe and labor-saving.
It also supports magnetic fixation, which can arbitrarily adsorb iron and nickel metal surfaces such as cars and brackets; rotating slide rail design, 107° wide-angle rotation adjustment, and more accurate lighting.
For more technical information, please continue to hold the Urban Tech Story version!
【source】