Microsoft Announces Microsoft 365 Copilot
On March 17th, Microsoft officially announced the launch of Microsoft 365 Copilot, Microsoft 365 Copilot is the next generation of AI productivity technology, based on a large language model, and is currently open to some commercial users.
Copilot is used to assist users in generating documents, emails, presentations, etc. in Microsoft 365 applications and services. Driven by OpenAI's GPT-4 technology, it appears on the sidebar of Microsoft 365 applications like an assistant, as a chatbot, Let Office users summon it at any time to generate text in documents, create PowerPoint presentations from Word documents, and even help with features like PivotTables in Excel.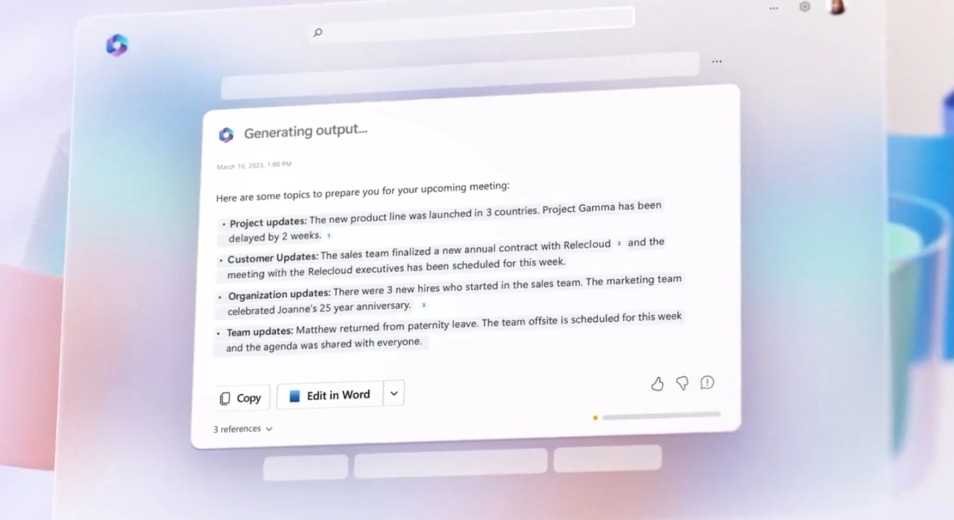 Microsoft 365 users will be able to summon Copilot to provide information about upcoming Microsoft Teams meetings, helping them learn about updates on related projects, organizational changes such as recent hiring, and even updates from colleagues who just returned from vacation.
Copilot can also be summoned in Microsoft Office applications and draft documents from other files in Word. Users can then freely edit and adjust the text generated by AI.
Since Copilot is essentially a chatbot, users can even ask it to create a 10-page slide presentation from a Word document or analyze or format Excel data. This means that Excel users can use Copilot to quickly create a SWOT analysis or pivot table based on the data.
In Microsoft Teams, the Copilot feature can transcribe meeting content, remind you of what you might have missed if you joined a meeting late, and even summarize action items during the meeting. (Source: IT House)

Google stops selling Glass Enterprise AR smart glasses
According to reports, on Wednesday local time, Google announced that it has stopped selling Glass Enterprise smart glasses, and the company will also stop software support for the smart glasses starting in September this year. It was one of the earliest and most recognized lines of smart glasses from a major tech company, and Google is ending its line.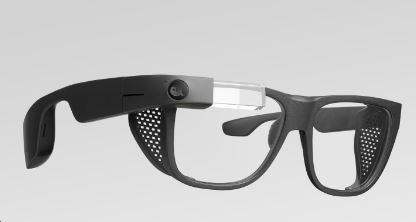 Glass Enterprise is the successor to Google Glass. Google Glass is a lightweight eyewear product that displays tiny information on a transparent screen in the user's field of view.
First sold to developers and early adopters for $1,500 in 2013, Google Glass quickly captured the imagination of tech enthusiasts. In 2017, Google positioned the product as a tool for businesses to use apps, such as online healthcare appointments or training workers in factories. Google last released a new hardware version in 2019, priced at $999. (Source: cnBeta)
Baidu officially releases Wenxin Yiyan
On March 16, Baidu Wenxin arrived as promised. Three months after ChatGPT was released, China finally had its first benchmarking product. Wenxin Yiyan is a generative dialogue product based on the Wenxin large model. Since the news leaked in February this year, the project has attracted much attention from the outside world. It has also risen to the highest priority project within the Baidu Group in the past two months, and was personally led by CTO Dr. Wang Haifeng.
Li Yanhong demonstrated the cases of Wenxin Yiyan in different scenarios such as literary creation, commercial copywriting, mathematical logic calculation, allusion understanding in Chinese context, and multimodal information generation.
Regarding the current performance of Wenxin Yiyan, Li Yanhong also admitted that the threshold for such large language models is very high, and the current performance is not perfect, and will continue to improve through training. "Once there is real human feedback, Wenxinyiyan will improve very quickly. We all hope that it will grow quickly and create value for users and customers as soon as possible." Perhaps it is precisely because of this consideration that Baidu is in this time. The publicity was very low-key, avoiding words like "release" and "launch", and named this event "Invitational Test Meeting" by Wenxin Yiyan. (Source: Geek Park)

Audi to launch 20 models by 2025, half electric
On March 16, Audi announced that it will launch 20 new models by 2025, half of which will be electric vehicles, and announced that it will only launch new electric vehicles globally from 2026.
Audi CEO Markus Duesmann announced the news at the company's annual meeting, calling it "the largest product innovation program in our history."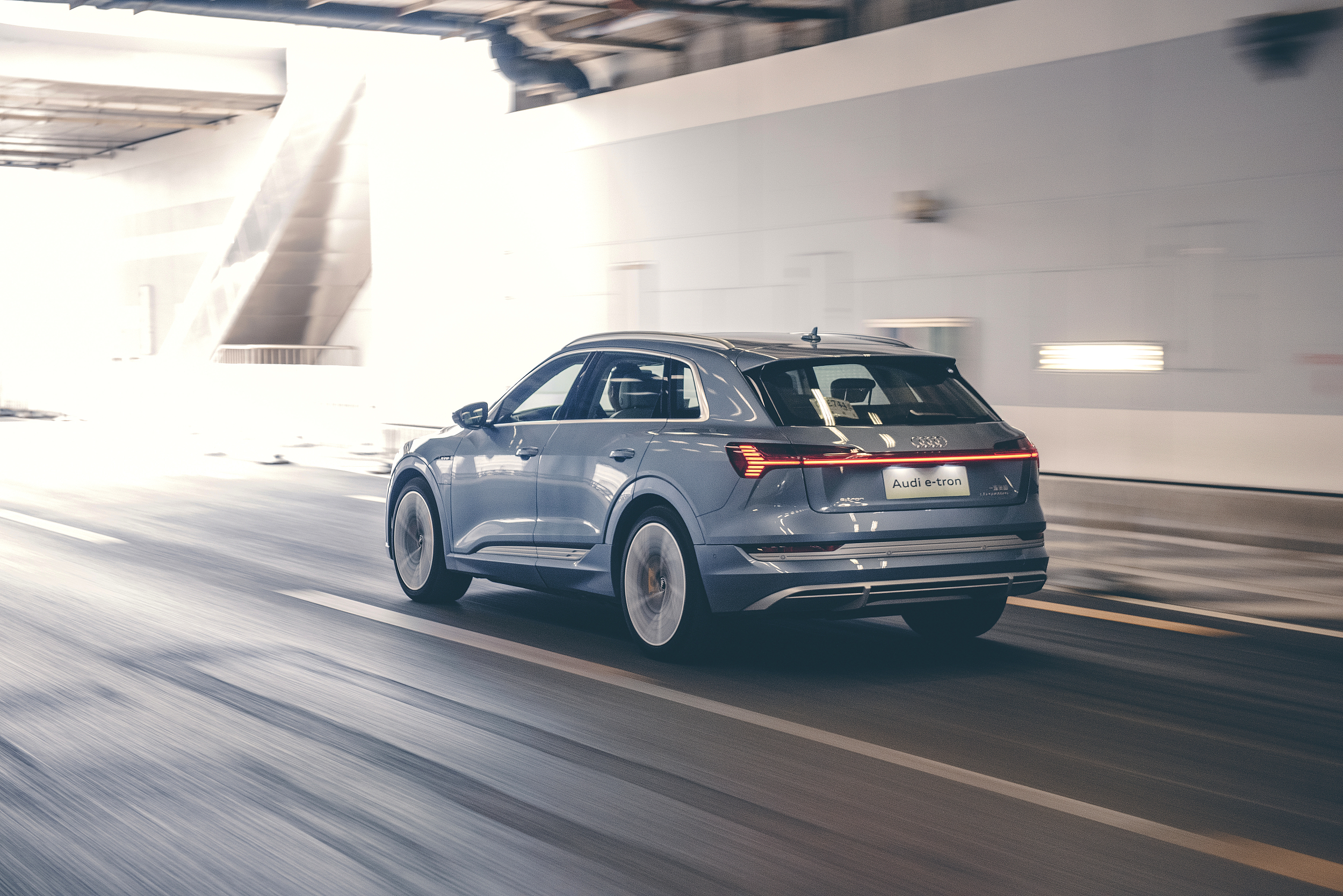 It is understood that the plan will start with the Audi Q6 E-tron, an SUV confirmed to be launched by the end of this year and the first car to use the common PPE platform, which will also be the Audi Ingolstadt plant. The first electric car produced. Audi also confirmed that it will launch an entry-level electric car that will be positioned below the Audi Q4 E-tron and about the same size as the Audi A3.
Dussmann also reiterated Audi's plan to end production of combustion-engined cars in 2033 – seven years after the launch of the last new model – and to phase out its combustion-engined vehicles while expanding its lineup of electric vehicles, which the company aims to achieve in 2050. achieve net zero emissions. (Source: IT House)
Hema will expand the scope of delivery, MINI stores will restart and expand
According to news on March 16, Freshippo will soon expand its delivery coverage across the country and launch a one-hour free delivery service within 3-5 kilometers online. It is currently piloting in second-tier cities such as Zhengzhou and Changsha. Previously, Hema only supported half-hour delivery services within a 3-kilometer radius of the store. Expanding the delivery radius to 5 kilometers is equivalent to nearly tripling the delivery area. Hema will also restart the expansion of the Hema MINI store in the community supermarket this year to fill the areas that the Hema Fresh Store has not yet covered.
For Hema, expanding the distribution area is cheaper than opening a new store, but it can attract more online orders. For this reason, Hema stores have set up two operation chains for order sorting and packaging of 3-5 kilometers. By adding more ice packs to frozen food orders and adding more insulation materials to hot food orders, etc., to ensure contract fulfillment quality. (Source: LatePost)

VW is working on its cheapest electric car, the ID 1, starting at about $20,000
According to news on March 16, Volkswagen is preparing to launch its smallest and cheapest electric car, which is expected to be named ID 1. It will be launched in 2027, and its positioning will be lower than the recently released ID 2all concept car.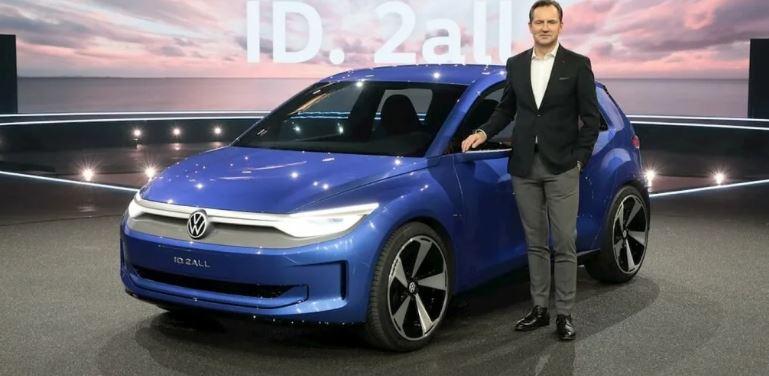 ID 1, starting at about $20,000. According to Autocar, the ID 1 will be the VW brand's smallest and cheapest EV to date, positioned below the ID 2all, and is expected to be one of 10 EVs the automaker will launch over the next three years. Similar in size to its current gas-powered Polo, the ID 1 will be built on a new, unknown platform developed by Volkswagen Group and spearheaded by Skoda.
The report pointed out that Volkswagen's ID 1 (or ID Polo) economical electric car will likely share some components with the ID 2all concept car, such as a 231BHP front motor and a 38kWh or 58kWh battery. (Source: IT House)
For the first time in Apple's history, iPhone 15 Pro Max is equipped with a periscope telephoto lens
On March 16, analyst Ming-Chi Kuo confirmed again that the iPhone 15 Pro Max model will be equipped with a periscope telephoto lens. Compared with the current 12-megapixel 3x telephoto lens equipped with the iPhone 14 Pro, the iPhone 15 Pro Max can achieve 6x optical zoom. This is the first model in Apple's history to be equipped with a periscope telephoto lens.
The working principle of the periscope telephoto lens is borrowed from the periscope. It uses two mirrors to make the light path refraction, and the light is reflected twice through the two mirrors, and finally redirected to the photosensitive element.
For Apple, the periscope telephoto will be the unique selling point of the iPhone 15 Pro Max, and the iPhone 15 Pro, iPhone 15 Plus and iPhone 15 models all miss this configuration. In addition, the iPhone 15 Pro Max will also use a titanium middle frame, equipped with an A17 bionic chip, and upgrade the LiDAR scanner. (Source: Singularity Finance)

Scientists create 'superbug' immune to all viral infections
In a major advance in genetic engineering and synthetic biology, researchers at Harvard Medical School have modified a strain of E. By minimizing the chance of escaping into the wild, or its engineered genes, the work holds promise for reducing the risk of viral contamination when using bacteria to produce drugs and other useful substances.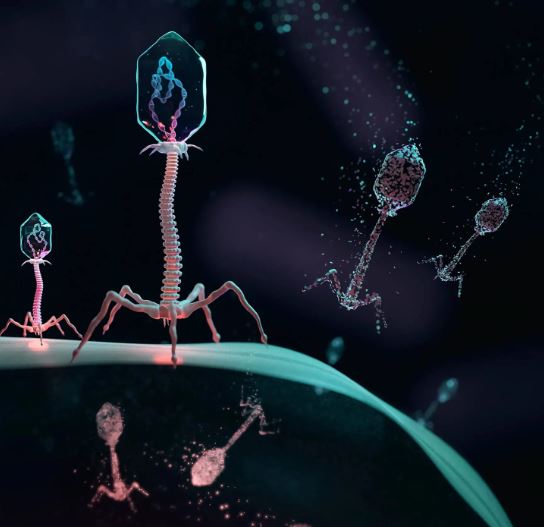 The study was published March 15, 2023 in the journal Nature. The study's first author is Akos Nyerges, a postdoctoral fellow in the Department of Genetics at Harvard Medical School. "We believe we have developed the first technology to engineer an organism that cannot be infected by any known virus," he said.
The key to the technique is understood to be changing codons in bacteria that instruct cells how to make proteins. Nyerges and colleagues found that by changing the amino acids (the building blocks of proteins) that correspond to codons, bacteria can be made to produce misfolded, nonfunctional viral proteins, preventing the virus from replicating and infecting more cells. (Source: IT House)

The price of old antique CCD cameras soared 10 times, and Sony officially reopened the sale
On March 16, the official account of Sony China Station B posted: "3.16-3.17, Sony's popular CCD pocket machine DSC-W830, limited to Sony's official website at 14:00 every day!" The product description is: "20.1 million effective pixels / 8 times Optical Zoom/Zeiss Lens/Advanced Flash/Photo Effects/Intelligent Auto Mode."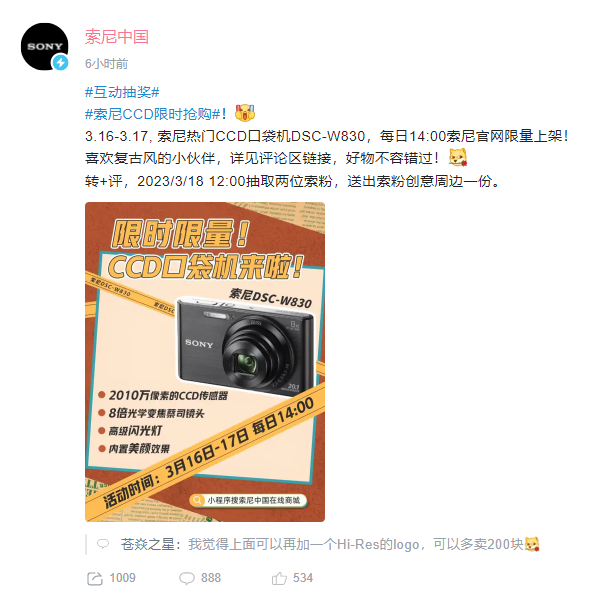 The so-called "CCD" camera refers to a digital camera that uses a CCD (charge-coupled device) as the photosensitive element, also known as a card machine, which is an "old-fashioned" electronic product that has long been eliminated.
But in the past two years, some celebrity bloggers have brought CCD cameras to the fire again. Searching for "CCD" on Xiaohongshu has as many as 1.35 million related notes. The most mentioned ones are "obscure beauty" and "atmosphere". This is just a statement of high emotional intelligence. The normal expression is "the pixel is not high, and the picture quality is relatively poor." On second-hand idle platforms and offline trading markets, CCDs are worth soaring It has risen more than ten times, and there is even a trend of "hard to find a machine". (Source: Fast Technology)