People who have experienced the "Win95" period may still remember a small thing – the "big eye clip" Clippy in the Office 97 suite, a virtual image with a funny design, mainly for cuteness, and occasionally giving some suggestions for revisions to social animals who make documents.
After a lapse of 25 years, an upgraded version of the "big eye clip" reconstructed with AI technology was revived – it was renamed Copilot, it has not become bald, but it is stronger.
At 8 am on March 16, US time, Microsoft held a press conference to officially expose Microsoft 365 powered by the latest AI technology GPT-4. The executive team led by Microsoft CEO Satya Nadella used examples to tell people that backed by GPT-4 technology, Microsoft's "Business Family Bucket" software, from Word to Excel to PPT, has really "Mature" enough to write documents and make forms by myself.
"Copilot, a new way of working."
The subtitle of Microsoft's event on the day reminds people, just as the Office suite changed the way of working in the office in the wave of informatization; Copilot, which uses AI technology, will completely change the way people work in the Internet age from today.
Behind the omnipotent Copilot, Microsoft's true ambition of "new infrastructure" in the AI ​​​​era has also become a "bright card" through this press conference.
01
365, Tiantian "GPT"
At 8:00 a.m. on March 16th, US time, Microsoft held a press conference titled "Reshaping Productivity with Artificial Intelligence".The official announced that its business software Microsoft 365 will be fully connected to GPT-4, and a new Copilot will be launched to help people generate documents, emails, presentations, etc.When Microsoft released Copilot last year, it was a tool that used OpenAI's technology to help programmers automatically write computer code.
"Copilot is a whole new way of working," said Jared Spataro, head of Microsoft 365. "It works with you, embedded in the programs that millions of people use every day: Word, Excel, PowerPoint, Outlook, Teams, and more."
The new Copilot sits alongside other apps in the Microsoft 365 interface, appearing as a chatbot in the sidebar, and users can use Copilot in Microsoft's Office software, including Word, PowerPoint, Excel, Outlook and Teams.
The essence of Copilot ischatbotusers can let Copilot help you with work production through chat conversations:
· Copilot in Word: Work with people to write, edit, summarize, and create.
· Copilot in PowerPoint: Turn ideas into designed presentations through natural language commands.
· Copilot in Excel: Helps users gain insights, identify trends, and create professional-looking data visualizations in seconds.
· Copilot in Outlook: Can help manage mailboxes comprehensively, freeing users to spend time on actual communication.
· Copilot in Teams: Improve meeting productivity by providing real-time summaries with action items directly in the context of meeting conversations.
· Copilot in Power Platform: will help developers of all skill levels use low-code tools to accelerate and simplify development by introducing two new capabilities in Power Apps and Power Virtual Agents.
· Copilot in Business Chat: Brings together data from documents, presentations, emails, calendars, notes, and contacts to help summarize chats, compose emails, find key dates, and write plans from other project files.
In Word, Copilot can draft documents according to instructions, and users can freely edit on top of the text it generates. With a Word document, you can create a 10-page PPT directly based on the document. Of course, Excel is also possible, and even after the data is given, a SWOT analysis can be performed immediately to directly generate a pivot table.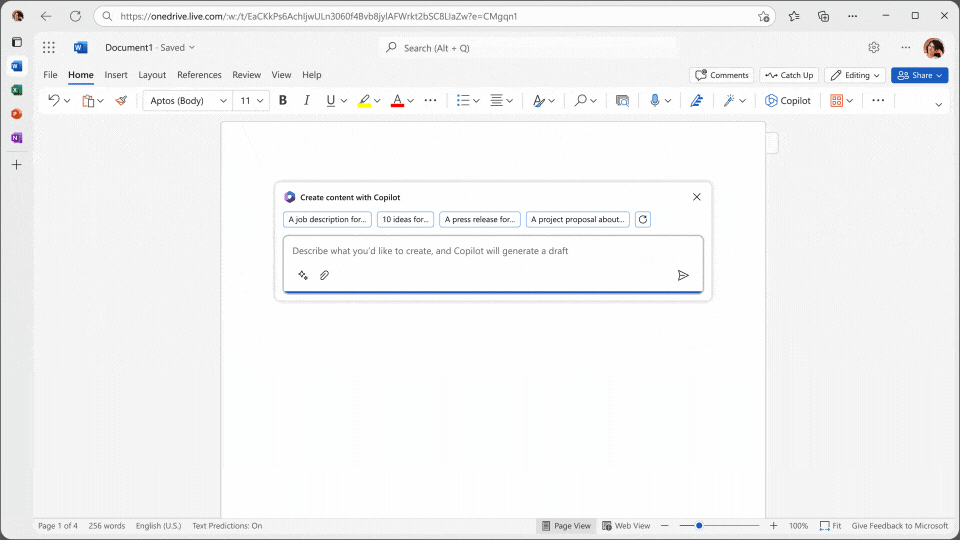 Using Copilot in Word|Image source: Microsoft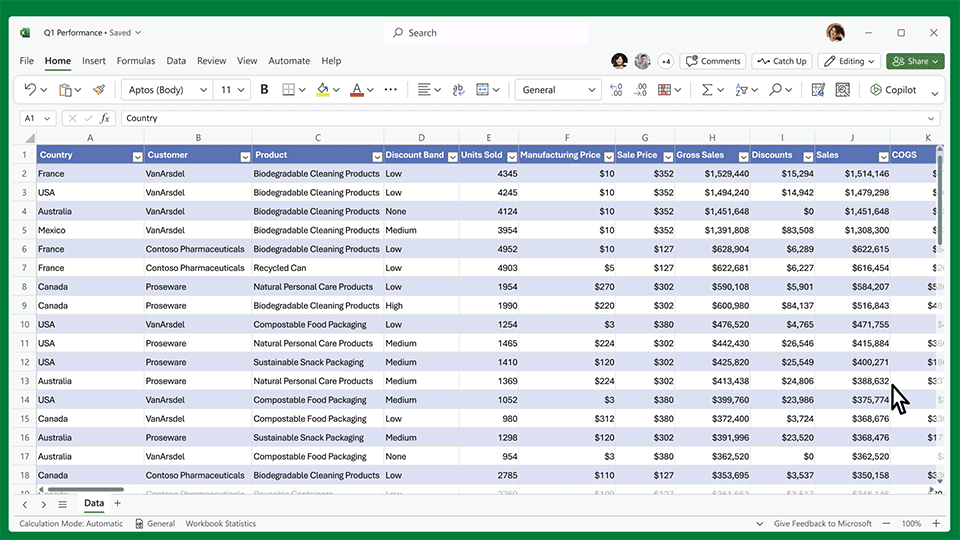 Using Copilot in Excel|Image source: Microsoft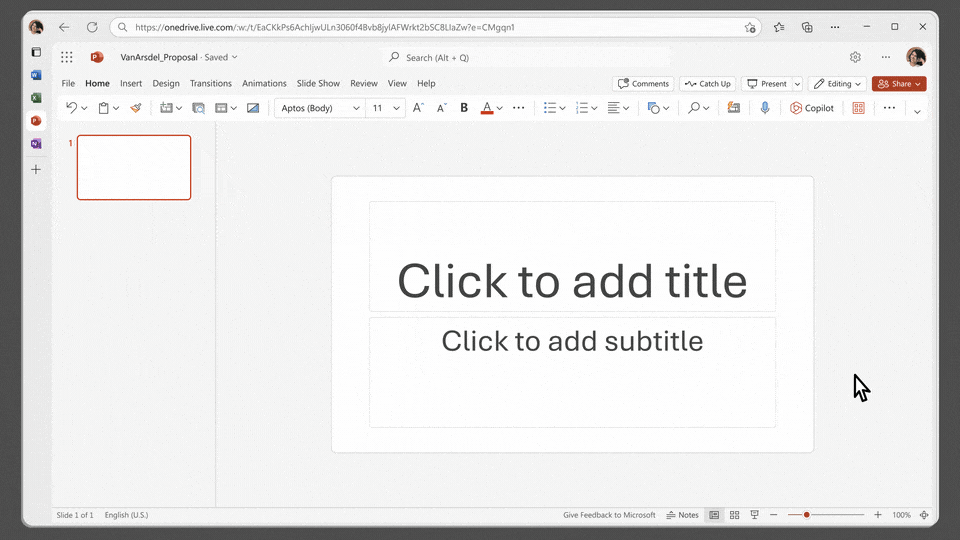 Copilot can generate PPT based on Word documents|Image source: Microsoft
In the meeting function, Copilot can provide users with information about upcoming meetings before the meeting, transcribe Microsoft Teams meetings during the meeting, and summarize the main points of the entire meeting after the meeting. As well as meeting reminders, event reminders, preparing project updates for users, organizational changes (such as recent recruitment), and even helping you update your colleagues' progress after you come back from vacation.
Copilot is also used in the Outlook mailbox function to help distinguish information so that users spend less time processing emails, summarize email threads, and even write replies with drafts so that users can adjust tone, email length, etc. This is close to the previous revelations. The Information wrote in a report in January this year that a person close to it revealed that Microsoft discussed using OpenAI's software to create chatbot-style programs in Word and Outlook, writing entire paragraphs based on prompts. text.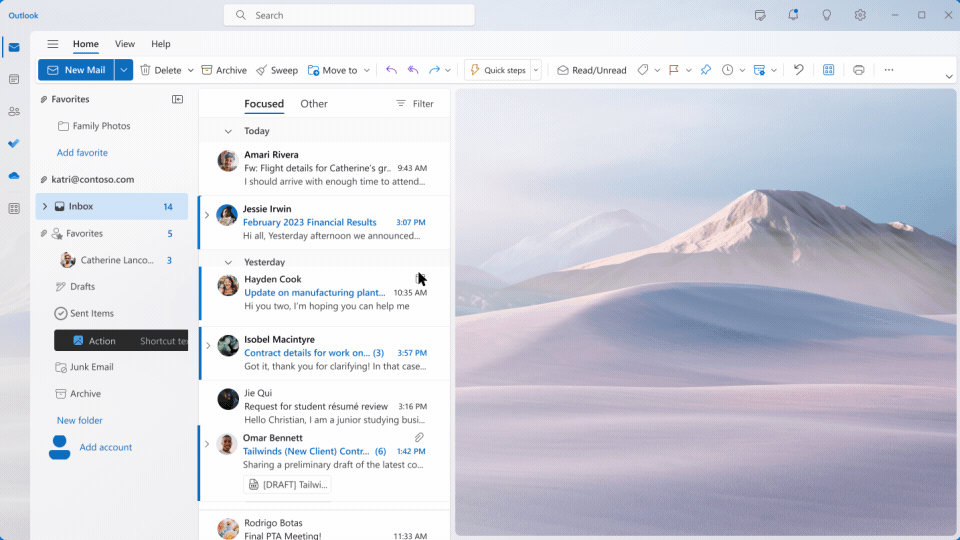 Copilot helps users compose emails in Outlook and CC the right colleagues|Image source: Microsoft
Spataro said that Copilot is not just "Microsoft 365 Copilot", but a system.The Copilot system incorporates GPT-4 into Microsoft 365 applications such as Word, Excel, and PowerPoint, and into the Microsoft Graph, a Microsoft API developer platform)。
Based on Microsoft Graph, Microsoft also plans to launch Business Chat, an office chat function applicable to all Microsoft 365. Microsoft Graph can bring together documents, presentations, emails, notes, and contacts into a single chat interface in Microsoft Teams, where it can generate summaries, plan overviews, and more.
Microsoft issued a statement on the same day that it is currently testing Microsoft 365 Copilot with 20 customers and will expand the preview version in the next few months. "We will share more information about pricing and details in the coming months."
There are problems with the model, and the application cannot escape. Copilot, like GPT, has accuracy issues and cannot be fully trusted. Spataro said in today's live broadcast,"Sometimes Copilot gets it right, sometimes it gets it wrong, but can give you an imperfect idea and give you a head start"。
Copilot may be an inaccurate but useful office assistant——This can't help but make people worry that Copilot may be full of mistakes and omissions in office scenarios. What doesn't need to worry is that it will still be quickly applied on a large scale.
Some inside and outside Microsoft were concerned that AI software was advancing so quickly, but Spataro wasn't too worried, saying at the press conference, "We have to act quickly and responsibly in order to meet the needs of our customers. Learning as we go. We are testing Copilot with a small group of customers to get feedback and improve our model, which we will be able to improve soon."
In fact, as early as January this year, Microsoft was revealed to plan to connect these products to GPT-4. Microsoft engineers are developing ways to train these models on customer data without it being leaked to other customers or falling into the hands of bad actors, a person close to them told The Information on Jan. 7. Now that the tool has been released, the extent to which this problem is solved was not explained in more detail in the press release.
02
new AI "Infrastructure War"
A month ago, two investors who went to the Silicon Valley Bay Area to visit and investigate said that even Silicon Valley did not have a good access to the ToB scene of the big language model, and there are still many problems to be solved, such as B-side scene data and how to communicate with big language models. Model fusion, how to interact…
After watching Microsoft's press conference, an investor sighed to Geek Park: "It can only be said that their engineering capabilities are too strong."
Indeed, Microsoft's difficulty in implementing the large language model and Office scenarios involves many engineering issues.
Li Zhifei, the founder of GoMask, explained: Making this experience is not a random access to the GPT interface, but a systematic project (see the picture below).LLM, which likes nonsense, is connected to Microsoft Graph (that is, your data), and finally grounded (so-called grounding), and then provides serious natural language services for apps-this provides everyone with how LLM can communicate with specific data and application scenarios A perfect example of combining。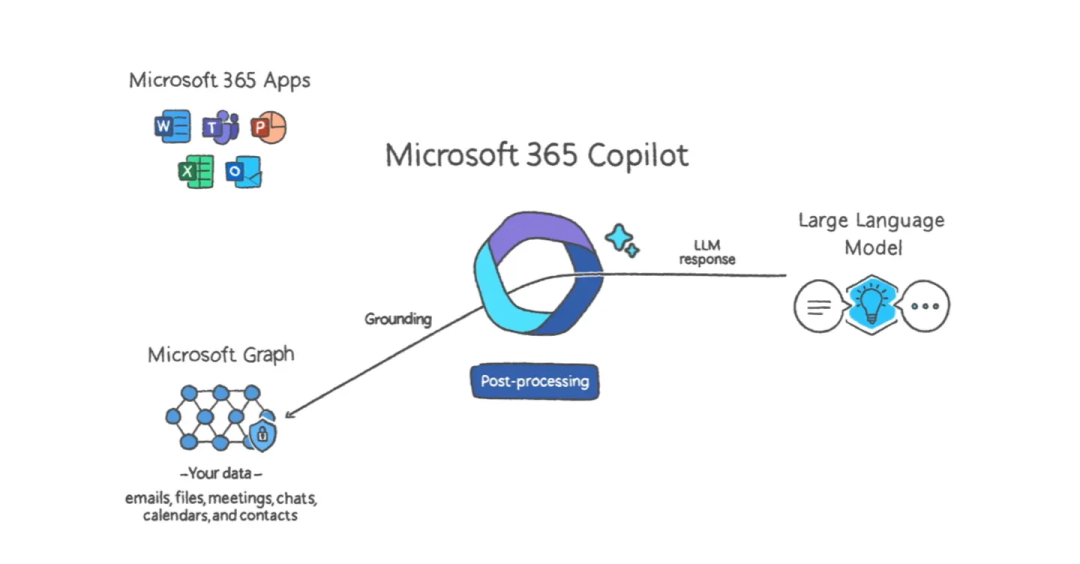 Microsoft 365 Copilot system|Image source: Microsoft
Whether it is New Bing, which is connected to GPT-4, or the Copilot AI assistant that can combine personal data, Microsoft is clearly premeditated, and it is still playing a bigger game.
In addition to the two most extensive scenarios of search entrance and corporate office,Microsoft also laid out the infrastructure for carrying large language models early – Microsoft Cloud Azure。
This is because training a large language model such as GPT-4 requires strong computing power. Microsoft understands what kind of supercomputing infrastructure OpenAI needs and the required scale. Therefore,Based on the characteristics of the GPT large model a few years ago, the team adjusted the architecture of Azure。
Microsoft also explained in its official blog how the team bet on Azure and started the artificial intelligence revolution. "The bigger the model, the more data you have, the longer the training time, the better the accuracy of the model," said Nidhi Chappell, product lead for high-performance computing (HPC) at Microsoft Azure.There is definitely a strong push from the team to make bigger models, train for longer periods of time, which means you not only need to have the largest infrastructure possible, but you also have to be able to run it reliably for a long time。」
Moreover, the computing power required for large model iterations continues to expand. According to previous reports, the computing power required by OpenAI to train large models doubles every three to four months.
The stronger the big model, the stronger Azure. Ramon, managing partner of DCM, explained that since the GPT large model was built on cloud resources such as Azure from the first day, it is very native. At the same time, if the GPT model becomes larger, the usage of Azure will naturally expand rapidly, and other applications based on GPT will naturally have a higher affinity or fit with Azure, further increasing the usage of Azure.
As competition for public cloud heats up, big models open up new stories of differentiation. Azure and Google Cloud were launched in the same year, but it is clear that Azure has now left the latter two.
In fact, as both OpenAI and Microsoft try to rapidly expand their operations,Azure's existing computing power has become tense. According to The Information, internal employees need to apply for rationing, and customers also need to queue up for use. Microsoft is reserving many AI chips for OpenAI products in Office, Bing, and Microsoft's own research has given way to AI model development.
Two months ago, when Microsoft was bombed with tens of billions of dollars to raise OpenAI, everyone was still discussing whether it was worth it. Now, Li Guangmi of Pickup Technology believes that Microsoft actually found a big customer for itself. The money invested took Open AI shares and earned back through Azure. , implanted into the best entrances of Bing and Office, occupying the best ecological niche, and can also make money through CVC investment, and push the AI ​​boom to a peak, which is simply a "number win".
It is estimated that no one could have imagined that Microsoft missed the entire mobile era, but turned over and caught up in the era of cloud computing. After 48 years in the army, in the era of AI, Microsoft has once again become the most popular company in Silicon Valley. elephant".