In 2023, the total box office of Spring Festival movies will exceed 6 billion. "Manjianghong" denies accusations of "ghost field", "stealing box office" and "plagiarism"
According to the data of Maoyan Professional Edition, at 22:36 on January 26, 2023, the total box office (including pre-sales) of the 2023 Spring Festival (January 21-January 27) exceeded 6 billion. "Manjianghong", "The Wandering Earth 2" and "Bear Infested·Stay with me "Bear Core"" ranked the top three at the Spring Festival box office.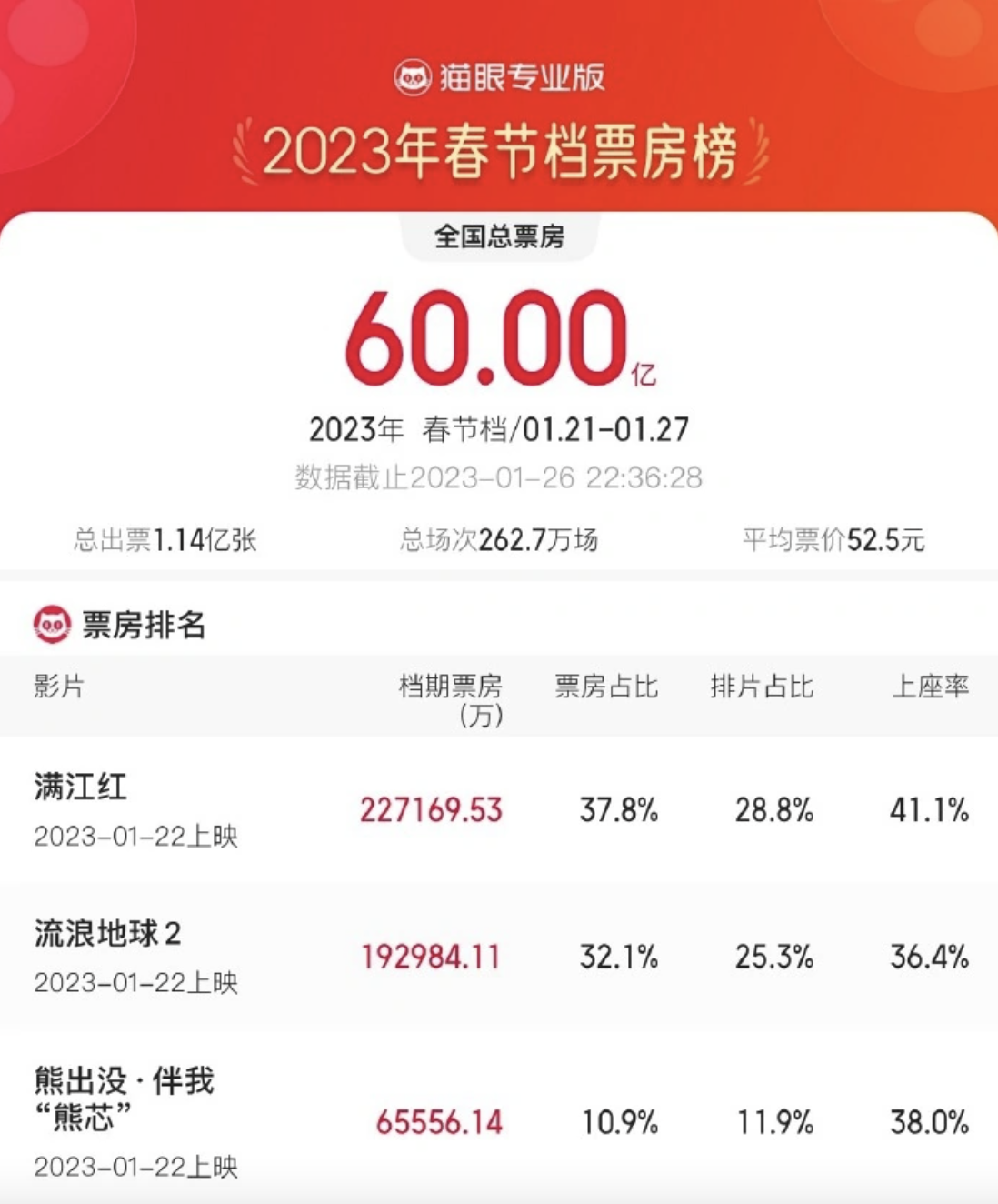 26On the 1st, the official Weibo of the movie "Manjianghong" issued a statement, denying the rumors such as "ghost field", "stealing box office", "buying box office", "capital manipulation" and "plagiarism" circulating on the Internet, saying that it is purely partisan ulterior motives People in China use various methods to spread rumors. (source:ITs home)

FTC trying to block EU approval of Microsoft's Activision-Blizzard deal, sources say
The U.S. Federal Trade Commission (FTC) filed a lawsuit against Microsoft's Activision Blizzard deal in December in part to preempt the European Commission from accepting Microsoft's compromise to approve the deal, multiple people familiar with the matter said today.
U.S. and European officials held a phone call in December to discuss the status of their respective investigations into Microsoft's $69 billion acquisition of Activision Blizzard, one of the people said. Hours after the call, the FTC filed a complaint over the deal on Dec. 8.
Microsoft's Activision-Blizzard deal needs approval from 16 jurisdictions, with the FTC, the UK's Competition and Markets Authority (CMA) and the European Commission among the biggest hurdles. The three international institutions have been in close contact since the deal was announced in January 2022.
The EU has previously run counter to regulators in the US and UK before. In February, the European Commission accepted a settlement agreement that approved the merger of two Finnish shipping equipment giants. But a month later, both the UK and the US said they would block the deal, leading the two companies to eventually abandon the merger. (Source: Sina Technology)
Worldwide smartphone shipments to see biggest drop ever in late 2022
Global smartphone shipments will experience their steepest decline ever in late 2022, falling nearly 20% in the fourth quarter, according to the latest quarterly global mobile phone tracker released Wednesday by market research firm International Data Corporation.
The IDC report shows that in the fourth quarter of last year, global smartphone shipments were slightly over 300 million units, a year-on-year decrease of 18.3%, the largest decline since records began. For the full year 2022, smartphone shipments will drop by 11.3% to a 10-year low.
IDC reports that this decline can be attributed to a confluence of economic factors such as weak consumer demand, inflation, a looming recession and global supply chain issues, which also put downward pressure on its 2023 forecast .
Even the "seemingly immune" tech giant Apple has been affected by the economic uncertainty plaguing the smartphone market, the IDC report noted, with shipments of Apple products slashed by unexpected shutdowns at Chinese factories earlier this year. put off. (Source: cnBeta)
Google's DeepMind lays off some employees, closes an office in Canada
Alphabetunder the companyartificial intelligencetechnology companyDeepMind will close atCanadaEdmonton office, and lay off some of the employees who work in the UK office.
Just a few days ago,GoogleParent company Alphabet announced it would lay off 12,000 employees. DeepMind's move is also part of Alphabet's cost-cutting effort.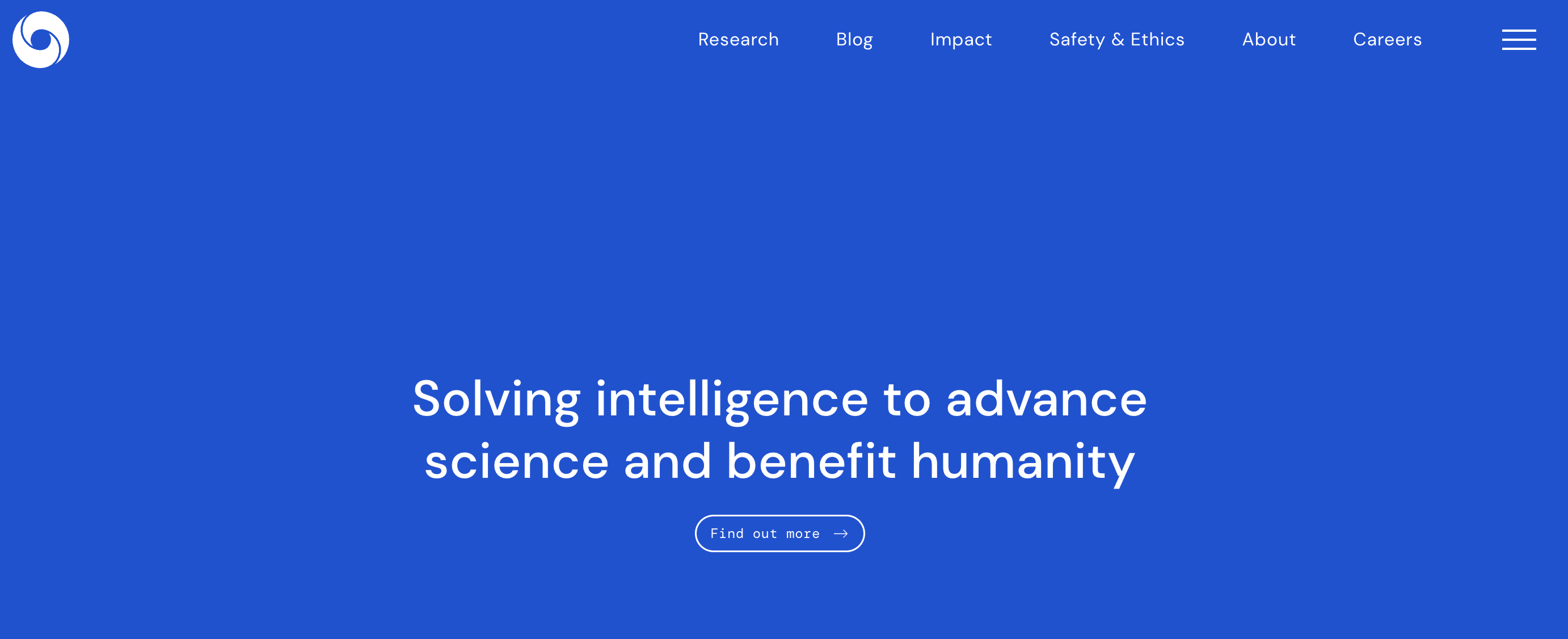 A DeepMind spokesperson confirmed the news. A company spokesperson said that DeepMind's Edmonton, Canada, office is the only one the company directly manages, making its operations more resource-intensive. All other DeepMind offices are housed within Google-managed offices.
Alphabet's layoffs follow thousands of layoffs at tech giants including Amazon, Microsoft and Meta.
Google acquired DeepMind in 2014, giving it a lead over most of its peers in the AI ​​race. But the recent development of ChatGPT, a chatbot by Microsoft-backed OpenAI, has boosted investor interest in generative artificial intelligence, and the competition in this field has begun to heat up. (Source: Netease Technology)
New York City will require Uber and Lyft to be 100% electric by 2030
New York City Mayor Eric Adams announced in Thursday's State of the Union address that Uber and Lyft will be required to achieve zero emissions by 2030. The decision, in one of the world's largest marketplaces for mobile app-based ride-hailing services, could affect about 100,000 rental cars.
Uber and Lyft, which are generally unhappy with new demands from regulators and are known for suing to block rules they don't like, are largely positive about the new development in New York.
Both companies are already taking steps to incentivize their drivers to switch to electric vehicles, either by partnering with rental car companies such as Hertz, or by mandating higher pay for drivers who use electric vehicles. Both Uber and Lyft say they aim to have their fleets "100 percent electrified" by 2030.
Of course, converting the millions of people who drive for Uber and Lyft to electric vehicles will not be easy. Ridehail drivers, for example, are classified as independent contractors, and many use their personal cars to drive not just one, but multiple gig economy companies. Additionally, electric vehicles tend to be more expensive than gasoline vehicles, despite lower fuel and maintenance costs. This high upfront cost can pose a challenge for many drivers, who often operate under extreme emergency conditions and making the switch is not easy. (Source: cnBeta)

Shutterstock began to provide AI image creation using DALL-E technology
Shutterstock is moving forward with its plans: The stock photography giant just opened up its AI-powered image generation platform to paying customers, promising a novel way to create artwork that can be used in professional projects, but also holds original creators accountable.
Shutterstock AI is now in beta as part of the Creative Flow platform, the result of a strategic partnership with OpenAI, which provided the actual generative algorithm previously trained on Shutterstock's own imagery.
According to the New York-based company, Shutterstock AI differs from other generative platforms because of its ease of use, claiming that it will even return high-quality images from a single word, unlike the high-quality images typically attached to stable diffusion methods. More complex hints on images are different.
According to early tests, Shutterstock AI can serve up four AI-generated images for each text prompt. The quality of the results has been mixed, while the legal status of the entire generative technique remains up in the air. (Source: cnBeta)
After leaking 35,000 user data, Microsoft's GitHub project reward function no longer supports PayPal payments
Microsoft's GitHub official blog recently issued a short statement announcing that from February 23, 2023, the GitHub Sponsors project reward function will no longer support PayPal payment methods.
Patrons will no longer be able to tip developers or organizations through PayPal. GitHub recommends that patrons update their payment methods and use credit or debit cards. GitHub officials did not give any further explanation for this.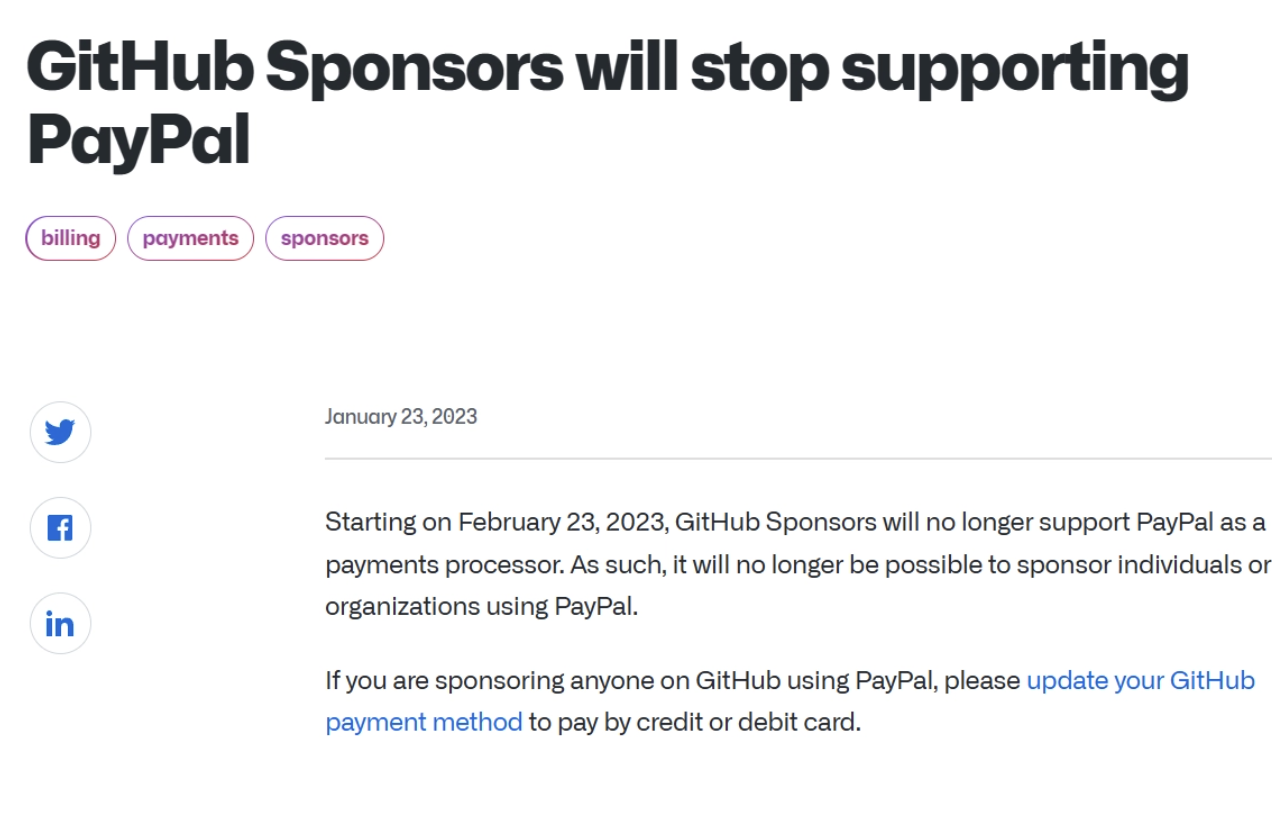 Both Microsoft GitHub and PayPal did not respond to this incident. Hacker News netizens broke the news that the breakdown of cooperation may be due to security issues, or the negotiation between the two companies broke down. For example, PayPal's commission fee may be too high. Or "could be a PayPal virtual currency money laundering problem."
PayPal previously disclosed on January 18, 2023 that the company was under cyber attack in December 2022,34,942 user personal information leaked。
On January 26, Microsoft GitHub announced in its official blog that it had reached 100 million users, and now more than 100 million developers officially use GitHub to build, maintain, and contribute to software projects, two years ahead of the official 2025 goal. (Source: IT House)
2023 The global technology industry has announced nearly 60,000 layoffs, more than doubling in the past week
According to layoff, a website that tracks layoffs in the technology industry. In total, the global tech industry has announced more than 59,000 layoffs in the first few weeks of 2023, according to data compiled by fyi.
The site's latest tally of layoffs at technology companies around the world in 2023 more than doubled from last week, when layoffs totaled just over 25,000.
The data heralds that the number of layoffs at global technology companies in 2023 will exceed that in 2022, with 200 technology companies announcing 59,448 layoffs in the first few weeks of this year. And according to layoff . According to fyi's data, 1,024 technology companies announced a total of 154,336 layoffs last year.
Major U.S. tech companies are under the spotlight for layoffs. Last week, Alphabet, Google's parent company, confirmed plans to cut about 12,000 jobs worldwide. Intel said it would cut hundreds of jobs in Silicon Valley as part of a layoff that began late last year, but did not disclose the size of the final cuts. Microsoft confirmed plans to cut about 10,000 jobs.
On Wednesday, two more U.S. tech giants announced layoffs. Veteran technology giant IBM announced layoffs of 3,900, and chip equipment giant Lam Research announced layoffs of about 1,300. (Source: Financial World)
哔哩哔哩: Entered into a comprehensive cooperation framework agreement with Jinjiang Original, and purchased copyrights of several works from it, etc.
Bilibili announced on the Hong Kong Stock Exchange on January 26 that on January 26, 2023, the company entered into a comprehensive cooperation framework agreement with Jinjiang Original.
Accordingly, the Group and Jinjiang Originally agreed to cooperate on intellectual property rights, including but not limited to the Group's purchase of the copyrights of multiple works (including literary works) and using such copyrights for designated purposes (including but not limited to adaptation, information network dissemination, publicity and distribution), and the Group agrees to pay Jinjiang Original the relevant transaction amount, including but not limited to licensing fees, procurement fees and proceeds from any profit-sharing arrangement.
In the comprehensive cooperation framework agreement, the annual cap for the years ending December 31, 2023, 2024 and 2025 is RMB 40 million. (Source: Interface News)

The iPhone 15 series is expected to support the Wi-Fi 6E transmission standard
Recently, according to a research report shared this week by Barclays analysts Blayne Curtis and Tom O'Malley, this year's iPhone 15 series will support the latest Wi-Fi 6E wireless transmission.
So far, Apple has very few devices that support Wi-Fi 6E wireless transmission, only the latest iPad Pro 11-inch 2022 models, iPad Pro 12.9-inch 2022 models, MacBook Pro 14-inch and 16-inch and Mac mini, a total of five models However, all models of this year's latest iPhone 14 series still only support the Wi-Fi 6 standard wireless transmission protocol.
The Wi-Fi 6E wireless transmission protocol first adds a 6GHz frequency band than Wi-Fi 6, and the wireless transmission capability is greatly increased, thereby achieving faster wireless transmission speeds, lower delays, and less signal interference. (Source: Fast Technology)
Faraday Future FF 91 is undergoing final commissioning work and will focus on the domestic market in the future
On January 26th, Faraday Future stated on its official Weibo that its first mass-produced model, FF 91, is undergoing final debugging, focusing on the needs of the Chinese market, especially in terms of charging system adaptation and power performance. .
On January 18, Faraday Future reached a non-binding cooperation framework agreement with the Huanggang Municipal Government of China, planning to move its future FF China headquarters to Huanggang City.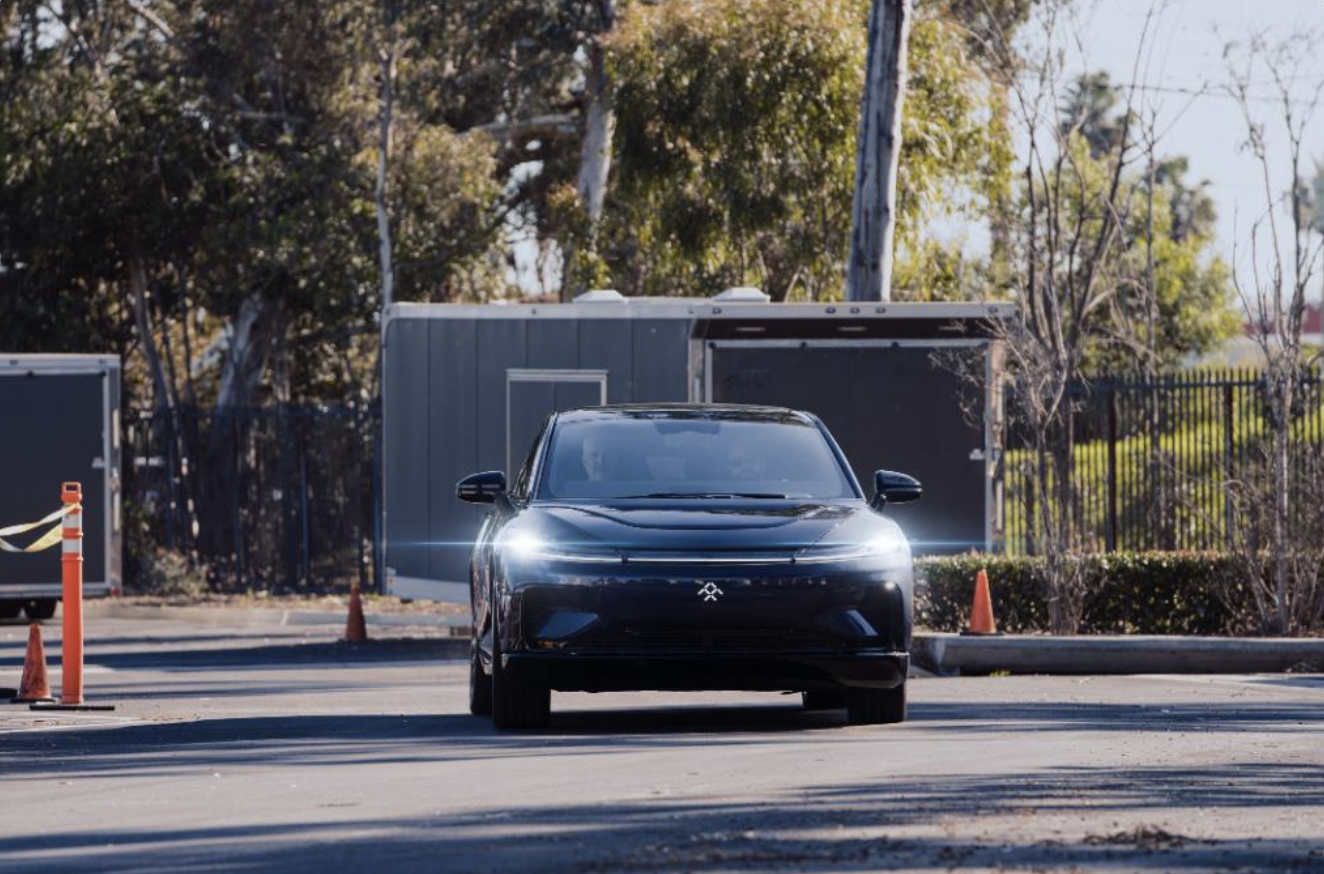 It is reported that Faraday Future is expected to start mass production of the marketable FF 91 Futurist electric vehicle by the end of March 2023, and it is expected to roll off the production line in early April and deliver it before the end of April. In addition, FF 91 Futurist has also completed the core advanced system of the vehicle and IAI system FF 91 Futurist, namely intelligence, autonomous driving and Internet and major upgrades of core components. (Source: TechWeb)

The world's first AI lawyer's court appearance plan is shelved: "peers" strongly oppose it, and developers may go to jail
The world's first AI lawyer trained and developed by DoNotPay was originally scheduled to appear in court in February 2023.The world's first AI lawyer was scheduled to appear in court in February 2023defending defendants in speeding cases.
However, under the strong opposition of human counterparts and the risk of imprisonment, DoNotPay CEO Joshua Browder announced the shelving of the plan for AI lawyers to appear in court.
Browder told the outlet that since announcing his appearance, he has received numerous fiery letters from multiple state bar associations threatening his firm, with one even saying he could be jailed for six months. "Even if there is no real jail time, the threat of criminal charges is enough for me to drop it."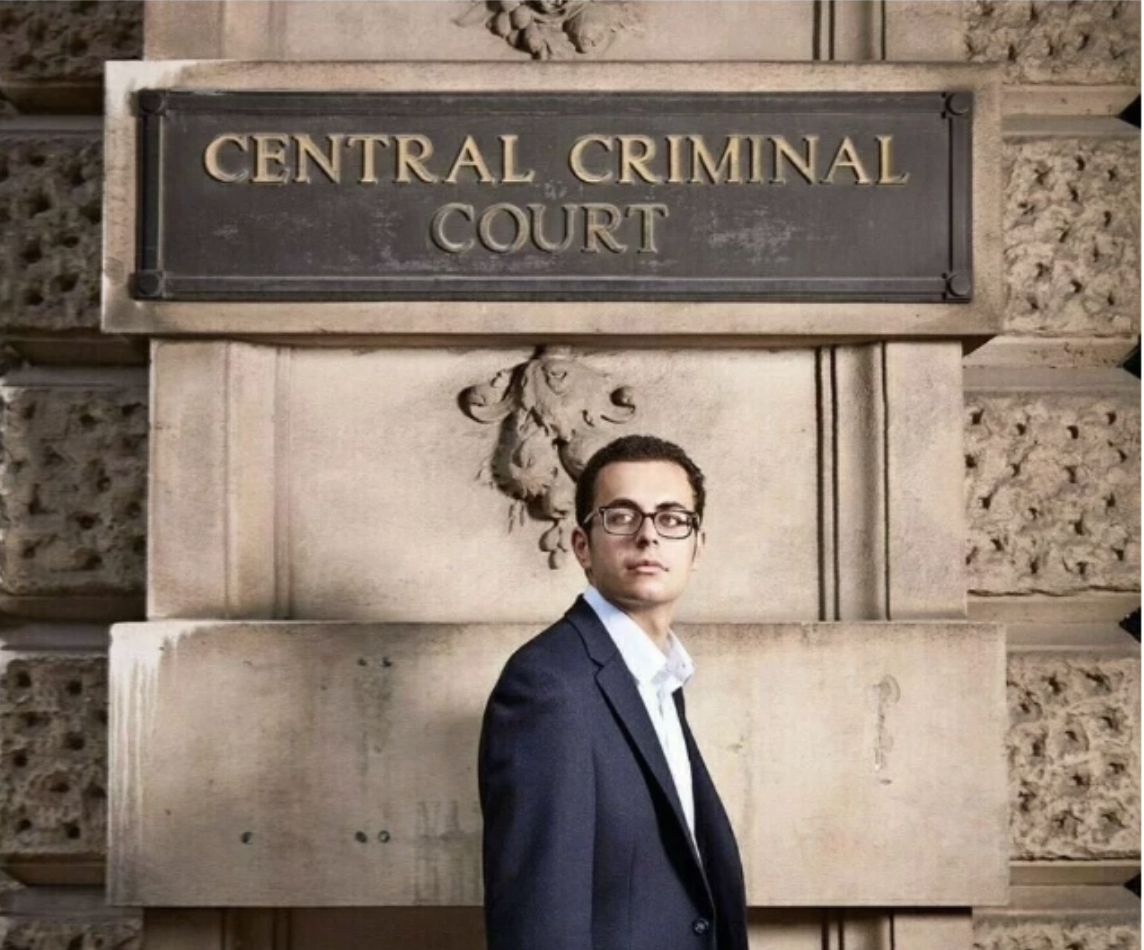 When the AI ​​lawyer appears in court, the defendant in the speeding case will wear smart glasses and record the court session through the camera, and the AI ​​lawyer will prompt the defendant how to answer from a speaker. The system relies on a number of AI text generators, including ChatGPT and DaVinci.
Browder said DoNotPay will no longer be used in speeding cases, but instead will focus its efforts on helping people deal with costly medical bills, unwanted subscription content and issues with credit reporting agencies. (Source: IT House)