Pinduoduo announced the upgrade of its organizational structure, with Zhao Jiazhen as co-CEO and partner with Chen Lei
On April 4, Pinduoduo Group announced that with the approval of the board of directors, co-founder Zhao Jiazhen will serve as executive director and co-CEO, and partner with Chen Lei to jointly manage the company's business.
According to the announcement, Zhao Jiazhen is a member of the founding team of Pinduoduo Group. He was initially responsible for the overall operation of Pinduoduo's agricultural categories and the establishment of the upstream supply chain of agricultural products; Ranked first in internal competition; in the second half of last year, it led a team to promote the upgrade of Pinduoduo's supply chain system.
"In the future, Zhao Jiazhen will focus on supply chain management and business operations in China, and I will focus on globalization." said Chen Lei, chairman and co-CEO of Pinduoduo Group. (Source: The Paper)

Alibaba's version of ChatGPT has started internal testing and is expected to debut on April 11
On April 4, according to The Paper, the 2023 Alibaba Cloud Summit will be held in Beijing on April 11, including Zhang Yong, Chairman and CEO of Alibaba, Zhou Jingren, Chief Technology Officer of Alibaba Cloud Intelligence, and Cai Yinghua, Global Business President of Alibaba Cloud Intelligence. The main person in charge will attend the main forum.
Sources said that Ali launched a large model on the 11th, and an industry application model on the 18th, and various industry application models will be released next.
Before, a blogger tested Tmall Genie and found that the Ali version of the ChatGPT voice assistant version has been launched. The blogger tested a total of 15 questions, and 10 of them answered better than competing products.
When ChatGPT first became popular, Alibaba has confirmed to the outside that it is developing similar products and has entered the internal testing stage. Zhang Yong also revealed that cloud computing is one of Alibaba's core strategies for the future. (Source: Fast Technology)
Apple finally laying off employees from within?It is reported that some positions in the corporate retail team will be streamlined
News on April 4, according to foreign media reports, in the wave of large-scale layoffs of technology companies that began in the second half of last year, compared with Microsoft, Amazon, and Alphabet, the parent company of Google, which laid off more than 10,000 employees, Apple is a clear stream.
Although it is reported that Apple has laid off hundreds of outsourced employees twice and frozen most of the recruitment outside R&D, they have not previously announced the reduction of internal full-time employees.
However, according to reports, Apple may break the golden body of not laying off full-time employees in the wave of layoffs, and will streamline some positions in the corporate retail team. Apple will provide support for employees whose positions are affected. They can apply for positions similar to their previous jobs. Employees who do not want to apply can receive up to 4 months of salary compensation. Source: TechWeb)

360 announced that the actual controller Zhou Hongyi has gone through divorce procedures, and the "breakup fee" is 9 billion

On the evening of April 4th, 360 issued an announcement saying that the actual controller of the company, Mr. Zhou Hongyi, and Ms. Hu Huan had gone through the formalities of dissolving the marriage relationship through friendly negotiations, and made relevant arrangements for the division of shares.
Mr. Zhou Hongyi plans to split 6.25% of the company's shares he directly holds to Ms. Hu Huan. As of April 4, 2023, the market value of 360 is 143.5 billion. Calculated at 6.25%, the value of the shares distributed to Ms. Hu Huan is nearly 9 billion yuan.
This change in equity will not lead to changes in the company's controlling shareholder or actual controller, and will not involve a change in company control.
The announcement shows that Zhou Hongyi, the actual controller, and his concerted parties have no plan to reduce their shareholdings in listed companies in the next 12 months, and Ms. Hu Huan will not increase or reduce their holdings in listed companies in the next 6 months. (Source: Phoenix.com Technology)
Bill Gates hits back at Musk: suspending AI development won't solve the problem
Beijing time on the evening of April 4th, Microsoft co-founder Bill Gates said today that pausing the development of AI will not solve future challenges in the field.
Last week, thousands of technologists including Musk issued an open letter calling for a moratorium on training artificial intelligence systems that are more powerful than GPT-4. In this regard, Gates said that suspending development does not really solve the problem. Instead, figuring out how to best leverage developments in the field of artificial intelligence is the clincher. Moreover, a true global moratorium on the development of artificial intelligence technology does not seem realistic.
Gates has long been an optimistic supporter of artificial intelligence. On March 21, Gates wrote that the era of artificial intelligence has begun, and predicted how artificial intelligence will change employment, climate change, healthcare and education.
But then (last Monday), Musk said on Twitter: "I have discussed artificial intelligence with Gates before, and his understanding of this technology is very limited. To this day, it is still the case." (Source: Sina Technology )
Wang Xing reduced his holdings of Ideal Auto and cashed out 420 million Hong Kong dollars in half a month
According to the news on April 4, according to the documents disclosed by the Hong Kong Stock Exchange, Wang Xing, the director of Li Auto and the co-founder of Meituan, reduced his holdings of Li Auto stock several times from March 20 to March 30. 309.6 million Hong Kong dollars, with a reduction of 14.07 million U.S. dollars in US stocks, a total of about 420 million Hong Kong dollars.
After completing this series of reductions, Wang Xing's shareholding dropped to 22.35%, but he still ranks as the largest external shareholder of Ideal Auto.
Ideal Automobile officially stated, "This stock transaction is a personal behavior, and the transaction accounts for a small part of his (Wang Xing) total shareholding, and does not involve the shareholding of Meituan." (Source: TechWeb)

Analyst: Face ID under the screen will debut on the iPhone 17 Pro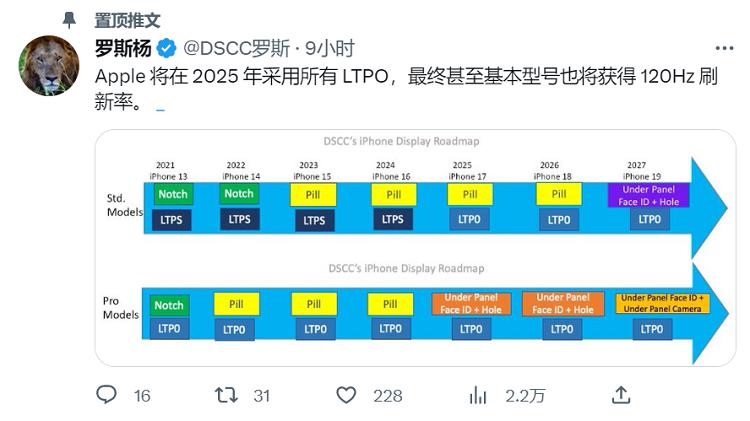 According to foreign media reports on April 3, recently, display analyst Ross Yang said that the iPhone 17 Pro will be the first iPhone to use the Face ID technology under the screen.
Earlier, Yang said on social media that Apple's under-display Face ID technology will still appear in the public eye alongside its existing circular cutout for the front-facing camera. This will continue until 2027, when Apple will implement a truly full-screen look on its iPhone Pro models.
Earlier, he had speculated that Apple would feature off-screen Face ID technology for the first time on the iPhone 16 Pro in 2024. Last month, Yang said that for now, due to sensor issues, Apple's three generations of iPhone Pro models will be the same and won't change much.
Finally, he also said that the standard iPhone 17 models will also feature ProMotion, a feature currently exclusive to Apple's high-end devices. (Source: World Wide Web Technology)
Tesla releases CyberVault charging pile: supports one machine with dual-use price starting at 5,500 yuan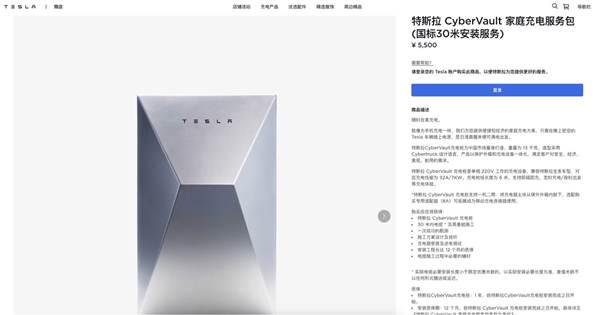 On April 4th, Tesla launched the Cybervault charging pile on its official website last night. The Chinese name is Cybervault charging. The official price starts at 5,500 yuan. It is reported that it is designed, manufactured and manufactured by Tesla's Chinese team, and it is a product specially designed for the Chinese market.
In terms of design, Cybertruck adopts the design language of Cybertruck pickup, with sharp edges and corners, full of sense of technology. In terms of functionality, the Cybervault charging pile has IP54 protection, dustproof and waterproof, and can function as a "storage box" and "protection box". When charging is not needed, the owner can completely store the charging equipment and gun wire in the box.
Tesla CyberVault charging pile supports single-phase 220, the corresponding charging performance is 32A / 7KW, and is compatible with all Tesla models. The length of the charging cable is 6 meters, which supports plug-and-play charging.
It is understood that car owners who purchase CyberVault charging piles can enjoy free survey, charging piles and free installation of 30-meter cables. (Source: TechWeb)

Apple's 'Find My' feature and AirTags are often used to track spouses, survey shows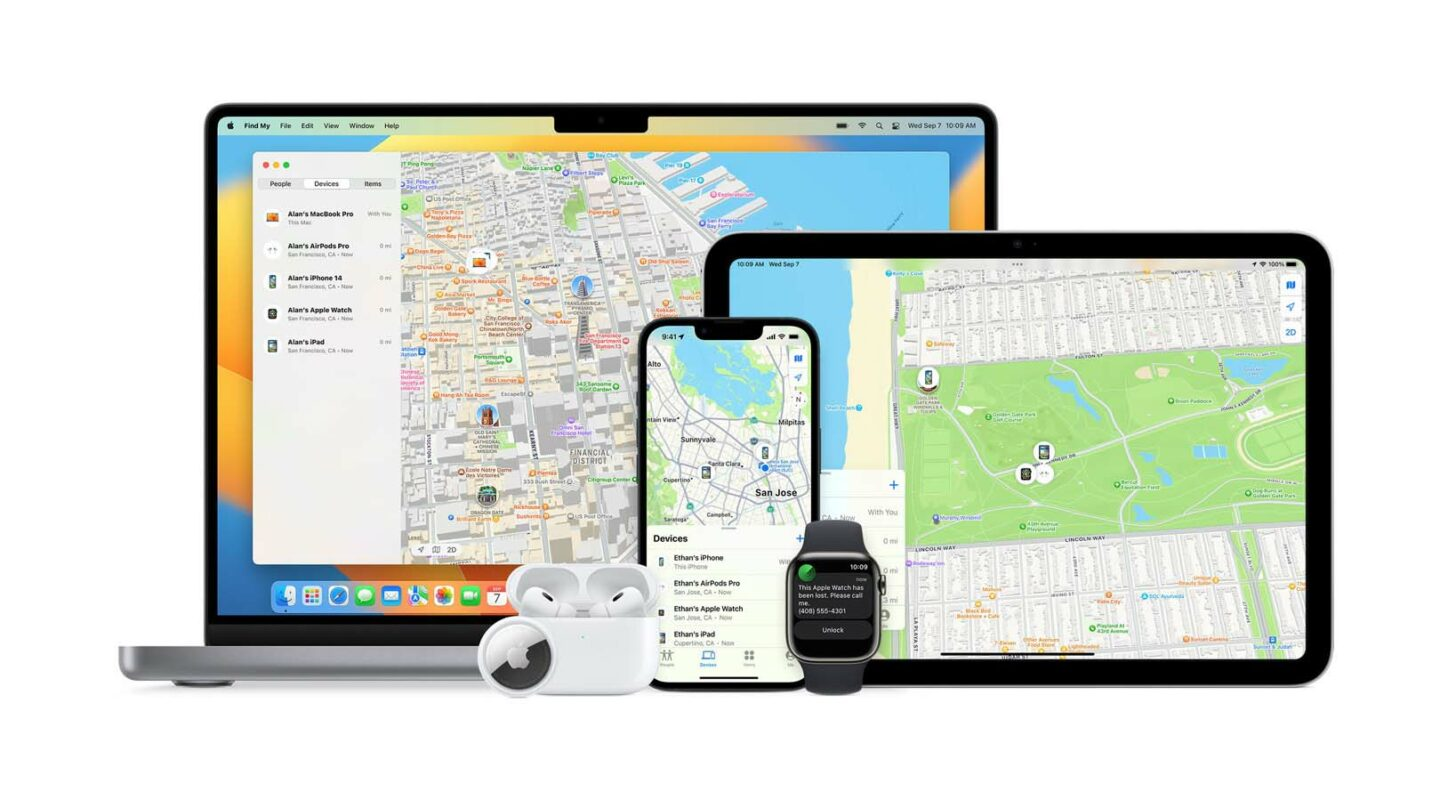 The "Find My" feature can be used to track lost or misplaced items, and it's also a handy way to find your pets, provided they're wearing AirTags.
However, some have gone a step further, and according to a survey, some of them are using the feature to track their spouse's location.
One poll, posted on the BabyCenter website by a mother who goes by the username "MoxieFox," asked users how often they used Find My to stalk their spouses. Some spouses responded that while using Find My to track their partners is a convenient way to track their partners under normal circumstances, trust issues can arise.
Of the 1,021 votes cast, 27 percent were in favor of tracking their spouse, emphasizing it for safety and convenience. Forty-eight percent of those who took part in the poll said "no," saying it was an invasion of privacy. (Source: cnBeta)