Redmi officially announced today that the Redmi Note 12 Discovery Edition model will be equipped with Xiaomi's self-developed 210W fairy second charge. At the same time, this phone has also won the name of Xiaomi's strongest fast charge and the highest charging power in the mobile phone industry.
According to the current charging speed of mobile phones, 120W fast charging can already be fully charged in ten minutes, and this time the power of 210W fast charging has almost doubled, which may be the first time to pull the charging time to single digits, within ten minutes. full.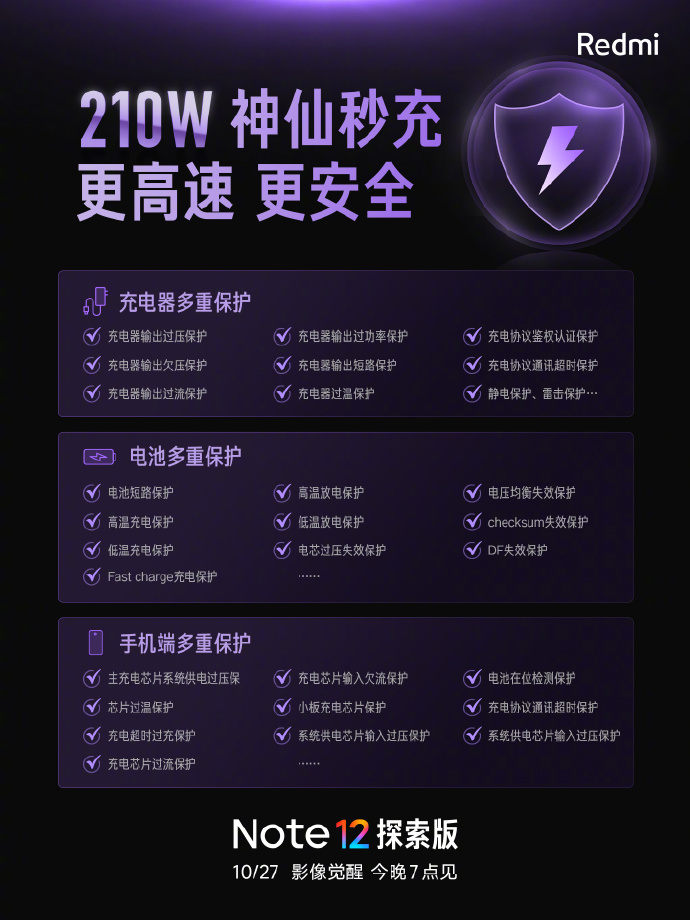 However, is such a high power of 210W safe?
In this regard, the Redmi official also gave an answer for the first time, saying thatThe Redmi Note 12 Discovery Edition has 60 protections in charging, and the full link protects the safety of fast chargingwhich is divided into three parts: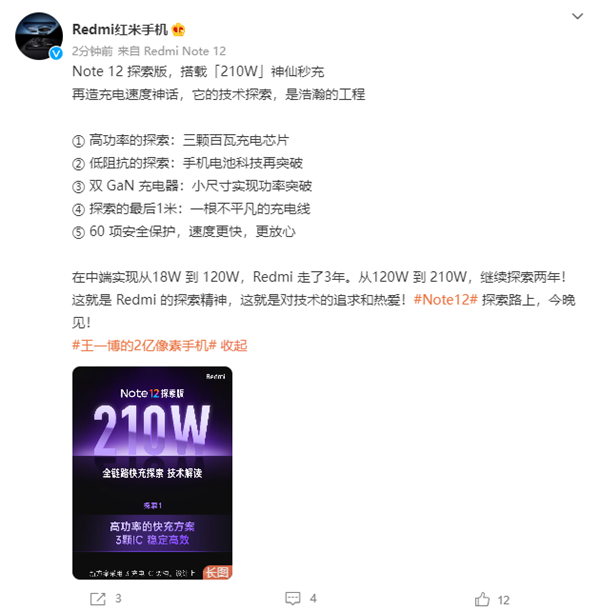 one,Charger multiple protection: Including output overvoltage protection, undervoltage protection, overcurrent protection, overtemperature protection, short circuit protection, electrostatic protection, etc., to ensure stable output of high current and high power
two,Multiple battery protection: Including battery short circuit protection, high temperature charging protection, high temperature discharging protection, etc., which can effectively prolong battery life
three,Mobile phone multiple protection: Including the main charging chip system power supply overvoltage protection, chip overtemperature protection, charging overtime overcharge protection, charging chip overcurrent protection, etc., providing system-level security monitoring security
The linkage of these three terminals with multiple protections enables the entire 210W fast charging link to achieve safe high-power fast charging, and users do not have to worry about security issues.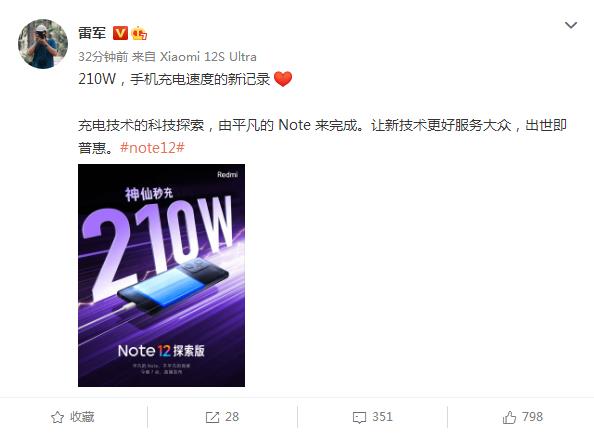 Redmi General Manager Lu Weibing said in response to user comments,The cost of 210W fast charging is very high, but it is hardLei Jun, founder of Xiaomi, said: "The scientific and technological exploration of charging technology is completed by the ordinary Note. Let the new technology better serve the public, and the birth is universal."
For more technical information, please continue to hold the Urban Tech Story version!
【source】