iQiyi apologizes for restricting screencasting: it will restore the screencasting function for some members
On February 20th, iQiyi announced that it will restore the 720P and 1080P high-definition screen projection function for members who are still in subscription status on February 20th, 2023. Members with continuous packages (continuous monthly/seasonal/yearly subscriptions) can always use this function. iQIYI stated that the membership experience sparked discussions, making the platform deeply aware of being user-centered and emphasizing user experience, which is the premise and foundation for the platform to do a good job in content, products and services.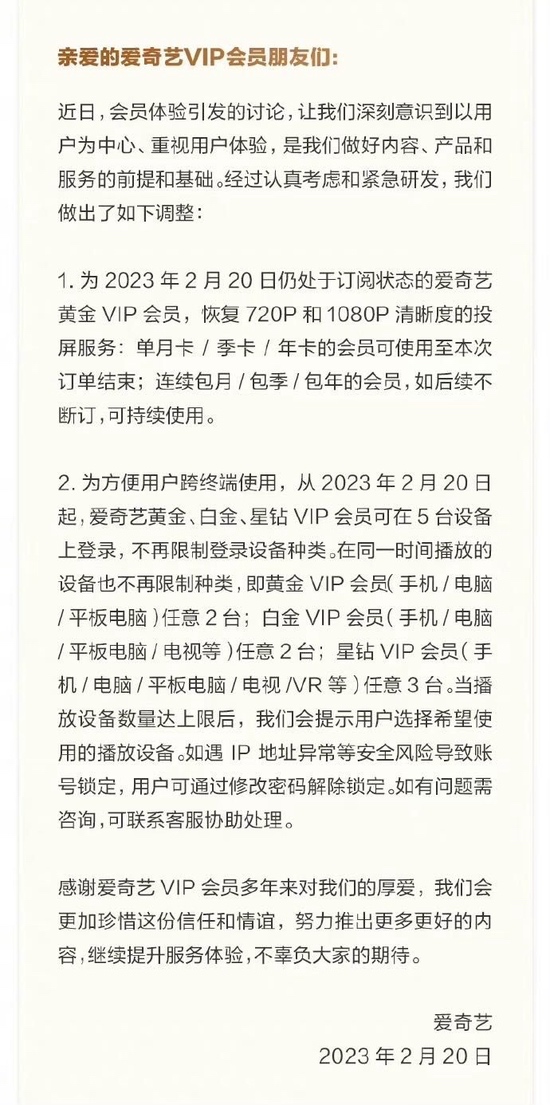 In January 2023, some netizens said on the social network that the iQiyi APP has restricted the price of screen projection. In the past, iQIYI gold VIP members supported 4K resolution video projection, but now they can only choose 480P resolution. In response to the screen-casting dispute, on January 12, the Shanghai Municipal Consumer Protection Committee issued a document saying that screen-casting is a normal usage scenario for mobile users, and consumers have paid to watch it on their mobile phones or on the screen. It is unreasonable for the platform to restrict consumers from casting screens in the app. (Source: China Business News)

Tencent XR business shift: or will cooperate to introduce Quest 2 headset
On February 20th, according to 36 Krypton reports, after Tencent announced the cancellation of all XR positions last week, Tencent did not completely abandon the XR business, but shifted from the previous software and technology research and development to the hardware direction. It is reported that Tencent The XR department retained a small number of employees in preparation for the introduction of Meta's Qculus Quest 2 VR headset.
The plan has been promoted since Shen Li, the head of the XR department, left in November 2022. It has been in preparation for about 4 months so far, and Tencent IEG (Interactive Entertainment Group) will be responsible for the follow-up. For Tencent, the situation of acting as an agent of overseas entertainment equipment is not without precedent. It has previously cooperated with Nintendo to act as an agent of the National Bank version of Switch. (Source: 36Kr)
The number of China Mobile users has hit 1 billion, and the revenue of trillions will become the world's first
According to news on February 20, China Mobile released its customer data for January 2023 on the official website of the Hong Kong Stock Exchange. The data shows that in January 2023, there will be 503,000 new mobile business customers, and the cumulative total will be 975.5 million, of which 5G package customers will be 622.47 million. In terms of wired broadband business, as of January 2023, the total number of customers is 274.69 million, with a net increase of 2.529 million.
China Mobile is expected to disclose the 2022 annual report on March 24, 2023. China Mobile's revenue in the first half of 2022 will reach 496.9 billion yuan, a year-on-year increase of 12%, and the annual revenue scale will most likely exceed 1 trillion yuan. Previously, the world's number one telecommunications operator was Verizon of the United States, whose annual revenue in 2022 will be US$136.8 billion (approximately RMB 928.1 billion), which means that after becoming the operator with the largest number of users in the world, China Mobile is expected to become the global operator. largest telecom operator. (Source: Fast Technology)
Meituan starts recruiting riders in Hong Kong and plans to officially launch food delivery service in a few months
On February 20, according to the Hong Kong Economic Daily, Meituan has placed recruitment advertisements on multiple channels, and recently officially launched the recruitment of couriers. According to people familiar with the matter, the recruitment of couriers is the first important preparatory work. It is believed that Meituan will officially launch the food delivery service within a few months.
According to official recruitment documents, Meituan is also recruiting three types of couriers: motorcycle riders, cyclists and infantrymen. As early as October last year, there were media reports that Meituan planned to enter the Hong Kong market, focusing on food delivery, led by Qiu Guangyu, the former head of Kuaishou's international business department. However, Meituan responded that the company has a high level of confidentiality for this project and cannot disclose more information. (Source: Tech Planet)

Ele.me's store-to-store business will be merged with AutoNavi, and Alibaba's local life will lay off employees
On February 20th, according to 36 Krypton reports, Ele.me's in-store business (formerly known as "Word of Mouth") under Alibaba's lifestyle segment will be merged with AutoNavi. According to people familiar with the matter, with the merger and the contraction of in-store business, Ali Local Life will undergo a new round of layoffs. Ali will concentrate resources on AutoNavi, which maintains the industry's largest user scale and has great user potential. superior.
In fact, before this, Ali's local life business, represented by Ele.me's store-to-store business, had already experienced a clear decline and contracted. At this stage, the catering business of Ele.me's in-store business has shrunk from the 40 cities it used to directly operate to less than 10 cities, and the rest of the cities have changed from direct operation to a service provider model. (Source: Fast Technology)
TikTok is fully launched on the mall in Southeast Asia
On February 20, TikTok Shop announced that it will officially launch the mall function in Thailand, the Philippines and other Southeast Asian regions. This feature has already been launched in Indonesia before. In addition, the previously launched Indonesian TikTok Shop mall can only settle in local sellers. After the mall's functions are fully launched, cross-border sellers will also be eligible to settle in.
This means that, in addition to live e-commerce, TikTok Shop will officially launch the shelf e-commerce scene. According to public reports, Southeast Asia is currently TikTok Shop's largest regional market, and it is also the core area for its e-commerce expansion in 2022. According to The Information, TikTok's e-commerce GMV in Southeast Asia will more than triple in 2022, reaching $4.4 billion. (Source: 36Kr)
Dida Chuxing, which has been profitable for 4 consecutive years, restarts its IPO in Hong Kong
According to news on February 20, Dida Travel submitted a listing application to the main board of the Hong Kong Stock Exchange on February 20, with CICC, Haitong International and Nomura International as joint sponsors. Previously, Dida Travel submitted its first IPO application in Hong Kong in October 2020, and submitted the prospectus documents for the second time in April 2021.
In 2020, 2021 and the nine months ended September 30 in 2021 and 2022, the revenue of Dida Travel will be RMB 754.2 million, RMB 780.6 million, RMB 583.7 million and RMB 428.3 million, respectively . Based on adjusted net profit (non-IFRS measure), Didaxing remained profitable during the Track Record Period. (Source: IT House)

Xiaomi's new spy photos exposed: positioning sedan, extremely long front
On February 20th, car blogger @42号garage exposed a set of new spy photos of Xiaomi cars. Judging from the photos exposed this time, at this stage, Xiaomi is still in the stage of a heavily camouflaged engineering test vehicle. What is certain is that the car adopts a sedan shape and is equipped with a laser radar. The layout is the same as that of the Ideal L9, which belongs to a watchtower. Mode.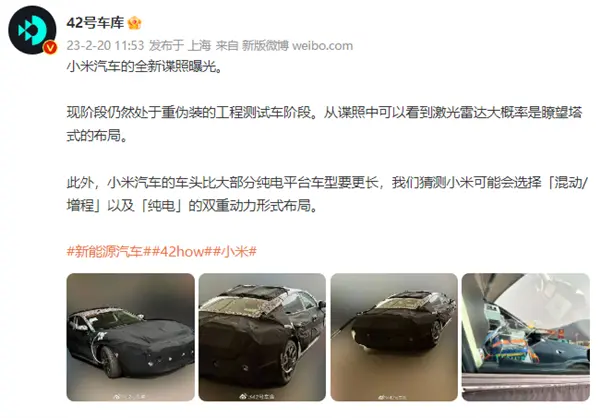 Judging from the spy photos, the lidar of the car is likely to adopt a watchtower-style layout. In addition, the blogger believes that the front of Xiaomi cars is longer than that of most pure electric platform models. It is speculated that Xiaomi may choose a dual power layout of "hybrid/extended range" and "pure electric". Earlier at the Xiaomi Investor Day, Lei Jun mentioned the future goal of Xiaomi's car manufacturing: strive to enter the top five in the world within 15-20 years. (Source: Phoenix.com Technology)
Yiwu's own global payment tool "YiPay" is released, opening up 16 currencies
On February 20th, Yiwu Pay, a payment platform created by Yiwu Small Commodity City, was officially released. It is understood that Yiwu Pay was founded in 2012 with a registered capital of 180 million yuan. It is a licensed third-party payment institution wholly owned by Commodity City. At present, it has reached cooperation with more than 400 banks around the world, its business covers more than 100 countries and regions, and it has opened up 16 mainstream currencies for international payment.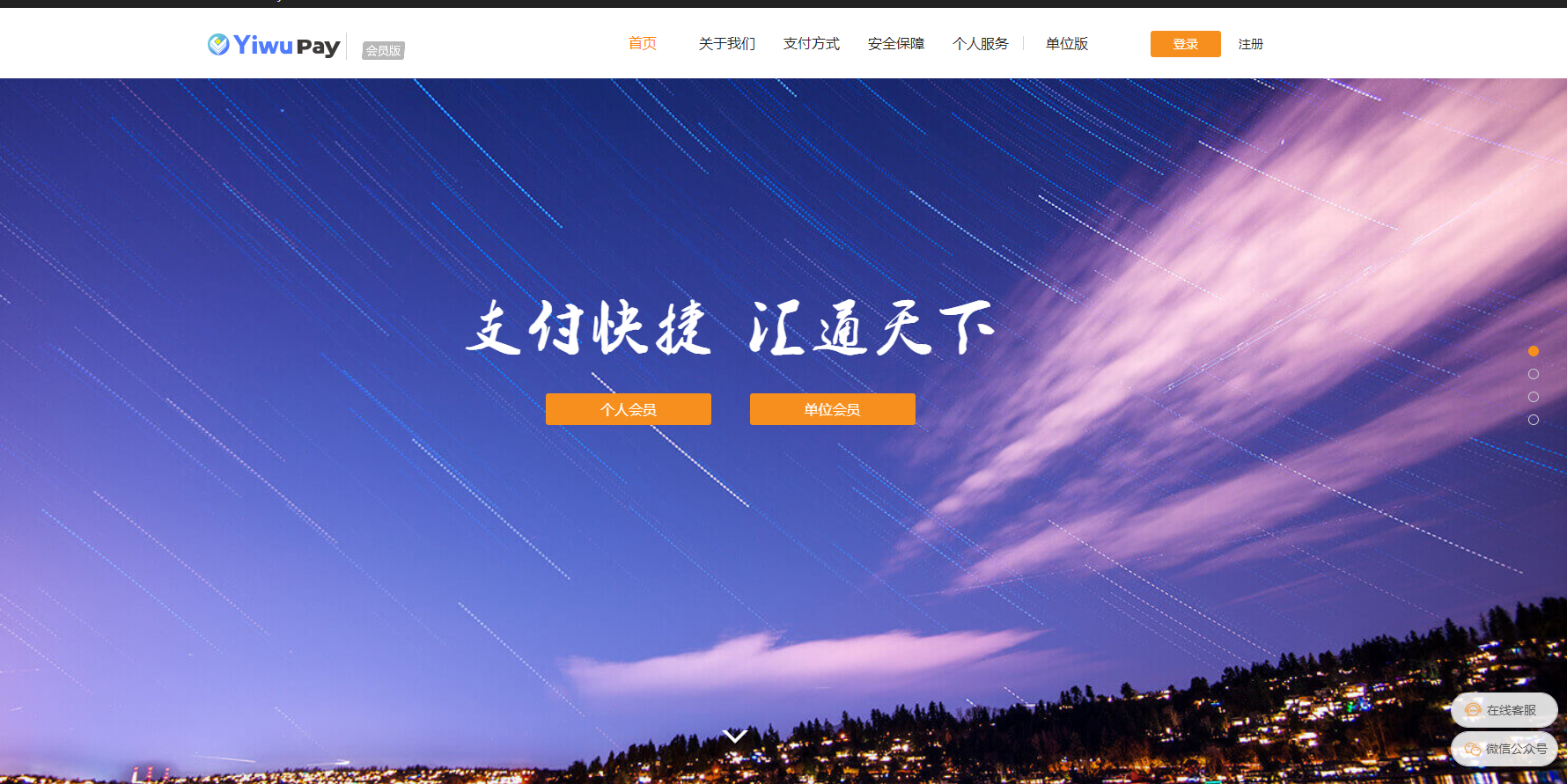 Last year, Small Commodity City acquired and was approved to hold 100% of the equity of "Shortcut Payment", upgraded its brand to "Yiwu Pay", and obtained an Internet payment license. It is reported that Yiwu Pay supports PC payment, mobile app payment, mobile H5 payment and online scanning code payment scenarios to facilitate transactions between buyers and sellers. (Source: Fast Technology)

Unopened original iPhone sells for $63,000 at auction
A still-in-the-box, factory-sealed original iPhone has fetched $63,000 at auction, setting a new sales record for this "rare rarity." The auction for this iPhone took place at LCG Auctions on February 2, and it was sold on February 19. The lot was expected to fetch around $50,000, but it ended up far exceeding that figure. At the close, there were 27 bids behind the starting bid of $2,500, bringing the price of the factory-sealed smartphone to $63,356.40.
The owner of this unused iPhone received the phone as a gift from a friend in 2007. However, since the original iPhone was only compatible with AT&T, and she was a Verizon subscriber, the iPhone was put into storage. (Source: cnBeta)
Topic image: Visual China