At the Intel ON Technology Innovation Summit held recently, Intel officially released the 13th generation Intel Core processor product family.
According to reports, the 13th generation Intel Core product family includes six unlocked desktop processors.With up to 24 cores and 32 threads, turbo frequency up to 5.8 GHz.
Officially, the 13th generation Intel Core desktop family will include 22 processors and more than 125 partner models, led by Intel Core K series processors, providing users with uncompromising application performance and platform compatibility .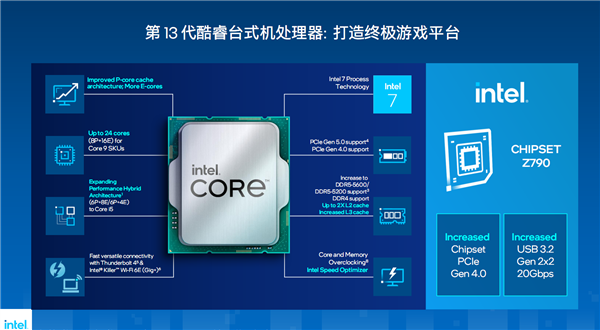 With existing Intel 600 or new Intel 700 chipset motherboards, enthusiast users can enjoy the outstanding performance of 13th generation Intel Core processors; products support the latest DDR5 and existing DDR4 RAM, users are enjoying the 13th generation While the performance advantages brought by the Core, you can also assemble the machine according to your own functional needs and budget.
In terms of performance, the 13th generation Intel Core uses the mature Intel 7 process technology and x86 high-performance hybrid architecture, and its single-thread performance and multi-thread performance have increased by up to 15% and 41%, respectively.
Compared to the 12th generation, the 13th generation Intel Core processors increase the number of energy efficient cores (E-Cores) and increase multi-threading performance by up to 41% when running multiple compute-intensive workloads. The unprecedented overclocking experience brought by the 13th generation Intel Core processors, users can see performance cores (P-Cores), energy efficiency cores (E-Cores) and DDR5 RAM all achieve higher average overclocking speeds.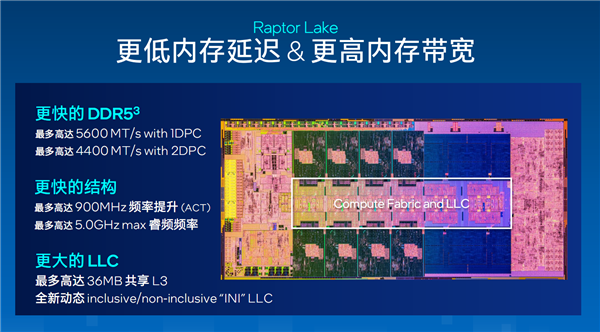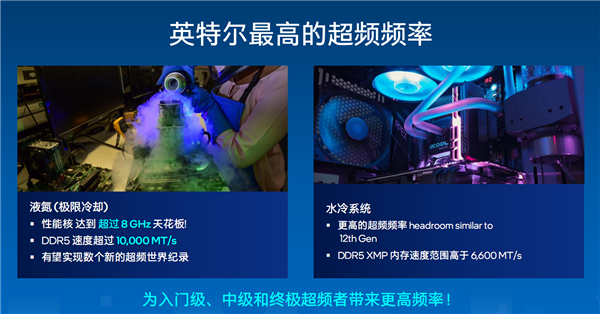 To support the 13th generation Core processors, Intel has also updated the extremely convenient one-click overclocking function Intel® Speed ​​Optimizer to help users overclock easily. The powerful Intel® Extreme Memory Profile (XMP) 3.0 ecosystem offers a wide selection of overclocking modules. When paired with Intel® Dynamic Memory Boost, this feature enables easy overclocking of DDR4 and DDR5 RAM.
New features:
Intel® Adaptive Boost Technology and Thermal Velocity Boost – Boost processor turbo frequency based on power and thermal headroom when running specific workloads.Two technologies work in unlocked Core i9 processors
By adding more energy-efficient cores, Core i5, i7, i9 processors achieve a huge leap in multi-threading performance, providing users with a better multi-tasking and large-task application experience
PCIe Gen 5.0 support, up to 16 total on the processor
Added support for DDR5-5600 and DDR5-5200 while continuing to be DDR4 compatible
Double the L2 cache size and increase the L3 cache size

The 13th generation Intel Core K-series desktop processors and Intel Z790 chipset will be available starting October 20, including boxed processors, motherboards, and desktop systems.
For more technical information, please continue to hold the Urban Tech Story version!