Baidu has been working hard on AI for nearly ten years, and Baidu is ushering in the best opportunity.
On the evening of February 22, Baidu released its unaudited financial reports for Q4 and the full year of 2022. For the whole year of 2022, Baidu achieved revenue of 123.675 billion yuan, and net profit (non-GAAP) attributable to Baidu was 20.68 billion yuan, a year-on-year increase of 10%.
In the fourth quarter, Baidu achieved revenue of 33.077 billion yuan, and net profit (non-GAAP) attributable to Baidu was 5.371 billion yuan, a year-on-year increase of 32%. In fiscal year 2022, Baidu's core business performance exceeded market expectations for four consecutive quarters.
In addition to announcing financial results, regarding the recent ChatGPT-like product "Wen Xin Yi Yan", Robin Li said on the conference call that Wen Xin Yi Yan will be the first to be integrated into search products, attract more users through new functions, and Bring more opportunities to the advertising business.
Since 2022, Baidu has launched a series of actions around the Wenxin model.In May, Baidu proposed "Building a model system that is more suitable for application scenarios"; in November, the Wenxin large model was fully upgraded, and 11 large models including 5 industry large models were released, and AIGC painting products were released at the same time "Wen Xin Yi Ge".
Regarding the upcoming "Wenxin Yiyan", as of now, many partners such as iQiyi, Jidu, Xiaodu, Zhaopin, Pacific Automotive Network, etc. have announced to join the Baidu Wenxin Yiyan ecosystem.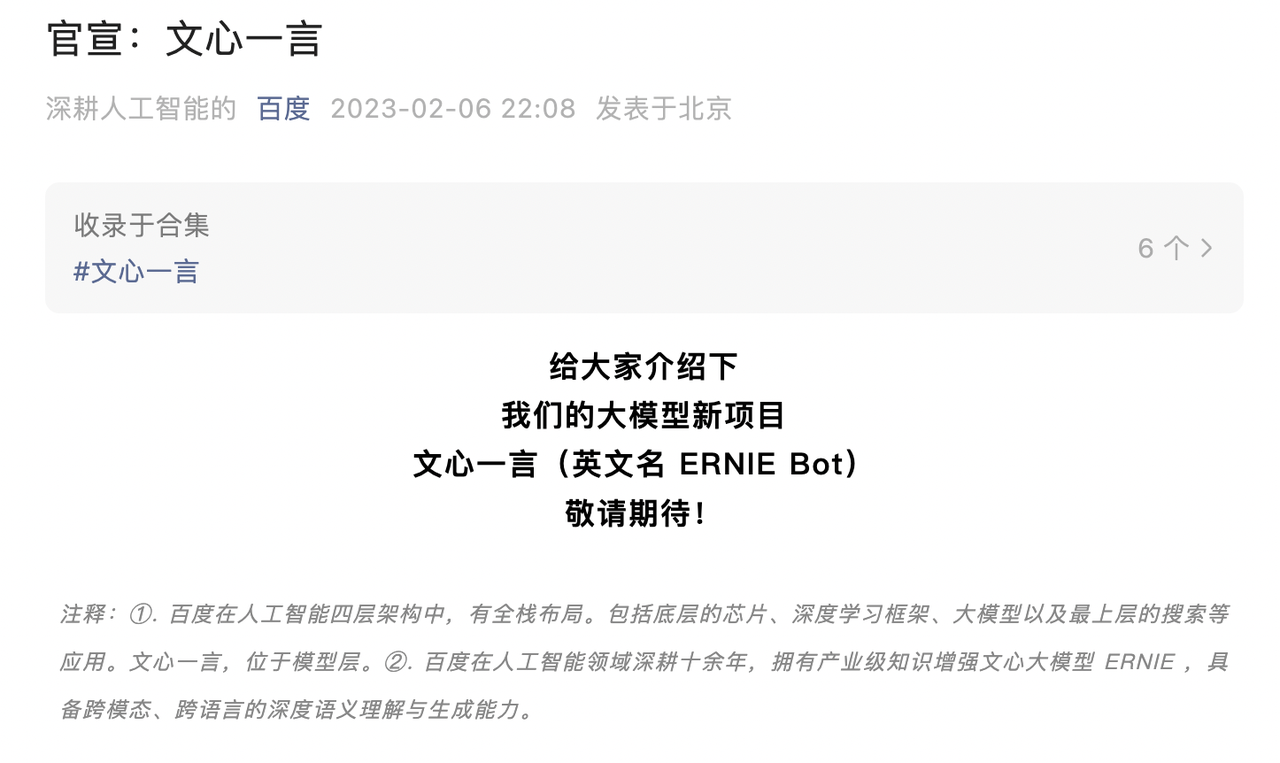 Based on the long-established large-scale model system, Baidu's existing business system is also expected to usher in a new round of upgrades.Whether it is Baidu's own C-end search products, or its Xiaodu speakers and other products, they can directly access the ability of large language models to improve performance and experience.
And the intelligent cloud business with the advantage of AI capabilities, after accessing the large model capabilities, will also be able to output voice interaction and content generation capabilities to enterprise customers, empowering software companies.
Robin Li, founder, chairman and CEO of Baidu, said, "With its long-term investment in the field of AI, Baidu will seize the upcoming AI inflection point and provide our entire business portfolio—from mobile ecology to intelligent cloud, autonomous driving, Smart hardware and more — opening up entirely new opportunities."
01
The core business is flat, and many mainstream businesses are integrated with "Wen Xin Yi Yan"
2022 will be an extremely difficult year for Chinese and even global Internet companies. But on the whole, Baidu's performance in fiscal year 2022 is still quite stable.
Overall, Baidu's core business was flat, and revenue growth was contributed by non-online marketing revenue. Li Yanhong said at the financial report that as the epidemic eased, online marketing began to show signs of recovery.
In fiscal year 2022, Baidu's core business revenue will be 95.4 billion yuan, which is basically the same as last year. Among them, the network marketing business revenue was 69.5 billion yuan, a year-on-year decrease of 6%.
In terms of non-online marketing revenue, the overall revenue in 2022 will be 25.9 billion yuan, a year-on-year increase of 22%, mainly driven by cloud computing and other AI-driven businesses.
In terms of business performance, in the past year, Baidu's search volume has grown by 17% year-on-year; the number of mobile search queries and the volume of information flow distribution have both achieved double-digit year-on-year growth. The number of monthly active users of Baidu App will reach 648 million in December 2022, a year-on-year increase of 4%. In addition, in the first nine months of 2022, Xiaodu will rank first in shipments of smart screens and smart speakers in China.
In terms of intelligent cloud business, Baidu ACE intelligent transportation system will expand from 35 cities in 2021 to 69 cities, with a contract value of more than 10 million yuan. According to the China Public Cloud Market Report released by IDC in the first half of 2022, Baidu was named the No. 1 AI cloud provider for the fourth year. Robin Li said in an internal letter,"Baidu Smart Cloud utilizes AI technology to provide standardized solutions for the industry and improve profit margins."
In terms of smart driving, as of the end of January 2023, the cumulative order volume of Carrot Kuaipao exceeded 2 million.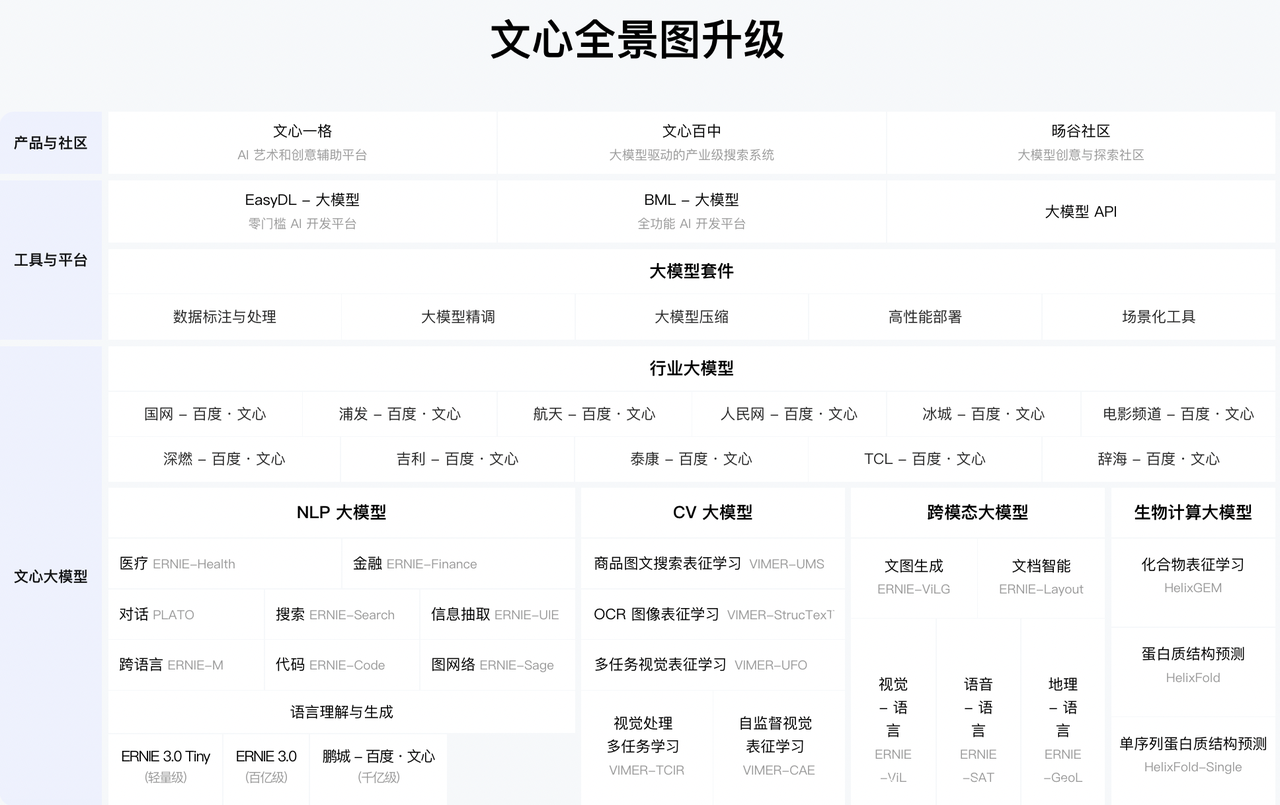 The upgraded Wenxin large-scale model system|Source: Baidu
Compared with the existing basic disk, what attracts more attention today is Baidu's exploration in the direction of large language models. As the first ChatGPT-like product released by Baidu and even domestically, the progress of Wenxin Yiyan, the large model of Wenxin behind it, and the plan to integrate with existing businesses are all the focus of attention from the outside world.
In the future, Baidu's mainstream business will be integrated with Wenxinyiyan.In addition to upgrading related products, Li Yanhong emphasized its significance to cloud services, "Before choosing a cloud vendor, it was more about basic cloud services such as computing power and storage. In the future, more will be based on whether the framework is good, the model is good, and the model, Synergy among frameworks, chips, and applications. This will fundamentally change the rules of the game in the cloud computing market."
02
The large model of Wenxin started four years ago
ChatGPT is out of the circle, so that ordinary people can also feel the capabilities and advantages of large language models. In the industry, the exploration of large models has existed for many years. Companies such as Google started the layout of large language models 5 years ago. Baidu, which has continued to invest in AI technology, also started the accumulation of large-scale model technology 4 years ago.
After Google released the neural network architecture Transformer in 2017, the large language model opened a new era. Transformer enables machines to focus on connections between words when processing linguistic information and predict what word will come next. This greatly enhances language comprehension. If the large language model is likened to a complex building, Transformer is the best brick to use when building it.
After that, all large models are designed based on this architecture. In 2018, Google released the Transformer-based pre-trained large model BERT; Open AI released GPT, which is the first generation model of ChatGPT.
Immediately afterwards, Baidu released the first-generation Wenxin model in 2019: ERNIE 1.0.This is also the starting point of the Wenxin series of models. The first Wenxin model is based on the Google BERT model structure, adding an optimized design.
The pre-training model large model can be regarded as a new research idea. In the past, natural language understanding has various tasks, such as translation, knowledge question answering, multi-turn dialogue, etc. To solve each problem, a model needs to be specially trained, but the improvement of capabilities is prone to bottlenecks. The pre-training model has another way of thinking. First, a model with basic language understanding ability is trained with a large amount of data, and then fine-tuned with a small amount of data, so that it has the ability to handle certain tasks.
A key point of Wenxin large model optimization is the addition of knowledge graphs. As a method of information processing, the knowledge map represents the concepts and interrelationships in the real world with symbols, and finally forms a visual "map". Adding this method to pre-training increases the ability of large models on knowledge-related tasks.
existtraining dataIn addition, Wenxin large model also has obvious characteristics.Based on Baidu's own data advantages, the corpus for training models comes from Baidu Encyclopedia, Baidu News, Baidu Tieba, and Chinese Wikipedia. This contains a large amount of informative corpus.
In July 2019, Baidu upgraded the model again, released ERNIE 2.0, and won 5 world championships in SemEval, the world's largest semantic evaluation competition in 2020.Up to now, the outstanding ability of Wenxin Yiyan, a large-scale language model of Baidu, is "knowledge enhancement".Ability to generate dialogue, text authoring.
The large model is an important component of the future AI industry system, but to use the large model, it also requires the joint construction of underlying computing power and upper-level applications. Baidu has also carried out many practices in this direction.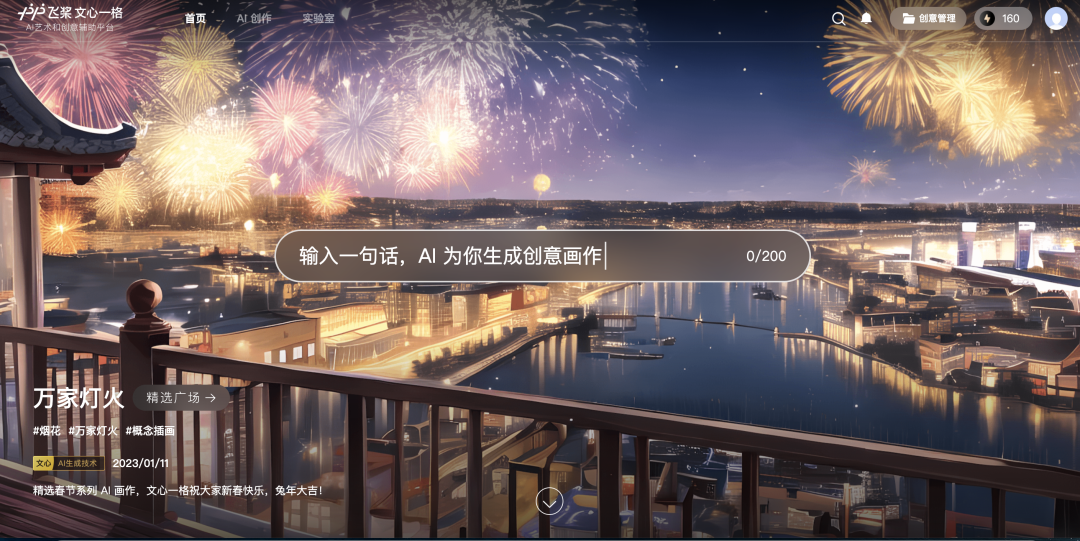 "Wen Xin Yi Ge" platform page|Source: Baidu
The platform that directly supports Wenxin's large model is the Flying Paddle industry-level deep learning framework. This is the deep learning framework that is widely used today. As of the end of November 2022, 5.35 million developers have been gathered on the Flying Paddle platform, 670,000 AI models have been created, and 200,000 enterprises and institutions have been served, ranking first in the comprehensive market share of deep learning platforms in China. In the overall architecture of Baidu's AI capabilities, the deep learning framework is located on the second layer, and the overall four-layer capabilities include "bottom chip + deep learning framework + large model + application layer".
At the end of last year, Baidu released the latest generative AI product "Wen Xin Yi Yan", which is the latest product of the application layer and has been used by many new media to produce picture materials. This is an AI painting platform, powered by Paddle learning framework and Wenxin large model. Wu Tian, ​​vice president of Baidu Group and deputy director of the National Engineering Research Center for Deep Learning Technology and Application, introduced,Baidu has formed the Wenxin large model into an overall layout of "model layer + tool and platform layer + product and community layer".
The release of the "Wen Xin Yi Ge" product means that Baidu has begun to accumulate large-scale engineering capabilities, and the next release of the "Wen Xin Yi Yan" product will carry out more explorations along this direction.
03
"Wen Xin Yi Yan" integrates more businesses
LeCun, one of the three giants of deep learning, said that the new AI boom will bring about a renaissance of deep learning research and development within enterprises. This is true for Baidu. Different from academic research and development, technology research and development in enterprises not only involves proof of concept, but also requires greater costs due to the combination of exploration and business scenarios and scale.
As Microsoft President Narad said, AI will fundamentally change every software category.Now, it is coming to an accelerated period of exploring the combination of large models and more business scenarios, and empowering products. Baidu has also announced related plans.
The "ERNIE Bot" (ERNIE Bot), which will be released in March, is a new semantic understanding platform based on the Wenxin model. As can be seen from the English name Bot, the underlying technology will be a chatbot-like dialogue model. "Wen Xin Yi Yan" will use cross-modality, language understanding and generation capabilities to provide people with a natural and smooth chat experience.
For Baidu, with such a new technology platform, the first thing that can be improved is the search product.At present, the revenue of search products accounts for about 60% of Baidu's overall revenue, and it is still one of the most important products.
Over the years, the shape and user experience of search products have not changed much. When the dialogue experience complements the original search engine, users can also directly read targeted generated content while searching for relevant links. This will be the most significant product change in search products in more than ten years. This will also become a new traffic entrance for the Internet.
This kind of dialogue ability can also be connected to the scene of the smart cockpit and embodied in the form of voice interaction.At the launch meeting of the Sanlitun Experience Center not long ago, Jidu CEO Xia Yiping said, "Jidu will integrate the comprehensive capabilities of Baidu Wenxinyiyan to support the advancement of car robots to achieve natural communication." When the new model capability is integrated In the car terminal, people can not only control the device more comprehensively through voice in the cockpit, but also get an experience similar to communicating with a "person".
In addition to C-end products, model capabilities will also be connected to Baidu's smart cloud to improve B-end service capabilities.Shen Dou, Executive Vice President of Baidu Group and President of Baidu Smart Cloud Business Group, said that "Wen Xin Yi Yan" will provide external services through Baidu Smart Cloud, and take the lead in landing in content and information-related industries and scenarios.
It will be an inevitable trend to introduce the capability of large models into cloud services. Microsoft has previously stated that it plans to introduce a number of OpenAI technologies into Azure cloud services, including ChatGPT and the painting model DALL-E. In the future, the process of AI rewriting software will really happen through cloud services.
Baidu Smart Cloud announced that it will launch an API interface for the "Wen Xin Yi Yan" model in May. This will improve Baidu Smart Cloud's service capabilities in speech synthesis, machine translation, and natural language processing. Customers can directly call related capabilities and apply them to specific scenarios.
Last year, Baidu Smart Cloud achieved an annual growth rate of 12%, ranking first in the AI ​​cloud market. Specifically, in the fields of digital human beings and smart cities, Baidu Smart Cloud has the largest market share. Other businesses outside of Baidu's search business are mainly driven by Smart Cloud and other AI-driven businesses.The access to large model capabilities will bring stronger growth potential and expand the service scope of AI cloud.