In addition to iPadOS 16.1, Apple today also pushed the macOS 13 update (build number: 22A380) to Mac computer users.
macOS 13 Ventura brings functions such as front-of-stage scheduling, continuous intercommunication cameras, and FaceTime call relay. Among them, the front-end scheduling allows users to seamlessly switch between various apps and windows while focusing on the work in front of them.
Front Desk Scheduling – Automatically organize your workspace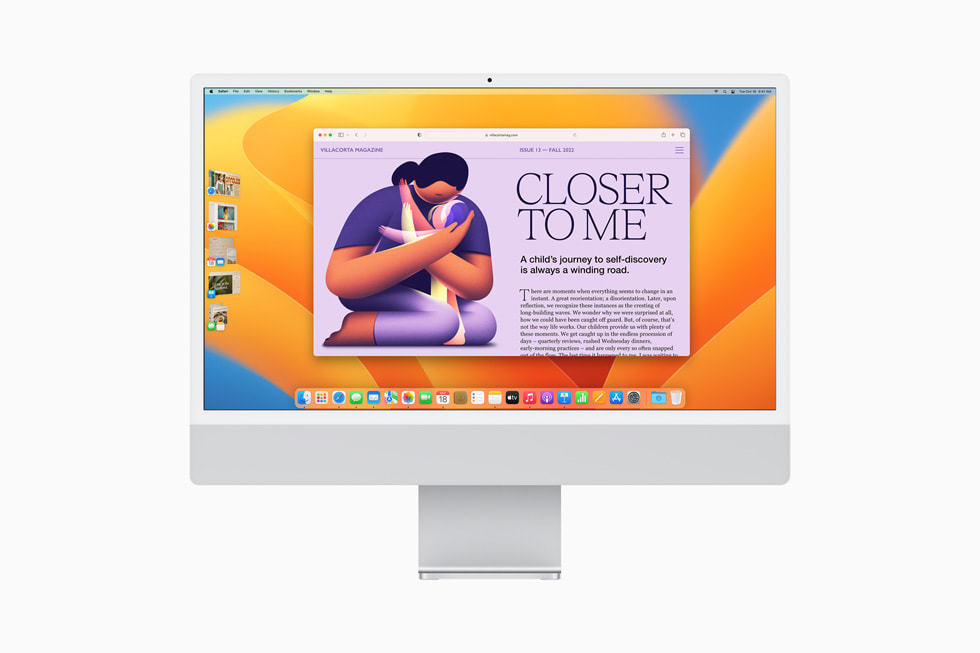 The front-end scheduling will automatically organize all open apps and windows, allowing users to focus on their work while being able to see all the conditions at a glance. After the front-end scheduling is enabled in the control center, the window that the user is using will be placed in a prominent position in the center of the screen, and other open windows will be displayed on the left side of the screen, which is convenient for users to quickly switch between different tasks.
Users can create groupings of windows or apps based on specific tasks or projects to create the ideal workspace. Front Office Scheduling also works in conjunction with other macOS window tools such as Scheduling Center, Spaces, etc., allowing users to easily return to the desktop with a single click.
Apple devices work together with continuous connectivity
Mac users can use the iPhone as a webcam with Continuity Camera. With Continuity, the Mac can automatically recognize and use the camera of a nearby iPhone without the user having to wake up or select it, and the iPhone can also establish a wireless connection with the Mac.
Continuity Camera brings several new features to all Mac computers, including Portrait Centering and Portrait Mode, as well as new studio lighting. In addition, Continuity Camera leverages the iPhone's ultra-wide-angle camera for desktop view functionality, showing both the user's face and a top-down view of the desk surface.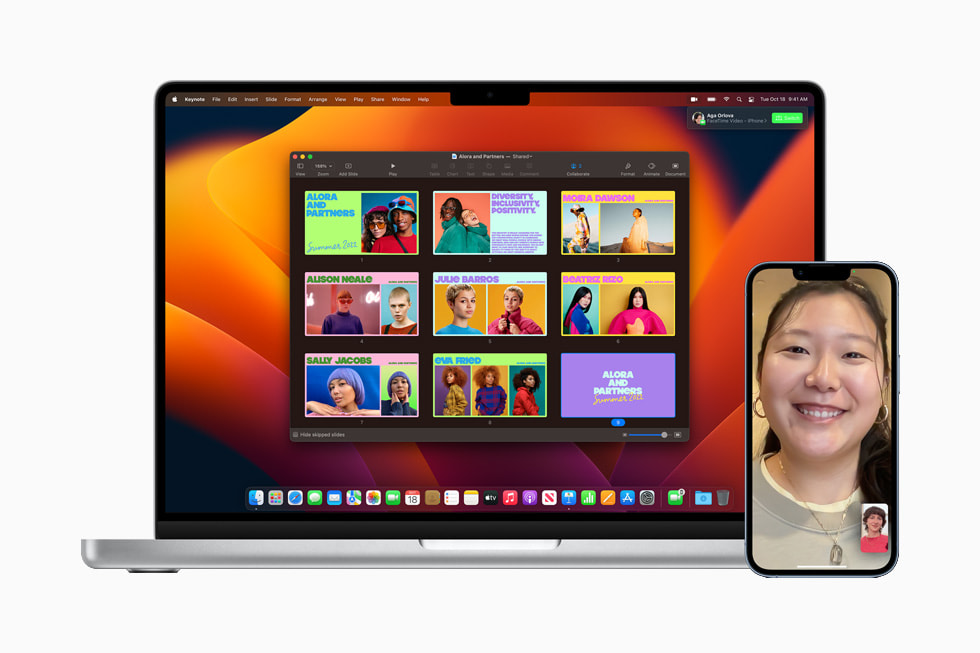 The FaceTime app also works with Handoff, allowing users to seamlessly switch to another nearby Apple device to continue the call after FaceTime is turned on on one Apple device. Users can start a FaceTime call on an iPhone or iPad, then switch the call to the Mac with a single tap, or start the call with the Mac and switch the call to the iPhone or iPad when they need to leave their seat.
Mail App – New Upgrade to Further Improve Efficiency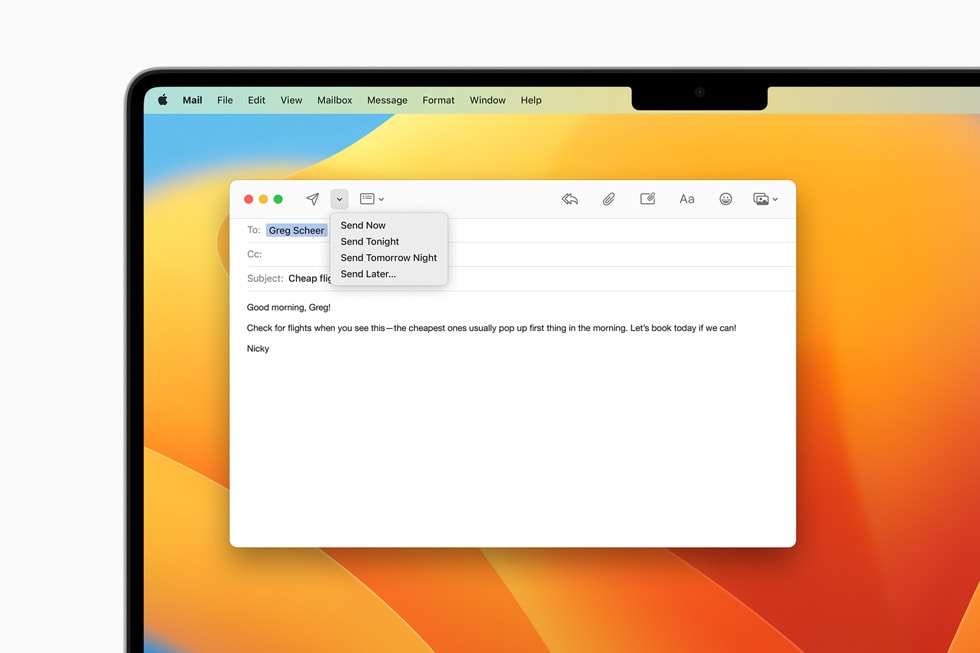 Using the Mail app, users can schedule emails to send, undo them before they reach the recipient's inbox4, and add graphic links to better preview content. The Mail app can also detect if attachments or cc recipient information is missing, prompting the sender to add it. Users can set a later reminder to deal with an email at a later time, and receive automatic follow-up reminders when they do not receive a reply to the email.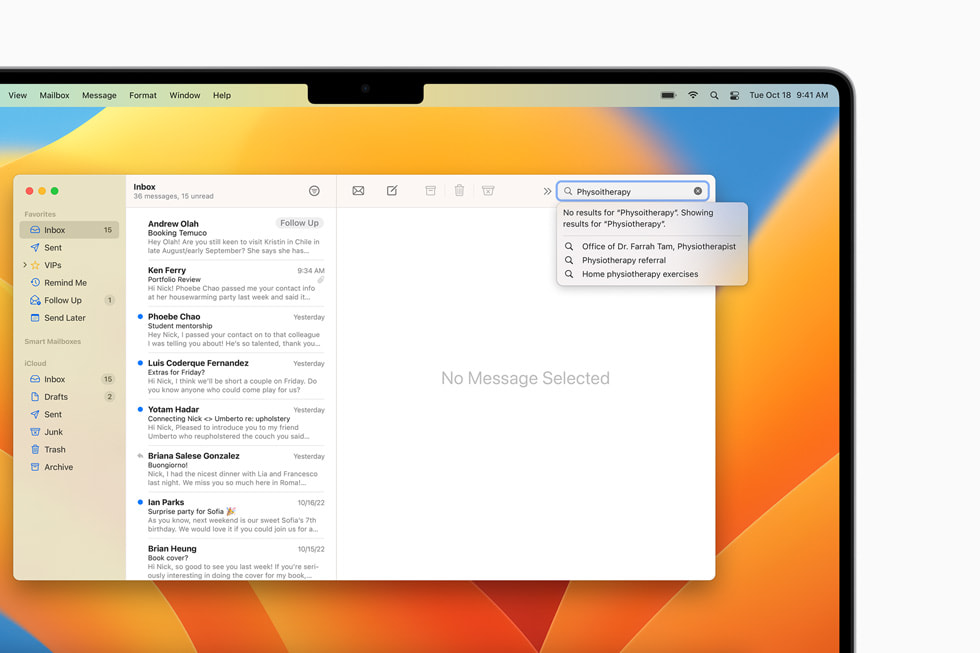 The Mail app's search function uses advanced technology to present more accurate and complete results. Users simply tap the search box and can easily find what they want without typing, including recent emails, contacts, documents, photos, and more.
Safari browser – new passkey and new collaboration tools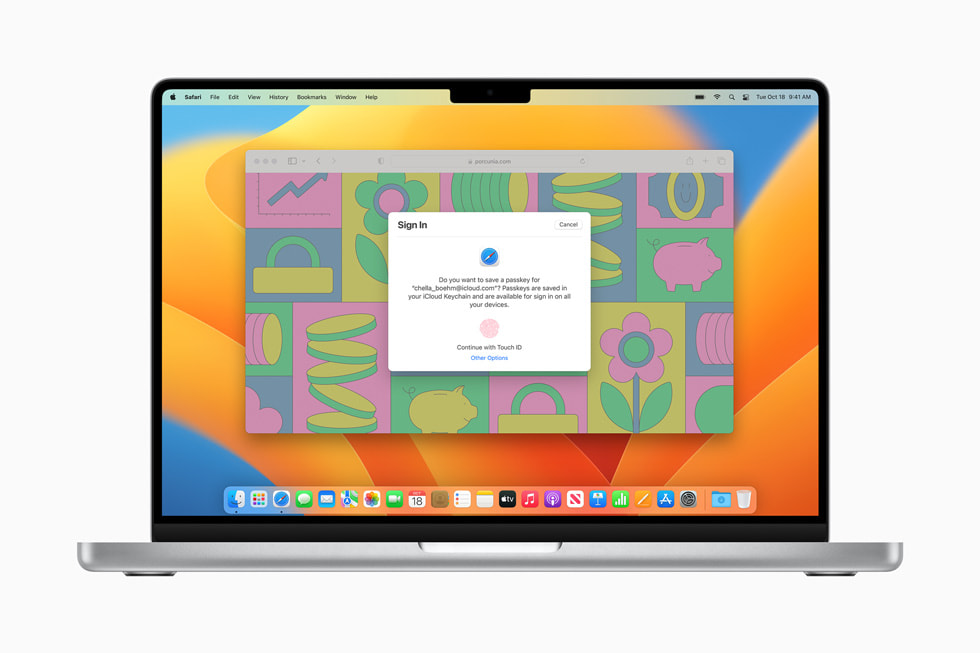 Safari opens up the password-less era with passkeys—a new way to log in and make the Safari experience even more secure. Passkeys are more secure, easier to use and designed to replace passwords. When a user creates a passkey, a unique set of digital keys is generated, which is only stored on the device and never uploaded to a web server, so hackers cannot leak them or trick users into sharing them.
Passkeys give users a simple and secure way to log in, use Touch ID or Face ID for biometric authentication, and sync to iPhone, iPad and Mac with end-to-end encryption via iCloud Keychain. Pass keys are also applicable to various apps and networks, and users can log in to corresponding websites or apps on non-Apple devices using their iPhone.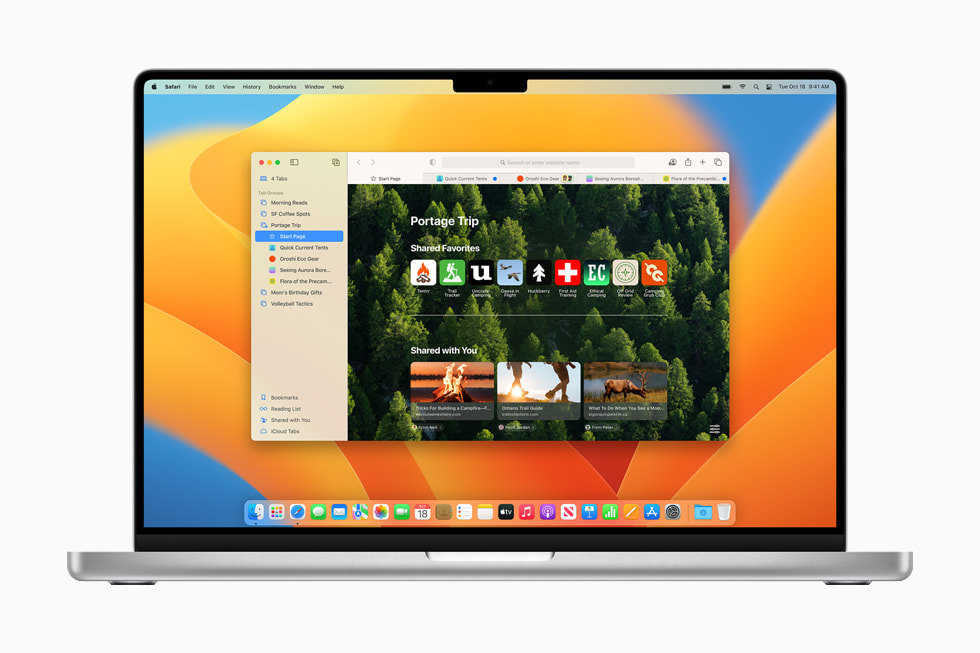 Safari's Shared Tab Groups give users a powerful new way to collaborate with others on the web. Users can easily share websites with family, friends, colleagues, and see in real-time which tabs others are browsing.
Users can also create bookmark lists on the shared start page to help start collaborative projects smoothly, such as planning family outings or completing research reports, and users can initiate messaging app conversations or FaceTime calls directly within the Safari browser to all members of the group are automatically added.
iCloud Shared Gallery – Easily share photos with the whole family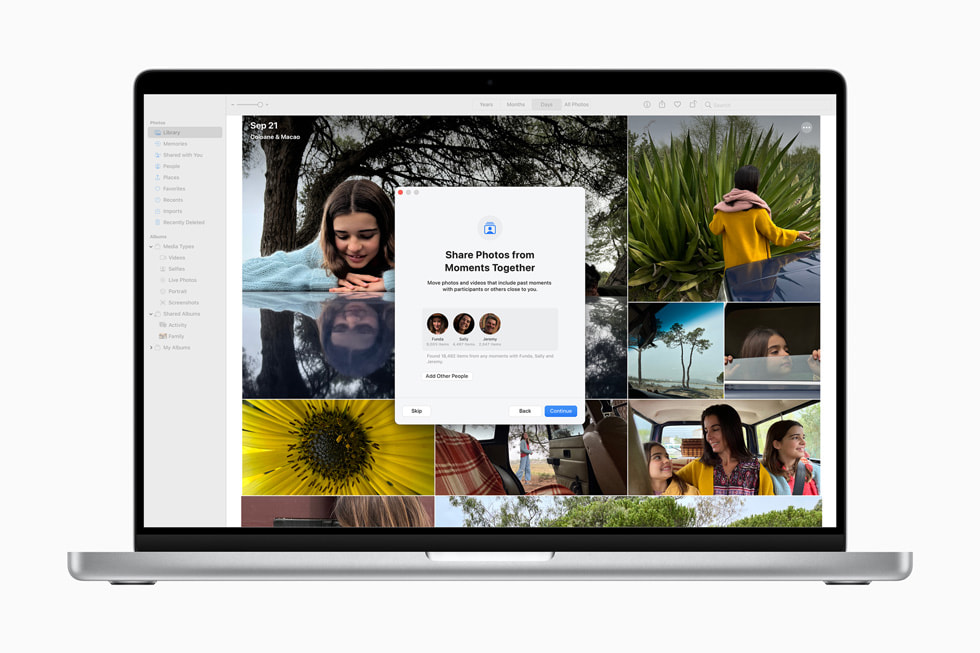 With the iCloud Shared Library feature, users can now create and share a single photo library among up to 6 family members, allowing everyone to enjoy all family photos. Users can easily share all photos in their personal library, or share specific photos by setting a start date or specifying a person, etc.
Users will receive smart reminders to share photo moments including gallery members and other selected people. Each member can add, delete, edit or favorite shared photos and videos, which appear in each member's Memories and Featured Photos, ensuring all members can relive more complete family memories.
In macOS Ventura, the Weather app and Clock app are optimized for Mac, including all features of the iPhone version.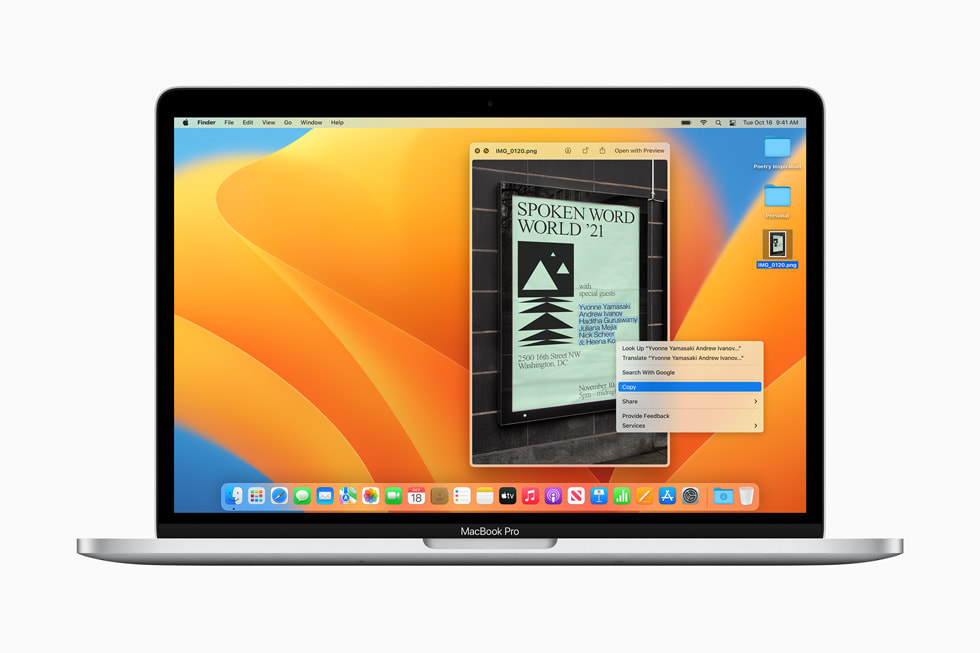 Live Text recognizes text in paused video frames, and adds support for Japanese and Korean text. Users can now extract subjects from images and place them in apps such as messaging.
macOS 13 Ventura's "Boundless Notes" app is not available in the official version and will be launched later this year. "Boundless Notes" is a productivity app that allows users to write and draw, jot down flashes of inspiration, or add any needed information.
macOS 13 Ventura for 2017 iMac and later iMac Pro, 2018 and later MacBook Air, 2017 and later MacBook Pro, 2019 and later Mac Pro, 2018 and later Mac mini, 2017 year MacBook.
It should be noted that due to the cache configuration of Apple's regional node servers, there may be a slight delay in the detection of the upgrade update in some places. Generally, it will not be too long within half an hour.