Huawei sues Amazon over patent dispute
Recently, Huawei Technologies Co., Ltd. added a new court announcement. The cause of the case is a dispute over infringement of invention patent rights. The defendants are Amazon.com, Amazon.com, Amazon.com Information Services (Beijing) Co., Ltd., Compal Computer Industry Co., Ltd., etc. The case will be held on December 1. The hearing was held in Suzhou Intermediate People's Court of Jiangsu Province on 8th.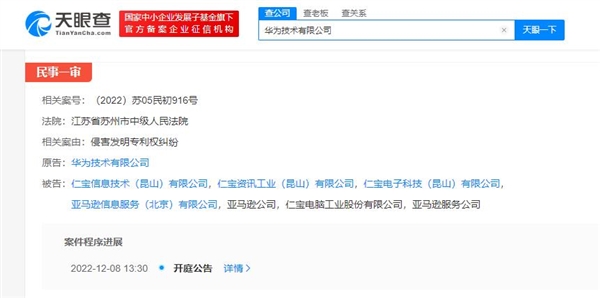 Image source: Fast Technology
On April 6 this year, the minutes of the "Patent Licensing Business Report" issued by Ren Zhengfei disclosed by the Huawei Xinsheng Community mentioned that Huawei's intellectual property was used for self-defense in the past. Now that it has a certain right to speak, it is necessary to build a reasonable price Benchmark, patent fees cannot be charged for the sake of charging, nor can they be too low, which will stifle innovation in society as a whole.
As of the end of 2021, Huawei holds more than 45,000 valid authorized patent families worldwide, more than 90% of which are invention patents. (Source: IT House)

Mobileye's first day of listing: closing up 37.95% from the issue price, with a market value of $23 billion
Mobileye, an autonomous driving subsidiary of Intel, officially listed on the Nasdaq today with the trading symbol "MBLY", and the opening price was US$26.71 per share, a 31% increase from the issue price of US$21. The closing stock price rose 37.95% from the issue price to $28.97, with a market value of $23 billion.

Image source: Sina Finance
Mobileye first went public in 2014 at a valuation of $5 billion. Intel acquired Mobileye in 2017 for $15.3 billion. In August, Mobileye filed for an IPO with the U.S. Securities and Exchange Commission. According to the prospectus, Mobileye's revenue in the first half of this year was $854 million, a year-on-year increase of 21%. Mobileye's 2021 revenue is $1.4 billion.
After the IPO, Mobileye was valued at $16.7 billion. Intel had hoped it could achieve a valuation of $50 billion.
Intel CEO Henry Kissinger said the listing could bring Mobileye "to market." (Source: Sina Finance)
ZTE: R&D investment of 16.11 billion yuan in the first three quarters increased both revenue and net profit
On October 26, ZTE released its 2022 third quarter report. From January to September 2022, the company achieved an operating income of 92.56 billion yuan, a year-on-year increase of 10.4%, and the net profit attributable to ordinary shareholders of listed companies was 6.82 billion yuan, a year-on-year increase of 16.5%; deductions attributable to ordinary shareholders of listed companies are non-recurring. The net profit from the profit and loss was 5.55 billion yuan, a year-on-year increase of 55.3%; the basic earnings per share was 1.44 yuan.
In the first three quarters, ZTE's second-curve business represented by servers and storage, terminals, 5G industry applications, automotive electronics, and digital energy maintained rapid growth, and its second-curve operating income increased by nearly 40% year-on-year. Among them, server and storage operating income increased by more than 100% year-on-year. (Source: TechWeb)
NIO researches and plans to mass-produce lithium iron manganese phosphate and 4680 batteries
According to Jiwei.com, Weilai is developing its own "lithium manganese iron phosphate" and 4680 batteries, and plans to mass-produce these two batteries.
Among them, the lithium iron manganese phosphate battery will be supplied to NIO's sub-brand "Alps", which is positioned in the price range of 200,000-300,000 yuan. It also supports battery replacement and is expected to be launched in 2024; It will be applied to NIO's third-generation platform (NT3) models in 2024. (Source: Pinwan)

General Office of the State Council: Implementing policies such as phased reductions in the purchase tax of some passenger vehicles, and continued exemption from the purchase tax for new energy vehicles
According to the China Government Network on October 26, the General Office of the State Council issued the "Notice on Printing and Distributing the Key Task Division Plan for the 10th National Video and Telephone Conference on Deepening the Reform of "Delegation, Regulation and Service", and proposed to implement the phased reduction of some passenger cars. Policies such as car purchase tax, extension of new energy vehicle purchase tax exemption, and relaxation of restrictions on the relocation of second-hand cars.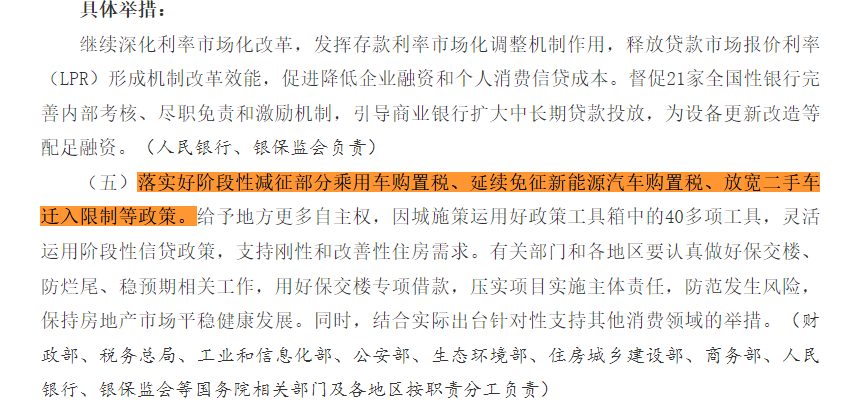 Image source: Chinese government website
The vehicle purchase tax exemption policy for new energy vehicles started in 2014. The relevant authorities announced in December 2017 that the purchase tax exemption policy would be extended to the end of 2020. In 2020, the new energy vehicle purchase tax exemption policy will be extended for the second time until the end of 2022. This year, the purchase tax exemption policy for new energy vehicles has been extended again until the end of 2023. (Source: IT House)
Hyundai may source twice as many batteries from CATL
Hyundai is reviewing plans to procure more Chinese batteries, possibly increasing the number of batteries it buys from CATL.
Sources said that Hyundai is likely to more than double the batteries it purchases from CATL. Currently, nickel-based batteries are mainly considered, and batteries with a length of 300mm or less will be purchased, mainly for electric vehicles on non-E-GMP platforms. Sources say CATL is offering batteries that are priced lower than Korean rivals like LG Energy Solution and SK On.
The move is thought to come as Hyundai and sister brand Kia are building new car factories in South Korea that will specialize in electric vehicles. The plant plans to produce about 350,000 cars this year and plans to increase that to 1.44 million by 2030, a goal that also requires a sufficient supply of batteries. (Source: TheElec)

Sony releases Alpha 7R V flagship camera: 61 million pixels + new processor, 25,999 yuan
On October 26, Sony released a new generation of full-frame micro-single and dual image quality flagship Alpha 7R V, with a suggested retail price of 25,999 yuan, which will be available in late November.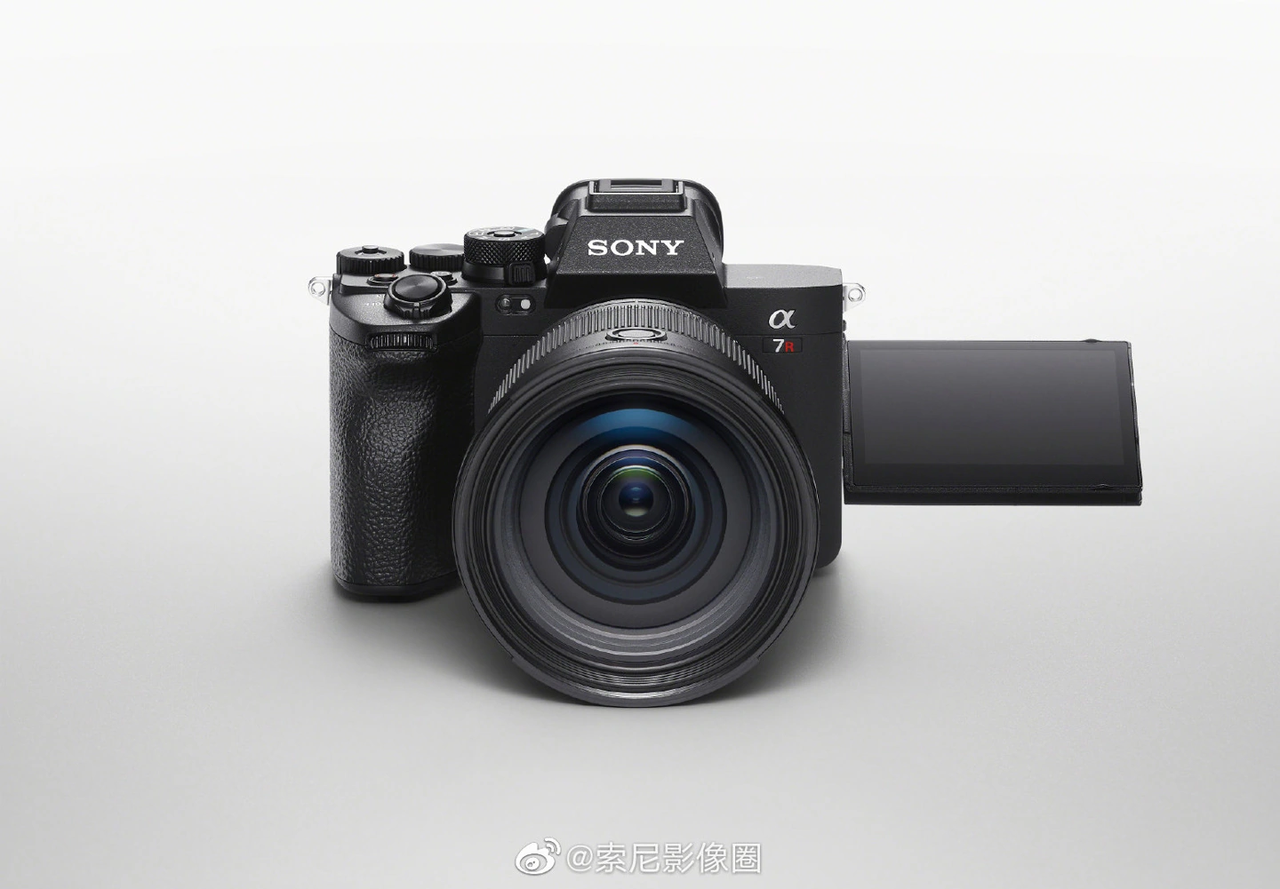 Image source: IT House
For the first time, the Sony Alpha 7R V is equipped with Sony's newly developed AI smart chip, with a high-resolution image sensor and Sony's latest BIONZ XR image processor, the sensitivity can be set to ISO 100-ISO 32000 when shooting photos and videos, and It supports 15 levels of dynamic range for photo shooting, which can more accurately identify and capture the subject when shooting photos and videos.
The Alpha 7R V captures approximately 61-megapixel still photos and 8K video, featuring efficient 8-level 5-axis image stabilization, creative looks, upgraded pixel-shifting multi-shot, and a new 4-axis multi-angle flip screen. (Source: IT House)

my country's carbon satellite was successfully used for quantitative monitoring of urban carbon dioxide emissions for the first time
Recently, the China Carbon Satellite Research Team of the Institute of Atmospheric Physics, Chinese Academy of Sciences, together with the Finnish Meteorological Institute team, used China's carbon satellite observations to quantitatively identify and calculate urban carbon emissions for the first time. It marks that my country has the ability to monitor the carbon emissions of human activities in space.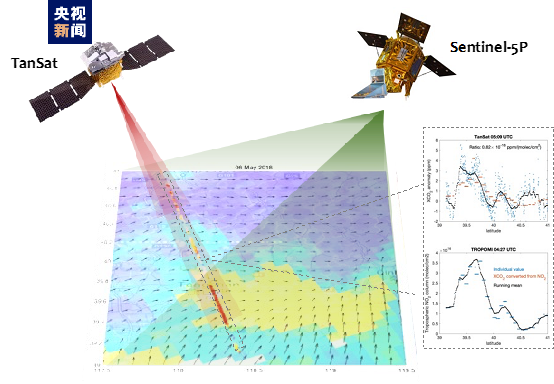 Image source: The Paper
In December 2016, the China Carbon Satellite was successfully launched into space and in orbit, becoming the third greenhouse gas satellite in the world. It is equipped with the main payload "Hyperspectral Resolution Atmospheric Carbon Dioxide Detector" and the auxiliary payload "Cloud and Aerosol Polarization Imager". Among them, the main payload is the high spectral resolution atmospheric carbon dioxide detector, which uses the near-infrared/short-wave infrared solar radiation reflected from the earth to detect the content of carbon dioxide in the atmosphere. (Source: The Paper)

New AI system provides virtual portraits for online meetings
Start-up EmbodyMe announced the launch of a new service "xpression camera Voice2Face" to provide customers with virtual portraits in web conferences.
Yoshida Yoshida, an executive of EmbodyMe, said that "xpression camera Voice2Face" was specially developed for the phenomenon of "net meeting fatigue", which can effectively solve the fatigue and sadness of soy sauce characters in lengthy network meetings.
The application will provide the same face as the participants. With the blessing of the AI ​​system, the interaction between expressions, actions and speakers can be realized. You can also customize character clothing, hairstyles, etc. Unless the host asks for the secret level of the password, you can't see it at all. who is fishing. (Source: cnBeta)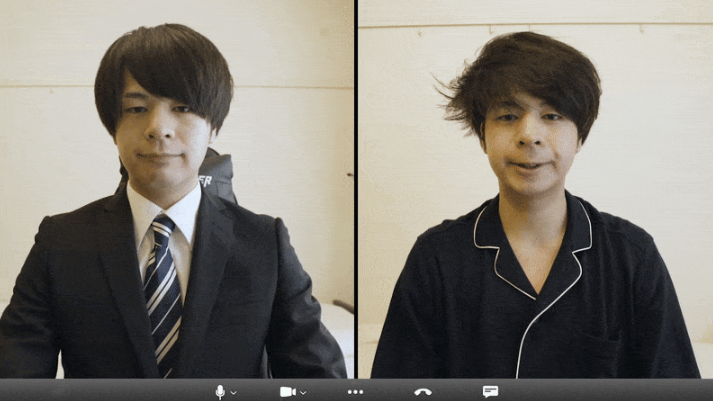 Image source: xpressioncamera official website