Due to the U.S. ban, HUAWEI has been challenged in manufacturing mobile phones, and the Mate series, which was released every year in the past, was absent last year. Now the HUAWEI Mate series is officially back.
Recently, when he was a guest on CCTV's "Meet the Big Guys" program, HUAWEI Yu Chengdong once said, "If the Mate 50 does not sell well, then my life will be very difficult. When we know that it sells very well, we will be alive again. This battle is won."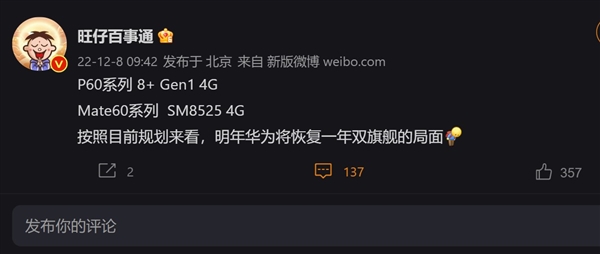 It is worth noting that a blogger broke the news a few days ago that HUAWEI will resumeOne-year double-flagship situation, that is, the HUAWEI P60 series in the first half of the year and the HUAWEI Mate 60 series in the second half of the year. In terms of processors, the HUAWEI P60 is equipped with the same Snapdragon 8+ Gen1 as the Mate 50, and it is still a 4G version. Mate 60 is equipped with SM8525, which is the 4G version of Snapdragon 8 Gen2 (5G version is SM8550).
Based on the previous news, the HUAWEI P60 series is expected to be equipped with a smart island design on the front and a combination of ring cameras on the back. Others think it has a single hole on the front and a separate double ring lens layout on the back. By convention, the HUAWEI P series focuses on photography. If nothing else, the HUAWEI P60 series is expected to adopt the second-generation Xmage imaging technology.
For more mobile phone information, please continue to stay on the Chinese version of TechNave!
【source】