Author | Xue Xiaowan
Editor | Jing Yu
This is another story of how Web3 startups quickly grow into unicorns. Four Chinese-American founders took 9 months to create Magic Eden, the largest NFT trading market on Solana, which sold $1.6 billion in June this year. at a valuation of $130 million in Series B funding.
But this isn't just a winner's playbook for a contrarian expansion in a crypto bear market.
At this stage of Web3 development, it has shifted from concept to application implementation, and the application layer is also predicted to be the next explosion point of Web3. But at present, there is no real "killer application" in the Web3 world, and the overall user volume is far from that of the Web2 era.
At last month's DuneCon 2022 conference, Tomasz Tunguz, general manager of Redpoint Ventures, provided a data: the cumulative DAU of Web3's mainstream public chains is about 2.5 million, while the Internet DAU is 5 billion, the former is only 0.05% of the Internet's daily activity.
How to catch up with the gap? Magic Eden's product map provides a construction path:More and more Web3 entrepreneurial projects are choosing to "fly on the ground", the first step in their accumulation,Is to let more Web2 users come first.
In the early stage when industry rules have not been fully established, the boundary between the old and new worlds is not so clear-cut, and some product experiences accumulated from Web2 are reshaping Web3.
A startup migration from Web2 to Web3
The co-founding team of Magic Eden is aThe complex spanning Web2 and Web3 complements each other in terms of technology, products, and operations.
The day after the $130 million Series B funding round, Magic Eden CTO Sidney Zhang posted a tweet, sharing his experience of failing a startup seven years ago. It was also in a crypto bear market at the time, and the Bitcoin SaaS company he founded failed to survive. After bankruptcy, he spent the night on a sailboat and went to Starbucks to recharge when the batteries died.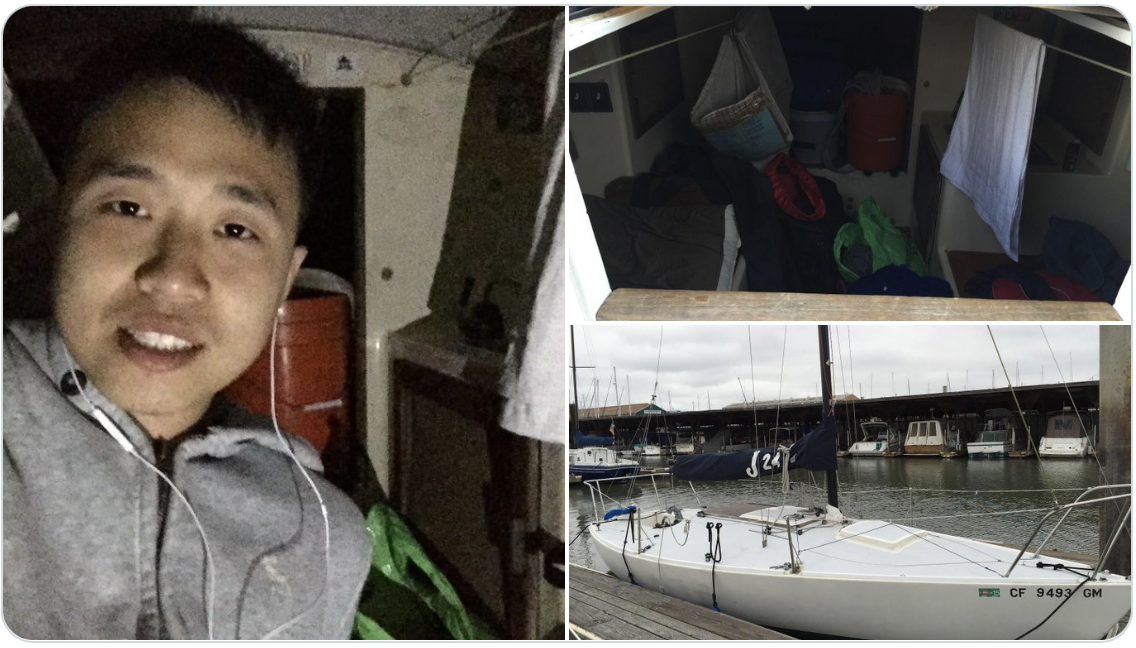 Magic Eden's CTO Sidney Zhang shared on Twitter his experience of living on a sailboat after his startup failed | Twitter screenshot
Including Sidney, Magic Eden's core founding team consists of 4 people. CEO Jack Lu and CTO Sidney are both Chinese-Australians. The two happened to meet at a bus stop when they were in middle school in Melbourne, and they both took the bus to go to a math cram school. The other two are COO Zhuoxun Yin and lead engineer Zhuojie Zhou, friends and former colleagues of Jack and Sidney.
The past working background of the four peopleIt covers the Web2 technology giants from Silicon Valley such as Google, Meta, and Uber, as well as the Web3 encrypted trading industry such as Coinbase, dxdy, and FTX. The positions include technical engineers, product managers and project operators.
In 2021, after working as a product manager at Google for 3 years, Jack will move to the cryptocurrency exchange FTX. At that time, he was optimistic about the development potential of the public chain Solana, and discussed with Sidney to create an NFT market based on Solana.
After the failed crypto startup in 2015, Sidney worked as a technical manager at Uber and then at Meta, managing teams of engineers involved in artificial intelligence, autonomous driving, and recommendation search. It is worth mentioning that he has participated in the development and construction of Uber Eats, the food delivery platform of Uber, and the feed ranking, search and recommendation systems of iterative products.
In fact,The business model and operating logic of the NFT trading market are similar to those of encrypted exchanges and food delivery platforms, involving mechanisms such as trading experience, personalized recommendations, platform commissions, and functional scenarios.. One of them is tech-savvy and the other has experience with Web2 products and working on a crypto exchange, which gave them a first-mover advantage to create Magic Eden.
The two recruited Zhuoxun, who has extensive experience in the Web3 field, as COO. Zhuoxun was the No. 2 employee of the decentralized exchange dYdX, in charge of strategy and business operations, and also worked as a senior product manager at Coinbase, which can complement the team's experience in operations and Web3 products.
The last one, Zhuojie, the chief engineer, is a former colleague of Sidney at Uber and Meta. He has experience in open source projects and is good at API gateway architecture and implementation.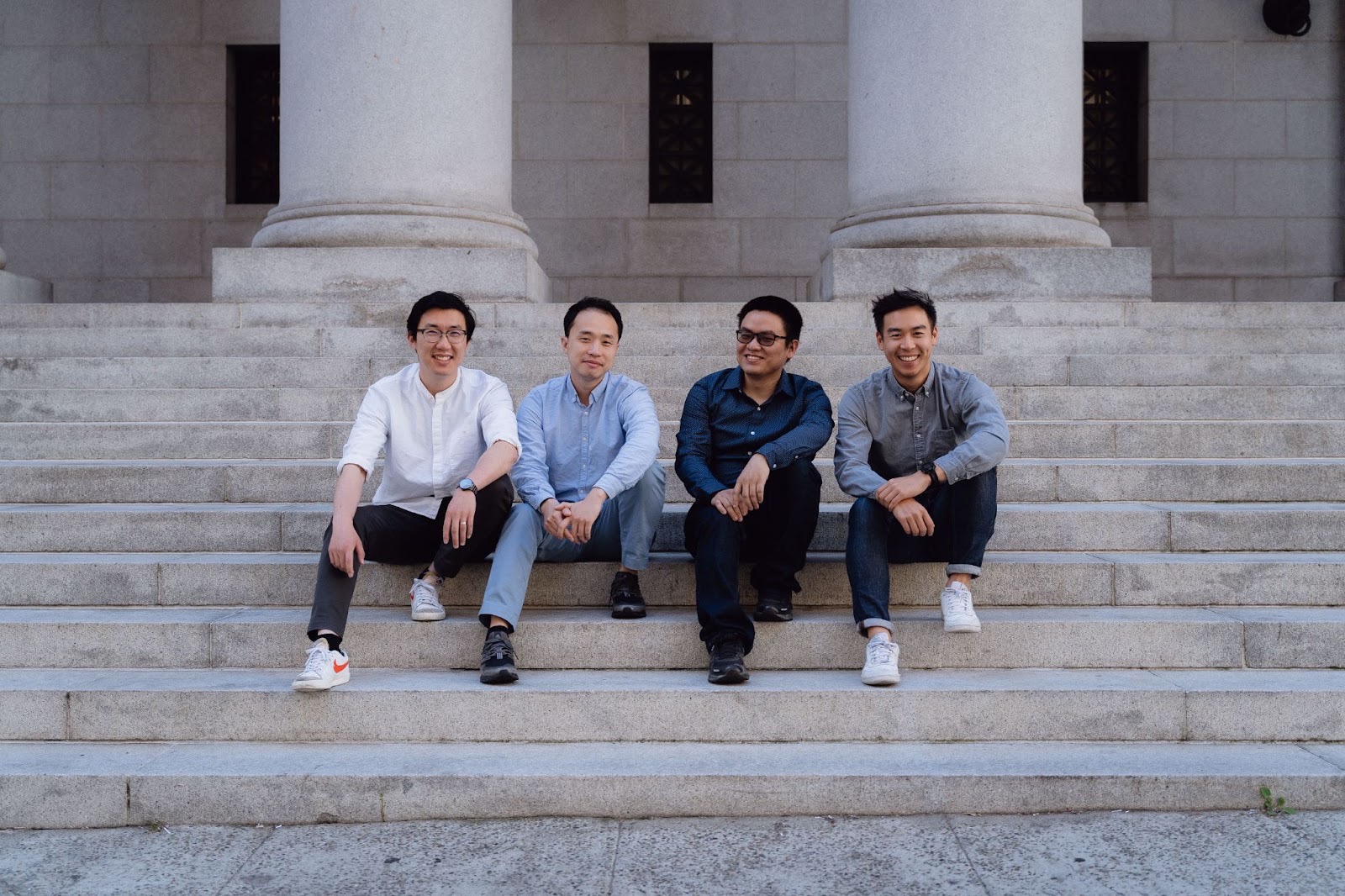 Magic Eden's core founding team members (left to right): Jack Lu, Sidney Zhang, Zhuojie Zhou and Zhuoxun Yin|li.substack.com
At the beginning of the team's formation, the four people did not resign "all in" Magic Eden. They used pseudonyms to contact and evaluate NFT projects in their spare time, introduced high-quality NFT projects, recruited the team, and completed the early construction of the product.
After two weeks of preparation, Magic Eden went live on September 17, 2021.
On the first day of launch, Magic Eden completed $50,000 worth of transactions. The project side takes a 2% commission from each transaction. According to CEO Jack, "We have been profitable since the first day we went online." A month later, the team members resigned from their previous full-time jobs and went all out to "build" Magic Eden.
Last month, Magic Eden officially announced its first anniversary transcript: 320 NFT projects were minted and released on the primary market, and more than 12,000 NFT collections were listed on the secondary market, with a transaction volume of more than 12 million and a transaction value of more than $2 billion. . this means,Magic Eden accounts for more than 90% of Solana NFT market transactions.
Now, the Magic Eden team has more than 100 people, and the main office is in San Francisco. Interestingly, the owner of the sailboat who gave the bankrupt Sidney a place to stay has also joined.
Web3 Product Map, where to start?
Magic Eden's first highlight was in May of this year.
At that time, the performance of NFT transactions on Solana was heating up, and the daily transaction volume of Magic Eden once surpassed OpenSea, the old NFT market.
Although this short catch-up didn't really shake the status of OpenSea's industry leader (OpenSea was founded in 2017 and is currently valued at $13 billion), it has given Magic Eden a wave of attention.
In the subsequent NFT market rankings, Magic Eden ranked second in the number of users and transaction volume, followed by OpenSea.
In the fierce NFT track,Magic Eden's breakout is largely due to product design.As a trading market platform, Magic Eden needs to connect the two groups of users and project parties, and has a rich reserve of high-quality projects. This logic is similar to that of similar products of Web2. After the platform has a clear product positioning, the first step is to design products based on the traditional trading experience that Web2 users are more familiar with, lowering the barriers to entry and increasing user growth.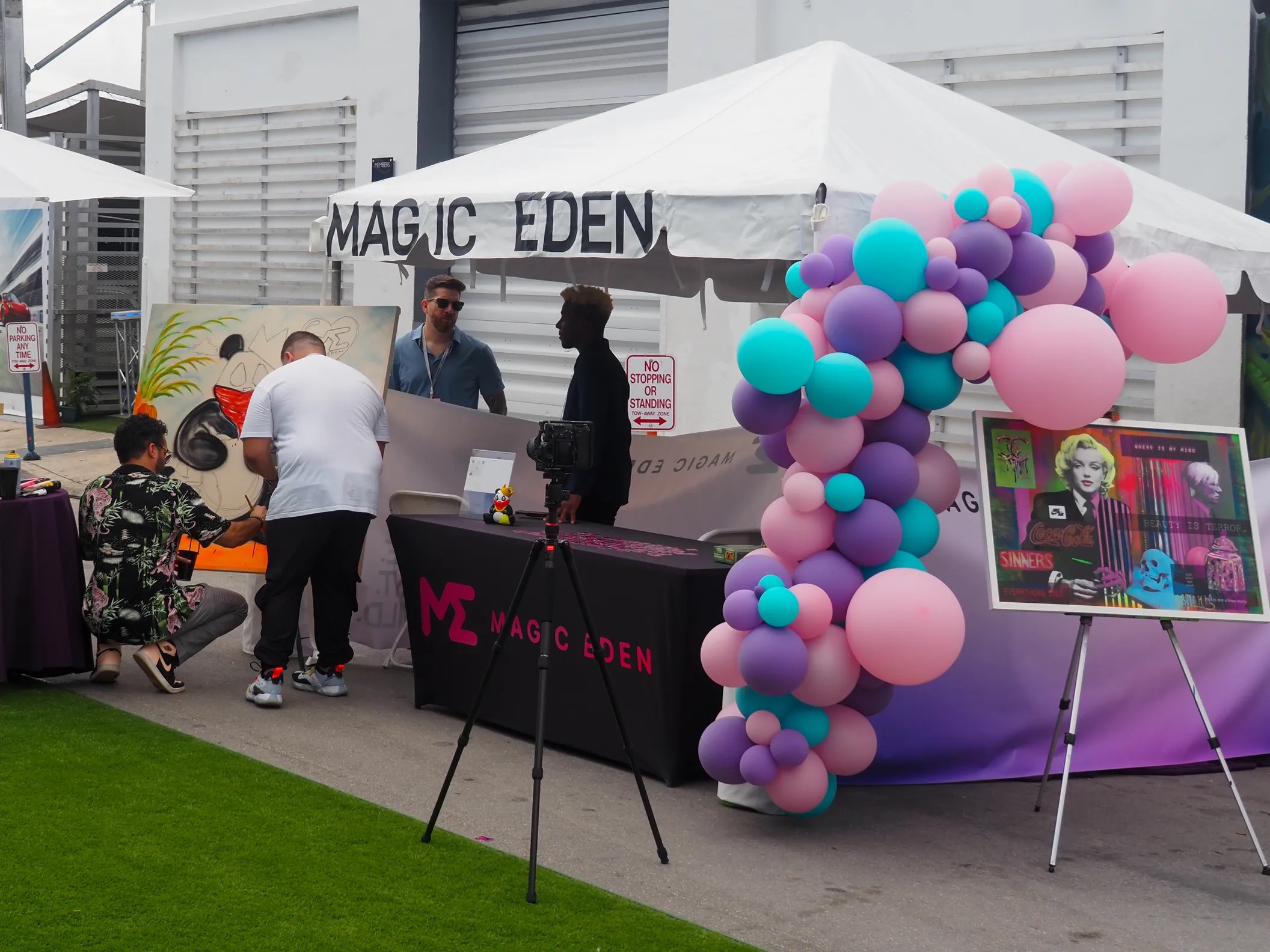 Magic Eden Booth at Solana Developer Event | CoinDesk
For newcomers outside the circle, entering a Web3 application (Dapp, Decentralized application) is an unfamiliar experience. The first door to be opened is to create a wallet—compare with the account registration link of Web2 products. Generally speaking, a wallet is an independent Dapp that needs to be downloaded separately. This switching and jumping operation raises the threshold for using Dapp, which is not in line with the familiar usage habits of users.
In addition, there are many professional terms and on-chain data that outsiders cannot understand in the process, such as complex and irregular mnemonics. Every time the learning threshold is raised, the probability of being persuaded to quit midway also increases.
The product design of Magic Eden provides an idea of ​​lowering the threshold of use, creating a Web2 product experience that is more familiar to ordinary users.Specifically, Magic Eden divides its platform users into two categories, one is retail players, and the other is NFT project parties and creators.
For ordinary novice retail investors, the "Intro to NFTs" and "Support" options are set on the side of the function bar of the Magic Eden homepage. After entering, you can see the basic knowledge about NFT entry, such as how to set up a wallet and deposit money, Operation guide for buying and selling NFT… These FAQs are classified and displayed to users through text and video to form a complete set of teaching.
In addition to "hands-on science",The most obvious aspect of Magic Eden's novice friendliness is the platform's login method, before using Magic Eden, you do not need to download the wallet Dapp separately, and you do not need to have a wallet address in advance. Magic Eden has a built-in browser plug-in for the wallet. After installing the plug-in according to the instructions, the page can directly generate and connect to a new wallet address. After setting the password, the user can complete the first login.
When you log in again later, just click "Connect Wallet", and the experience is similar to the daily login of an account with a traditional app.
For "senior players" who are more familiar with NFT trading, the premise of buying and selling NFTs is to understand the market conditions and dynamic information of the project – the so-called DYOR (Do Your Own Research), but newbies often fall into a lot of information in the process. and tool screening. Magic Eden has set up functions such as popular NFT series, release calendar, data statistics board, etc., players canTrack and study the projects you are concerned about directly in the platform, make transaction decisions and asset allocation, and achieve a closed loop.This experience is close to "one-stop" and does not require additional analysis platform tools.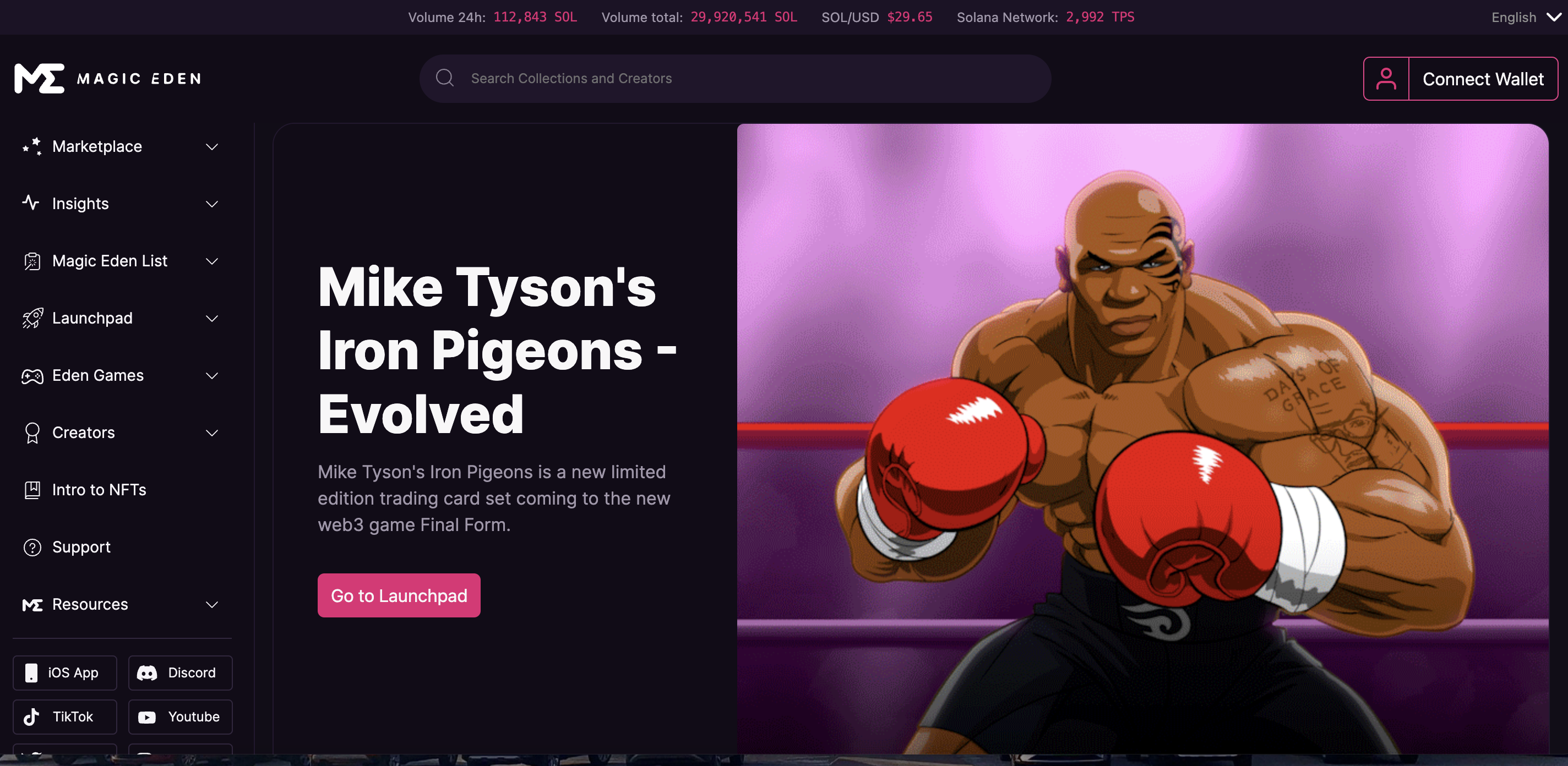 Screenshot of Magic Eden's interface
For the project party, the important product innovation of Magic Eden is to create the core function of LaunchPad.this functionMainly serving project parties and creators in the primary market, providing a NFT casting platform,It can solve most of the problems that caused the project side headaches in the early stage, such as the development of smart contracts, traffic support for new works, and shortening the time interval for NFT to be launched on the secondary market after casting.
Since December last year, the LaunchPad feature has brought Magic Eden more than $10 million in revenue, and has attracted more than 300 first-time projects to the platform, most of which remain in Magic Eden's secondary market after their first release.
Last month, Magic Eden added a new "List" function, which canFree help creators self-manage whitelists. Creators only need to click to create a whitelist, and they can collect user IDs and wallet addresses from Discord and Twitter. The whole process of generating a whitelist can be completed within 30 seconds, supporting Solana and Ethereum cross-chain.
Fighting the Growth Curve in a Bear Market
In addition to a friendly user experience, Magic Eden also bets on NFT games,It is believed that games will become the entry point for more newcomers to Web3.
In March this year, Magic Eden launched the game content aggregation center Eden Games on the homepage. In this exclusive resource position, the project party can publish game content, and the platform is equipped with special personnel to provide project consulting services, as well as customizable casting services. For newly launched games, the platform will support traffic exposure and provide marketing resources such as encrypted Internet celebrities.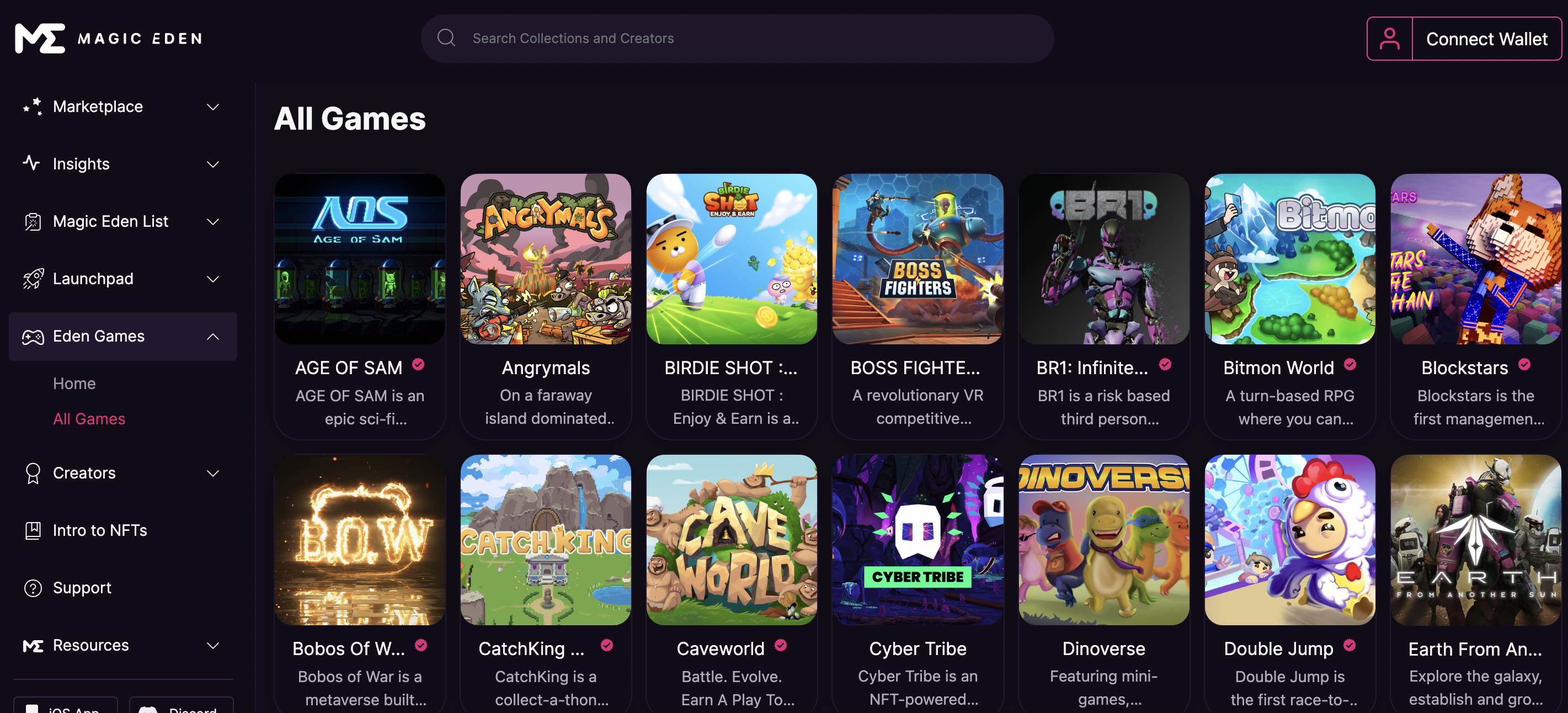 Games on Eden Games
Users can see a collection of various game logos on the Eden Games interface, select a game they are interested in and click to enter, and can see the game's animated video and text introduction, keyword tags, and the introduction of the developer team.
The interface also provides the game's official website entrance and community entrance. Users can directly enter the game's official website from Eden Games, start the game experience, and purchase game assets NFT directly on Eden Games. Since its launch, Eden Games has launched more than 30 games and has more than 20 million monthly visits.
Gaming has become Magic Eden's most obvious growth strategy, and theyLaunched an investment arm, Magic Ventures, focused on investing in Web3 gaming projects.
In CEO Jack's view, there is no so-called "Web3 player". People who like to play games don't care whether they are playing Web2 games or Web3 games, they just want to play games. "We're going to see a shift – developers who are proficient in game content will come into the space and use Web3 more as a tool to achieve some player goals or product goals in the game itself."
In this round of the crypto bear market, in order to continue to expand the scale, Magic EdenCross-chain plans to expand to Ethereum announced in early Augustusers can buy NFTs on Ethereum on the platform, such as cypherpunks, boring apes, and the platform will also provide the same services as those on Solana to NFT project parties on Ethereum.

The entire crypto market is sluggish, and the competition among various NFT trading platforms is more intense.Facing the attack of the old market OpenSea in the front and the emerging markets such as Solanart in the back, on October 14th, Magic Eden announced that it will open theOptional royalties – NFT traders are no longer required to pay royalties to creators, allowing buyers to choose to pay full, half or zero royalties.
Correspondingly, in order to keep creators motivated, Magic Eden will also launch a hackathon program for creators with a prize of $1 million to motivate creators to develop new royalty protection tools and business models.
Whether the multi-chain expansion and the NFT royalty model reform can bring effective growth in the number of users and transaction volume for Magic Eden remains to be seen, but it can be seen that the platform is expanding its ecosystem and trying to include a wider range of users scope.
At the moment when Web3 is still a niche world, the ease of use and breaking the circle of products are topics that builders pay attention to and discuss intensively. The growth path of Magic Eden provides a reference example –Starting from the daily scenes familiar to Web2 users, we strive to attract users to the greatest extent possible and let them enter Web3 without perception.
Enter first, then build together.