Today, HONOR officially released a brand new smartphone – HONOR X9a 5G in Malaysia! This phone claims to have an "ultra-rugged OLED curved screen", and it is worth mentioning that this will be HONOR's first mid-range phone with a curved screen.
HONOR X9a 5G specifications and configuration
6.67-inch OLED curved screen, supports 120Hz screen high refresh rate + 300Hz touch sampling rate + 19201920Hz PWM dimming
Snapdragon 695 5G processor
13GB RAM(8GB +5GB)+256GB ROM
Three rear cameras: 64MP main camera + 5MP wide-angle camera + 2MP macro camera
Front 16MP selfie lens
5100mAh battery
Support 40W fast charge
Running Android 12-based Magic UI 6.1
Colorways: Titanium Silver, Emerald Green and Midnight Black
Speaking of the curved screen, it uses 0.65mm super-strengthened glass, which is stronger and more drop-resistant than the 0.55mm glass commonly used in the market. HONOR X9a 5 has passed 33 kinds of rigorous tests, including the 1-meter marble and concrete floor simulated drop test, and the random angle drop test of the roller. durable anxiety.
The curved screen of the HONOR X9a 5G has a wider viewing area and narrower bezels than flat screen phones. For a long time, many people don't like curved screens, mainly because they are prone to false touches. In this regard, HONOR X9a supports the I anti-false touch algorithm to reduce the probability of false touch. When the user holds the phone, it will not respond to unwanted touches, such as the edges of the screen, further reducing false touches.
HONOR X9a uses a 6.67-inch OLED display, with 1.07 billion colors, 100% DCI-P3 wide color gamut, 800 nits, 120Hz refresh rate, 300Hz touch sampling rate and 1920Hz high-frequency PWM dimming function. For the first time, HONOR has used the 1920Hz high-frequency PWM dimming function on the X series, which can reduce screen flicker.
In terms of battery life, the HONOR X9a has a built-in 5100mAh battery, which claims to be able to use it for up to 2 days on a single charge. Even with only 43% of the battery, it can support a day's use. HONOR X9a also uses a more durable battery, with a maximum capacity of over 80% after 1000 charge-discharge cycles, much higher than the industry standard of 500-800 cycles, which means that HONOR X9a can still enjoy a long-lasting battery after 3 years of use. HONOR X9a supports 40W fast charging, and it only needs to be charged for 30 minutes to provide 12.5 hours of video streaming services.
In terms of performance, the HONOR X9a is equipped with a Snapdragon 695 processor. With HONOR RAM Turbo technology, HONOR X9a is equipped with 5GB virtual RAM, bringing the total RAM to 13GB, providing a smooth experience. HONOR X9a is also an HONOR anti-aging engine. After 36 months of use, the aging rate of HONOR X9a is only 1.3%.
For shooting, HONOR X9a is equipped with a 64MP main camera + 5MP wide-angle camera + 2MP macro camera, and the front is equipped with a 16MP selfie lens, which makes selfies clearer and supports AI beauty mode.
HONOR X9a runs Magic UI 6.1, and it is also the first smartphone in the X series with a specific multi-screen collaboration function. You can connect HONOR X9a to HONOR laptops to work more efficiently.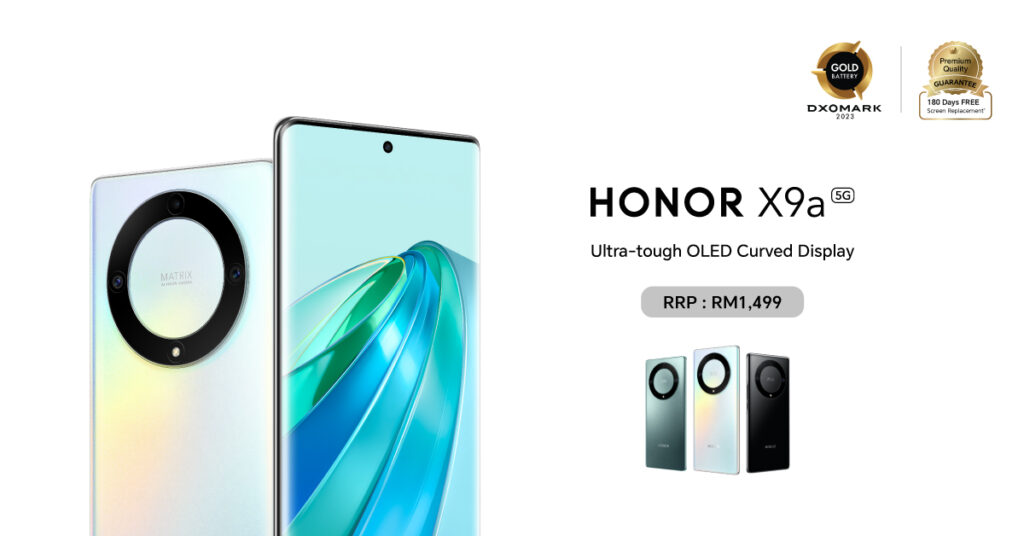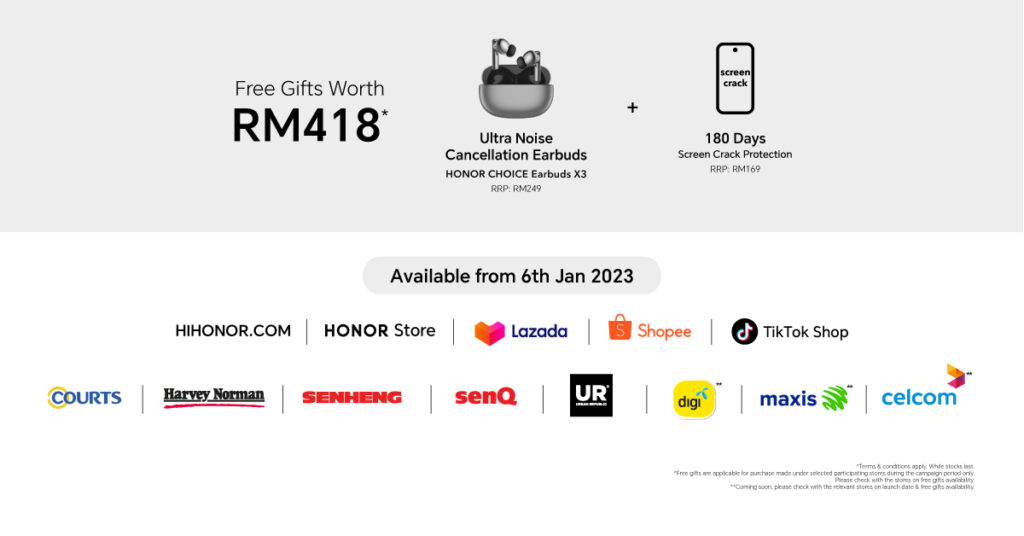 As for the selling price, the price of HONOR X9a is RM1499, and it will be sold on HONOR official website, HONOR Store, Lazasa, Shopee and other platforms and licensees on January 6. At that time, gifts worth RM418 will be given away, including HONOR CHOICE Earbuds X3 (worth RM249) and 180-day screen protector (worth RM169).
For more mobile phone information, please continue to follow Urban Tech Story!