MINISO CFO Zhang Saiyin retires, and vice president Zhang Jingjing will take over
On January 29, MINISO chief financial officer (CFO) Steven Zhang announced his retirement, and the previous vice president in charge of capital management, Eason Zhang, will take over as CFO. According to public information, Zhang Saiyin has served as the chief financial officer of MINISO since joining MINISO in July 2017, and has led the two listings of MINISO on the New York Stock Exchange in 2020 and on the Hong Kong Stock Exchange in 2022.
According to MINISO's internal notice, the reason for Zhang Saiyin's retirement is that he hopes to spend more time with his family in the future, and will continue to help MINISO promote its corporate culture and business philosophy as a senior consultant of the company. (Source: 36 Krypton)

The future of the operating system is confused, and the Google Fuchsia OS team has been laid off by more than 16%
News on January 29, Google recently announced the launch of large-scale layoffs, is expected to dismiss 12,000 employees from the company. According to the "New York Times" report, a large number of Google employees responsible for the Fuchsia OS operating system have been included in the wave of layoffs. Of the 400 people who participated in the project, at least 16% were fired, and Google's overall layoffs accounted for about 6% of all employees, so the layoffs of Fuchsia OS is a large proportion, foreign media 9To5Google statistics This can also be confirmed.
Prior to the layoffs, Google's Fuchsia OS had been in development for at least six years and had already been developed for use on the Nest Hub series of smart displays and was ready for other upcoming devices. (Source: IT House)
Intel announced that it has cut the Pathfinder for RISC-V project and network switch business
Intel officially announced recently that Intel will immediately terminate the Intel Pathfinder program for RISC-V. The termination was motivated by cost-cutting considerations. In addition, Intel announced that it will end future investments in its network switching product line.
Intel officials said the decision to discontinue Pathfinder for RISC-V has no impact on Intel Foundry Services (IFS) or the Horse Creek platform. The Pathfinder program is an Intel discovery project that began in August 2022 to help accelerate the development of RISC-V chips through a unified integrated development environment (IDE) using an industry-standard toolchain. These tools allow users to build RISC-V chips and then run them on FPGAs. Many large RISC-V companies support the initiative. (Source: Pinwan)
Honda establishes a new vehicle electrification department, integrating global business into three regions
According to Honda official news, Honda will carry out organizational and operational reforms, create an electrification business unit, and reorganize corporate functions and regional operations. The reorganization will take effect from April 1.
It is reported that Honda's new electrification department will be responsible for the development of electric vehicles, power generation and energy storage and other electronic products. In addition, the current six business regions will be reorganized into three regions. In addition to the North American and Chinese markets, Honda will integrate Japan, Asia and Oceania, South America, Europe, Africa and the Middle East into one business region. Honda is expected to launch a lineup of midsize to large vehicles in North America and China, and a lineup of small to midsize vehicles in other regions. (Source: IT House)

Real estate agents use ChatGPT: write housing information, calculate loans, and help customers complain to developers
A four-bedroom home in Cedar Rapids, Iowa, is listed for sale online. Relevant information includes typical listing descriptions such as "ideal for entertaining" and "plenty of room to relax." According to CNN, home agent JJ ​​Johannes entered a few keywords into the chatbot ChatGPT and created a description of the house in less than 5 seconds. Some agents say ChatGPT has changed the way they work, from writing listings and social media posts to drafting legal documents. It can also be used to automate repetitive tasks, such as answering frequently asked questions and performing complex expense calculations. (Source: The Paper)
Haima Motor responds to whether to cooperate with Xiaomi: there is no relevant matter at present
According to news on January 29, investors asked, "Have you cooperated with Xiaomi in car manufacturing?" Haima Automobile stated on the interactive platform that the company currently has no relevant matters. The company has always maintained an open attitude and actively carried out external cooperation. On the basis of landing the existing business, the company will actively communicate with all partners to strive for more cooperation and win-win results. If there are related cooperation matters, the company will promptly fulfill its information disclosure obligations in accordance with regulations. (Source: 36 Krypton)
More than 40 million major chip policies issued with the highest subsidy
On January 16, Shanghai released the "List of Major Construction Projects in 2023", with a total of 191 items, including SMIC's 12-inch chip project, Super Silicon Semiconductor's 300mm integrated circuit silicon wafer fully automatic intelligent production line and other chip manufacturing related projects. .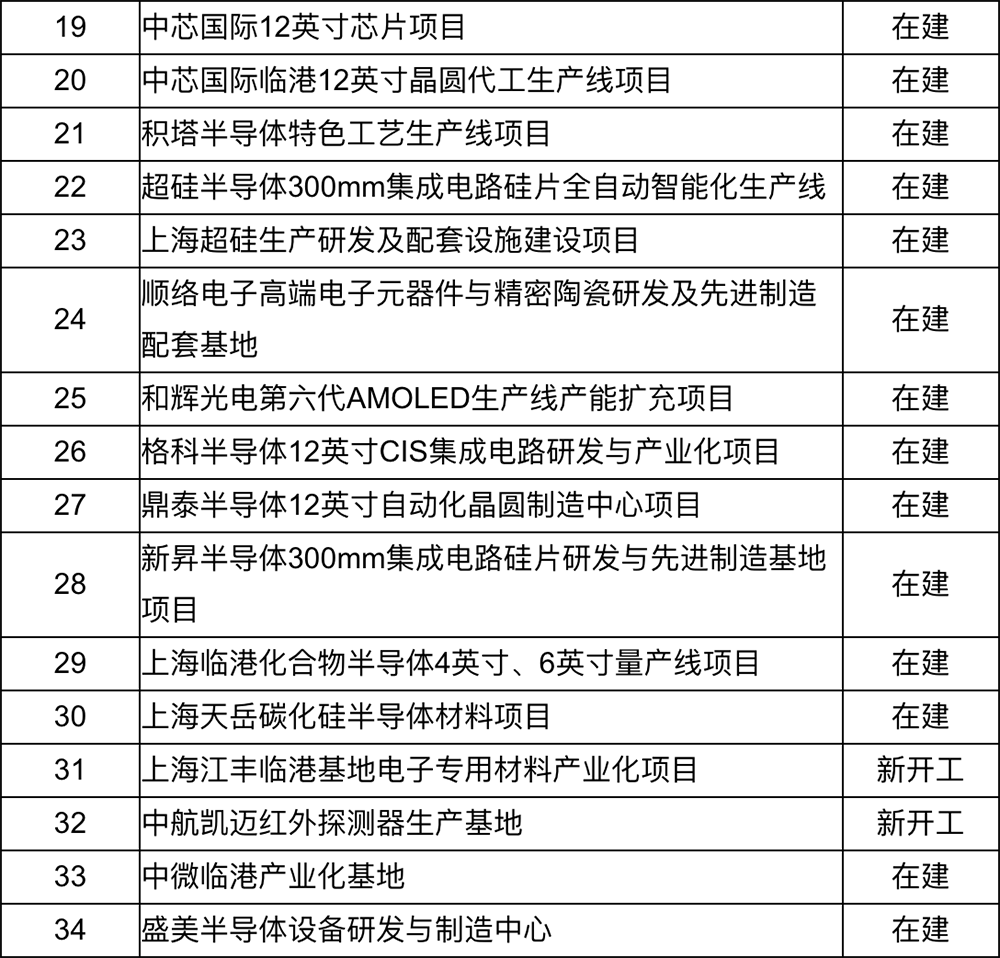 Chip manufacturing-related items in the advanced manufacturing category of the 2023 Shanghai Major Projects List
On the same day, the Shenzhen Baoan District Development and Reform Bureau and the Jiangsu Provincial Government issued relevant policy subsidies successively. The former intends to give the key projects of semiconductors and integrated circuits determined by experts and enterprises that carry out research and development of integrated circuit EDA tools and software. A subsidy of 20 million yuan; the latter provides a maximum subsidy of no more than 20 million yuan to eligible mergers and acquisitions. (Source: Wisdom Things)

Xpeng will launch 2 new models in Europe, hitting the annual sales target of 200,000 units
Xiaopeng Motors recently announced on Twitter that it will launch two new models in Europe on February 3, 2023. Judging from the official pictures, these two cars should be the G9 pure electric mid-to-large SUV and the P7 pure electric mid-size car that have already been launched in China.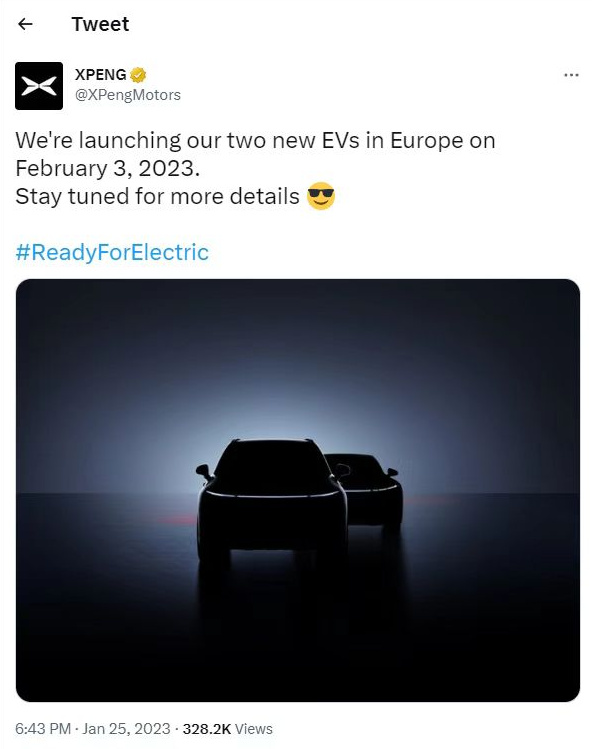 Previously, Xiaopeng officials stated that four Xiaopeng delivery and service centers will be opened in Norway, the Netherlands, Sweden and Denmark in the next few months to provide pre-delivery inspection, after-sales and maintenance services. The service centers are expected to open in the first half of 2023 . (Source: DoNews)
A new generation of gaming notebooks will be launched next week: RTX4090/4080 flagship models debut
The new generation of notebooks released at CES 2023 will be available on February 1st, with the RTX 4090/4080 flagship models leading the way, and the RTX 4070/4060/4050 will be available later in February.
The gaming notebooks that will be launched in February are expected to be based on the 13th generation Core HX processor, which is transplanted from the desktop, with up to 8 large cores + 16 small cores available. Notebooks equipped with AMD Ryzen 7045HX series processors and RX 7000 independent display will also be available in February, and the specific launch time has not yet been announced. AMD Ryzen 7045HX series processors are also transplanted from the desktop, with up to 16 cores and 32 threads. Thin and light notebooks equipped with Intel's 13th-generation Core U/P series processors are now on the market and are expected to start mass shipments in February. (Source: IT House)

Two Quantum Light Sources Achieve Quantum Mechanical Entanglement for the First Time, Opening Door to Commercial Use of Quantum Technology
Danish and German scientists published a paper in the latest issue of "Science" magazine, pointing out that they have jointly solved a problem that has puzzled quantum scientists for many years-on two nanochips, for the first time, they can simultaneously control two quantum light sources and allow them to achieve quantum Mechanical entanglement.
The latest progress is crucial to the breakthrough application of quantum hardware, which will promote the development of quantum technology to a higher level. It is a key step in the accelerated "quantization" of computers, encryption and the Internet, and will open the door for the commercial use of quantum technology.
For years, researchers have been working to develop stable quantum light sources and to achieve quantum mechanical entanglement, which means that two quantum light sources can influence each other instantly and at a distance. Entanglement is the basis of quantum networks and central to the development of efficient quantum computers. (Source: Science and Technology Daily)