OpenAI introduces GPT-4, which can solve difficult problems more accurately
On Tuesday, March 14th, Eastern Time, OpenAI announced the launch of a large-scale multimodal model GPT-4, saying that it can receive image and text input, output text, "more creative and collaborative than ever before", and "due to It has broader common sense and problem-solving abilities that can solve difficult problems more accurately."
OpenAI said it has worked with several companies to incorporate GPT-4 into their products, including Duolingo, Stripe, and Khan Academy. The GPT-4 model will also be provided to subscribers of the paid version of ChatGPT Plus in the form of API. Developers can sign up to build apps with it.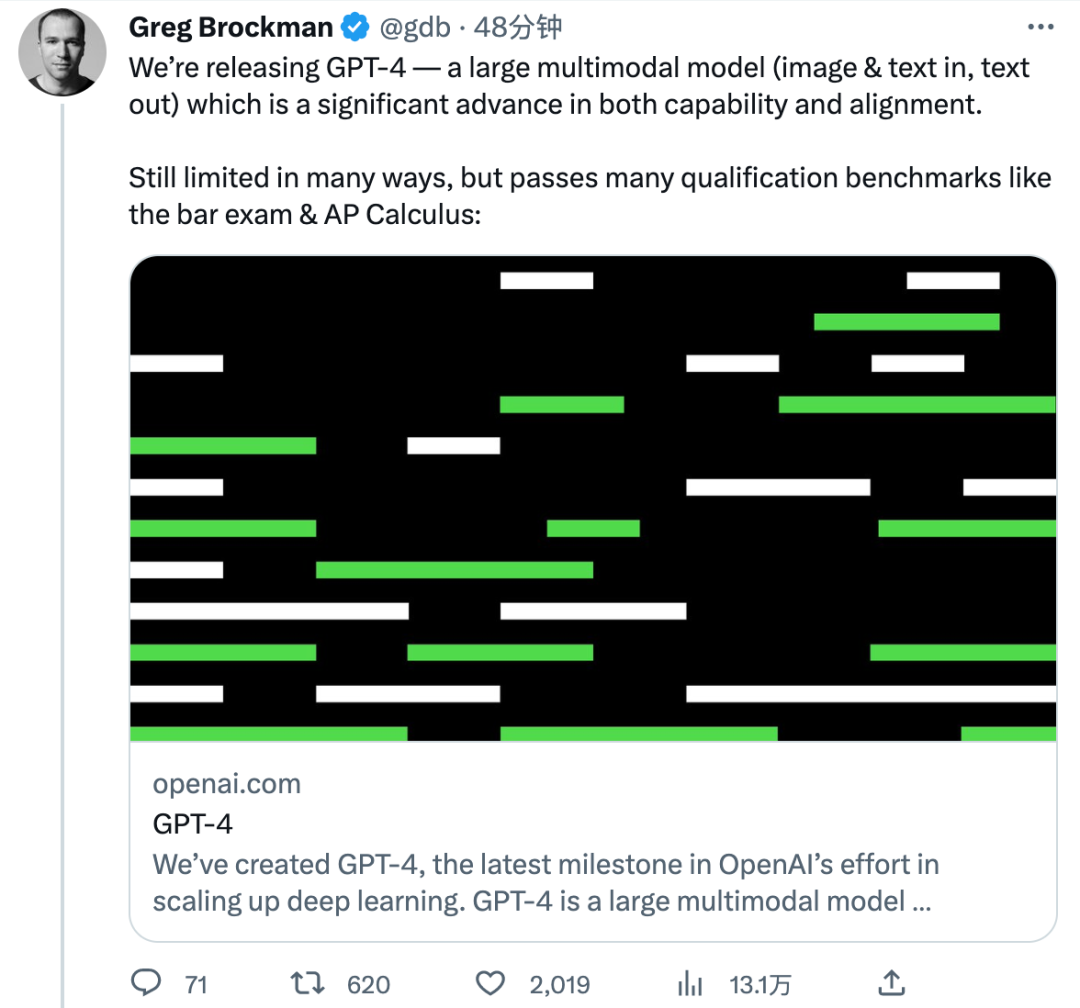 According to reports, GPT-4 is "bigger" than previous versions, which means it has been trained with more data than its predecessors and has more weights in the model file, making it more expensive to run .
OpenAI said that GPT-4 has fewer wrong answers, and it will also reduce the possibility of deviating from the topic, avoid talking about taboo topics as much as possible, and even perform better than humans in many standardized tests.
For example, GPT-4 scores in the top 10% or so of test-takers on the mock bar exam, in the top 7% or so on the SAT Reading test, and in the top 11% or so on the SAT Math test. (Titanium Media APP, Machine Heart, IT Home, Wall Street News)

Microsoft advances 10,000 layoffs plan, cutting off the entire ethics and social team of the AI ​​​​department
On March 14th, according to the latest report from the foreign technology media Platformer, Microsoft is advancing the 10,000 layoff plan announced in January this year, firing the entire ethics and society team in the artificial intelligence (AI) department.
The report pointed out that Microsoft no longer has a dedicated team to ensure that AI principles and product design are closely related. Microsoft said it will retain the Office of Responsible AI department, which will be responsible for formulating relevant rules for AI projects. In a subsequent statement, Microsoft emphasized that it will continue to invest in and develop responsible artificial intelligence. (fast technology)
Musk denies that Tesla and BYD have suspended battery cooperation: the two companies have a "positive relationship"
Musk tweeted on March 14 that the report about "Tesla suspending battery cooperation with BYD" was false and that the two companies had a "positive relationship."
A few days ago, Korean media reported that due to quality problems caused by a series of fire accidents of BYD LFP (lithium iron phosphate) batteries, Tesla has decided not to use Chinese BYD batteries. In this regard, BYD responded to Jiemian News that the information was false and did not match the actual situation. (World Wide Web)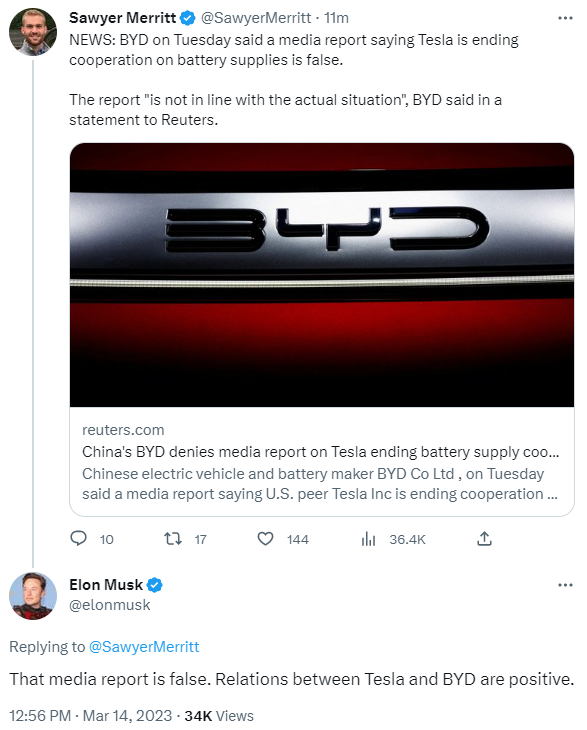 Qualcomm launches IoT processors and robot products that support four major operating systems
On March 14, according to Qualcomm China's official Weibo, Qualcomm Technologies announced the launch of the world's first integrated 5G IoT processors QCS6490 and QCM6490 designed to support four major operating systems, two new robot platforms RB1 and RB2, and Accelerator program for IoT ecosystem partners.
The industry's demand for intelligent networked and automated terminals is growing rapidly. According to Precedence Research, by 2030, the market size is expected to reach 116 billion US dollars. (Interface News)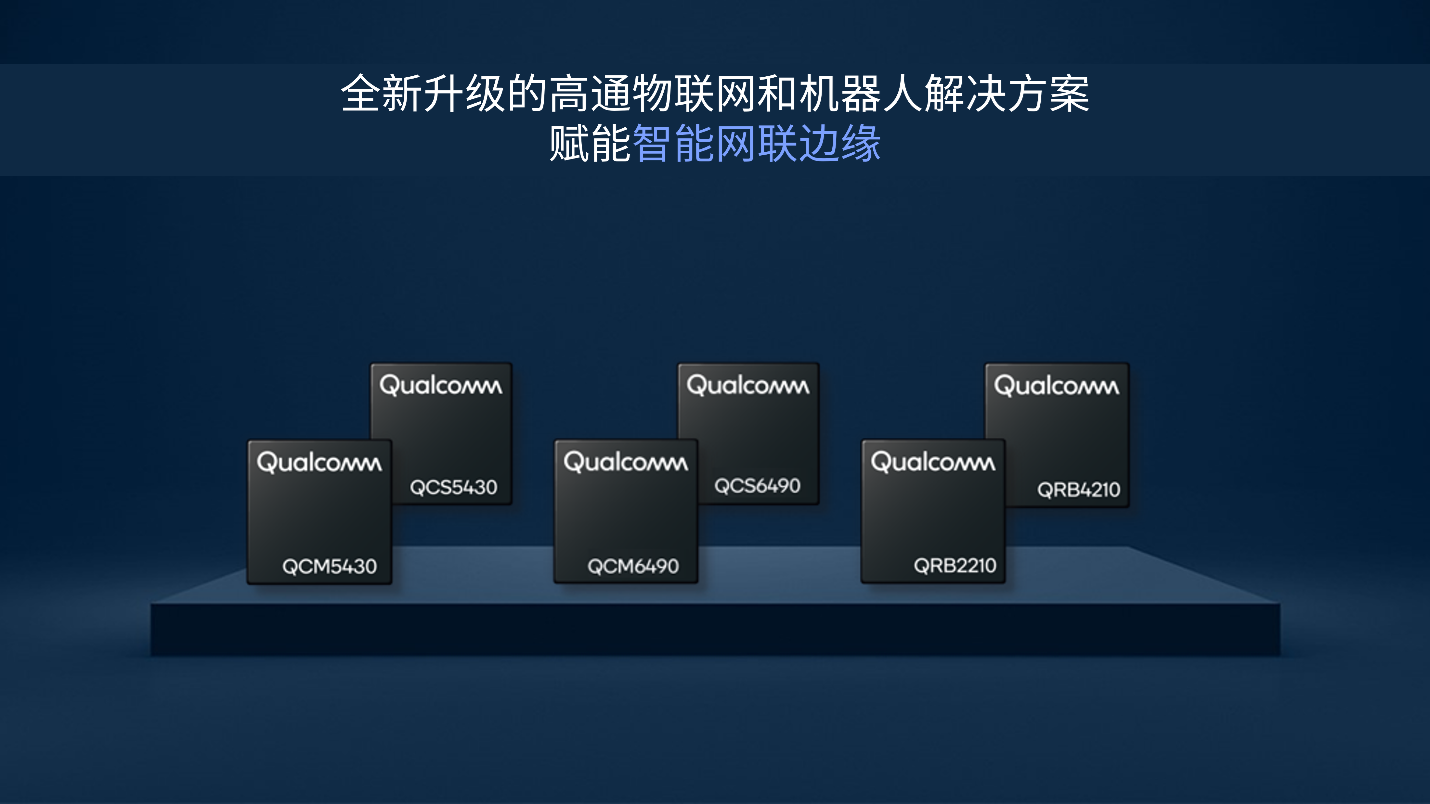 Microsoft Build 2023 will resume offline from May 23rd to 25th
Microsoft Build is the company's annual conference event, usually held in May. This year is no exception, with Microsoft reportedly planning to hold the event from May 23-25. This year's Build conference will be in-person for the first time since 2019 due to the coronavirus pandemic. Last year, the Build conference was held on May 24 and was an online digital event. (cnBeta)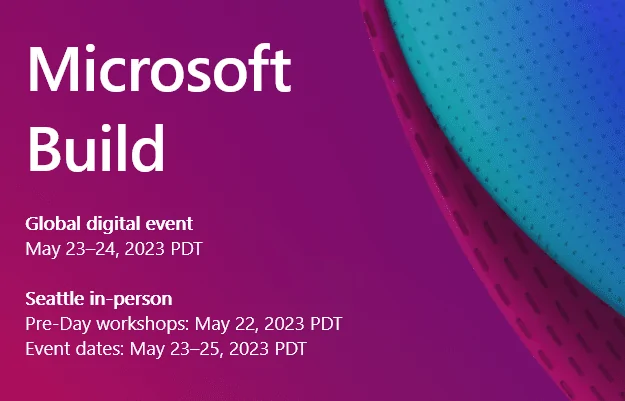 Meta reduces digital collections and develops financial technology tools such as Meta Pay
Meta has reportedly cut support for digital collectibles, or non-fungible tokens (NFTs), on its platform less than a year after launching the digital collectibles feature.
On Monday, local time, Stephane Kasriel, the company's director of financial technology, tweeted: "We are currently phasing out NFTs and focusing on other ways to support creators, individuals and businesses." "We will continue to invest in people in the future." Fintech tools that businesses and businesses need. We are simplifying the payment process with Meta Pay, making checkout and payments easier, and investing in messaging payments on Meta," said Kasriel. (Sina Technology)

Huawei refuted rumors to develop a chip stacking solution: fake news
Recently, it was reported that "Huawei has developed a chip stacking technology solution, which can better meet the challenges of chip size and performance, and improve the overall performance and reliability of the chip." In this regard, Huawei refuted the rumors, saying that the news was counterfeit to Huawei's official website, which is actually a rumor. (Securities Times)

It is reported that the Nvidia RTX 4070 graphics card will be released on April 12 and will be available the next day
According to VideoCardz, Nvidia will officially release the GeForce RTX 4070 graphics card on April 12, and the series of graphics cards will be available on April 13.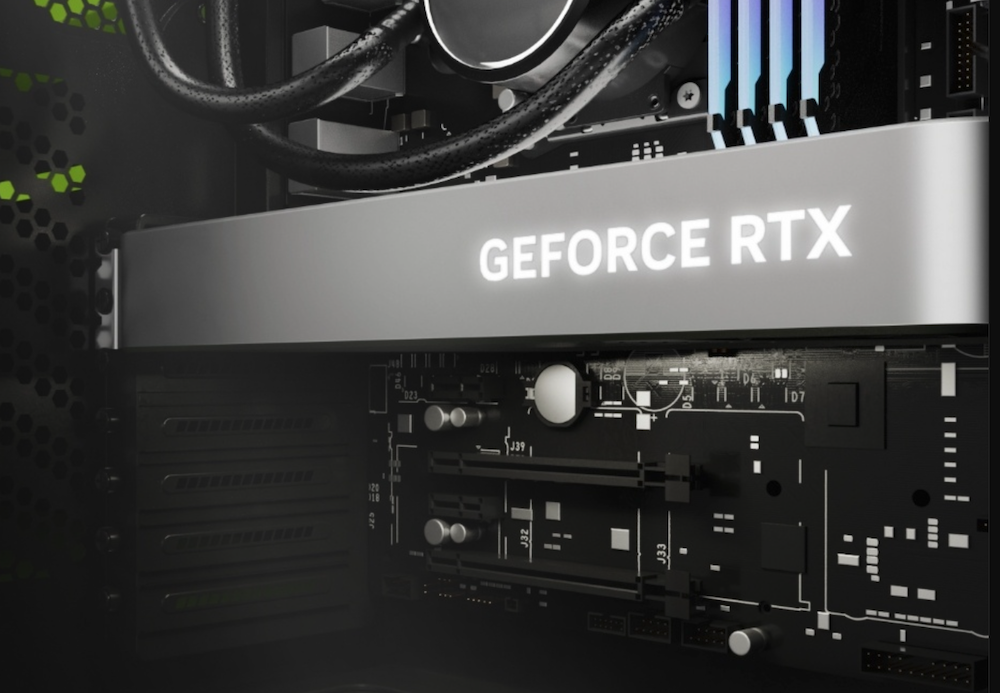 According to reports, the evaluation of the RTX 4070 graphics card with Nvidia's suggested retail price will be lifted on April 12, and the evaluation of higher-priced models (usually high-end models with factory overclocking) will be lifted on April 13.
In terms of parameters, it is reported that the RTX 4070 desktop graphics card will use AD104-250/251 GPU, with 5888 CUDA cores, 12GB 192bit GDDR6 memory, and 200W graphics card power consumption.
Currently, Nvidia has launched RTX 4090, 4080 and 4070 Ti graphics cards, priced at 12999 yuan, 9499 yuan and 6499 yuan respectively. Nvidia is expected to release the mainstream RTX 4060 and RTX 4050 desktop graphics cards at the Taipei Computer Station in the middle of the year. (IT House)
SenseTime released a multi-modal general-purpose model "Scholar 2.5"
On March 14th, SenseTime released a multi-modal multi-task general-purpose large model "Scholar (INTERN) 2.5". Its graphic and text cross-modal open task processing capabilities can provide perception and understanding for common scene tasks such as autonomous driving and robots. Capability support. It is understood that the initial version of "Scholar (INTERN)" was first jointly released by SenseTime, Shanghai Artificial Intelligence Laboratory, Tsinghua University, Chinese University of Hong Kong, and Shanghai Jiaotong University in November 2021.
"Scholar 2.5" has 3 billion parameters. It is not only the most accurate and largest model of ImageNet among the open source models in the world, but also the only model in the object detection benchmark dataset COCO that exceeds 65.0 mAP. At present, the "Scholar 2.5" multi-modal general-purpose large model has been open sourced on the general vision open source platform OpenGVLab. (Financial Association)

"Mission: Impossible 7: Deadly Reckoning (Part 1)" debut poster, released in North America on July 14
News on March 14, "Mission: Impossible 7: Deadly Reckoning (Part 1)" released its poster for the first time today, and Cruise once again performed a more difficult and deadly mission.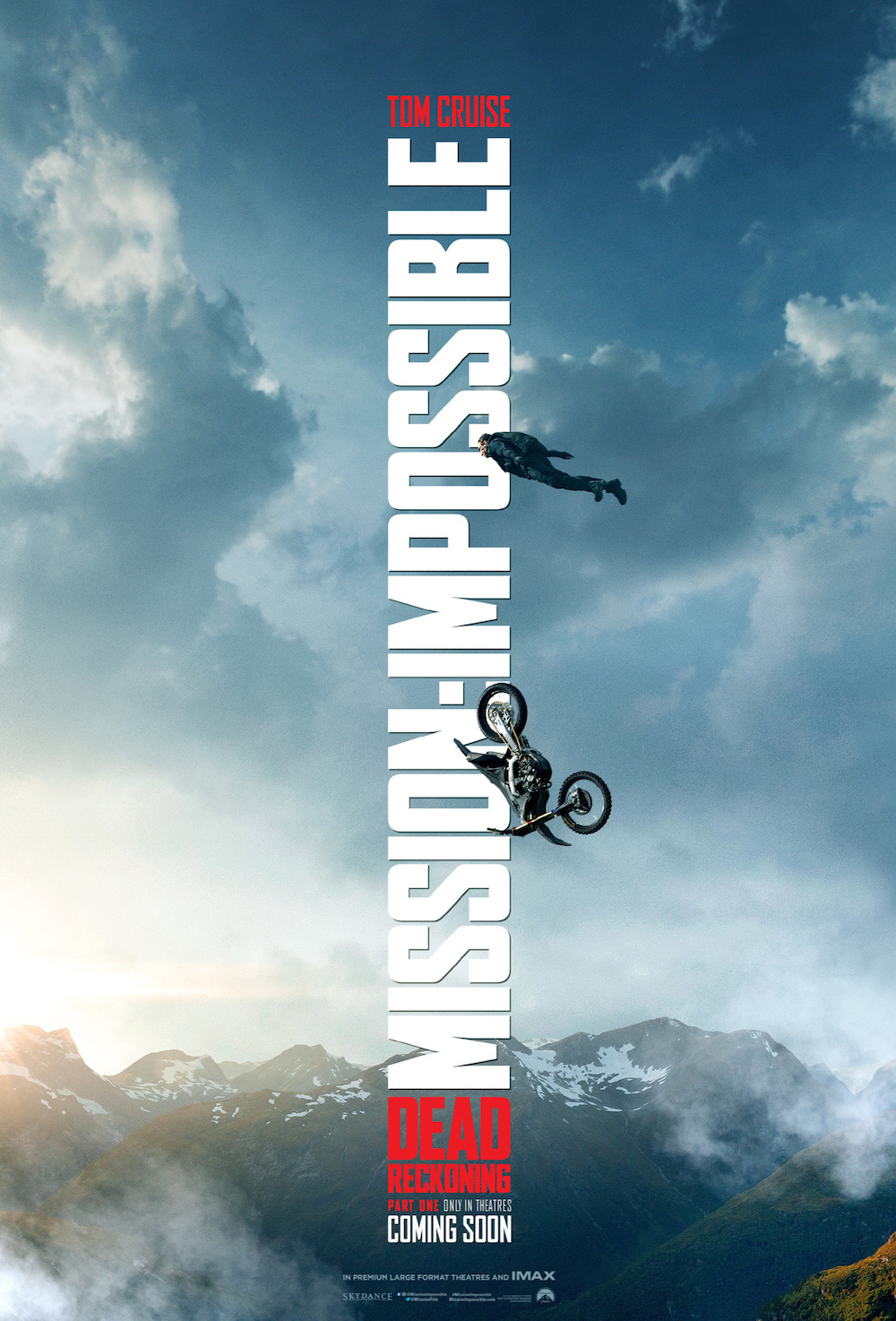 "Mission: Impossible 7: Deadly Reckoning (Part 1)" is directed by Christopher McCauley, starring Tom Cruise. According to reports, the film has been suspended several times during the epidemic, and the pre-shooting has been completed in September 2021.
Originally scheduled for release on September 30, 2022, the film has since been rescheduled to July 14, 2023. (IT House)