For the first time in ten years, China's Internet industry revenue fell 1.1% year-on-year
According to news on February 6, the Operation Monitoring and Coordination Bureau of the Ministry of Industry and Information Technology (hereinafter referred to as the "Ministry of Industry and Information Technology") recently released a report on "Operation of the Internet and Related Service Industries in 2022". The data shows that in 2022, the total revenue of Internet and related service companies above designated size in China will reach 1.46 trillion yuan, a decrease of 1.1% from the previous year, which is the first year-on-year decline since the data was collected in the past ten years (2013).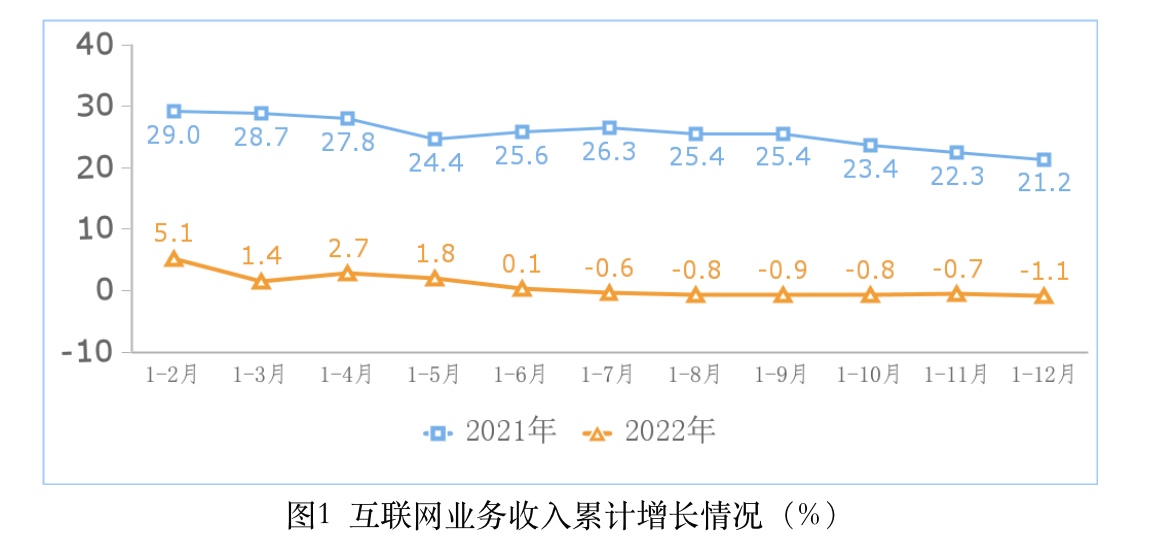 In terms of specific businesses, the income of enterprises in the field of information services has grown steadily. In 2022, the Internet business revenue of enterprises focusing on information services (including news, search, social networking, games, music videos, etc.) will increase by 4.9% year-on-year.
The income of enterprises in the field of life services has dropped significantly. In 2022, the Internet business revenue of platform companies that mainly provide life services (including local life, car rental, travel, financial services, automobiles, housing, etc.) will decrease by 17.5% year-on-year.
In terms of regions, there are obvious differences in the development of the Internet industry across China. Internet companies in Beijing, Shanghai, Tianjin, southern Guangdong Province, and eastern Zhejiang Province will have a total revenue of 1.25 trillion yuan in 2022, accounting for 85.6% of the country's total revenue. (Source: Ministry of CITIC)

Apple may not launch a new Mac Studio in the short term
On February 6, Bloomberg's Mark Gurman broke the news in the latest "Power On" newsletter that Apple is unlikely to launch a Mac Studio equipped with an M2 Ultra chip anytime soon.
Gurman said that due to the upcoming Mac Pro with the M2 Ultra chip, which is very similar to the Mac Studio in terms of features, Apple may wait until the M3 or M4 series chips are released before launching a new Mac Studio, or not updating the Mac Studio product line. . (Source: Sina Technology)
Microsoft will hold a press conference today, and Bing ChatGPT is expected to appear
Microsoft mailed invitations to the media at its Redmond headquarters last week, announcing that Microsoft will hold a press conference starting at 1 pm Beijing time on February 7. The focus will likely be on the rumored integration of ChatGPT with Bing and a wider partnership with OpenAI.
The integration appears to have been exposed last week, when some Bing users discovered a new chat area with a chatbot-like user interface that pulls answers from Microsoft's search engine. Microsoft simply calls it "the new Bing" that will provide "complete answers" to real questions.
Microsoft also plans to deploy OpenAI's various models into its own consumer and enterprise products. Outside of Bing, there are rumors of Word, PowerPoint and Outlook getting OpenAI technology. Microsoft recently launched Microsoft Teams Premium, with features powered by OpenAI. (Source: cnBeta)
Google announces Bard, ChatGPT's rival product, will be launched in the next few weeks
On February 7th, Google CEO Sundar Pichai announced in a blog post that Google is developing an "experimental conversational artificial intelligence service" called Bard, which will answer and talk to users. Pichai said the software will be "internally tested by trusted testers today and made available to the public in the coming weeks." Looking at product positioning, Bard will become a competitor of Microsoft's artificial intelligence service ChatGPT.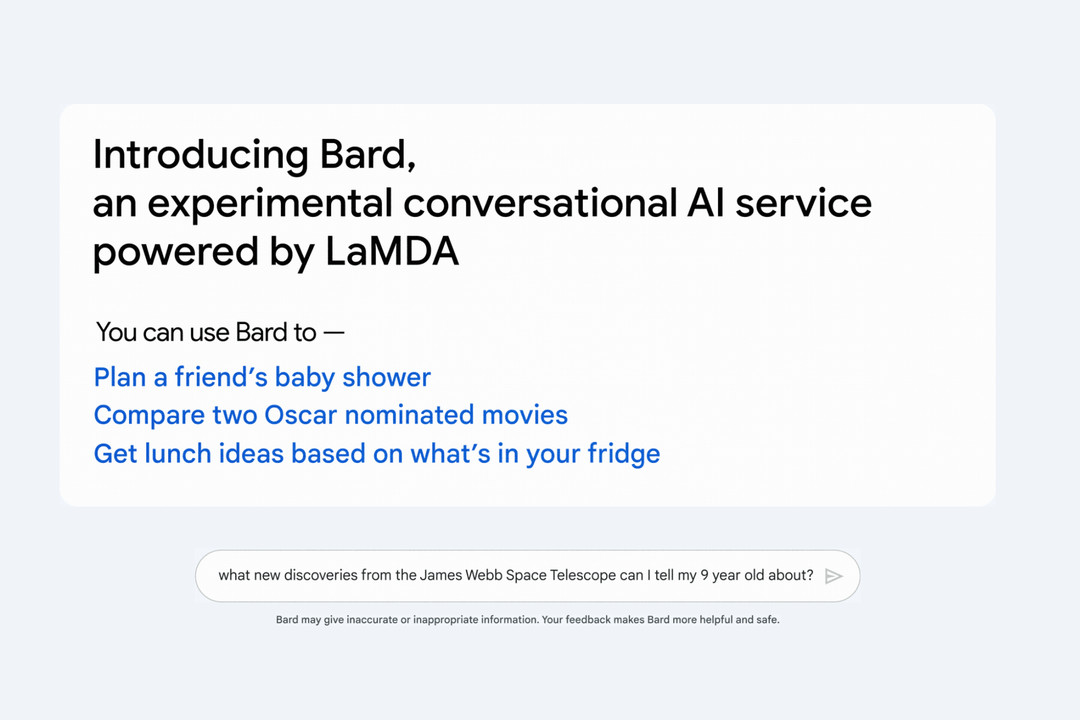 At the same time, Google also emphasized in the blog post that Google has incorporated artificial intelligence features into many products, including the core search business. This Thursday, Google will also hold an event on artificial intelligence, search and more. (Source: cnBeta)

Activision Blizzard's fourth-quarter revenue was US$2.334 billion, and net profit fell 29% year-on-year
In the morning news on February 7, Activision Blizzard announced today the company's fourth quarter and full-year financial results for the 2022 fiscal year. According to the report, Activision Blizzard's net revenue in the fourth quarter was US$2.334 billion, compared with US$2.163 billion in the same period last year; net booking revenue was US$3.57 billion, compared with US$2.49 billion in the same period last year; Profit was $403 million, down 29% from $564 million a year earlier.
For the full fiscal year 2022, Activision Blizzard's net revenue was $7.528 billion, compared to $8.803 billion in fiscal year 2021. Activision Blizzard's fourth-quarter adjusted earnings per share missed Wall Street analysts' expectations, but net bookings revenue topped expectations, sending its shares up less than 1 percent after hours. (Source: Sina Technology)
Dell announced 5% layoffs, affecting about 6,650 people
On February 6, Dell announced that it will lay off about 6,650 people, becoming the latest technology company to lay off thousands of people.
Dell co-chief operating officer Jeff Clarke said in an internal memo that the layoffs were due to deteriorating market conditions and uncertain future prospects. According to a Dell spokesman, the layoffs accounted for about 5% of Dell's global workforce. After the layoffs are complete, Dell's total workforce will hit a six-year low.
After the PC boom during the pandemic, Dell and other hardware makers have seen demand slump. Preliminary data from IDC, an authoritative research organization, shows that global PC shipments will drop sharply in the fourth quarter of 2022. Among the major PC makers, Dell saw the biggest decline, down 37% year-over-year. Currently, about 55% of Dell's revenue comes from PCs. (Source: Sina Technology)
Twitter plans to charge business customers $1,000 a month for brand certification
On February 6, according to the Wall Street Journal, Twitter plans to charge corporate users a monthly brand certification fee of US$1,000 and grant it a golden verification mark, similar to Weibo's "yellow V".
Twitter now has user authentication badges in a variety of colors, gray, blue, and gold. Previously, Twitter authentication was free, but after Musk's acquisition, the company began charging for features that used to be free, including API access fees that will take effect soon. Business users who refuse to pay the $1,000 monthly fee will lose their gold badge. (Source: solidot)
FF reached 135 million US dollars in financing, and mass-produced FF 91 Futurist at the end of March
On February 6, FF (Faraday Future) announced the final agreement for a series of financing. It is said that if the financing can be completed on time, FF will raise all the necessary funds for the mass production of the FF 91 Futurist.
After receiving all financing as expected, FF is expected to start mass production of the marketable FF 91 Futurist at the end of March 2023, roll off the assembly line in early April, and deliver it before the end of April.
In addition, Faraday Future said it plans to hold a special general meeting of shareholders on February 28, 2023, to consider a proposal on the company's authorization to issue additional Class A common shares. The proposal, if approved by FF shareholders, would clear the way for additional ongoing financing in the future to best support FF 91 Futurist production deliveries and the Company's other strategic goals. (Source: Gasgoo.com)
Ge You v. Bilibili infringement case will be held
On February 6, according to Tianyancha, on February 4, the Beijing Internet Court issued a copy of the indictment and a court summons to Shanghai Huandian Information Technology Co., Ltd., an affiliated company of Station B. The related case was Ge You and the company's network infringement Liability dispute, the plaintiff is Ge You. The case is scheduled to be heard in court on the third day after the expiry of the defense period and the proof period.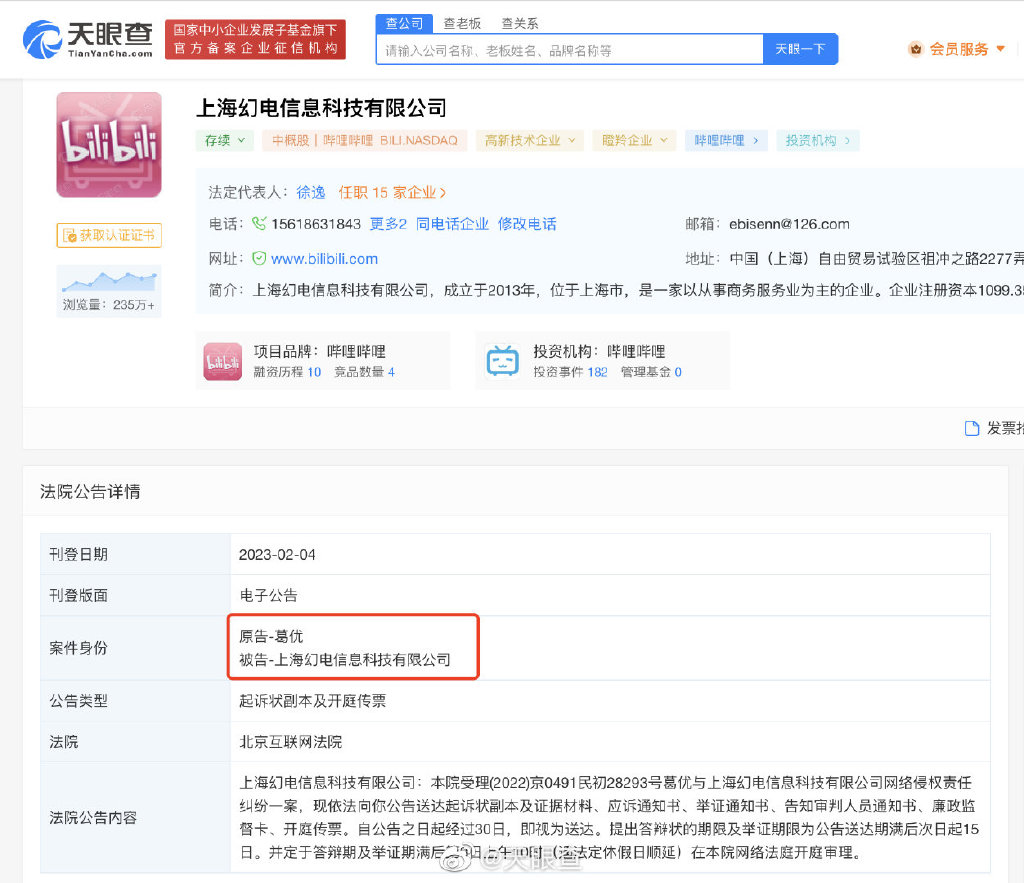 It is reported that the actor Ge You had previously filed multiple lawsuits over the emoji of "Ge You Lie". (Source: Tianyancha)

Xiaomi: Mi 13 series and Mi 10 Gigabit routers will be upgraded to Wi-Fi 7
On the morning of February 6, Xiaomi officially announced that the Mi 13 series and the Mi 10 Gigabit router will be fully upgraded to Wi-Fi 7. In December last year, Xiaomi's first 10G router was officially released.
It is reported that Mi 13 can achieve dual-band concurrency of 2.4GHz+5GHz, reaching a transmission speed of 3.6Gbps. The Mi 13Pro can achieve ultra-high-speed dual-band concurrency of 5GHz+5GHz, and when combined with the Mi 10 Gigabit router, it can reach a transmission speed of up to 4.3Gbps.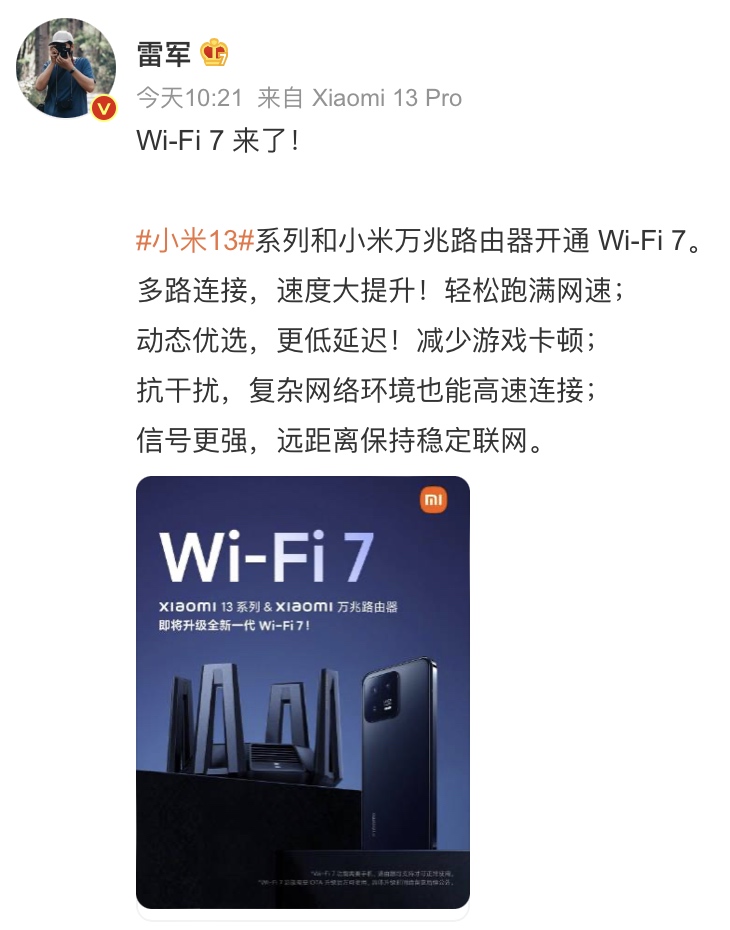 However, the Wi-Fi 7 function needs to be supported by both the mobile phone and the router before it can be used normally. This function can only be used after an OTA upgrade. Users who hold Xiaomi 10 Gigabit routers and Xiaomi Mi 13 can wait for the official specific upgrade time. (Source: Interface News)
Nothing Phone (2) will be released within this year, software experience is the focus
On February 6, according to Inverse, Pei Yu, the founder of Nothing, revealed to the media that Nothing Phone (2) will be released in the global market within 2023, including the US market. Previously, Nothing Phone (1) was only launched in some markets in Europe and Asia. In addition, Pei Yu also mentioned that Nothing Phone (2) will be more advanced than the previous generation, and the software part will become a major focus of it.
Combined with the latest exposure news, the release time of Nothing Phone (2) may be in the third quarter. The core configuration of the machine is expected to be equipped with an unannounced Snapdragon 8 series processor, at least 12GB+256GB memory version, 5000mAh battery, etc., which will further upgrade the performance of the whole machine.
In terms of appearance, the overall design style of Nothing Phone (2) is unlikely to change. The front uses a 120Hz adaptive refresh rate AMOLED screen, and the back is equipped with a transparent design with LED lights. (Source: Netease Technology)

The Last of Us PC version postponed to March 28
News on February 4th, "The Last of Us" studio Naughty Dog announced that the PC version will be postponed to March 28th.
Naughty Dog explained that the PC version of the bounce is to ensure that the version of "The Last of Us" on the PC can reach the best state, and the extension time will allow them to ensure that the PC version of "The Last of Us" can meet the needs of players and naughty dogs. own expectations.
The recent hit HBO adaptation of "The Last of Us" will end on March 12, which means that the PC version of the game won't be available until two weeks after the episode ends. (Source: 3DMGame)
Topic image: Visual China