Google officially confirmed that the Pixel 7 series can only run 64-bit applications! In a blog post on its developer site, Google revealed some information about its Pixel 7 and Pixel 7 Pro phones. According to Google, the Pixel 7 series is the first ever pure 64-bit Android phone.
In order to achieve this feat, Google says, various changes are required across the platform, tools, Google Play, and of course, the app. Google notes that 64-bit applications run faster than 32-bit applications because they can use extra registers and instructions that 32-bit applications cannot. Additionally, newer CPUs offer up to 25% performance gains when running 64-bit code, and some processors even drop support for 32-bit code entirely.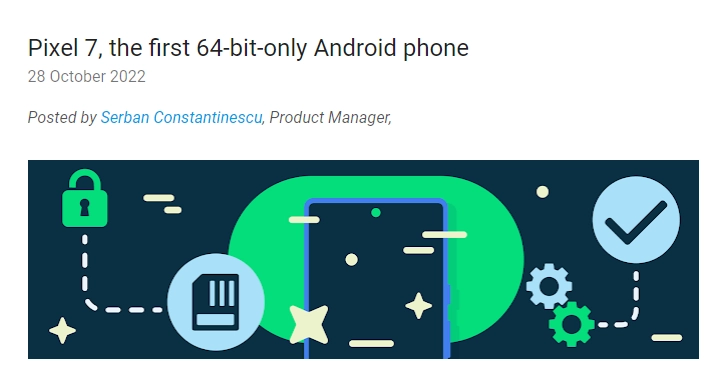 Also, it can help improve security. The larger address space makes defenses like ASLR more effective, and the spare bits can be used to protect the integrity of the control flow. These countermeasures reduce the chances of an intruder taking control of the device.
Google also says that removing support for 32-bit code can save up to 150MB of RAM, which the operating system uses even when 32-bit applications are not running. These memory savings mean fewer instances of insufficient memory, which means fewer instances of killing the background.
For developers, developers can use better tools, such as HWASan, for detecting memory errors and improving the quality of the application. For vendors, pure 64-bit devices cut CTS testing time in half, allowing vendors to update devices faster and easier. Google also said that pure 32-bit devices are still important for Android Go, Android TV and Android Wear, and Google Play will continue to provide 32-bit applications for pure 32-bit devices.
【source】