On October 26, local time, Musk walked into the Twitter company headquarters building with a wash basin. After half a year of wrangling, "Silicon Valley Iron Man" finally realized the acquisition of Twitter and officially "owned" this company. His "new" company.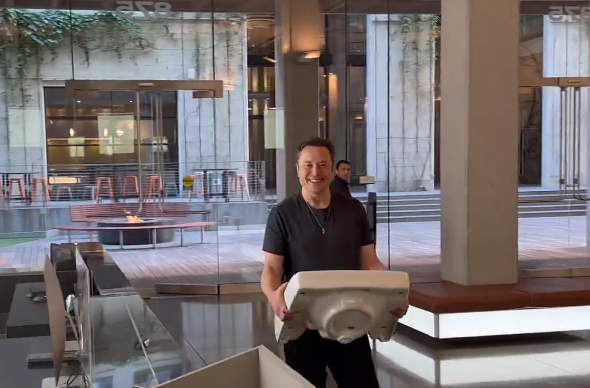 Musk walks into Twitter's corporate headquarters building with a washbasin
After the news of Musk's Twitter acquisition was released, not only did a large number of users "flee", but many Twitter advertisers were also worried that after Musk took charge of the social media platform, Twitter would be "liberalized" to allow Twitter to have more Polarizing content, which in turn damages brand image.
Therefore, after chatting cordially with employees in Twitter's "canteen" as a new Boss. The first thing Musk did was to publish an open letter "to Twitter advertisers" on Twitter.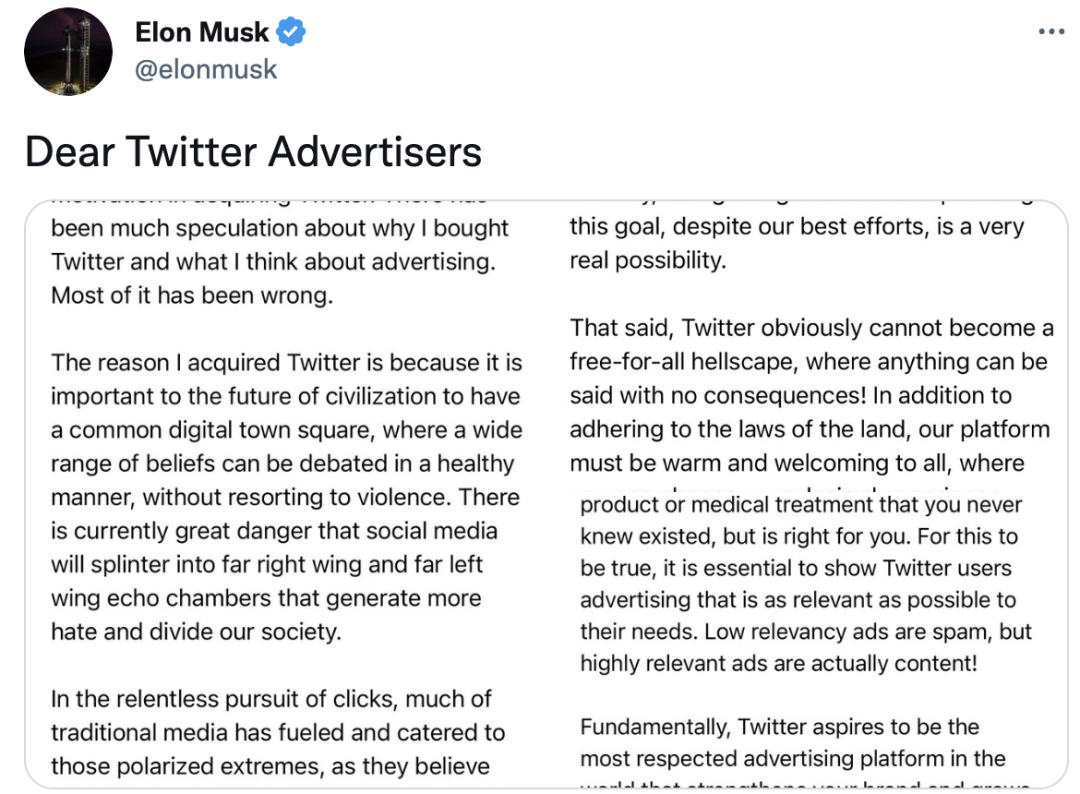 An Open Letter to Twitter Advertisers | Source: Twitter
The style of the letter is highly consistent with Musk's style, without fancy words, simple and direct. In the letter, he expressed the real original intention of his acquisition of Twitter: to make Twitter more open and fair as a social media, rather than an information cocoon; to allow users to choose their own different "leveled" experiences, while bearing the consequences.
Finally, it is to reassure advertisers that advertisements become "content" and provide growth for brands.
It can be seen from this letter that Musk's acquisition of Twitter was not a whim, but a well-thought-out one.
Full text translation from Musk to advertisers:
I want to share in a private way, my motivation for acquiring Twitter. Because there's so much speculation right now about my purchase of Twitter and about my online advertising, and it's mostly wrong.
I bought Twitter because a universal "digital square" is critical to the future of civilization. In such a square, people of different faiths can debate each other in a healthy way without incurring cyber violence.
Social media is now split into echo chambers of "polarized" camps, thus generating hatred and dividing society. And this is very dangerous.
The endless pursuit of "clicks" has allowed traditional media to foster such "polarization" because these platforms believe that this is the only way to make money. However, the result of this is that we lose the opportunity to have a real dialogue.
That's why, I'm buying Twitter, not because I think it's going to be easy. This acquisition is not to make more money.
I bought Twitter to help humanity, because I love humanity.
And this acquisition itself is also human. I can realize that even with the best efforts, the pursuit of this goal may still face failure.
Even so, Twitter is obviously not going to be a hell where everyone can wreak havoc, and people's words and actions will still have corresponding consequences! In addition to complying with national laws, our platform must be a warm, welcoming place for all.
Here, you can choose the experience you want according to your inclination, just like people are free to watch movies or play games by themselves, whether it is for all ages or for adults.
I'm also very convinced that ads, when presented in the right way, can be pleasing and informative. Ads like this can tell people about a service, product, or medical service that they may not have been aware of until now, what is really right for them.
For this to happen, platforms must be able to serve users the most relevant ads possible. Because low-relevance ads are harassment, but high-relevance ads are real content.
Essentially, Twitter wants to be one of the most respected advertising platforms in the world to strengthen your brand and grow your business.
I am grateful to those partners who are with us, let us work together to create miracles.