Recently, Golden Ten data took stock of the money earned by each mobile phone manufacturer from selling mobile phones during the reporting period (net profit * proportion of mobile phone revenue), and estimated from the mobile phone shipments during the reporting period that each mobile phone manufacturer sells a mobile phone How much can you earn.
Among them, Apple earns the most from selling a mobile phone. According to its 2022 fiscal year Q4 data, it can earn 1,456 yuan (about RM916) from selling an iPhone. The second is HUAWEI, which earns 426 yuan (about RM268) for every mobile phone sold; the third is Samsung, which earns 262 yuan (about RM164) for every mobile phone sold. What is more miserable is Xiaomi, which not only ranks last, but also loses 22 yuan (about RM13) for every mobile phone sold.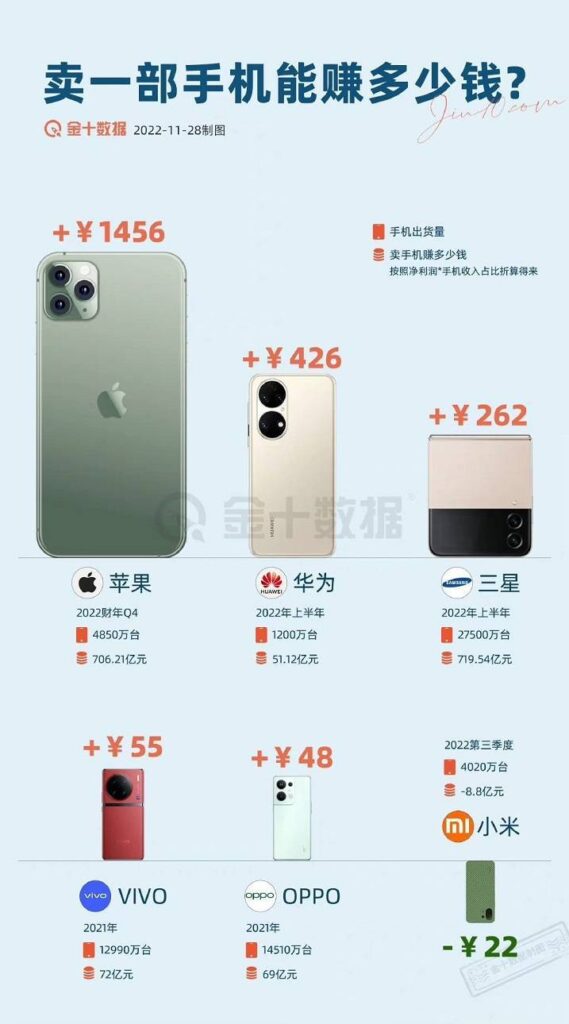 Judging from the data, even HUAWEI and Samsung, which are ranked No. 2 and No. 3, the money they earn from buying a mobile phone is far from that of Apple. The iPhone can be said to have earned 80% of the profits of the global mobile phone industry.It is equivalent to selling an iPhone is equivalent to selling 3 HUAWEIs, or it is equivalent to selling 6 Samsungs。
The following is a list of the average profit of mainstream mobile phone manufacturers selling a mobile phone:
1. Apple: Earn 1456 yuan (about RM916) by selling one
2. HUAWEI: Earn 426 yuan (about RM268) by selling one
3. Samsung: Earn 262 yuan (about RM164) by selling one
4. Vivo: sell one to earn 55 yuan (about RM34)
5. OPPO: Earn 48 yuan (about RM30) by selling one
6. Xiaomi: A loss of 22 yuan (about RM13) for selling one
And at the end of the list is Xiaomi selling a mobile phoneLost 22 yuan, the net profit is -0.3%. Why is Xiaomi losing money? According to the third quarter of this year, Xiaomi's global shipments were 40.2 million units, and R&D investment was 4.1 billion yuan, an increase of 25.7% year-on-year. In addition to other expenses, Xiaomi mobile phones are mainly cost-effective. These factors should be involved.
In this regard, some netizens said: It turns out that Apple is the winner who always has the last laugh. Everyone, go buy Xiaomi mobile phones and earn Mr. Lei's money! There are also some netizens who feel sorry for Mr. Lei, and suggest that everyone buy less Xiaomi phones, so that Mr. Lei will suffer less! For more technology information, please continue to stay on the Chinese version of TechNave!
【source】