A few days ago, DXOMARK officially announced the DXOMARK camera evaluation results of the iPhone 14 Pro Max, with a total score of 146, which is consistent with the performance and various scores of the iPhone 14 Pro.Tied for third place in the DXOMARK image rankings!
According to official results,The iPhone 14 Pro Max scored 143 for photography, tied for third; the zoom scored 139, tied for sixth; and the video scored 149, tied for first.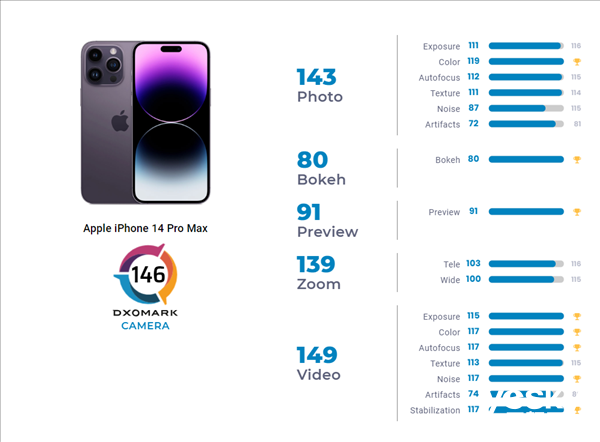 Officials say that the iPhone 14 Pro Max has the same rear camera specifications as the iPhone 14 Pro, and both are also equipped with the same A16 bionic processor. In the same shooting scene, the difference between the image performance of the two mobile phones is very small. The stability of iPhone image performance can also be reflected in the previous generation of iPhone 13 Pro Max and iPhone 13 Pro with the same image score.
At the same time, DxOMark gives the following advantages of the iPhone 14 Pro Max: whether it is photos or videos, the colors are very pleasant and vivid, and the skin tones are accurate; the dynamic range of photos and videos is wide, and the contrast performance is better; high-level photo and video detail performance Power; excellent autofocus (photo and video); pleasant simulated bokeh effect, very good facial detail; high-quality continuous photo and video zoom at close and medium distances; excellent video stabilization .
Where DxOMark found it to be lacking were: occasional highlights in the sky; more pronounced luminance noise in indoor photos; occasional white balance color casts in photos taken in mixed lighting conditions; and well-defined subjects in photos and videos.
It can be seen that in the heart of DxOMark, the advantages of the iPhone 14 Pro series outweigh the disadvantages, and the strength in imaging is also good. The biggest change in the image of this generation of the iPhone 14 Pro series is that the main camera has finally replaced the ancestral 12MP lens with a 48MP lens, and the sensor area of ​​the main camera and ultra-wide-angle has increased.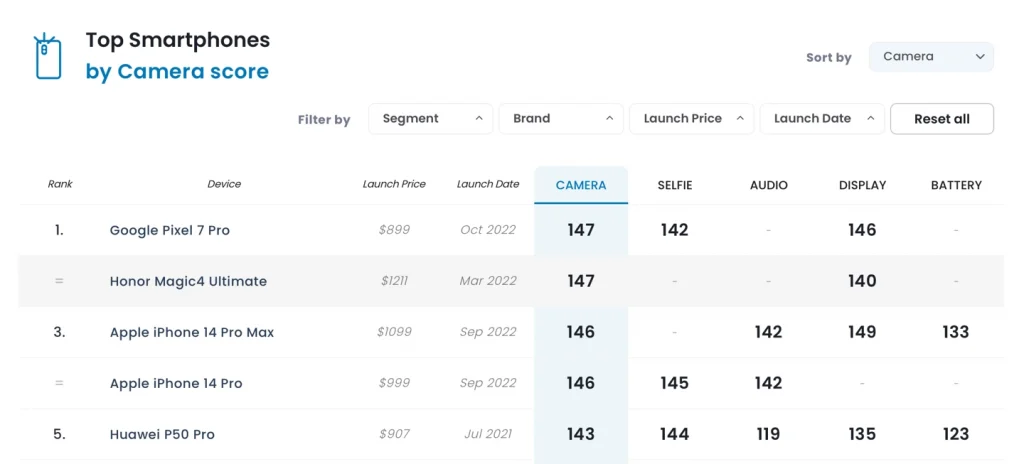 At present, Google Pixel 7 Pro and HONOR Magic4 are tied for first place, iPhone 14 Pro Max and iPhone 14 Pro are tied for third place, followed by HUAWEI P50 Pro.
For more technical information, please continue to hold the Urban Tech Story version!
【source】