Unknowingly, it is mid-October, and the new generation of Snapdragon 8 Gen 2 processor is about to be released, which means that many flagship mobile phones are also coming. Among them, the new Xiaomi 13 series has become the focus of everyone's attention. There have been a lot of leaks so far.
Now there is new news that exposes more details of the image of the machine.According to the latest information released by the well-known blogger @i Ice Universe, which is basically consistent with the previously exposed news, the new Xiaomi 13 series will at least provideXiaomi 13 and Xiaomi 13 Pro Two versions, in which the Xiaomi 13 Pro's cameraXiaomi 12S Ultra Consistent, will carry the SONY IMX989 with 1 inch oversized sole。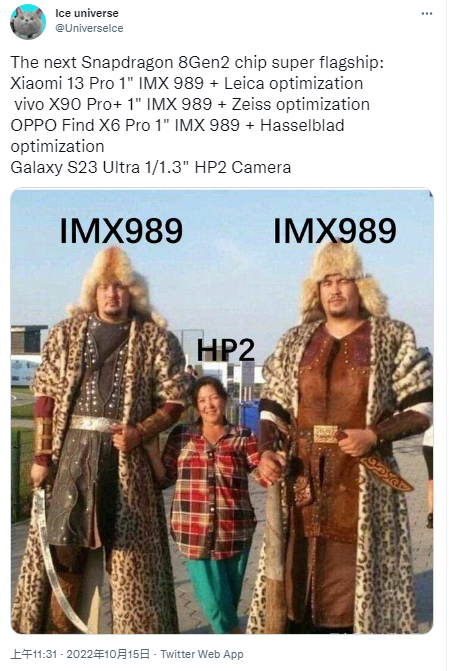 Compared with the SONY IMX707 of the previous Xiaomi 12 Pro, the photosensitive area is increased by 72%, the photosensitive capacity is increased by 76%, the camera speed is increased by 32.5%, and the startup speed is increased by 11%. Of course, other flagships like vivo X90 Pro+ and OPPO+Find X6 Pro will also use this sensor.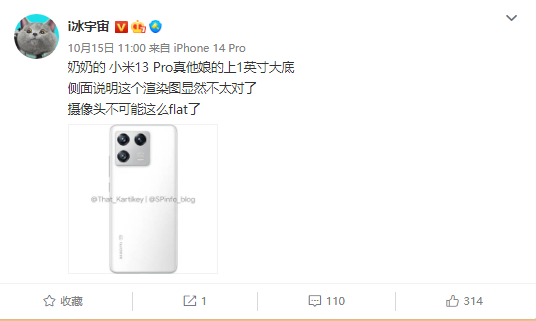 Based on the previous news, the Xiaomi 13 series will use a 2K curved screen, and it is expected to be equipped with a new generation of Qualcomm for the first time. Snapdragon 8 Gen2 flagship processorwhich is based on TSMC's 4nm process, and will adopt a new "1+2+2+3" eight-core architecture design, of which the super-large core is upgraded to Cortex X3, which improves the performance by 22% compared to Cortex X2, and the large core is upgraded to Cortex Compared with the Cortex A710, the A715 has a 5% increase in performance and a 20% increase in energy efficiency. The small core is still the Cortex A510, and Antutu is expected to exceed 1.2 million points.
The new Xiaomi 13 series is expected to launch in late NovemberCome on, let's wait and see! For more mobile information, please continue to hold the Urban Tech Story version!
【source】