Byte Joins the Battle of Large-scale Models: Zhu Wenjia Leads the Team, Search and Smart Creation Take the Lead
It is learned from multiple independent sources that ByteDance has already laid out a large-scale model, focusing on language and image modes. Zhu Wenjia, head of Tik Tok product technology, led the team.
The technical person in charge of ByteDance responded to this: The technology platform has explored in these fields, which is still very early and immature. According to a person familiar with the matter, the large language model team is led by the byte search department, and the current team size is about ten people. The big picture model team is led by the intelligent creation team under the product development and engineering architecture department.
Another person familiar with the matter said that the ByteDance language large model team was established this year, and the exploration direction is mainly to integrate with downstream businesses such as search and advertising. "The search business department, AI Lab and AML (applied machine learning) teams have all adjusted part Human support language large model, the team's current expectation is to launch the large model in the middle of this year." (Source: 36 Krypton)

Ali Q3 financial report: revenue 247.76 billion, stock price soared 7%
On the evening of February 23, Alibaba released its Q3 financial report for the fiscal year 2023 ending on December 31, 2022. Both revenue and profit were better than expected, driving Alibaba's stock price to soar 7% before the market.
Alibaba's third-quarter revenue was 247.76 billion yuan, a year-on-year increase of 2.1%, higher than market expectations of 245.87 billion yuan. Net profit for the quarter was 45.746 billion yuan, compared with 19.224 billion yuan for the same period last year.
The financial report shows that businesses such as Taote, Taocaicai, Ele.me, and Hema have achieved a significant year-on-year loss reduction. Youku has narrowed its losses year-on-year for seven consecutive quarters.
In this quarter, Cainiao significantly strengthened its core capabilities in international express delivery, warehousing and distribution supply chain, and logistics terminals, and increased its number of overseas distribution centers to 15; in terms of domestic business, Cainiao delivered over 18 million parcels in a single day during the quarter. Among them, Cainiao Post delivered more than 10 million parcels to the door in a single day. (Source: Fast Technology)
Selling too many shares in Ali, Softbank loses board seat
Beijing time on February 23rd, Alibaba Group announced today that SoftBank Group's Alibaba shares have fallen below the 15% threshold required to nominate the company's directors. Kabir Misra, who previously represented SoftBank on Ali's board of directors, has been transferred to an independent director, but no longer represents SoftBank. Misra has also been appointed to the Remuneration Committee effective February 22, 2023.
Ali stated that Misra does not participate in the company's day-to-day management and has no position in the company except to attend and participate in board meetings, and to serve as a director at board meetings at the company's request and to provide independent advice on the company's policies and strategies. any management functions.
In August last year, it was reported that in order to raise funds, SoftBank had sold more than half of its Ali shares through "prepaid forward contracts". That could bring SoftBank's stake below the threshold for retaining a board seat and prevent the company from incorporating a percentage of revenue from Alibaba in its earnings reports. (Source: Phoenix.com Technology)
iQiyi Considers Using AI to Cut Costs
On February 22, iQiyi disclosed its latest financial report. Gong Yu said that iQiyi uses virtual production technology to help the industrialization of film and television for content shooting.
Virtual production is not affected by regions, weather, etc., and the same set of virtual assets can be reused for multiple project shootings. It can pre-stage post-production work, shorten the production and launch cycle, and virtual assets can also be reused for other businesses.
Regarding the popular ChatGPT, Gong Yu said that artificial intelligence generated content (AIGC) and other innovative technologies, iQiyi will work with strategic partner Baidu to explore the application scenarios of AIGC in the long video industry, such as improving content production efficiency, content distribution and promotion. (Source: The Paper)
Google encounters AIGC's new problem: the cost of using it is 10 times that of traditional search
After Alphabet's reported missteps in a chatbot demo not long ago wiped $100 billion off its market value, plans to integrate generative AI in Google Search face a new challenge: cost.
Alphabet Chairman John Hennessy said talking to an AI like a big language model costs 10 times more than traditional search, but a few tweaks could help bring the cost down quickly.
Even if revenue could be generated from chat-based search ads, the technology would incur billions of dollars in additional costs, which would have a negative impact on Alphabet's bottom line, analysts said. The company's 2022 net income is close to $60 billion. (Source: Sina Technology)

The global scale may exceed 39 billion in 2030, and the United States is considering restrictions on brain-computer interface technology
At the Brain-Computer Interface 2023 event held by the Bureau of Industry and Security (BIS) of the U.S. Department of Commerce last week, Polman, the U.S. Department of Commerce's Deputy Assistant Secretary for Export Administration, said that it is considering restricting countries that may abuse brain-computer interface technology. and places to get them.
However, Polman did not name any countries to be restricted. According to the latest data from research institutions, the brain-computer interface market size will be US$1.740 billion in 2022, and is expected to reach US$5.692 billion by 2030, with a compound annual growth rate of 15.61% during the period, indicating huge market potential. (Source: Titanium Media)
After 6 years: Xunlei remote download returns
In 2017, Xunlei suddenly announced that it would completely shut down third-party remote download services, and the experience of remotely controlling computer downloads from mobile phones is gone forever. Now, after 6 years, Xunlei officially announced that the remote download function has returned, and you only need to install the latest version of Xunlei to enjoy it.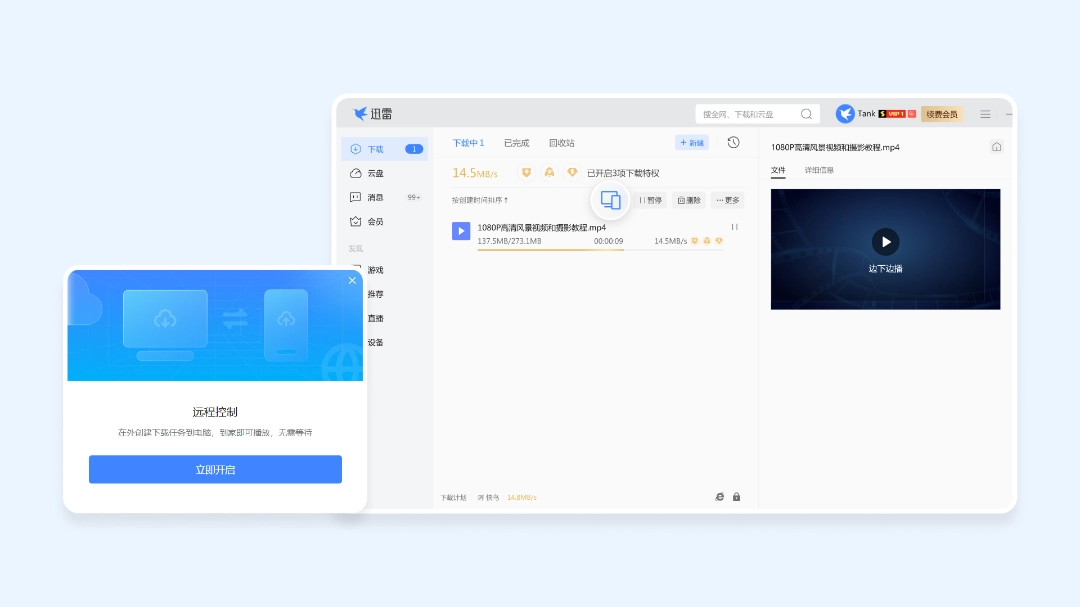 According to the official introduction, through the remote download function, users can create download tasks on the mobile phone to the computer at any time, and after the download is completed, they can also intelligently classify and match poster information through the film library, so as to use the mobile phone for remote viewing.
In addition, if you install TV Xunlei on the TV, as long as the TV and Xunlei on the computer are under the same network, you can directly play the downloaded video resources on the computer. (Source: Fast Technology)
People in the blood glucose monitoring industry: non-invasive technology cannot replace blood collection in the short term
A few days ago, some media said that Apple Apple Watch will realize non-invasive and continuous blood sugar monitoring.
On February 23, a person from a leading domestic blood sugar monitoring company stated that the current mainstream blood sugar monitoring uses electrochemical methods to accurately monitor the glucose content in human blood through blood collection, which meets the needs of medical-level blood sugar testing. However, Apple's non-invasive method uses physical methods, and its detection accuracy is lacking. It can only be used for self-testing of blood sugar at the consumption level of the general population, and cannot meet the precise monitoring needs of blood sugar patients.
Therefore, it is expected that non-invasive technology will not be able to replace blood collection in the short term in terms of medical needs for blood glucose monitoring. (Source: Securities Times)

Apple patent: Future HomePod could bend and wrap around a surface
Apple is working on how to make speakers that include hinges that can be bent and placed in the corner of a room.
Whether it's the cylindrical HomePod, or the near-spherical HomePod mini, it's just adding a shell to a series of regular speakers inside the device, which is not what Apple wants. In a newly revealed patent application titled "Flexible Speaker," Apple describes an audio speaker that can bend.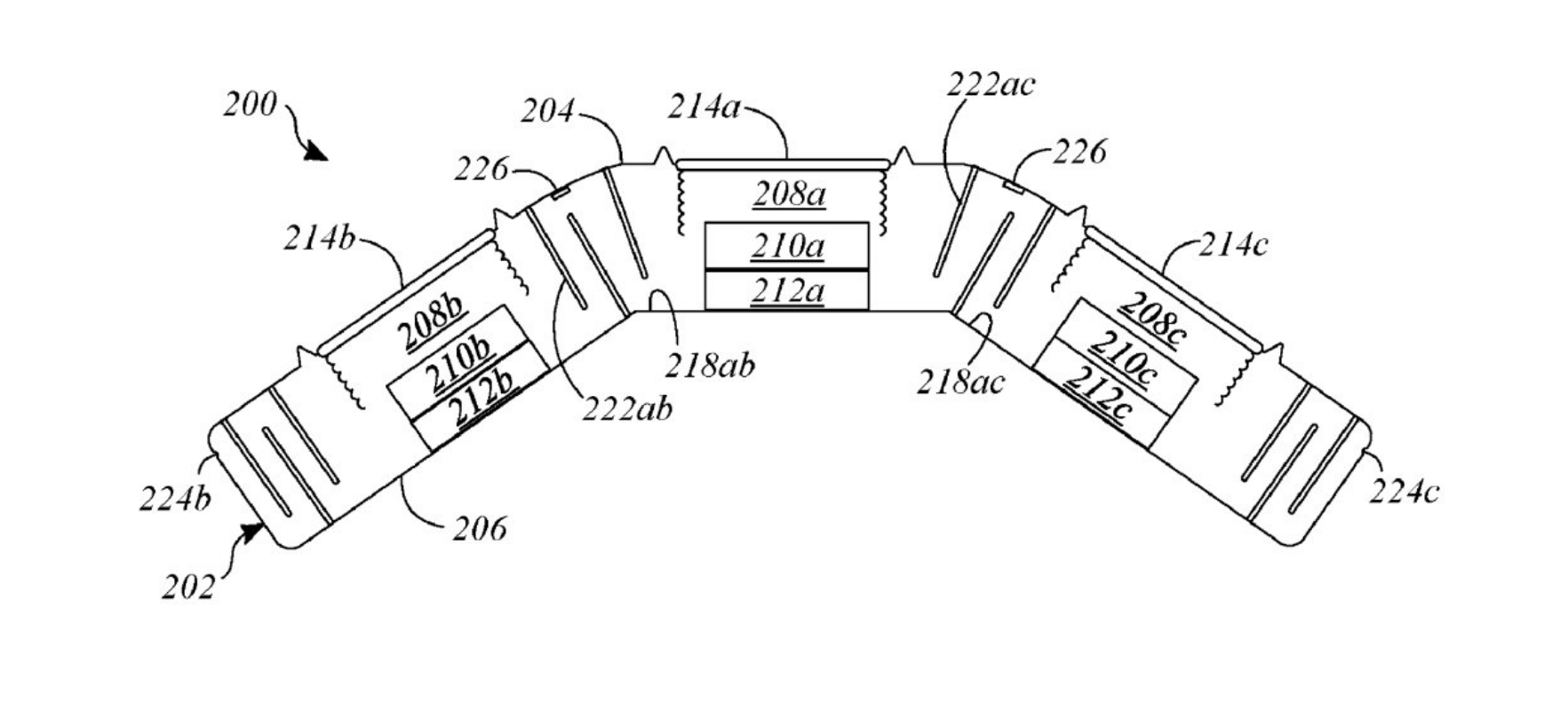 Apple says: Speakers with flexible elements could support easy integration and improved compliance in a variety of electronic devices, such as head-mounted displays, laptops, smartphones or wearables. (Source: cnBeta)
LG launched the portable temporary tattoo machine IMPRINTU, the pattern can be kept for about a day
On February 23, LG released an interesting portable temporary tattoo machine IMPRINTU, which will be unveiled at the Mobile World Congress MWC 2023 in Barcelona.
The temporary tattoo machine is compact and can be picked up with one hand (95x61x78mm). It can be said to be a small color printer.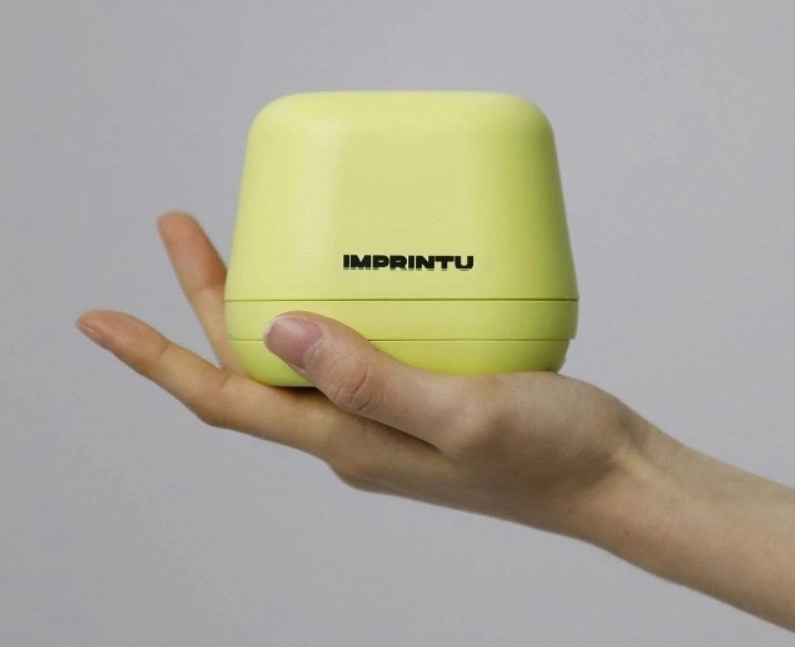 After the tattoo machine is connected with the mobile device, the user can choose an image at will and print it to generate a temporary tattoo. The tattoos are printed at a resolution of 600 dpi and it only takes two to three seconds to prepare the tattoo for printing. The machine uses safe cosmetic-grade tattoo ink, and the pattern can last about a day, supporting printing on skin and clothes.
On the Imprintu mobile app, LG is also continuously updating the image design created by artificial intelligence EXAONE for user experience. LG's portable temporary tattoo machine, IMPRINTU, will be available in the second half of this year, first in the Korean and US markets. (Source: IT House)

U.S. Copyright Office: Images made by AI are not subject to copyright protection
Artist Kristina Kashtanova wrote a comic book titled "Zarya of the Dawn," and while the content of the book is copyrighted, she used AI images made by Midjourney, the U.S. Copyright Office said. unprotected.
In the recent boom of generative AI, Midjourney, Dall-E and ChatGPT have been sought after, and the US Copyright Office's statement is worthy of attention.
Kashtanova submitted a copyright registration application for the work, and the US Copyright Office approved the application and registered it, but now the Copyright Office has decided to re-register, excluding images created by non-human authors.
Kashtanova thinks it is good news to get the copyright of the story and picture arrangement, but she and the representative lawyer will stick to their beliefs. They believe that the AI ​​​​picture expresses the author's creativity and should be protected by copyright. (Source: Sina Technology)