Baidu Wenxin was overwhelmed by users: 90,000 companies have been called
Baidu officially released its own AI model Wenxin Yiyan. Li Yanhong said at the press conference that Baidu is currently the first company among the world's major manufacturers to make a benchmark ChatGPT product.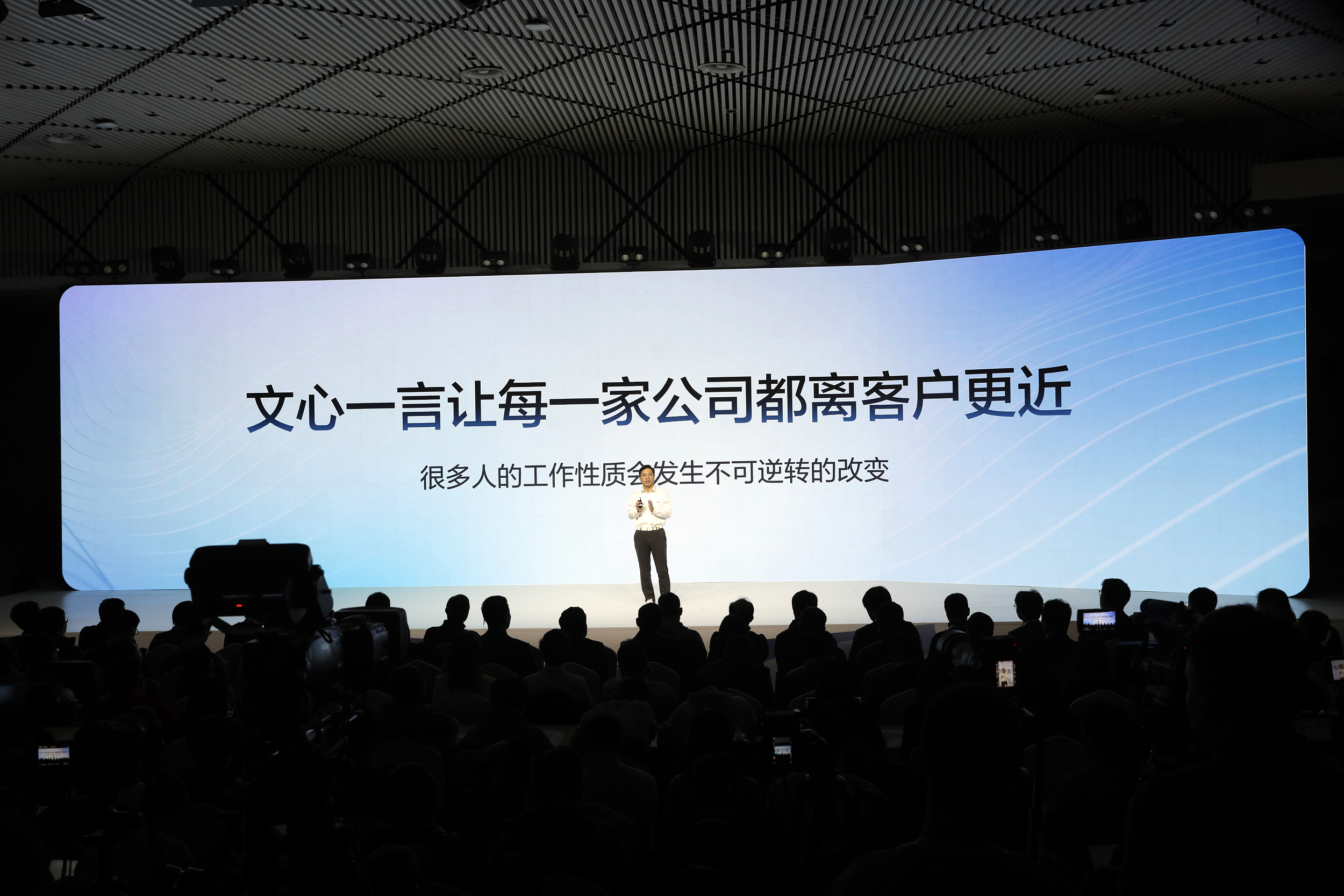 Baidu officially released the Chinese version of ChatGPT "Wen Xin Yi Yan" Speech by Robin Li at the press conference / Image source: Visual China
After the release, Baidu opened the internal test application, the server was overcrowded, and the number of companies calling Wenxinyiyan increased rapidly. Yesterday, it was said that there were 76,000. Today, Baidu official Weibo said that as of 10:58 today morning, applications for Baidu Smart Yunwenxin Yiyan has tested 90,000 enterprises for its API call service.
Li Yanhong said that "Wen Xin Yi Yan" is a large model based on Baidu's intelligent cloud technology, which will fundamentally change the rules of the game in the cloud market.
According to reports, Baidu will fully integrate Wenxin Yiyan in all its businesses. (Source: TechWeb)

Meta launched a Twitter-like paid plus "Blue V" service in the United States
According to reports, on Friday local time, Meta launched a Twitter-like paid plus "Blue V" service in the United States, with a monthly fee of US$11.99 on the web page and US$14.99 on the iOS and Android platforms, in order to explore sources of income other than advertising. .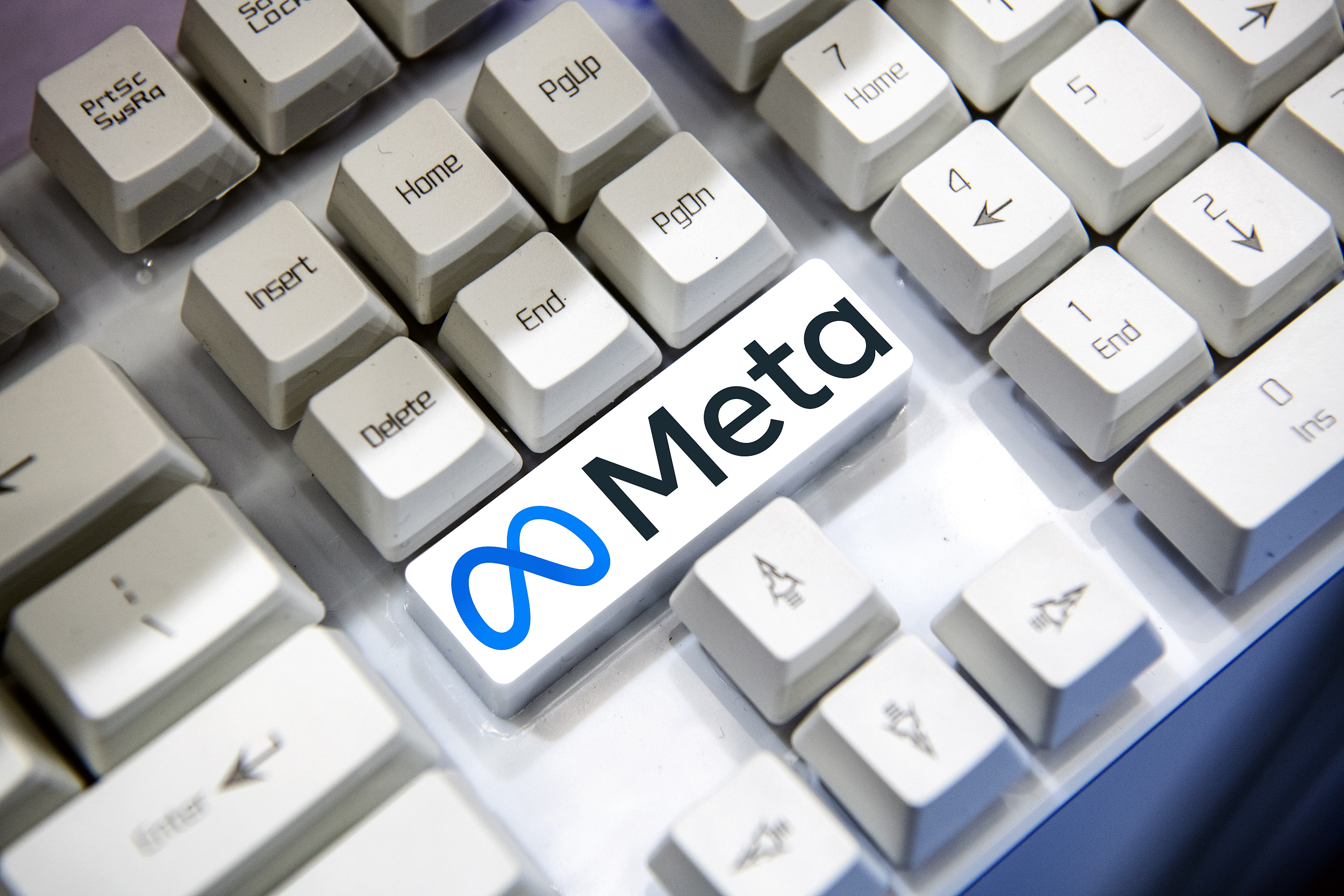 Meta / Image source: Visual China
Last year, after Twitter was acquired by Musk, it launched a paid blue V certification service, which opened the blue logo previously limited to politicians and other public figures to the public. .
But since then, a flood of Twitter users impersonating celebrities and brands on the platform has forced the company to temporarily suspend the service and reintroduce different color certifications for individuals and public figures. (Source: Sina News)
Twitter will open-source all the code it uses for tweet recommendations on March 31
Twitter CEO Musk tweeted that Twitter will open source all the code used for tweet recommendation on March 31. Our "algorithms" are overly complex and not fully understood internally. People will find a lot of stupid things, but we will fix problems as soon as we find them.
"We're developing a simplified way to deliver more engaging tweets, but that's a work in progress, and this will also be open source. Providing code transparency may be embarrassing at first, but it should Let the recommendation quality improve quickly. Most importantly, we want to earn your trust." (Source: cnBeta)

Trump announces return to Facebook, ends two-year ban
Two years after being banned, former US President Trump announced his return in posts and videos on YouTube and Facebook.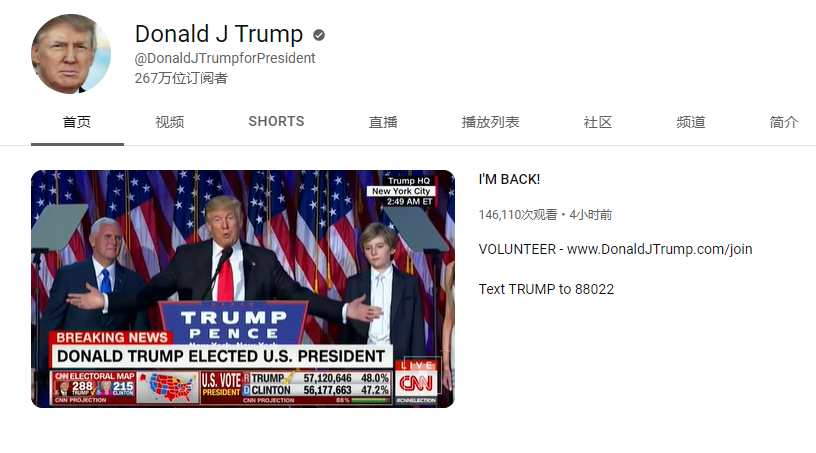 Screenshot of Trump's YouTube account/Image source: Observer.com
This video is titled "I'm back! (I'M BACK!)". In the video, a clip of CNN reporting on Trump's victory in 2016 first appeared, then faded to show the slogan "Trump 2024" and Trump's iconic The slogan "MAKE AMERICA GREAT AGAIN!"
According to Reuters, earlier on the 17th, YouTube restored Trump's channel, and earlier this year, the Meta platform company restored Trump's Facebook and Instagram accounts.
Trump's Twitter (Twitter) account was restored by Musk in November last year, but Trump has not yet reposted on Twitter. (Source: Observer Network)
Apple Apple Music is available in the Microsoft Windows 11 app store in the country, supports Chinese
Apple's three-pack of apps to replace iTunes — Apple Music, Apple TV and Apple devices — launched a preview version in Microsoft's Windows 11 app store in January, but only in the US.
After two months, these three apps finally ushered in Chinese support, and they can be downloaded in the Windows 11 app store.
Taking Apple Music as an example, it supports Windows 11 version 22621.0 or later. The app description says: This is a preview version of Apple Music, not all features are fully functional. After installing a preview version of Apple Music, iTunes will no longer open and audiobooks or podcasts on this device will not be accessible until a compatible version of iTunes is released. To revert to iTunes, you will need to uninstall this version of the app. (Source: IT House)
Wuhan: Promote the construction of e-commerce live streaming clusters and cultivate more than 10 e-commerce live streaming bases
Wuhan Municipal Government Network 17 The "Implementation Opinions of the Municipal People's Government on Cultivating and Building an International Consumption Center City" was released on the 1st.
Opinions put forward to cultivate new international consumer brands and create Wuhan service brands.Improve the quality of commercial and trade services, enhance the functions of open platforms such as duty-free shops, free trade zones, comprehensive bonded areas, cross-border e-commerce comprehensive test areas, and national import trade promotion and innovation demonstration areas, improve the foreign economic and trade cooperation mechanism, and expand the collection and distribution of imported goods. Dial the center, promote the construction of e-commerce live broadcast gathering areas, and cultivate 10 More than one e-commerce live broadcast base. (Source: 36kr)

Samsung is developing a 3500ppi FMM and is one of the screen suppliers for Apple's first mixed reality headset
According to foreign technology media Patently Apple, in addition to LG and Sony, Samsung is also a screen supplier for Apple's first mixed reality headset. Reports say that Samsung is working with APS Holdings to develop a 3500ppi FMM (Fine Metal Mask).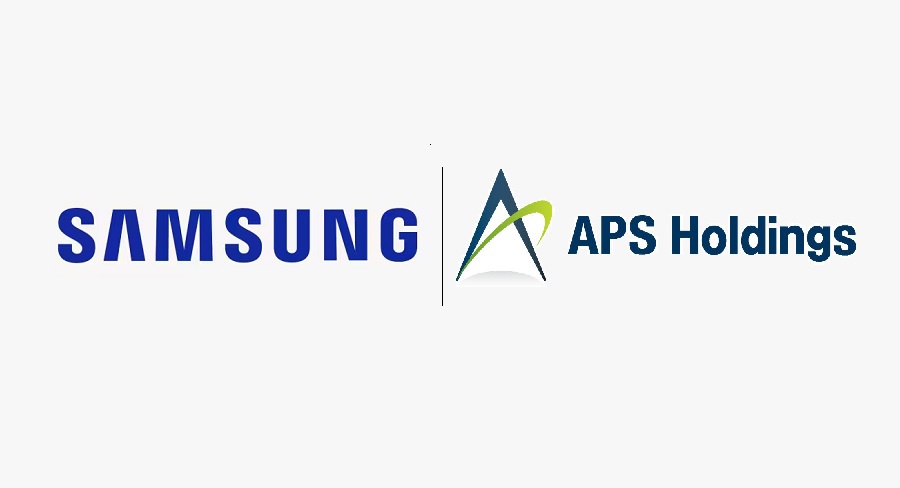 Samsung is working with APS Holdings / Image source: IT House
According to the report, Samsung APS Holdings has cooperated to develop a 3500PPI fine metal mask (FMM) for the manufacture of "OLED on Silicon" (OLEDoS), which mainly meets the display needs of VR / AR head-mounted displays. Samsung Display is also developing RGB OLEDoS.
Apple previously requested from Samsung Display and LG Display that the initial OLEDoS requirement was 2800ppi, and later increased the resolution to 3500ppi.
It is also learned from the report that APS has developed 4000 ppi ultra-high resolution FMM plates and masks. (Source: IT House)
It is reported that Panasonic will launch a new S1 II camera with a 24.2-megapixel full-frame sensor
YouTuber @Ordinary Filmmaker Panasonic will soon announce a new entry-level camera —— Matsushita LUMIX S1 Mark IIits specifications are now leaked.
According to the news, the new machine will be equipped with 2420 Megapixel full-frame sensor, support 6K 24 / 25 / 30 fps 4:2:2 10bit、DCI 4K 24 / 25 / 30 / 56 / 60 fps 4:2:2 10bitFull HD 120fps 4:2:0 10bitFull HD 60fps 4:2:2 10bit shoot.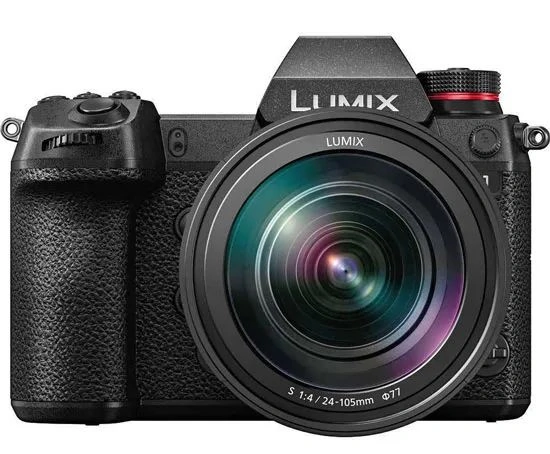 Panasonic Camera / Image Source: IT Home
It is said that it will use S5 Mark II New hybrid focus sensor of the same model ,ISO range up to 100-102400 (50-204800) also has 5 axis IBIS Body anti-shake the highest burst 30 open / Second ,pair Natvie ISO HDMI Full size and other specifications. (Source: IT House)

UK Space Agency Funds Rolls-Royce
290

million pounds to study building a nuclear reactor on the moon

British Space Agency for Rolls-Royce (Rolls-Royce) provided by the company 290 million pounds (approx. 2432 10,000 yuan), to explore the use of nuclear energy to explore the moon, and to use nuclear energy to provide support for future astronaut moon bases.rolls royce plan 2029 ready to send a nuclear reactor to the moon by 2009.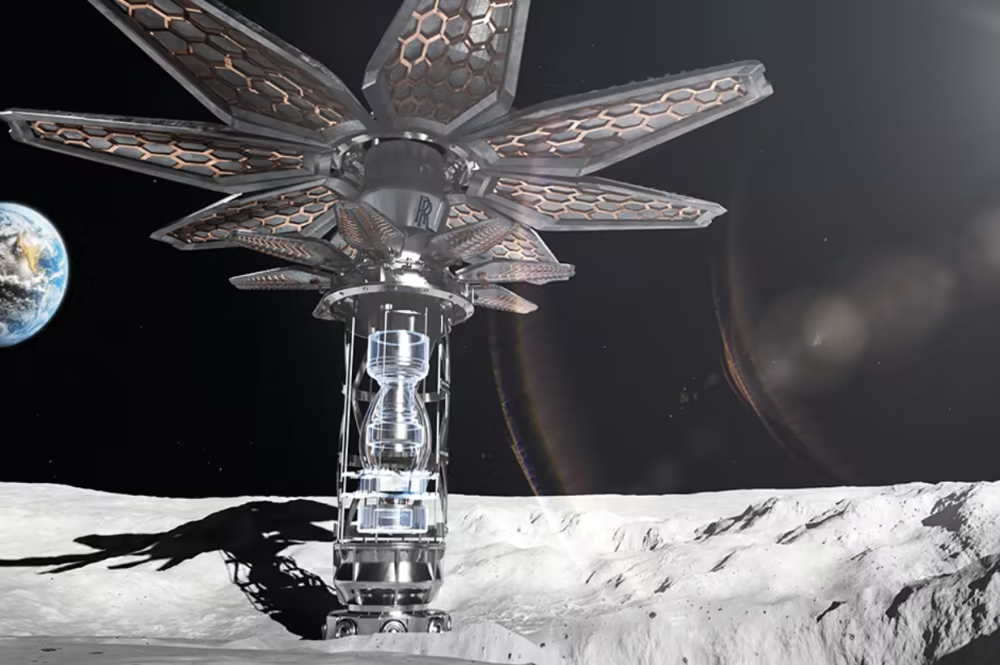 The British Space Agency provides Rolls-Royce with £2.9 million to research nuclear energy to explore the moon / Image source: Tencent Technology
Rolls-Royce will collaborate with Oxford University, Bangor University, Brighton University, Sheffield University Advanced Manufacturing Research Center and others. For the study, Patel said, careful consideration needs to be given to the nuclear fuel used to generate heat, as well as how new technologies can efficiently generate electricity and manage radioactive waste.
The UK Space Agency recently announced that it will provide UK companies with 5100 million pounds (approx. 42768 million) to develop communications and navigation services for lunar missions. This is part of the European Space Agency's Moonlight program. (Source: Tencent Technology)

"The Legend of Zelda: Tears of Kingdoms" Japanese pre-order players will get a spoon and fork
Nintendo Switch platform game masterpiece "The Legend of Zelda: Tears of the Kingdom" will be officially released on May 12, and pre-orders have been opened in many regions around the world.
According to the information on the Amazon product page, Japanese players who pre-order "The Legend of Zelda: Tears of the Kingdom" on Amazon will receive exclusive special gifts-spoons and forks.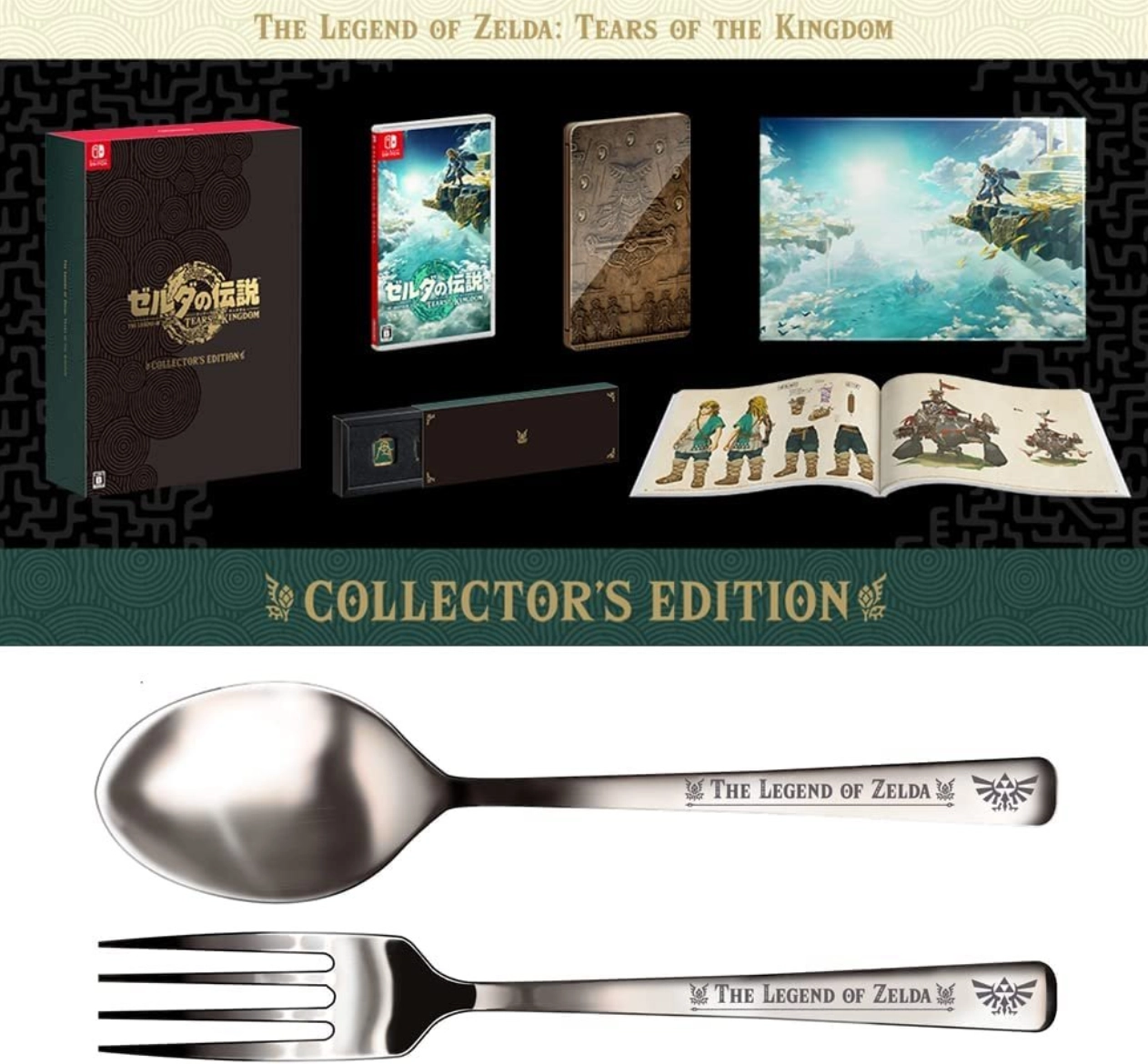 Peripherals of The Legend of Zelda / Image source: Youxia.com
The two stainless steel spoons and forks have no special purpose, but the logo of The Legend of Zelda: Tears of the Kingdom is printed on the handle. Pre-order the standard edition for 7920 yen (currently about 413 yuan) will get one of them, and pre-order the collector's edition to get both a spoon and a fork. (Source: Ranger.com)