To achieve its vision of becoming Malaysia's No. 1 entertainment and streaming destination, Astro announced,The apps for beIN SPORTS CONNECT, iQIYI and TVBAnywhere+ are available on Ultra Box from today,Enables users to stream more world-class live sports and their favorite Asian entertainment content, including Korean, Chinese and Hong Kong dramas and movies, as well as local favorites and anime, on their big screen TVs at home!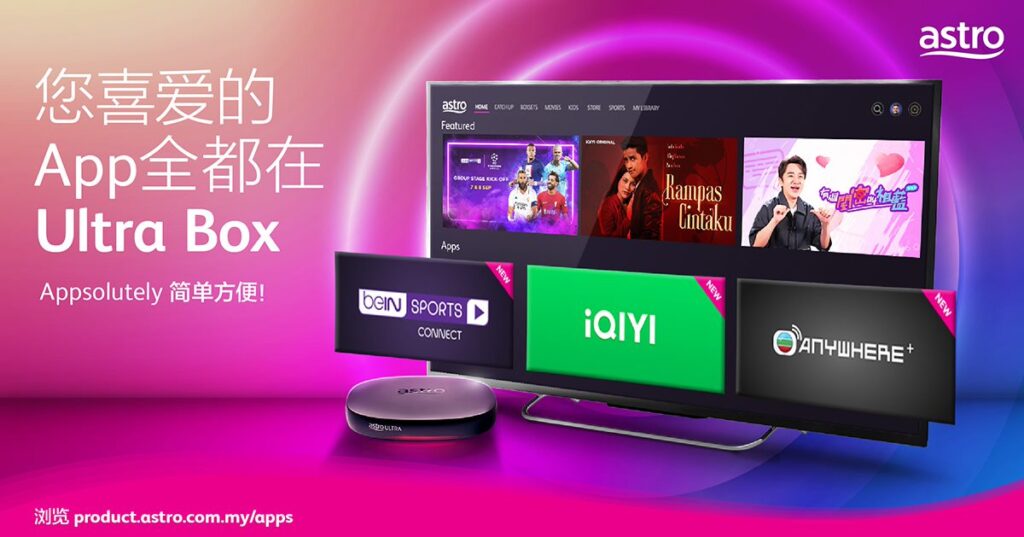 beIN SPORTS CONNECT
Astro shares the great news of the addition of the beIN SPORTS CONNECT app to sports fans on the Ultra Box, which brings users live and on-demand events from major European football leagues such as the UEFA Champions League and UEFA Europa League, as well as more than 3000 Hours of live tennis, including the Fed Cup ATP Cup and Laver Cup.
From now on, all users who have signed up with an Astro sports package can log in to beIN SPORTS CONNECT on their TV screen through Ultra Box to watch sports content, or enjoy an on-the-go viewing experience anytime through the mobile app.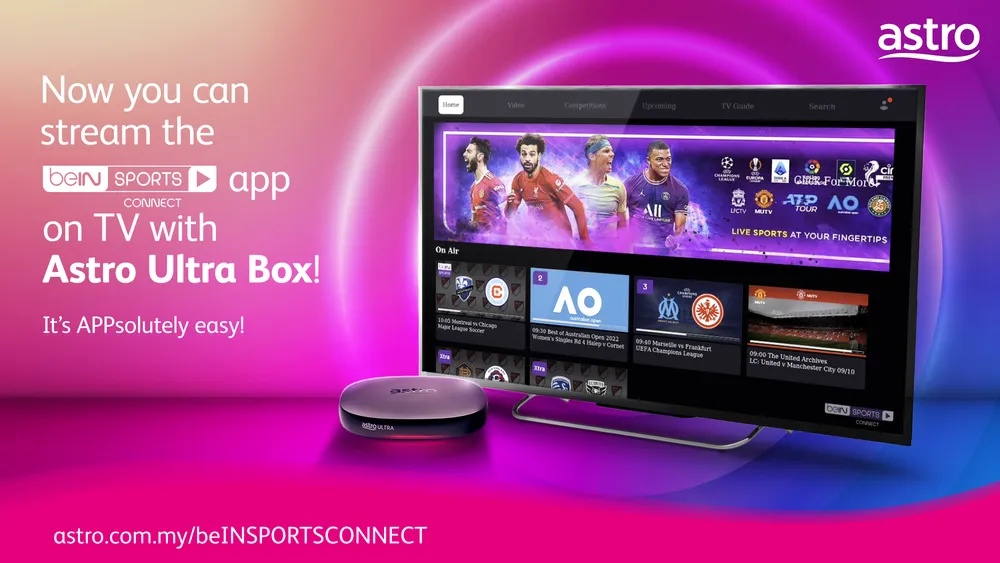 iQIYI
iQIYI has a strong lineup of Chinese drama series, including "Bright Stars" starring popular stars Wu Lei and Zhao Lusi, iQIYI exclusive original dramas such as "My Villain Boyfriend" starring Chen Zheyuan and Shen Yue, of "Please," "Macro Romance," and "Cat Riding a Fish," the Korean drama "Good Job," and the popular Japanese anime series "One Piece."
From now until December 20, Astro users can sign up for iQIYI's Standard VIP or Premium VIP package and enjoy an exclusive discount of only RM4.90 for the first month, followed by RM8 for the following months. Discounted prices of .90 (original price RM11.90) and RM12.90 (original price RM17.90), log in and use on up to four devices at the same time, those who are interested can log inwww.astro.com.my/iqiyiRegister an account.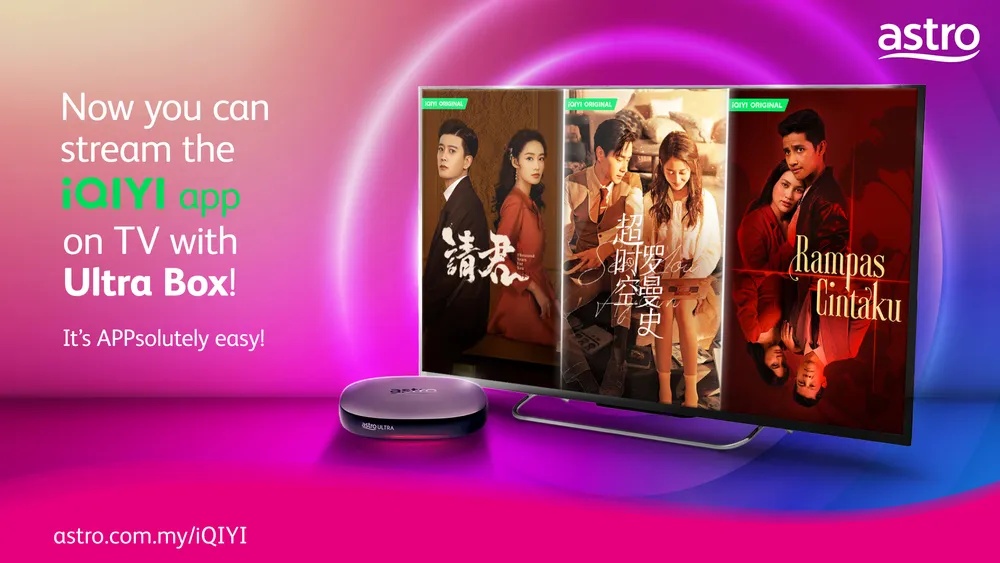 It should be noted that the discount of RM4.90 for the first month of iQIYI is only applicable to Astro customers who sign up before December 20, 2022; the price after the first month will return to the standard price (RM8.90/month or RM12.90) /month), subject to terms and conditions.
TVBAnywhere+
Fans of TVB Hong Kong dramas can now stream over 40,000 hours of Hong Kong dramas and entertainment on the TVBAnywhere+ app on Ultra Box in addition to the mobile app. The app has a massive database, which includes the latest dramas, variety shows, evergreen classics and unlimited TVB original content, such as the crime drama "Guardian of the Night", the funny variety show "Happy Invincible Award Doorman", and the supernatural reality show. "Shooting Ghosts with You" and "Looking Around", an entertainment information program that talks about urban topics.
The app is already part of Astro's Chinese package, and customers who subscribe to the Chinese package can log in to the Ultra Box and watch TVB's programs.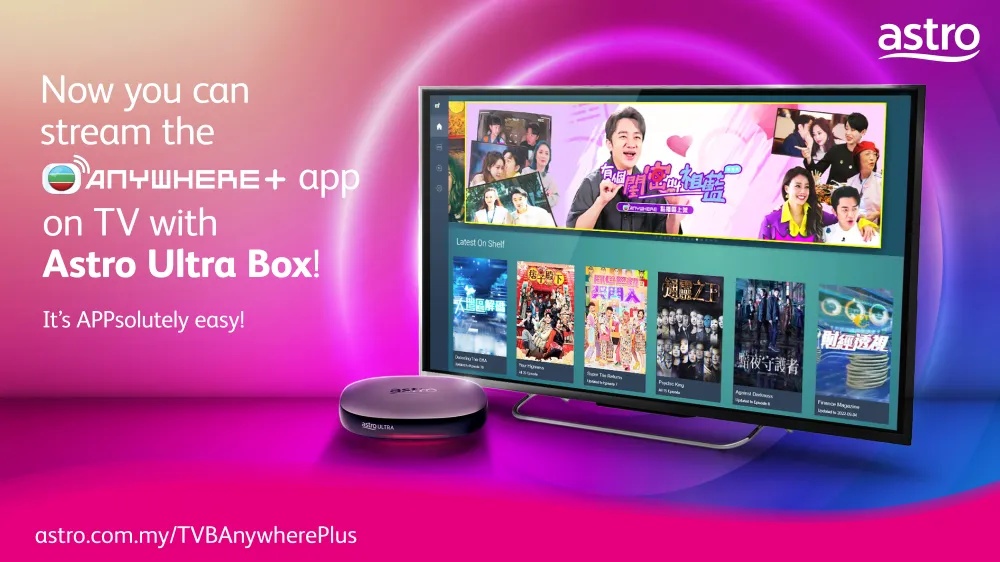 Simple steps to log in to the new application
To log in to iQIYI, beIN SPORTS CONNECT or TVBAnywhere+ on the Ultra Box, select Home on the Astro remote, select the app you want to access on the app bar (depending on the Astro plan), follow the on-screen steps using your mobile device Log in with the Astro ID on your phone and pair your account with the Ultra Box. Once done, you can immediately browse the entertainment library of your favorite programming content!
clickhereLearn more about the beIN SPORTS CONNECT app, or clickhereLearn about the TVBAnywhere+ app on the Ultra Box by browsing astro.com.my/tv Sign up for the Astro Ultra Box TV Show Package to log into multiple apps and save even more!
For more technical information, please continue to hold the Urban Tech Story version!