Do you still remember the popular "Qua Kua Group"?
In 2019, there were a large number of "Kwakua Group" WeChat groups in more than ten colleges and universities across China. In the group, no matter what you say, you will get crazy praise from other group members. According to CNBC, Chinese netizens are fed up with hateful sentiment on the internet and turn to social media, where they can pay to get compliments from others.
The popularity of "Kukuaqun" actually confirms people's need for "recognition", especially the strong demand of the Z generation to find a sense of identity in a specific circle, which may mean a new opportunity for the next generation of social products – comfort each other , Encourage group circles to socialize.
In the United States, an app that encourages young people to compliment each other, Gas, is sweeping high school campuses.
Released in August 2022, the social networking app has successfully surpassed TikTok and BeReal to become the number one free download on the US App Store in the past week.
As a new social app, how did Gas conquer the hearts of European and American teenagers? Behind its "popularity", what kind of social needs does the Z generation reflect?
"Secret Love Hallows"
The gameplay of Gas is very simple. According to the introduction of the App Store, it only takes 4 steps.
1. Join your high school
2. Add friends
3. Pick friends to answer the questionnaire
4. Get "Flame" by pick
After users download the app and create an account, they need to join their high school and add friends. Users can then create polls to send to their friends.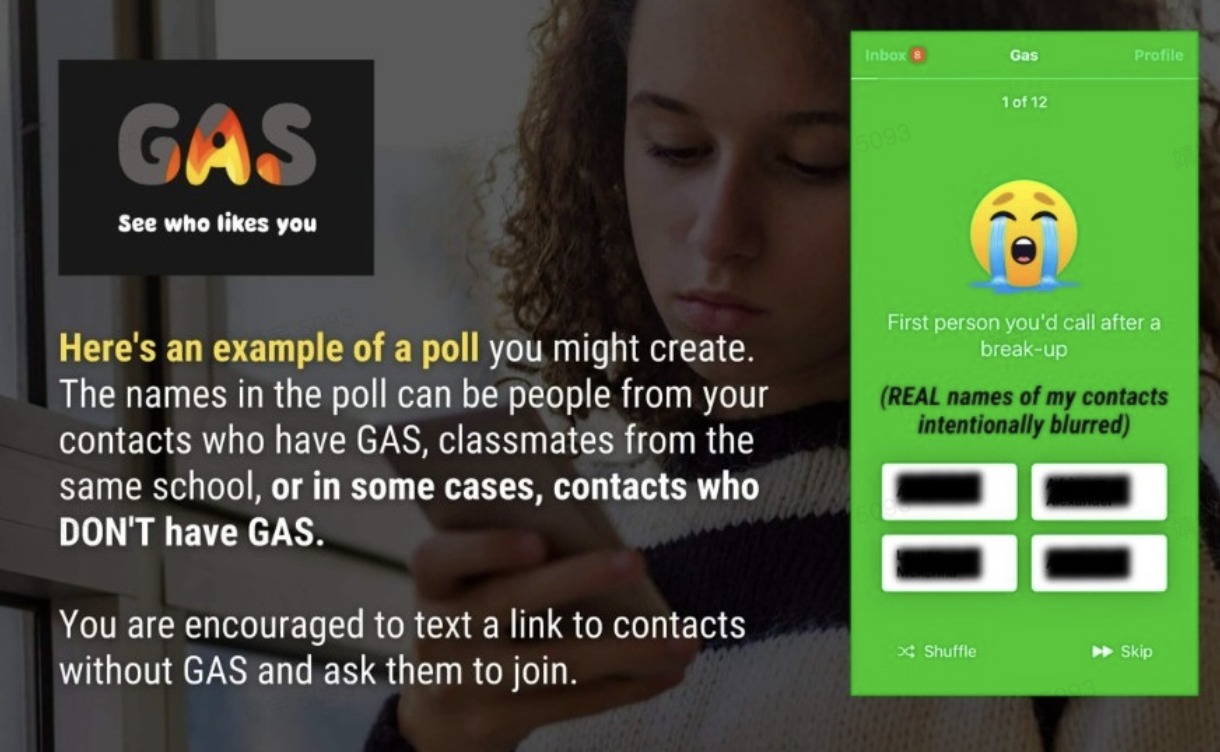 Questionnaire on Gas | Gas
Meanwhile, users will use their friend list to vote anonymously, essentially picking friends based on a series of questions, one of four. Questions ranged from friendly super compliments to flirtatious confessions such as "Who's the cutest?", "Whose smile made my heart melt."
It is worth mentioning that it is significantly different from anonymous Q&A apps such as NGL and Sendit.Gas users cannot edit questions or send messages directly to other usersall questions are provided by Gas, which ensures positive and loving questions and creates a warm and friendly community atmosphere.
If you win the vote, a "flame" will be sent to your inbox.
The flame also differs depending on the gender of the sender – blue for boys and pink for girls.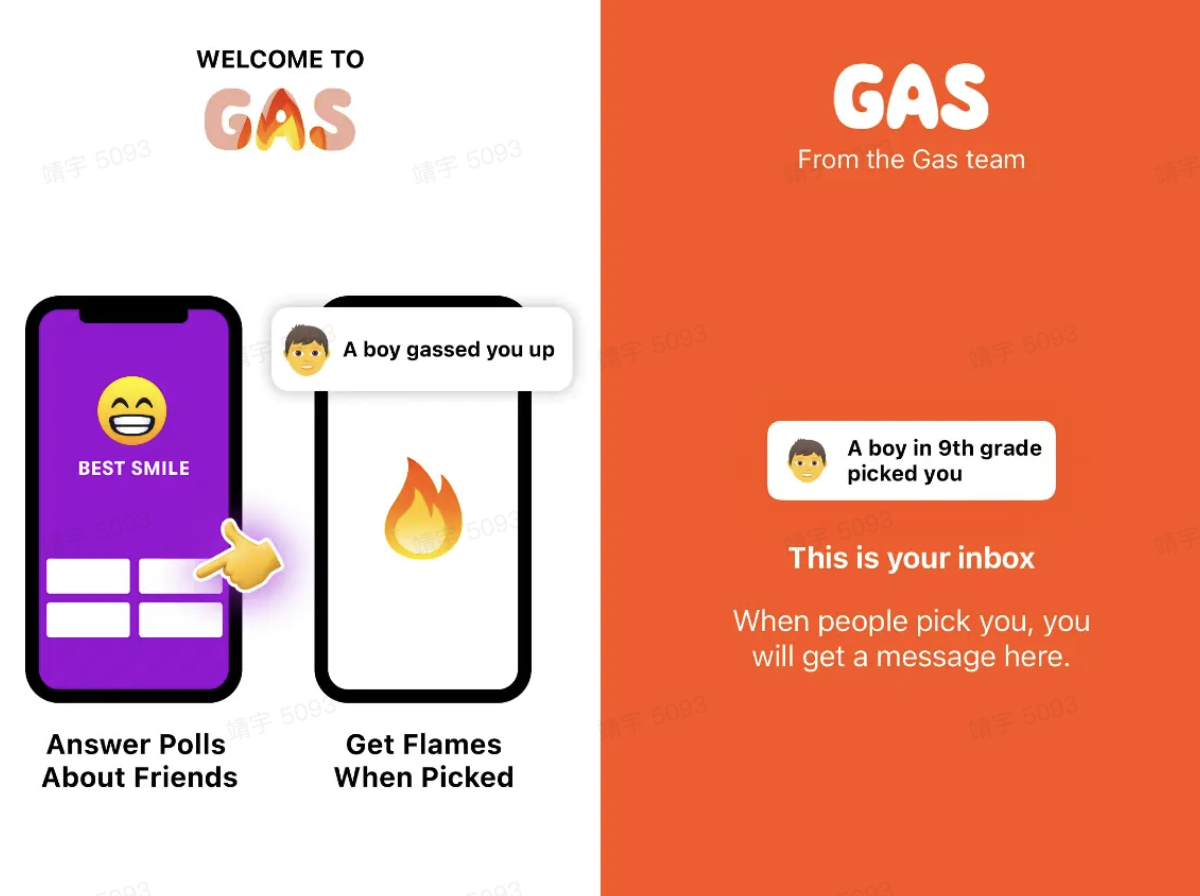 People receive "flames" to know their friends' compliments; and the questions that users pick the most by their friends will be automatically displayed on the user's personal homepage, which allows the user's "bright spot" to have a displayable in-app. window, thereby encouraging the user to keep playing.
In addition, Gas has a lot of cute little designs, such as the "coin" mechanism.
Users get "coins" by picking friends, and using "coins" allows their name to be displayed more preferentially in a specific friend's options. That is to say, users get "coins" by praising others, and using "coins" will also give users more chances to be praised, completing a positive cycle.
Even more loving, if you haven't been selected recently, Gas will automatically show you more often in pollsas Bier said "he hopes Gas can help teens avoid rampant cyberbullying and online comparisons".
Voting is anonymous, and people only know the gender and grade of the person who voted for them; however, the occasional message will always reveal a little bit of "Ta" personal information to the user, for example "from a 9th grade girl" I think, you are the best outfit." Out of curiosity, most users will want to uncover the mystery of each other.
For this,Gas has set up subscription projects such as "God Mode", and realizes commercial realization at the same time。
"God Mode" is priced at $6.99/month, and its main benefits include during the subscription period:
1. Unlimited prompts to Pick your friend's initials;
2. Check the full name of your friend who has picked you twice;
3. Double coin reward;
4. Receive a reminder when a friend sets the user's name to be displayed first;
5. Enter completely anonymous mode;
As of October 13, Gas was ranked TOP 16 on the iOS social category bestseller list in the United States. Judging from the results of the list, young users are obviously very curious about who is bragging about themselves, and are willing to pay for it.
"Love" Social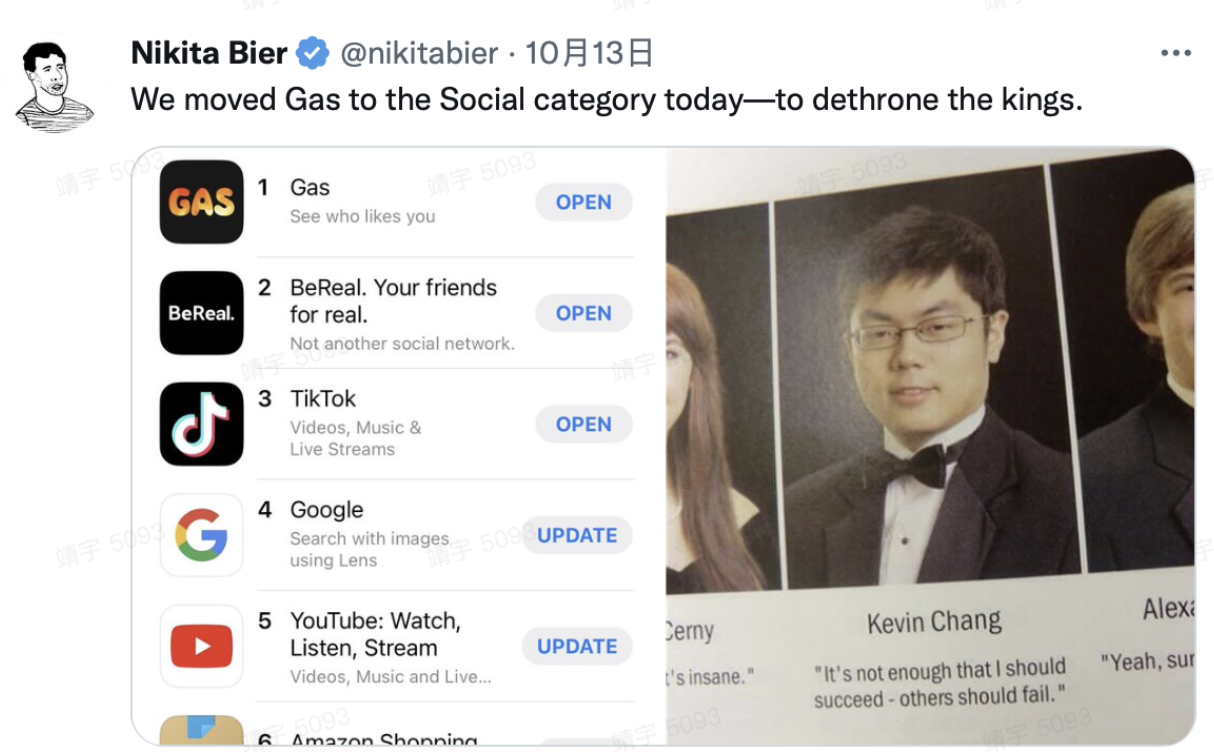 Gas App tops Apple Store charts|Twitter
Gas's slogan is intriguing "Look who likes you. Find your crush."
In fact, Gas is a social app that lets you secretly praise your friends, just as its online definition "refers to a hard-working person who spares no effort to impress others".
The charm of Gas lies precisely in its positivity.
In this app, you can't chat or post, however, you can anonymously vote on a series of questions like "Who's the cutest?", "Who's the best DJ at the party?" to compliment Motivate and cheer up people you may know, like the Gen Z jargon "gassing someone up".
Gas was co-founded by Nikita Bier, Isaiah Turner and Dave Schatz.
In fact, five years ago, one of the founders, Bier, created a similar mobile phone application for teenagers, TBH (to be honest, meaning honesty), which gained more than 5 million users at the time and was sold by Facebook for about $100 million. acquired, but closed in 2018.
Bier said, "The reason I built Gas is,I want to bring back what TBH did for many kids five years ago, which was raising self-esteem and spreading positivity」。
It can be seen that Gas's mission is to "create a place where we feel better about ourselves and show users that there are people who love and appreciate you, thereby building the self-esteem and confidence of the younger generation."
Gas focuses on fostering positivity within a smaller social network, stripping away social media's past stereotypes such as bullying, harassment, and more.
Therefore, in the user reviews of the Apple Store, the most frequent keywords about Gas are "fun", "compliment" and "the whole school is playing", with many people saying that "Gas improves their self-esteem and their relationship with friends is better." close, and they feel loved."
The loving gameplay of this anonymous social app allows users to both send compliments to others and receive unexpected compliments. After all, who doesn't like being complimented?
While Gas has yet to reach TBH popularity levels, it has been downloaded more than 500,000 times since its launch in late August, averaging 30,000 per hour, an increase of nearly 100,000 per day, according to analytics agency Data.AI users, often taking a spot in the top 10 this month.

Founder Bier shares the good news of Gas user growth on Twitter|twitter
Needless to say, Gas's results are remarkable, as the company advertises very little, relying solely on word of mouth to spread its word in schools across the country.
In addition, as of now, Gas has only launched the Apple app version, and it has not been released to the world. It is only available in 12 states in the United States, including Illinois, Michigan, etc., but it plans to roll out nationwide soon, presumably later , this anonymous social trend will be popular among teenagers in more countries.
Currently, Gas is self-funding by opening subscriptions to "God Mood" and is not raising funds.
Returning after five years, how long can Gas be popular this time?
"Positive Social Needs" of Generation Z
The "loving" atmosphere of mutual encouragement created by Gas is necessary.
Maslow, a famous American social psychologist, pointed out in "The Hierarchy of Needs" that everyone has five needs: "physiological needs", "safety needs", "social needs", "respect needs", and "self-actualization needs". ". These five needs are gradually ascending according to the level. After the low-level needs are satisfied, the higher-level needs will be pursued.
Therefore, after the "physiological needs" and "safety needs" are well met, "Social needs" and "respect needs" have become the strongest needs of people。
Psychologist William James also pointed out that the human heart needs to be comforted, and everyone is eager to be recognized and respected. This is a kind of self-acceptance and recognition, and it is a normal psychological need that everyone has.
However, social media is destroying this most essential need.
Several studies have shown thatSocial media overload may lead to depressive symptoms in teens or the general public。
This is because social media, like Instagram, encourages the use of photos and videos for self-presentation, which increases the emphasis on physical appearance among young people, especially teenage girls, "many girls are bombarded with the perfect pictures posted by their friends. , or they're following celebrity influencers who do a lot of Photoshop and have makeup and hair teams."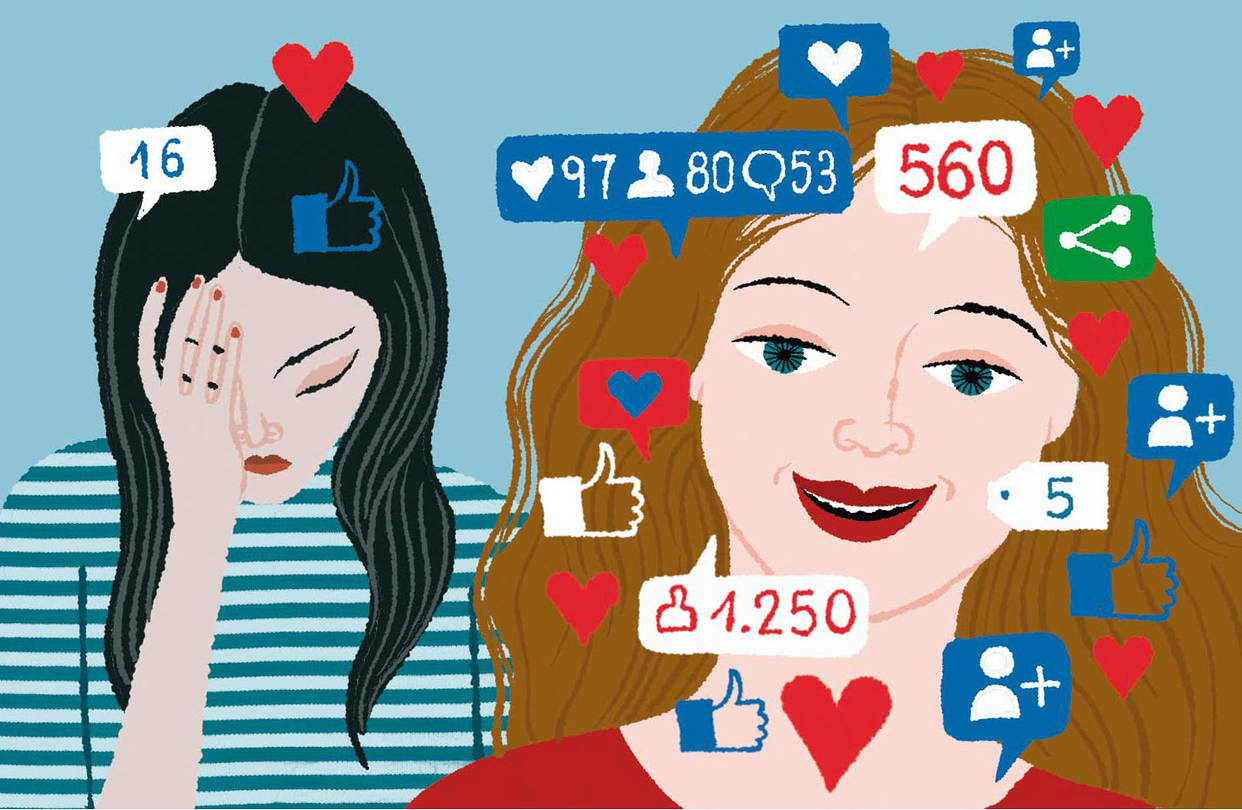 The "comparison" caused by social media makes young people "depressed"|WSJ
With a false perception of reality, some young people will believe that they are far inferior to their average peers, which can cause teens to doubt their self-worth and even lead to mental health problems such as anxiety and depression.
According to a Facebook study of teens in the US and UK, more than 40% of teens felt they were "unattractive" and about 25% felt they were "not good enough," and those bad feelings came from Instagram; many also said , the app undermined their confidence in friendship.
Another study showed that 13.5% of teenage girls said Instagram made suicidal thoughts worse,17% of teenage girls say Instagram makes eating disorders worse.
Adolescents should grow up in a bright and positive environment and need to be loved, encouraged, and respected.
This is exactly what Gas is trying to do. By complimenting each other, Gas is trying to create a social environment that needs no comparison, a warm and loving social environment.
Gas guides young people to pay attention to each other's excellent qualities and characteristics, and gives each other positive and specific feedback, which is what we often call "positive feedback".People crave 'positive feedback' about themselves,It is a psychological feature hidden behind Gas.
Exchanging "positive feedback" is not only a mutually beneficial and win-win social interaction that satisfies people's "social needs", but also a recognition of each other and meets people's "respect needs".
The explosion of Gas is precisely because it meets the deep psychological needs of modern network users.
Friendship and love can touch the softest part of young people's hearts, and this is also the beginning of the success of such social products.
Solving people's loneliness, loneliness and the upper-level needs of Maslow's needs theory-love and respect and self-worth realization needs are the ultimate goals and problems of all social products, and they are also opportunities for new social products to be tapped.
Shelf life of "Rainbow Fart"
Like all popular apps, Gas, now at the top, is in crisis.
A rumor spread on TikTok and Snapchat that it was involved in human trafficking because it asked for users' locations to identify nearby schools. According to Bier, the scam resulted in "Gas is a sex trafficking app" becoming the top query on Google searches for the app, with 3% of users deleting their accounts within a day.
Gas recently dispelled rumors that the company does not track or save the location of users, nor does it sell personal data to third parties. Bier reiterated to the media that "Gas is extremely private and secure. Because we have such a sensitive audience, we wanted to create an extremely safe place that goes beyond what people expect from ordinary social apps."
However, there is one worrying fact about Gas –It triggers a dopamine cycle that trains teens to constantly check their phones for confirmation.While Gas was created to "increase self-esteem," it can become addictive as people begin to need confirmation from others.
Other than that, the app works fine. No bullying, no stalking, and no other risks. It even has human customer support so you can contact him directly if you have any questions.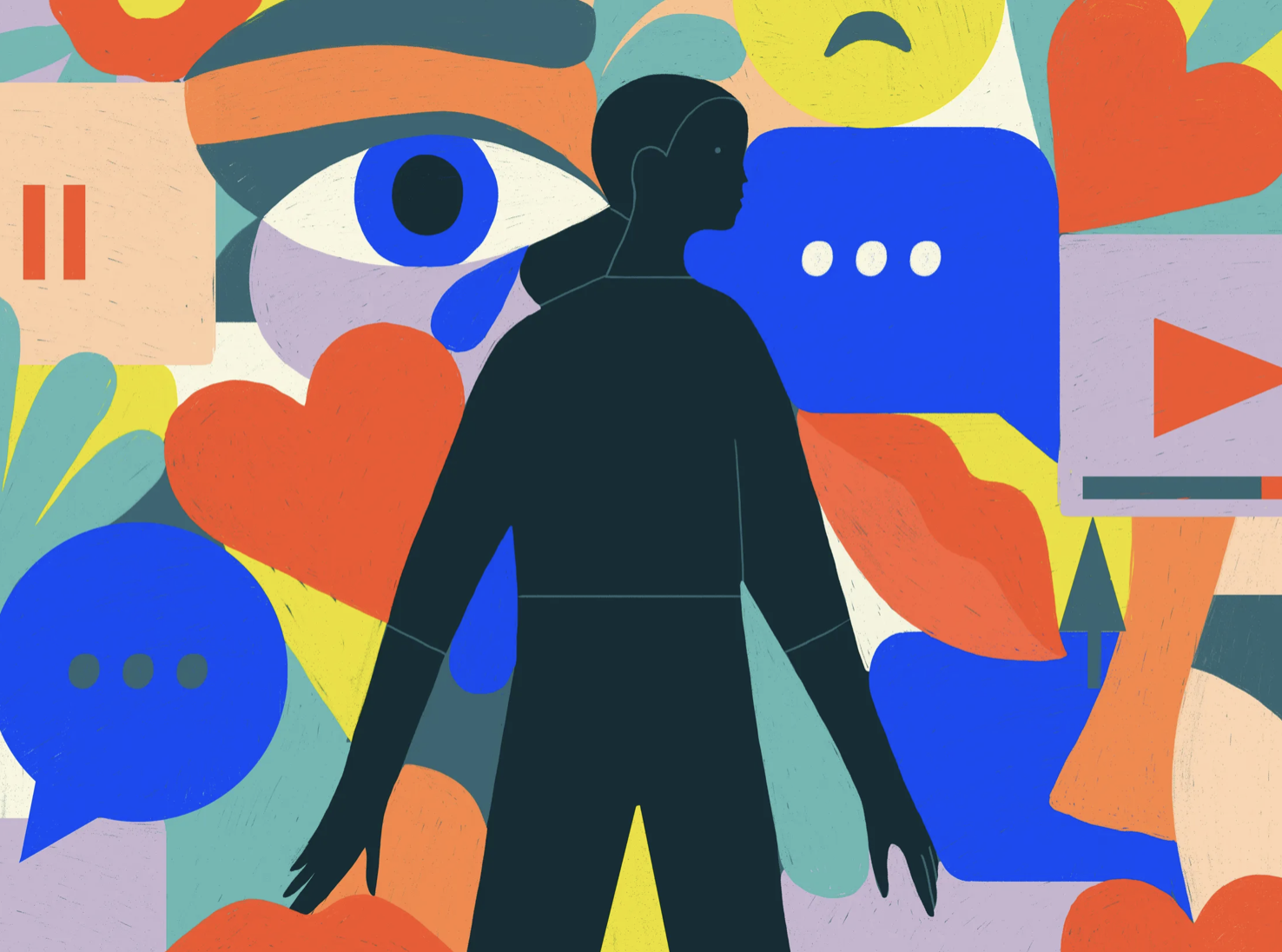 Gas is actually a potentially addictive social app|Self.com
Still, Gas isn't immune to the limited shelf life of new social apps.
Maintaining momentum is always a challenge.even ifBeReal with 2,300% user growth this year There are also signs of problems, with only 9% of Android users currently opening the app on a daily basis, worse than TikTok or Instagram.
What I have seen so far is that Gas does seem to invest little in advertising and marketing, as Nikita Bier said, but easily completes fission through spontaneous sharing among users.
On the third-party data platform, almost no gas purchase data can be captured;
In terms of social media marketing, Gas's official account has not done much. At present, Gas has only opened official accounts on TikTok, Instagram and Twitter. Among them, the most popular one is the TikTok account with 1,329 followers. Up to now, Gas has published 6 videos on TikTok, and the number of views is around 10,000.
On the user side, publicly visible discussions on social media platforms such as TikTok, Instagram, and Snapchat, where teenagers gather, are also limited, which means that Gas's user growth is likely to come entirely from word of mouth.
Although today's Gas is difficult to follow the old road of TBH being acquired, the short-term trust problems and long-term business model verification still require the Gas team to overcome a hurdle.
Gas may exist for a long time, because it meets people's "rigid needs" that people need to be loved and respected, and to obtain identity. This need is persistent and tenacious; it may only be short-lived because it cannot provide long-term Freshness and satisfaction.
But founder Bier has the courage of "I foresee all the grief, but I'm still going", as he said in a recent tweet in response to the rumors, "I'm not sure how long Gas will run,But even if it's only been around for a while, it's had a positive impact on millions of teens, and I think it's worth it」。
Head image source: Startup Magazine