Adobe announces acquisition of online design startup Figma for about $20 billion
On September 15, Adobe announced that it had signed a definitive acquisition agreement with start-up Figma, a startup developing an "online design collaboration tool," for about $20 billion in cash and stock.
Figma primarily develops browser-based tools that allow software designers to work together in real-time. Its product allows collaborators to save and send their work through a series of different applications, bypassing the clunky collaboration process.
It is understood that Figma is led by co-founder Dylan Field (Dylan Field), and the demand for Figma products has surged during the epidemic with the rise of remote working. Figma's clients include Airbnb, Google, Netflix and Twitter, and its backers include venture capital firms Kleiner Perkins, Index and Greylock.
According to the agreement, about half of the acquisition amount of about $20 billion will be in cash and half in stock. Additionally, approximately 6 million additional restricted stock units (RSUs) will be awarded to Figma's Chief Executive Officer (CEO) and employees.
Adobe expects the deal to close in 2023. Following the transaction, Figma co-founder and CEO Dylan Field will continue to lead the Figma team, reporting to David Wadhwani, Adobe's president of digital media. The two companies will continue to operate independently until the transaction closes. (Source: Pinwan)

Disney+ may merge with Hulu in the future
On September 15, Disney CEO Bob Chapek said on Wednesday local time that he was interested in merging Hulu into Disney+.
According to reports, Chapek said the merger would not be possible until Disney bought the remaining stake in Hulu from Comcast. Comcast could sell its 33% stake in Hulu to Disney in 2024 at a valuation of at least $27.5 billion, according to previous announcements made by the two parties in 2019. Hulu is a streaming media platform that owns popular movies and TV works such as "The Handmaid's Tale", "Ming Shu" and "American Horror Story". (Source: deadline)
Tesla may consider shifting some urban mall showrooms in China to suburban stores
On September 15, according to Reuters, citing two people familiar with the matter, Tesla is considering adjusting its retail strategy in China, considering closing some mall showrooms in cities such as Beijing, and paying more attention to lower-cost suburban stores that can provide maintenance services. . Tesla did not immediately respond to a request for comment.
Tesla is looking to ramp up its hiring of technicians and other service workers in China, one of the people said. According to Tesla's China recruitment website, there were more than 300 vacancies for service positions as of September 15.
Tesla opened its first store in central Beijing in 2013 and now has more than 200 stores nationwide. (Source: cnbeta)

Musk accuses Twitter of covering up data security breach, saying it clearly constitutes fraud
The newly released court documents show that Musk accused Twitter of fraud, obviously there are serious loopholes in Twitter's data security, but the company deliberately covered it up. Musk had planned to buy Twitter for $44 billion, but now he wants to close the deal. Also, in 2011, Twitter signed an agreement with the FTC over user data issues, but Twitter did not comply with the agreement.
Musk also emphasized that, according to the insider revealed by former Twitter security chief Peiter "Mudge" Zatko, Twitter clearly constituted fraud and that it violated the agreement.
Musk is asking a Delaware judge to rule that he is not obligated to complete the deal, while Twitter wants the judge to force Musk to close the deal at $54.20 a share, with the two sides participating in a five-day trial starting Oct. 17. (Source: Sina Technology)
U.S. Senator: There is still a chance to pass stablecoin legislation this year
Republican Senator Pat Toomey, a senior member of the U.S. Senate Banking Committee, believes the U.S. Congress still has a chance this year to pass a meaningful bill regulating stablecoins. Pat Toomey said the collapse of cryptocurrency Luna in May sparked interest in regulatory transparency in the crypto industry in Washington, D.C. "It was a bad blockbuster event, but it did push the regulation of stablecoins up the list of priorities."
He said his preferred legislation would require rules "on disclosure and the nature of assets". "These legislations will require stablecoin operators to obtain issuance licenses, and they must be backed by high-quality assets and liquid assets, namely cash and cash equivalents," he said. (Source: Zhitong Finance)
Ethereum officially merged, bid farewell to the "mining era"
At 14:42 on September 15, 2022, the 8-year-old Ethereum officially completed the merger (The Merge). With the participation of hundreds of thousands of people around the world and the collaboration of more than 7,000 nodes around the world, this distributed system with millions of users has completed an important upgrade, saying goodbye to the era of "mining" (PoW) and entering the "staking" era. 2.0 era.
Additionally, Ethereum's move from PoW to PoS consensus has been controversial. At the beginning of the development of blockchain, mainstream currencies such as Bitcoin, Ethereum, and Litecoin were all based on the PoW consensus algorithm, which was considered to be the core mechanism of decentralization. In addition to the "belief" of "decentralization", interests are also driving the development of events. "PoW" adherents have found a place in the Ethereum fork chain. Bitmain, a big "miner", has publicly supported the old fork chain ETC of Ethereum. (Source: Blue Whale Finance)
Read more: Ethereum's 8-Year Mining Era Ends: Buterin, Chinese Mining, and Nvidia

Honor MagicBook V 14 2022 released: support gesture operation in the air, starting from 5999 yuan
On September 15, Honor officially released the MagicBook V 14 2022 notebook, equipped with a 12th-generation Core H-series processor and optional MX 550 independent display.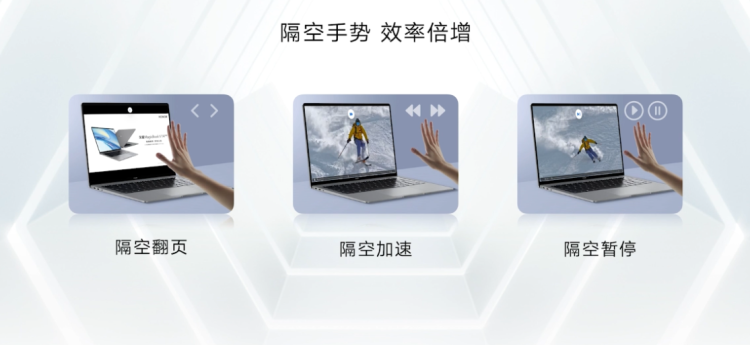 In terms of screen parameters, the MagicBook V 14 2022 is equipped with a 14.2-inch 3:2 screen, 2520*1680 high resolution, 90Hz refresh rate, 10bit color depth, 100¥ sRGB color gamut, and supports 10-point touch.
In terms of configuration, this notebook is equipped with 12th-generation Core H-series processors, optional i5-12500H and i7-12700H processors, standard 16GB LPDDR5 memory and 512GB PCIe 4.0 SSD, and optional NVIDIA MX550 graphics card. Interfaces include Thunderbolt 4.
In terms of software, MagicBook V 14 2022 supports OS Turbo, and the official said that the power consumption is reduced by up to 26.7%.
In addition, MagicBook V 14 2022 supports functions such as replacement clone, glory sharing, and multi-screen collaboration. (Source: IT House)
The first mass-produced vehicle equipped with DJI: 2023 KiWi EV launched, priced at 87,800-102,800
On September 15, SAIC-GM-Wuling Baojun launched the 2023 KiWi EV, with a total of three models: Zhichao version, Zhiluxe version and DJI version. The listed prices are 87,800 yuan, 93,800 yuan, and 102,800 yuan respectively.
According to reports, as the world's first mass-produced vehicle equipped with DJI vehicles, the 2023 KiWi EV can not only realize multi-state parking space recognition, 360° parking without blind spots, efficient parking in 30 seconds, and free parking inside and outside the car. There are also intelligent driving assistance functions such as active recommendation of expressway, lane change with lever, intelligent speed regulation in corners, and close-range jamming response.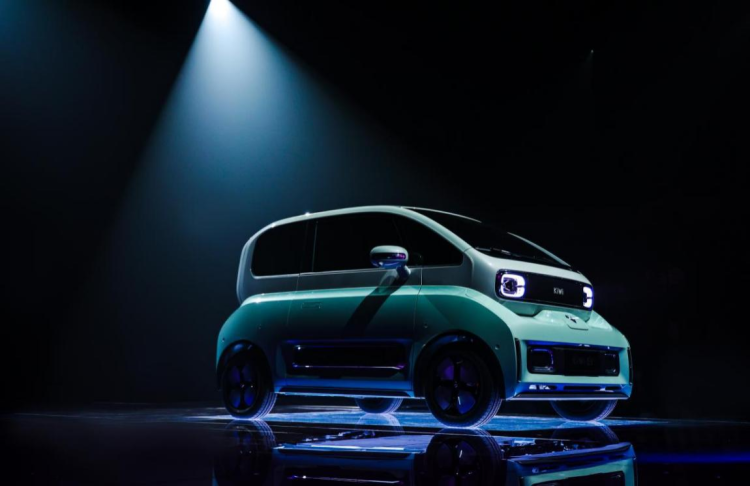 At the launch conference, the new functions of the "Lingxi Intelligent Driving System" were also first unveiled. It is expected to be upgraded through OTA at the end of this year to realize new functions such as intelligent identification of traffic lights, start-stop, memory parking, cross-level memory parking, and exploration parking. .
The 2023 KiWi EV new car comes in three colors: Mocha, Twilight, and Matcha. The interior of the new car is made of high-end suede material and is equipped with a new one-piece "waterfall" dual-screen. In terms of power, the 2023 KiWi EV has a maximum power of 40kW, and the DJI version has a maximum power of 50kW and a maximum torque of 150Nm. The NEDC cruising range is 305km and the DJI version is 301km. (Source: Autohome)

Nike develops new robot to clean and repair worn-out sneakers
Nike is testing a robot designed to clean and repair old sneakers at its flagship retail store in London, Techspot reports. It's called BILL, short for Bot Initiated Longevity Lab. The system uses advanced robotics, water-based cleaning products and recycled polyester patches to refurbish worn-out sneakers.
Once the shoe is loaded into the machine, it creates a 3D model to identify areas on the upper, sidewall and outsole that need cleaning. Customers can also choose patches to cover worn areas on the upper.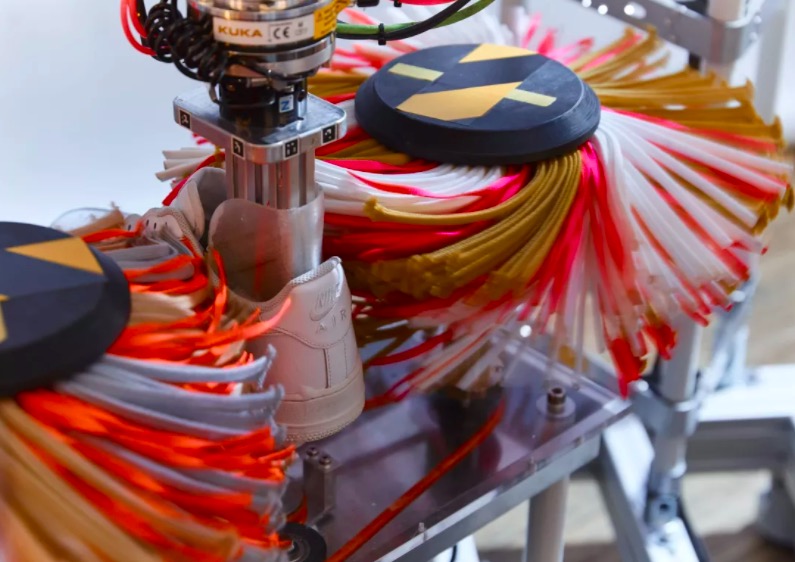 Once complete, Nike store employees will add new padding and laces made from recycled materials to complete the renovation. Nike says the robot takes about 45 minutes to process a pair of Air Force 1s.
Currently, the robot can only handle Air Force 1, Air Jordan 1, Space Hippie 01 and Nike Dunk.
Noah Murphy-Reinhertz, head of sustainability at Nike NXT, says maintaining old products is a deeply personal act, and people go to great lengths to take care of their favorite shoes. Murphy-Reinhertz added: "Repairing a product is a way of prolonging our memory of a product." (Source: Fast Tech)