Market research firm Counterpoint Research recently released the global smartphone AP market report for the third quarter of 2022.
From the perspective of shipments, MediaTek still ranks first, but its market share has dropped from 38% to 35%, while the second-ranked Qualcomm's market share has risen from 29% to 31%, and the third-ranked Apple has risen. 3% to 16%, while UNISOC and Samsung both dropped by 1%, and HUAWEI HiSilicon, which originally had a 1% share in the first quarter, was almost zero.
Counterpoint said that due to the continuous inventory adjustment of customers and the downward trend of the global macro economy, the demand in China's smartphone market is weak. Analysts also believe that 4G mobile phone LTE processors will decline more than 5G processors in the fourth quarter of 2022.
However, with the shipment of related models of MediaTek Dimensity 9200 for the high-end market, such as vivo and OPPO, it will to a certain extent promote MediaTek's market performance in the first quarter of 2023. But in general, MediaTek's ramp-up momentum in the fourth quarter of 2022 will be weak, and the first half of 2023 will also remain slow.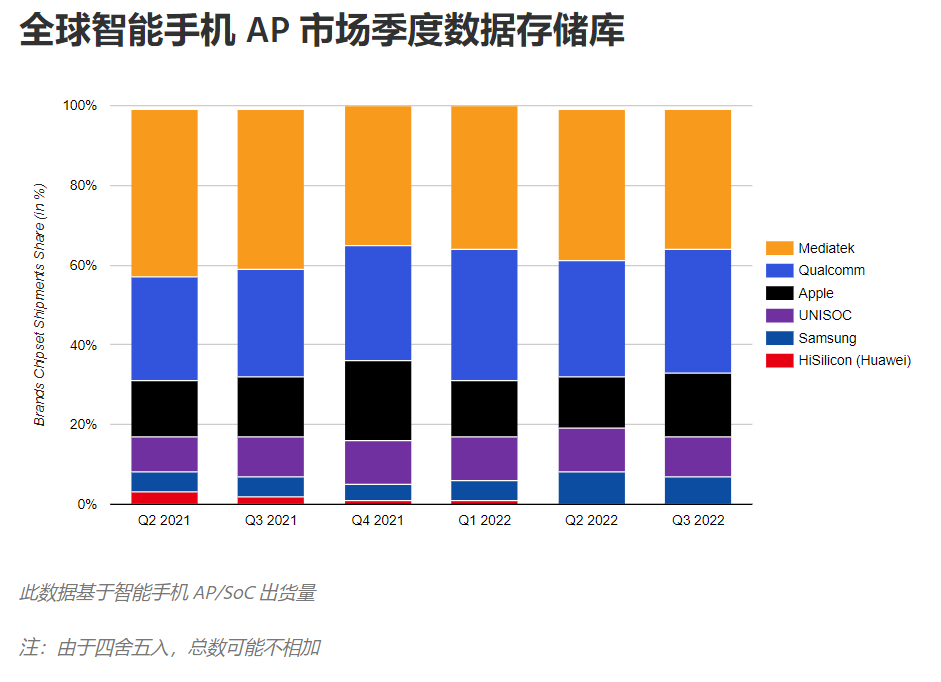 According to Counterpoint Research's survey, and through sales data, it can be seen that HUAWEI has cleared the inventory of KIRIN chips. Due to the existence of the US ban, the brand cannot obtain chips from foundries such as TSMC and Samsung.
Currently, HUAWEI can only use Qualcomm's 4G Snapdragon processor.
For more technology information, please continue to watch the Chinese version of TechNave!
【source】